Interview: Slow Girl Walking
We talked to Matthew Cardinal, singer and lead guitarist for Canadian shoegaze band Slow Girl Walking, after they featured on our list of shoegaze and dream pop you should check out. Purchase their EP entitled GLOO on Bandcamp now!
What initially brought you guys together as a band?
Well I've known the bassist in the band, Brett, for about ten years now. When I was about fifteen I asked him to be in a band with me, and we've been working on getting this band together on and off for a few years. I knew our drummer, Andy, from going to shows around Edmonton, and once I learned he was a drummer and he'd be into playing music together, we gave it a try.
How did you develop your particular sound?
I think a lot of our sound comes from us just playing together. We have a lot of fun just jamming and improvising. I really try to avoid conventional sounding chords and structures in songwriting and I love using effects, although a lot of stuff ends up just being clean guitar. I'll bring in an idea I have and the other guys will expand on it. Or I'll have something very specific in mind and we'll try to figure it out. Also, part of me writing songs is that I don't feel like I can actually write a normal sounding song. I just don't get it. But I love pop music. I really appreciate it when someone can write a really great pop song.
How is the music scene in Alberta and in the Edmonton area?
I really like it, I think it's a pretty thriving scene. There are loads of really great bands in Alberta. Lately in Edmonton a lot of venues have been getting shut down, but there are a few opening down the line. There's a pretty active house show scene right now too. In Edmonton it's really cool, the scene is very tight knit. There isn't much competition and everyone is into helping everyone else out. We have a few smaller festivals that happen over the summer and fall that are great. The amount of talent is inspiring and I'm glad to be a part of Edmonton's scene and playing music.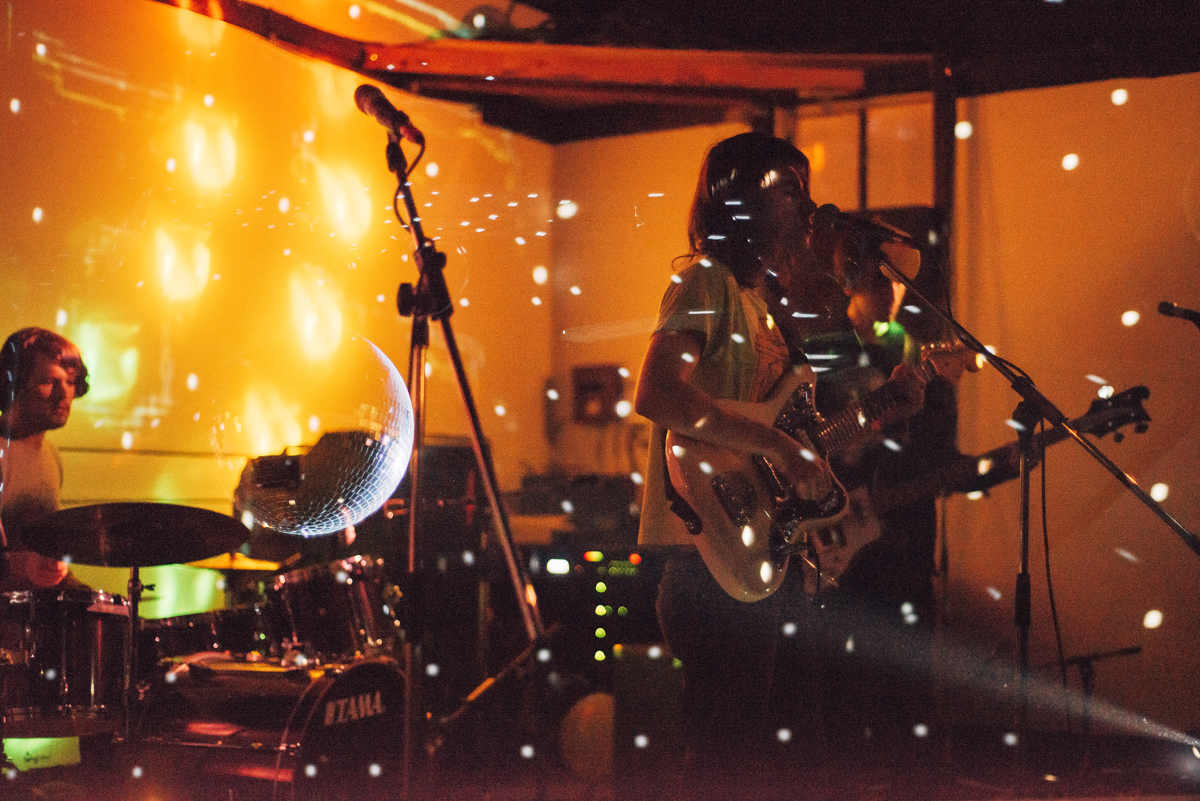 Who are your main musical influences and dream collaborators?
The band that got me into wanting to make music was The Smashing Pumpkins. I think Billy Corgan was a really big influence on my guitar playing. I'm pretty into shoegaze stuff, so you know, Slowdive, My Bloody Valentine, Pale Saints, and other not so shoegaze-y stuff like maudlin of the Well and Number Girl. Hum is another band that I think have had some influence on me, so I dream of recording with Matt Talbot one day. Cornelius would be amazing to collaborate with too.
How's booking gigs for you guys? 
Booking gigs has been going well. I have a lot of friends in bands that I can ask (or they end up asking me), and I know some promoters I can talk to. I haven't had too much trouble booking us a show yet.
What are shows like and/or what do you plan them to be like?
Shows have been going well! I've been fortunate to play with bands that I like at venues that I like. In the future we're going to be working towards playing as a four-piece to fill out the sound a little. We're all excited about it. Another thing is that I wanna be incorporating projections some time in the future.
What kind of projections or visuals?
For now just some colors to move along to the music. I'll get a video synthesizer that I can plug a microphone into to interact with the sounds we're making. Eventually, I want to film some scenery and edit it to set the tone and go with the feel of the music. I wanna keep it subtle and pretty. We've had people do projections for our shows in the past which has been fun. Our first show was to some old skateboard videos. Another show we played we had some live projections of a bunch of old odd clips from TV shows and commercials being manipulated in real time.
I found GLOO on Bandcamp and Soundcloud. What is your opinion on those sites as music platforms?
I think Bandcamp is really great for selling and releasing music. It's very easy to setup and use. I think every band should be using it. Soundcloud is good and easy to use too, I feel like music bloggers prefer it, so it's good to have material on Soundcloud. I would say Bandcamp is good for selling and Soundcloud is good for showcasing and sharing the music.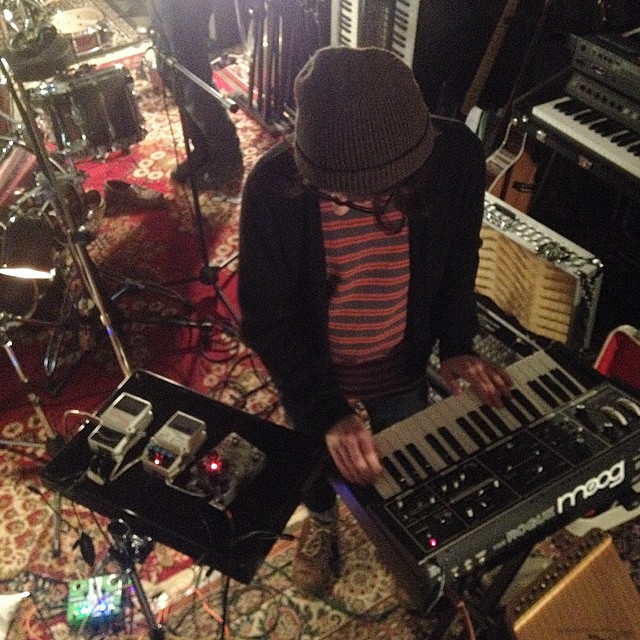 What was it like recording for GLOO?
It was great! We recorded it with my friend Aaron in his jam space (I also play bass for him in a band called Cantoo). It's in the basement of a web design company, and the floor is covered in Persian rugs. It's nice and cozy. We just used a basic Protools setup. It took about two or three nights for basic tracking, and another one or two nights for overdubs. We did guitar, bass, and drums live and added percussion, synth, and vocals afterwards. We recorded it in a bit of a hurry because we wanted it to be ready for a show we were playing. We did tracking and mixing in the first and second weeks of March and released it on the 27th. It was pretty tight. I was putting the cassettes together the day of the show, but we made it.
One of my favorite tracks off the EP, "Careful", has buried audio of Princess Bunny talking in its latter half. Who is she and what is she speaking about?
Princess Bunny is my partner. She's reading a poem by Alejandra Pizarnik, a poet from Argentina. I can't understand it since it's in Spanish, but she told me it's about being tormented by fear. I called her when we were recording and she did the reading over the phone. I wanted some spoken word buried in that section of the song and she suggested the poem. She and I have a project in the works called Prince Bunny.
What is in the future for Slow Girl Walking?
For now we've just got one show booked for early November that I'm looking forward to. We're trying to refine our sound as a four-piece and write a bit more right now, but if the right show comes up, we'll play it. I want to record another EP, hopefully in early 2016. I'd like for us to tour a bit too. A full length will come along eventually. Once we feel it's right and the songs are ready.
A huge thank you to Matthew for participating in this interview!