HUMAN PERFORMANCE by Parquet Courts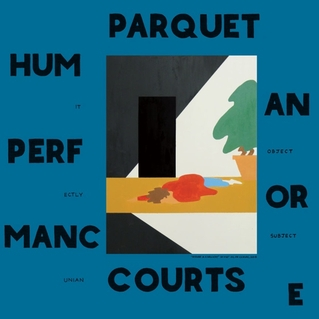 Genre: Indie Rock
Favorite Tracks: "Human Performance," "Paraphrased," "One Man No City," "Steady On My Mind"
Scraggly Parquet Courts had struck out on a disenchanted EP following the celebrated country spoof LIGHT UP GOLD and sophomore smart-rock bopper SUNBATHING ANIMAL — 2015's MONASTIC LIVING was a throbbing noise headpiece that shook off their self-assured slacker charm. HUMAN PERFORMANCE, the outfit's third LP, absolves them of their haughty trailings and strikes a perfect balance of aloof prairie swagger and forlorn punk abstraction. Abandoning their offbeat homestead of Austin, Texas for Brooklyn, the Stephen Malkmus-core quartet joins the collective of primped trust fund hipsters, and injects some wholesome indifference to power their teeming surroundings.
"Just Listen; rest with a sense of hearing/Allow the instruments into your globe of sound, and when the next part comes along, let it be there without engaging/Just listen to the sounds and wish them well as they pass on through." Yes, opener "Already Dead (Digital Only)" comes with a little credo, but it's a screwy gesture — Parquet Courts want the listener to disengage from scrutinizing their sinewy instrumental blends and lack of narrative, but it's a tough album to blow off. Abstraction is still an engaging statement, and there's some telling lyrical meat embossed in HUMAN PERFORMANCE's staggered lineup of Jeff Tweedy meanderings and snappy bongo drum morsels. So if we can't engage, let us challenge!
"Human Performance" is a spritely take on internal incarceration (feat. some killer mellotron) — an effort to encourage the listener to approach emotional fragility with an open heart. "Busy apartment, no room for grieving/Sink full of dishes and no trouble believing, that you are leaving/Mid-Sentence tremors, mind at its weakest/One way of shaking off the thoughts that it sleeps with/Witness and know, fracture and hurt," Savage sordidly half-whimpers with his gangly staccato. It's more of a connect song that deviates from the band's efforts to disconnect themselves from their listeners, a breakup song that fiercely builds self-purgatory and forces the listener to stew in Savages' sorrow.
Bucking narrative completely, whimsically nonsensical "Paraphrased" and "I Was Just Here" follows "Human Performance," the lo-fi beatnik pair of tracks that employ hoarse screeching and mumbled spoken word to heighten unexpected eruptions of auditory wreckage. Both tracks tred in between human impulse and on-point lyrical timing, ultimately embodying the album's namesake — HUMAN PERFORMANCE is an album wrought by shaky hands keen to spread poetic melodies, but manages to embrace the self-consciousness and anxiety that tear through the mind during the process.
"One Man, No City" encompasses the band's humorous existential energy. Gleaned from the snappy velocity of New York City life, the track showcases some of Savage's best projectile lyrical play; "Where I'm from/When no one lived there/I look back now, nothing's change/Where I'm from now/Still no one lives there/Look back again, and lock the door/Yea I maintain/I still remain/One man's solitary, and no city." While Savage suggests that areas unpopulated lack nuance and evolution, solitude can carry itself more ways than physical and detach individuals from even the most metropolitan of lifestyles. The lyrics careen against some simple bongo drumming and economic riffage, before launching into some Velvet Underground-esque guitar freestyle.
"Steady On My Mind" is the mid-album melodic soother, but it's remorseful anecdotes stay true to HUMAN PERFORMANCE's visceral sensitivity. Reminiscent of Beck's indie farmstead ballad "Ramshackle," Savage's romantically aloof charms invest meaning to simple downtempo fillers and tambourines; "Wherever you stay is where I'll return/I never felt committed to much, but that doesn't mean that I can't learn/To dedicate — to reciprocate what you send my way/And I promise to say hello as often as I say goodbye." It's a breakup song that deplores wish fulfillment; companionship might hold steady in Savage's mind, but the drawl in tempo is a self-aware nod to the reality of separation.
Like their unvarnished 90s patriarchs Pavement, Parquet Courts are skilled at being the unassuming thinkers staged at the back of some Philosophy of Mind class — effortlessly handing in a thought-provoking album executed with chicken scratch writing. HUMAN PERFORMANCE supplies the listener with developed poetic imagery that miraculously seems to fit the band's untuned mystique.
Verdict: Recommend