BEAUTIFUL THUGGER GIRLS by Young Thug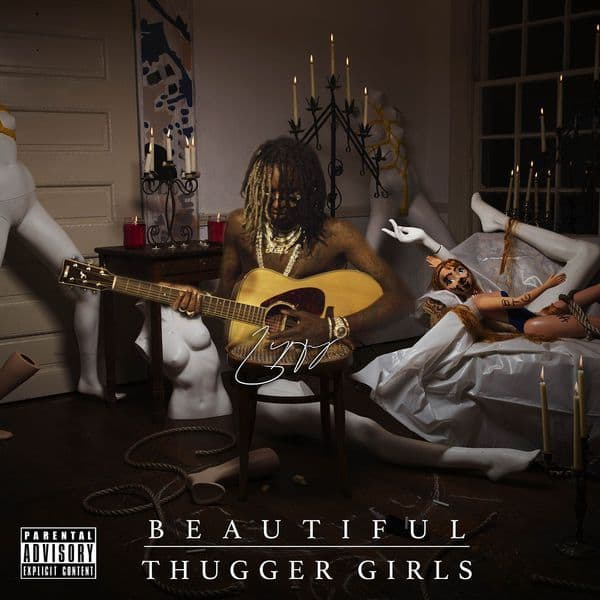 Genre: Trap Rap, Pop Rap
Favorite Tracks: "Family Don't Matter," "She Wanna Party," "Daddy's Birthday," "Do U Love Me," "Me Or Us," "Take Care"
It's not a country album! The enigmatic rapper/singer and heavily-meme'd posterchild of expression's retreat from the linguistic, Young Thug's current spot in the trap-o-sphere is a strange one, but one worth getting into. Ascending out of Jonesboro, a Georgian town south of Atlanta (a town which Killer Mike once referred to as "desolate" and the centerpiece of Thug's first three tapes in the aptly titled I CAME FROM NOTHING series), Thug has been embraced by Gucci Mane, Apple Music, and big producers such as Metro Boomin and London On Da Track. With hip hop growing ever more eccentric in the 2010s and trap's integrity slowly being brought into question, the manic elasticity of Thug's AutoTune-soaked yowls strangely caught on and crept up everywhere. Furthermore, Thugga was heavily bolstered by an image that either challenged the boundaries of male fashion or (perhaps even with this comically photoshopped cover to his latest project) echoed the ghost of Lil Wayne's peak, itself one of many beef catalysts Thug has now allegedly resolved. After capping off the scattershot endeavors that were SLIME SEASON 1, 2, and 3 with the highly acclaimed JEFFERY mixtape, Thug has been relatively quiet these past few months with a few singles and features, albeit mostly on important projects facilitating his connection to big names, holding off on the constant cranking of last year. In the recent hype for BEAUTIFUL THUGGER GIRLS being his first official album, originally titled "Easy Breezy Beautiful Thugger Girls," Thug has teased a to-be-determined Drake executive producer credit and made a stretch of a comparison with himself and the admittedly far more lyrically substantive Tupac Shakur. But the real shocker has to be Thug banking on the project's supposed departure from trap and into . . . country.
Though acoustic guitars are prominent, sonically this veers more towards what contemporary R&B has already been doing for years. Where JEFFERY was a dazzling menagerie of Thug's legendary inspirators, THUGGER GIRLS serves as a moody ode to the album's namesake. Rather than land comfortably into the mega stardom mainstream alongside other rappers-turned-singers with banger after aggressive banger, the would-be love songs on here are passionate, while still tethered to hip hop. As always, Thug's signature overt wackiness in ever-changing timbres and flow with varying amounts of AutoTune are the main draw. Lyrically, there's not much to latch onto, mostly colorful descriptions of sexual exploits. At its worst it's free word association, but like JEFFERY, Thug continues to reflect his contemporaries, and still throws plenty of curveballs that succeed for the most part.
Our opening track, "Family Don't Matter," has Thug baiting country the most with mellow guitar and a "Yeehaw!" adlib, but it's up-and-coming London-based singer Millie Go Lightly's input on the first verse and bridge that makes both of their voices shine. This union reaches new heights on "She Wanna Party," a potential pop ballad with a wondrously celebratory hook. After the somber cut "Daddy's Birthday" gets surprisingly real with Thug on fatherhood, "Do U Love Me" brings back some lavish joy thanks to London's upbeat production, plus cartoonish delivery and wordplay from Thug, but not without asking the title's biting question. The track is somewhat reminiscent of Zacari's hook on Kendrick's "LOVE.," Zacari himself noting Thug as an inspiration.
On "You Said" Thug soulfully belts out unfulfilled fantasies while acknowledging his past, current responsibilities, and the melting away of stylish personas once in love with, "And I'm seeing all your emotions, came a long way from roaches" and, "I get excited when I see you / I'd rather freeze up and get shocked when I see you / I'm they dream and I'm steady just strappin' our child in the rearview." "On Fire" similarly addresses him coming "a long way from ramen noodles," but under a more vicious tone, with the preceding, "We killin', ain't tryna sue you" contrasting Thug's absurdly AutoTuned threesome-begging on the track's introduction. Channeling Post Malone (who has a producer credit), Bruddah Iz, and even Riri (at least lyrically, again referencing Kendrick's latest), Thug asks, "Who you loyal to?" and proceeds to tearfully yelp all over simple acoustic guitar riffs. On paper it doesn't seem like any of this would hit, but the growing versatility of Thug's drawl almost never disappoints.
Not all of them are winners, though. Most unfortunate of all, it appears that the mere inclusion of some features dampen other efforts to make their respective tracks great. Future almost pulls off "Relationship," but his utterance of, "I know how to make the girls go CRAYZEE / When you treat her like your number one BAYBEE" is cringeworthy and the ringtone production doesn't help. Snoop does his best for his age on the frankly titled "Get High," but Thug's hook is toothless, and Lil Durk, an up-and-coming favorite of mine, is given absolutely no room to work with. Though it highlights the positive dental hygiene theme sparsely explored in the rest of the album, "For Y'all" and its dead, wannabe slack guitar and discount keyboard horns distract from whatever Thug's doing with his voice. Even worse, poor Jacquees is only reserved adlibs and a stupidly brief outro, making for a deceitful feature credit. Thankfully, everything is made well again with a satisfying closer. With banging production by Judge Beats fit for an electronic festival and Thug shamelessly squealing, "Whoah, whoah / You remind me of Erykah Badu, you're on go / Thinkin' 'bout masturbating to your nudes, yeah yeah" and, "Bill Gates, I'm your stepson" makes "Take Care" an explosive conclusion to quite the emotional trek.
Even if it's not as momentous as his previous mixtape and denoting this as a "singing album" creates just as much a false sense of importance as the title of "album" itself does, BEAUTIFUL THUGGER GIRLS stands tall in Young Thug's catalog alongside JEFFERY and 1017 THUG. In my review of the first SLIME SEASON tape, I said Young Thug has nowhere to go but up. That was at the end of 2015; in trap years that was eons ago. Now mark these words: Thug's seemingly continued relevance and winning streak are products of actual talent. In a world full of gimmicks and flavor-of-the-week popstars, Thugga smokes out any and all competition.
Verdict: Recommend