HOPE DOWNS by Rolling Blackouts Coastal Fever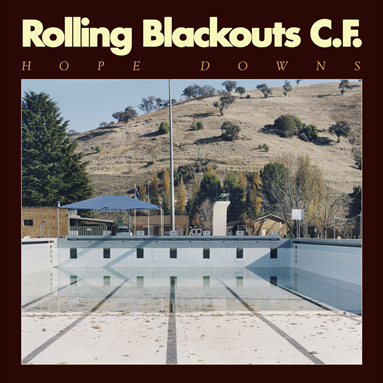 Genre: Jangle Pop
Favorite Songs: "An Air Conditioned Man," "Sister's Jeans," "Time in Common," "How Long?" "Bellarine"
Rolling Blackouts Coastal Fever have a fascinatingly vague nostalgia present in their sound. Hailing from Australia, a place where rock and roll as it was once known is seemingly very much alive and well, the band's touchpoints are clearly more from '80s college radio than anything else—HOPE DOWNS often sounds like a softer version of The Replacements, as if Peter Buck had replaced Bob Stinson on guitar on PLEASED TO MEET ME—but there is an unmistakable modern-ness to it as well. Tack on some of the most impressive dueling guitar work that anyone's heard since The Strokes were big, and this is a seemingly winning formula. Most of the time, it's just as good as it should be, and RBCF have delivered what is so far the year's best rock album with HOPE DOWNS.
The album opens with "An Air Conditioned Man," which seems to give the impression that the band is about to double-down on its tendency to write catchy, but meandering (in a good way, I promise) guitar songs. "An Air Conditioned Man" is self-sustaining in its creation of energy, and it has the same galvanizing power as The War on Drugs' "Red Eyes" in its energetic guitar attack, all while juxtaposed with lyrics about an OFFICE SPACE-style hell of unsatisfying work. "Sister's Jeans" adds some early '90s flair to the formula, with lyrical touches that invoke an underlying sadness and dissatisfaction in the song. That's another area where The Replacements comparison is relevant for RBCF—there always seems to be something underneath the fireworks that reflects an intense longing and dissatisfaction, even on songs that trend more upbeat and pleasant.
Even if you could fairly describe the RBCF sound as meandering, HOPE DOWNS is a fairly taut album outside of "An Air Conditioned Man," and it definitely benefits from that. Most songs clock in at around three minutes, no longer or shorter than they should be—the mark of songwriters who know what they're doing. "How Long?" is a great example of a track that could have been quite mishandled had it been longer than it is; a minor chord-tinged, mid-tempo song that stands out among the rest of the album for its more laid-back nature, it works well to show off the proficiency of this band to create not just energy, but rich textures. A rhythmic, more distorted part, interwoven with chime-y, chorus-laden guitars, occasional slide guitar riffs, and a constantly chugging bass riff that serves as the song's tonal center, does the same thing that so many of RBCF's '80s indie influences did so well, which was make very deliberate and specific layering sound positively effortless. It's a simple song lyrically, but that serves it well, because the guitar parts are just so damn good.
There really aren't a lot of noticeable flaws to HOPE DOWNS. It's a bit lyrically simplistic sometimes, and the references to Australia might go over the heads of some listeners, but any nit-picking that one can do with their sound is more than made up for by the brilliant work of these five musicians. HOPE DOWNS hits a really sweet spot between pop accessibility and a hint of punk aesthetics and nihilism, fitting in well with the current indie rock landscape while also nudging to as-of-yet unexplored territory.
Verdict: Recommend