HIVE MIND by The Internet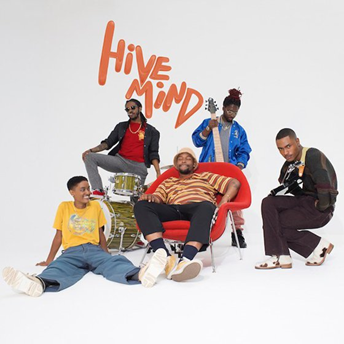 Genre: Alternative R&B
Favorite Tracks: "Roll (Burbank Funk)," "Stay The Night," "Mood," "Wanna Be," "Beat Goes On," "Hold On"
When The Internet dropped its gorgeous 2011 debut, PURPLE NAKED LADIES, it fit comfortably alongside a breed of suburban SoCal humility dominated by Odd Future. The 14 tracks, conceived in an apartment by Syd the Kyd and The Jet Age of Tomorrow's Matt Martians, highlighted some of longest-lasting names in early 2010s alt-R&B including Kilo Kish, Left Brain, and Pyramid Vritra. FEEL GOOD, the expanded group's second album, featured some of the most lovably insecure poolside anthems of all time, including masterpieces "Sunset" and "Dontcha." And when EGO DEATH dropped in the summer of 2015, it seemed to instantly nestle its way into the hearts of R&B nerds everywhere. The record explored love on an artistic level that only veteran storytellers like Lauryn Hill and Erykah Badu had attempted. EGO DEATH also saw The Internet grow into a full band, incorporating elements of live jazz and trip hop to craft a timeless, cutting edge, and undeniably heartfelt sound.
In the three years since their magnum opus, Syd, Martians, and teenage indie-soul sensation Steve Lacy have all used their association with The Internet to launch successful solo careers. Though three years is a relatively short period between albums, The Internet's collective creative influence seemed to dwindle; The Internet's name seemed to come up more when Lacy dropped his 2017 demo than it did when the crew dropped HIVE MIND's lead single "Roll (Burbank Funk)" in April. Much like their sibling crew Odd Future, in the time between EGO DEATH and HIVE MIND, The Internet began to feel more like a collective of individual creators than a band.
HIVE MIND is The Internet's first major label release and it's immediately apparent, which isn't to say the album is sellout-y or bad, but the crew's latest is markedly less vulnerable and significantly more assured. The record generally opts to replace the Pharoah Sanders and Sun Ra space age jazz of the group's prior work for radio friendly throwback funk. Although it's a bummer that they tend to be more Funkadelic than jazzy, HIVE MIND still has plenty of out-there moments. "Stay The Night" in particular is an especially good slice of moody Wes Montgomery-esque R&B, with Lacy's guitar sprinkling sample-like melodies into one of the album's most quintessentially "Internet" songs.
It is a relief that even with the transference in sound, Syd still has a uniquely seductive knack for lyricism. Sexuality has always been the best part of Syd's songwriting, and she delved into the intricacies of gay romance in a way rarely projected in pop music on her solo album FIN. "Mood" is an especially lovable slice of raw sensuality, Syd's vocal abilities in peak form as she belts out the lines, "You just a girl I came to know / I thought you were relatable / You asked me out okay fosho / I make myself available." The song erupts into overt eroticism when Syd talk-sings the lines, "If I hit it the right way/Can I get a night two?" On HIVE MIND, Syd isn't the only LGBTQ member of The Internet (Lacy, reportedly also gay, teases at bisexuality on his social media). Although there are a number of gay artists in the current cultural sphere, The Internet are socially and artistically pushing boundaries in the major label realm to places they haven't gone before. As politicians like Brett Kavanaugh threaten gender equality and an increasing number of high-profile men are forced to step down from their positions of power due to sexual misconduct allegations, it is comforting to know that there is at least positive reception towards an unabashedly uncloseted jazz crew in Sony Music's corporate boardrooms.
Increasingly progressive sexuality isn't Lacy's only contribution to The Internet. He also amply employs jazz guitar chords that are bound to leave Post-DeMarco fans worldwide swooning; fitting, as Mac Demarco appears in the "Roll (Burbank Funk)" music video. "Wanna Be" is especially alternative in its tendencies, merging a smidge-too-trebly guitar riff with boxy drums that play more like a soundtrack to a day spent stumbling around Long Island with a pack of Viceroys than a record exec-friendly banger. The Internet gracefully play into radio-friendly sensibilities more than ever on HIVE MIND. "Look What You Started" showcases bassist Patrick Paige II digging into a wet groove that sounds like it was ripped straight off of Thundercat's DRUNK. The track also fades out on a filter effect that's equal parts "Disciples" and "Oui." Album closer "Hold On" is especially reminiscent of Jeremih and top 40 R&B, and though it risks off-putting normie tendencies, Syd luckily remedies the track's integrity with the undeniably slick hook: "Hold on gangsta."
HIVE MIND is going to be a smash hit. It is going to be an album that will be referenced by neo-soul enthusiasts for years to come. Funk fans who swore by The Internet after EGO DEATH will surely find themselves gawking even harder at the group's tight pocket and hip hop ennui. HIVE MIND begs for a stank face more than it does the nostalgic tears of their previous work and the collective's current lineup pushes progressive musicianship and 2018-friendly ideals further into the mainstream than it ever has before. Even if it's not nearly as emotionally transparent as its predecessors, HIVE MIND is still a smash.
Verdict: Recommend