Hit or Sh**: CBS's THE GOOD FIGHT
In this Crossfader series, our intricate and complex rating system will tell you definitively whether new television pilots are worth your valuable time. We call it: HIT OR SH**.
THE GOOD FIGHT opens with Diane Lockhart sitting in her living room, shell-shocked and ensconced in shadow as she watches Donald J. Trump sworn in as the 45th president of the United States. The scene packs a punch and informs us of two things: first, that this is a world firmly situated in the present. A present where the threats to reason and human decency are imminent and the emotional atmosphere is rife with urgency, fear, and division. A present in which nothing is certain and everything can be ripped away from you in an instant. Second, to make no mistake, because the Kings are master storytellers and they hold nothing back.
The series revolves around Diane Lockhart (Christine Baranski), the powerhouse attorney who finally gets to helm her own show after seven seasons of Julianna Margulies. Her wisdom and hardened veneer is the perfect foil to her fresh-faced goddaughter Maia (Rose Leslie), who comes to work for her firm mere weeks before she is set to retire. However,  much like THE GOOD WIFE, THE GOOD FIGHT is born from a scandal.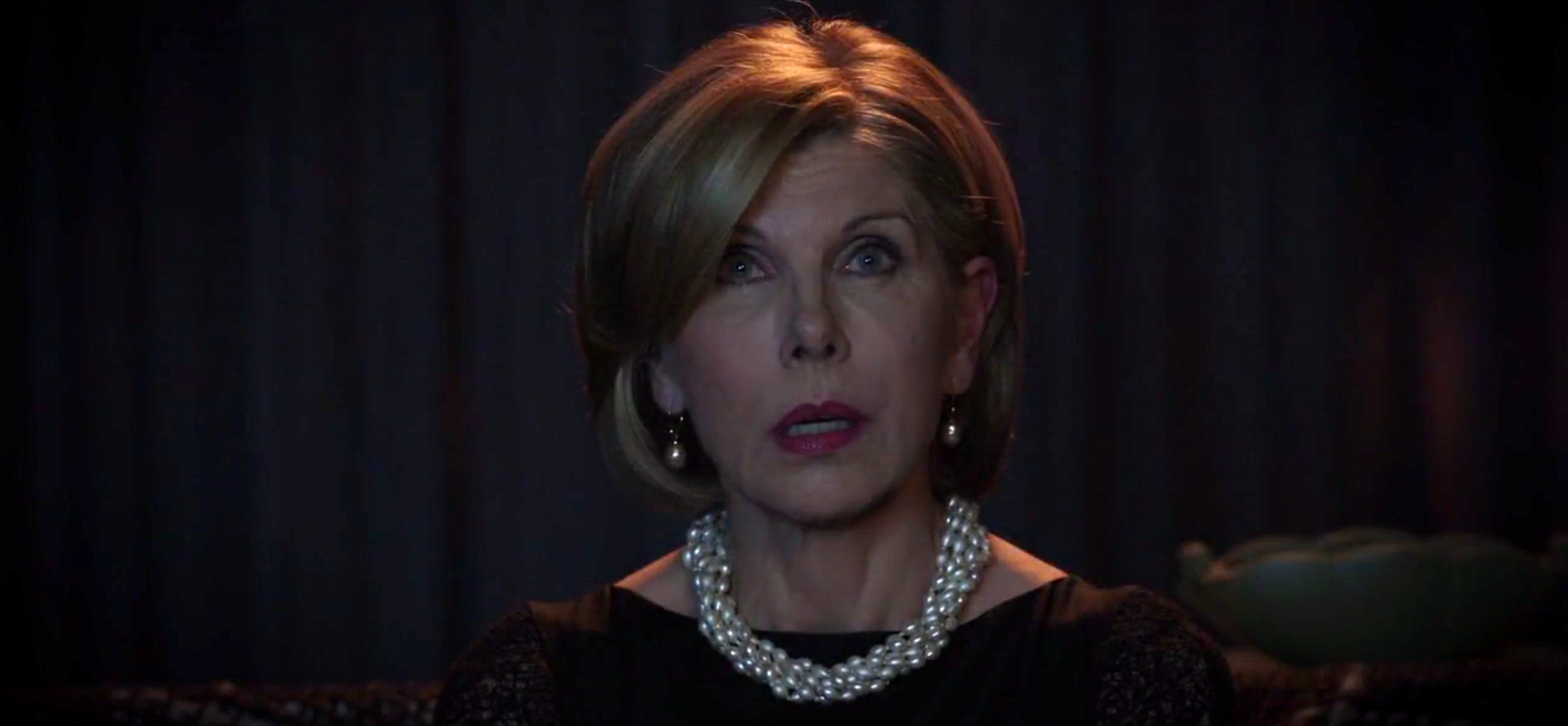 *Same*
Image Source: Screenshot
When Maia's father gets caught in a Ponzi scheme, both women are left gutted. Diane loses her life savings, her firm, and all hope of retiring, while Maia goes from reaping the benefits of nepotism to being humiliated and blamed for her father's sins. By the midpoint of the pilot, Maia stands alone under the spray of her shower, obscured by darkness, just like her godmother was in the opening sequence.
The episode flows seamlessly. As expected, the procedural elements are engaging and well-balanced, with complicated characters and compelling drama. Old favorites are back and delightful; David Lee is as scathing and elitist as ever, while Lyman's dim-witted sexism remains funny and topical. In a particularly moving scene, Lucca (Cush Jumbo), who was a latecomer on THE GOOD WIFE, consoles Maia on the other end of a bathroom stall, despite the fact that she's on the opposing council.  In a world where duplicity is currency, it's these moments of unexplainable kindness that take hold. It's a restrained and undeniably tender scene as Lucca, the older and more experienced attorney, tells Maia how to be strong.
I never watched THE GOOD WIFE because I was a fan of procedural-leaning legal shows. In fact, I watched it in spite of its genre. And much like its predecessor, THE GOOD FIGHT is simply great television, regardless of how Emmy advertisers will label it. It's smart TV that's addictive and blisteringly relevant. The dialogue is also exquisite, the characters are fleshed out, and the stories they tell matter.
It matters that issues of race are handled thoughtfully and tackled head on. It matters that the main character is in her 60s and is compelling and not de-sexualized in any way, shape or form. It matters that it is Maia's girlfriend who wraps her arms around her when she is grief stricken and crying in the shower.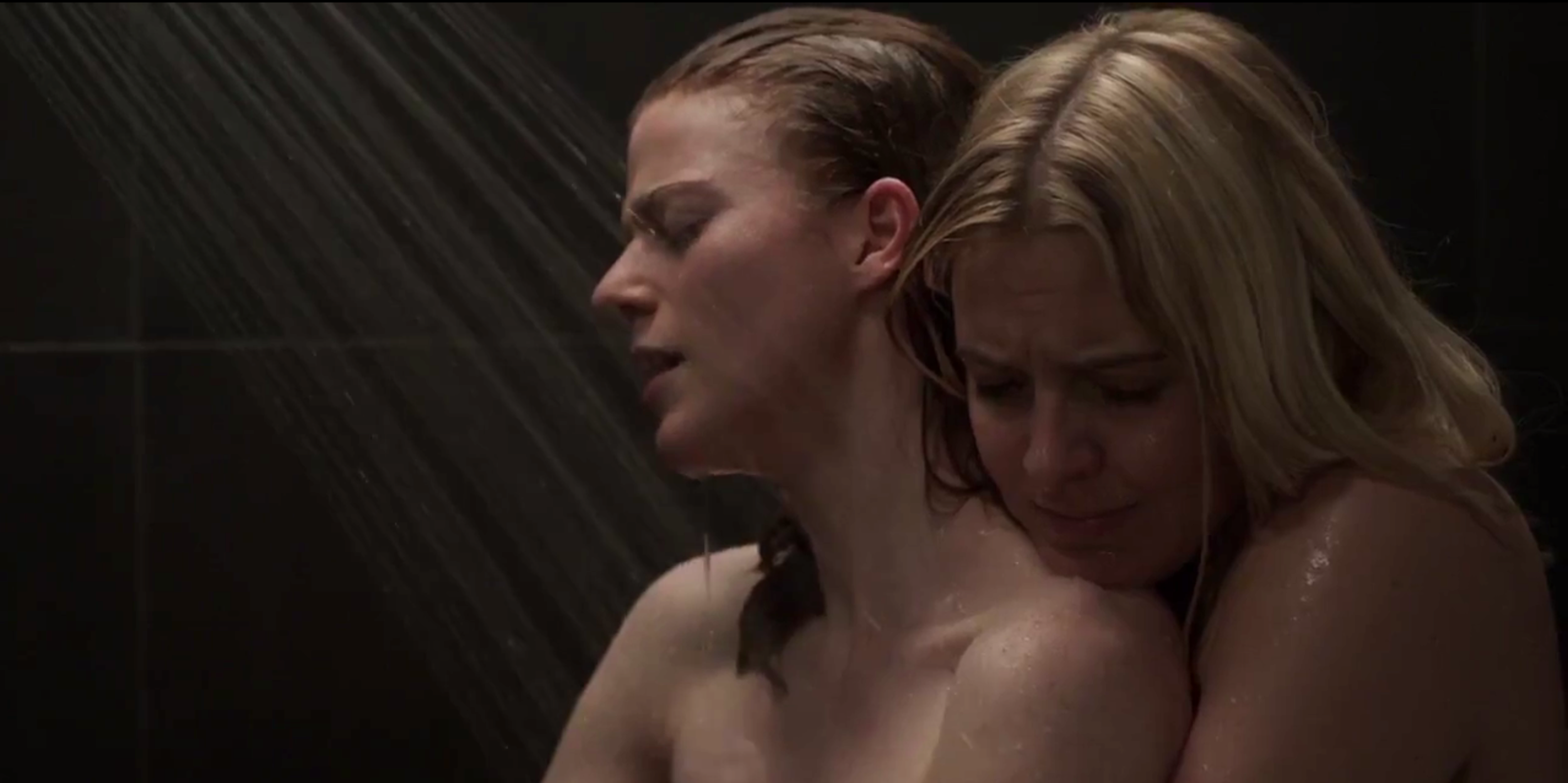 Close your eyes Mike Pence
Image Source: Screenshot
These representations, even though they barely feel like things worth mentioning anymore, all matter, now more than ever. For just as THE GOOD FIGHT reminds us, everything, even the constants, can be stolen, and you have to fight like hell to get them back.
Verdict: Hit
THE GOOD FIGHT pilot is on CBS, subsequent episodes are available through CBS ALL ACCESS.