The First Day of Crossmas: The Official End of One Direction
In this seasonal series, the good people of Crossfader detail what they want pop culture to get them for Crossmas this year. This time around, it's…
The Official End of One Direction
Listen, I love One Direction. I do not care how this affects your view of me as a person, I do not care if you think they suck, I do not care if you believe my affinity for a "boy band" means I have the emotional maturity of a teenager. I enjoy pop music, I enjoy cute white boys, and I enjoy suffering, and I'll only apologize for number two. I have stood by these idiots for almost five years, so in 2015, when news of their imminent hiatus broke, I was faced with some mixed emotions. It's not that I'm out here begging for One Direction to break up, I'm just kind of… finished.
I've never been one for closure. That's just not something I demand from my media, which is why it's a bit humorous that I exclusively review revivals, sequels, and reboots. I don't care about closure, but what I do care about is a great ending. Besides my normie taste and a deep affinity for a well-composed color palette, my favorite thing about Wes Anderson is his commitment to an emotionally charged ending accompanied by a perfect soundtrack. And these endings rarely offer closure to viewers — Max Fischer doesn't get the girl, the Fox family aren't completely safe, Steve Zissou doesn't kill the shark. But the film ends because that's what films do.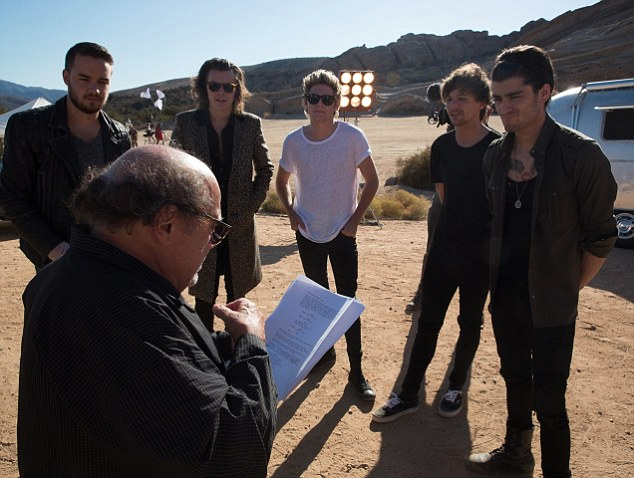 What more could I ask for after this?
One Direction feels over. Their last album, MADE IN THE AM (available on iTunes), offers not one, not two, but three perfect "well, it was fun while it lasted" songs. Their final performance before the hiatus showed a photo montage of the boys' career, and their final music video for the same song cuts between them singing and clips of them goofing around over the last six years (it doesn't even shy away from showing Zayn Malik, the ex-fifth member of the group). "History," their final single before the hiatus, vehemently repeats the line "this is not the end."
On August 24, 2015, several months before the hiatus, Louis Tomlinson tweeted: "It's just a break 🙂 we're not going anywhere !!" Louis, now a father, just released his first solo collaboration with Steve Aoki. When asked if they would get back together, Liam Payne replied: "I'm certain that we will." Liam is now rumored to be the father of Cheryl Cole's unborn child and signed his own solo deal with Capitol Records. Niall Horan appeared on the Graham Norton Show and said, "can't really put a date on it, but it's not gonna be 50 years away. It's in the foreseeable [future]." Niall was the first of the lads to release solo music, debuting with "This Town" in September 2016. Harry Styles has said nothing about a reunion (classic), but signed a solo deal with Columbia Records and is going to win an Oscar (because I said so) for Christopher Nolan's next feature, DUNKIRK.
Doesn't all of that sound like it's over? The emotions behind that final performance on X-Factor were deeply felt — fans were watching their favorite band say goodbye on the very same stage that they were formed. Well, good-bye (for now). But what happens if it's not just for now? What happens if Harry's acting career blows up? (Although I'm unsure of that happening based on his performance in ICARLY.) What if Niall just likes the solo life too much, or Liam and Louis don't want to be away from their children? The hiatus was marketed as an opportunity for them to relax and take time off, but each member has committed to remaining as busy as possible. Their quick leaps into new endeavors mirror Zayn leaving the band in order to "take time for himself" and releasing a new single less than a year later. It's clear that they were all desperate to do something just for themselves for the first time in over six years.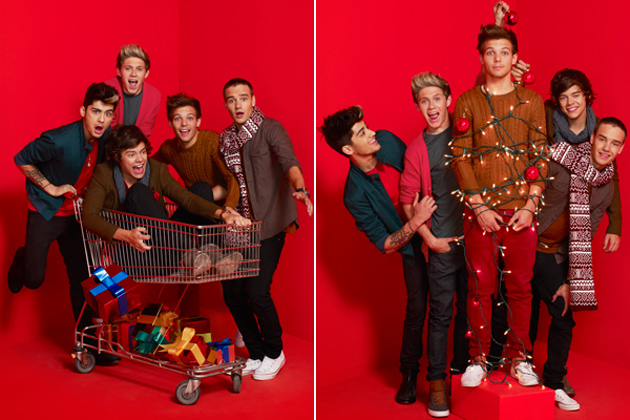 Merry Christmas to me y'all
And who are we to stop them? Does it matter that fans want more One Direction if One Direction doesn't want more One Direction? In the first few years they seemed so genuinely into it — they pranked each other, acted like idiots on SNL, and loved on each other so much they basically started their own gay rumors (just search "Larry Stylinson" literally anywhere, good luck). And then one day it stopped. I personally believe it was when Piers Morgan stole their souls on "1D DAY," a live broadcast of the lads just dicking around for SEVEN HOURS. All of a sudden it became apparent that they weren't really spending time together outside of band obligations anymore. Zayn and Louis or Liam and Louis would pair off, Harry would go hang out with his celebrity friends, and Niall would, I don't know, watch THIS IS US (available on iTunes) on repeat? They'd reached an unfathomable level of fame, and it felt more and more like they'd been trapped by Simon Cowell, forced to perform the yearly cycle of promoting their album, recording the next album on tour, promoting that album, touring that album, etc. One Direction released five albums in four years. Most of my other favorite bands haven't even made five albums (Vampire Weekend LP 3 available now). It's unsurprising that they want to rest.
I don't feel like I need One Direction anymore. I needed One Direction when I was 18. This dumb band brought me closer to my best friend and three-time 1D concert companion, Dorie, they helped me make some of my first friends at college, and provided a soundtrack to some of my absolute worst days (listen to "Don't Forget Where You Belong" when you're far from home and tell me you don't shed a tear). I exclusively listened to them while I was learning to drive and I always found a way to sneak "Where Do Broken Hearts Go" onto mixtapes for my crushes. But I'm 23 now. I still bump "Girl Almighty" at work and I know I'm going to have to rent out a theater for all the people I'm going to drag with me to see DUNKIRK (in theaters July 21, 2017), but I don't need anything else from them.
Actually that's a lie, I feel like I need one more thing from One Direction: the perfect ending. Which is what I, Aya Lehman: Harry Styles stan until I die, am asking for for Crossmas: I want the perfect ending for One Direction. I want them to announce that yes, it's over. Maybe one day they'll have a reunion tour (I'm already saving up), but for now, fin. I want them to go back to X Factor UK, somehow convince Zayn to join, and perform two final songs: "History" (again, I know) and, for the final time, "What Makes You Beautiful." Group hug, big bow, and it's over. No more "will they or won't they?" No more rumors about them fighting or hating each other or whatever. Just a final goodbye. And maybe a reunion tour in like 30-40 years where they finally play "Same Mistakes."