THE END OF THE F***ING WORLD Review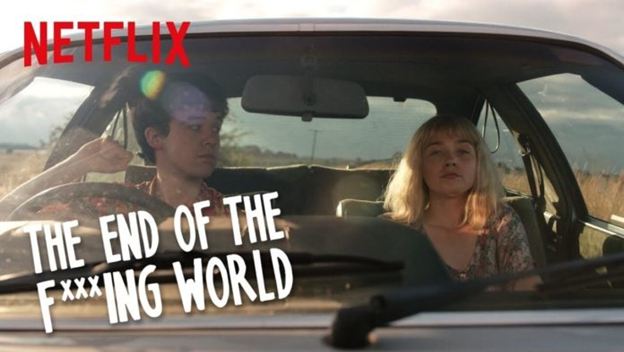 Doesn't everything just absolutely suck when you're a teenager? Stuck in the whole "too young to be taken seriously, but too old to just be a kid" stage for god knows how long (seven years feels like an eternity). Always thinking that nobody understands and nobody cares. And nowhere does that hold true more than for the two 17-year-old leads of THE END OF THE F***ING WORLD. Rebellious Alyssa (Jessica Barden) is the forgotten eldest child of her newly remarried mother, and apathetic James (Alex Lawther) lives alone with his inattentive and foolish father. Fed up with the way her mother and stepfather mistreat and often ignore her, Alyssa decides to skip town. "Let's leave this shithole town, now. You hate it, I hate it. Our parents are dickheads. I'm going whether you come me with or not. You in?," she asks James. James follows, but not to feel the freedom Alyssa seems to desire. Instead, he intends to kill her.
This British black comedy opens with self-proclaimed psychopath James explaining that he has not been able to feel anything since he was a young boy. When he was nine, he stuck his hand in a deep fryer to try to experience some semblance of emotion. Intent on killing his first human victim, he meets Alyssa in the school cafeteria one day and chooses her. To do so, he pretends to fall in love with her. (Isn't young love great?) And so begins their wild adventure that results in multiple stolen cars, a robbed gas station, and a dead professor/serial killer.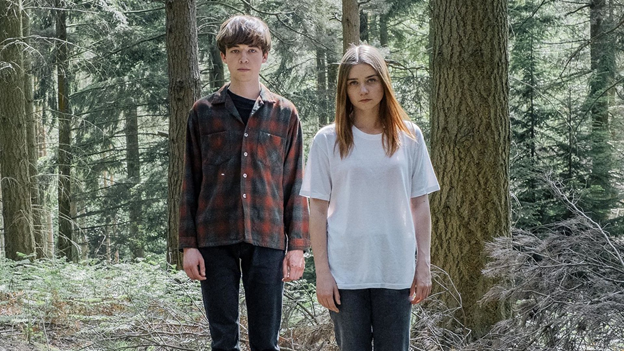 Wonder when the new EP for their indie band is being released
Based on a Charles Forsman comic book, THE END OF THE F***ING WORLD is a richly dark, humorous, and touching journey through the confusing time in life known as adolescence. What keeps the season interesting is not so much the runaway adventure itself, but more so the ways each character develops through their shared experiences. The characters become so much more than just Bonnie and Clyde-type rampant kids. It's revealed that James resorts to his psychopathic tendencies as a consequence of a highly traumatic experience when he was younger. Alyssa acts out as an unsympathetic and foul-mouthed troublemaker to cope with her parents' lack of attention and love towards her. Each discover these things about the other, and what they unexpectedly find in one another is a sense of belonging and love that they so desired from their own family lives. So much of teen angst seems to go hand-in-hand with totally hating your parents, and where THE END OF THE F***ING WORLD shines is in its depiction of James and Alyssa realizing and coming to terms with the normalcy of having flawed parents. No one is perfect, and this show emphasizes each character coming to terms with this—and learning to love one another despite that.
The series diverges into two separate parts midway through the season, following both the teens' getaway and the pair of detectives hot on their trail. Eunice Noon (Gemma Whelan) and Teri Donoghue (Wunmi Mosaku) investigate a murder involving James and Alyssa, and the hunt begins. Aside from creating more tension, these supporting characters also bring in a more comedic and touching side to the story. By the end of the season, the claustrophobia of the law closing in on these teens is almost palpable, and the show does well to coax up the intensity and hold it till the very last shot.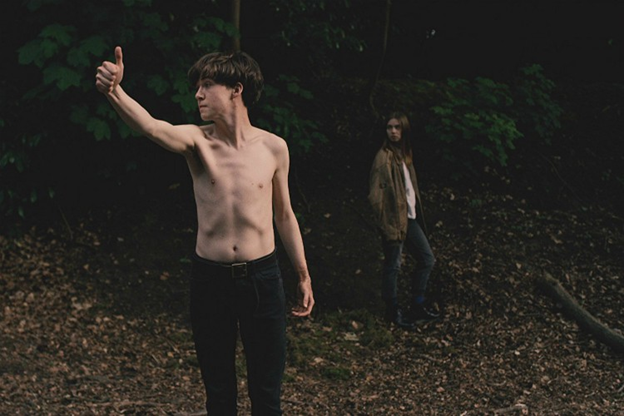 Hey, James? Is this show worth binging?
Lawther's performance as an apathetic and emotionless loner works great for comedic beats early in the season, and his portrayal of the way James grows into a more loving human is truly heartwarming. His depiction of a traumatized young boy's journey to cope with his mother's death is both tragic and beautiful. Barden conveys Alyssa's harshness and secret sensitivity so perfectly that nothing ever feels too contrived. The show's handling of these two characters, each struggling in their own ways at home, is both so genuine and so poignant. James's apathy is perfectly paralleled by Alyssa's vulgar and rowdy demeanor; despite this, their harsh external actions and words are balanced by voiceover narrations of their inner thoughts, revealing their true feelings to audiences.
The show is fun to watch, every shot is beautifully framed and colored, and the fun and retro production design constructs a delightfully sardonic world. However, what steals the show is really the two main characters and the way their relationship grows through the season—and consequently the arcs they end up having because of it. Adolescence is a confusing stage in life, and young love no doubt complicates things a whole lot. Though what THE END OF THE F***ING WORLD proves is that sometimes, genuine human connection and care can help you survive the worst.
Verdict: Recommend