E3 2017 Highlight Reel
The Electronic Entertainment Expo's first public opening didn't quite hit the emotional heights that last year's convention reached, but that had as much to do with reruns of 2016's hit announcements as it does from actual duds. That isn't to say there wasn't anything to be excited about: far from it actually. Here are the Crossfader Staff's most anticipated reveals from this year's conferences.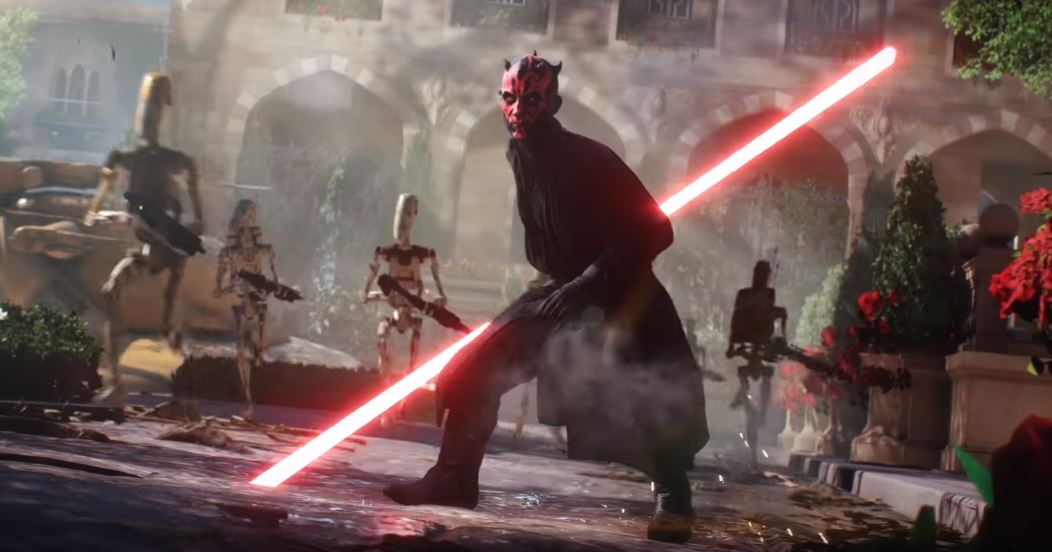 STAR WARS BATTLEFRONT II
When EA DICE rebooted the beloved Battlefront series in 2015, we were less than thrilled with the result. A remake in name only, BATTLEFRONT 2015 managed to disappoint everybody: shooter aficionados were saddled with half-baked gameplay and an unreasonable amount of premium DLC, while Star Wars fans were left out when the devs decided to cut out any content related to the prequel trilogy. EA was thoroughly dragged for this affront to one of the world's most beloved megafranchises, and deservedly so, but at least someone was paying attention. The debut multiplayer demo at E3 showcased battle droids, clone troopers, Naboo starfighters, Darth Maul and more duking it out in Theed. Taking a page from RAINBOW SIX: SIEGE's playbook, EA assures us that this BATTLEFRONT II will not charge players for new maps and weapons, and the inclusion of player classes, which were mysteriously nixed from the last BATTLEFRONT, have thankfully been confirmed to return. We're not sold quite yet on EA's latest foray into a galaxy far, far away (they did manage to bungle it up on their first try, after all), but BATTLEFRONT II is instilling a lot more confidence in us now than when it was originally announced.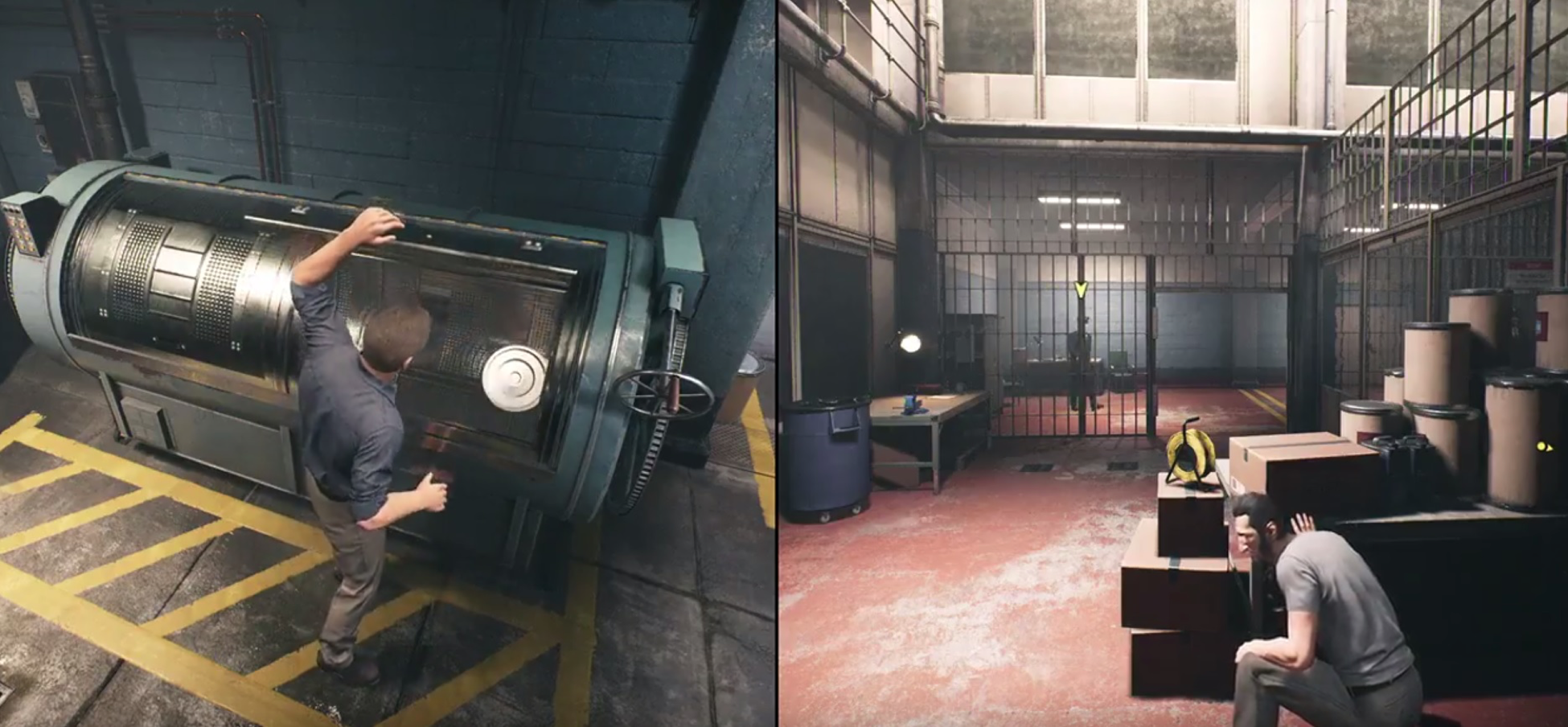 A WAY OUT
The big (arguably only) surprise to come out of EA's conference was the reveal of Swedish developer Hazelight's A WAY OUT. The latest entry in the EA Originals program, which gives indie games a shot at scoring a healthy cash infusion from the publishing giant, A WAY OUT looks like an odd marriage of the Uncharted series with BROTHERS, Hazelight's debut title. Players will control either Vincent or Leo as they try to break out of prison and get back to their lives outside of the clink. A WAY OUT can only be played cooperatively, online or off, but the screen will always be split to display both player's views. This concept becomes particularly intriguing when you consider that Vincent's path may lead him into a cutscene while Leo is still locked in the middle of a combat segment. Divergent storylines are nothing new to gaming, but never have they been implemented in a multiplayer setting on the level that A WAY OUT seeks to attain. A WAY OUT was easily most ambitious title of E3, so let's hope that it can deliver on the hype.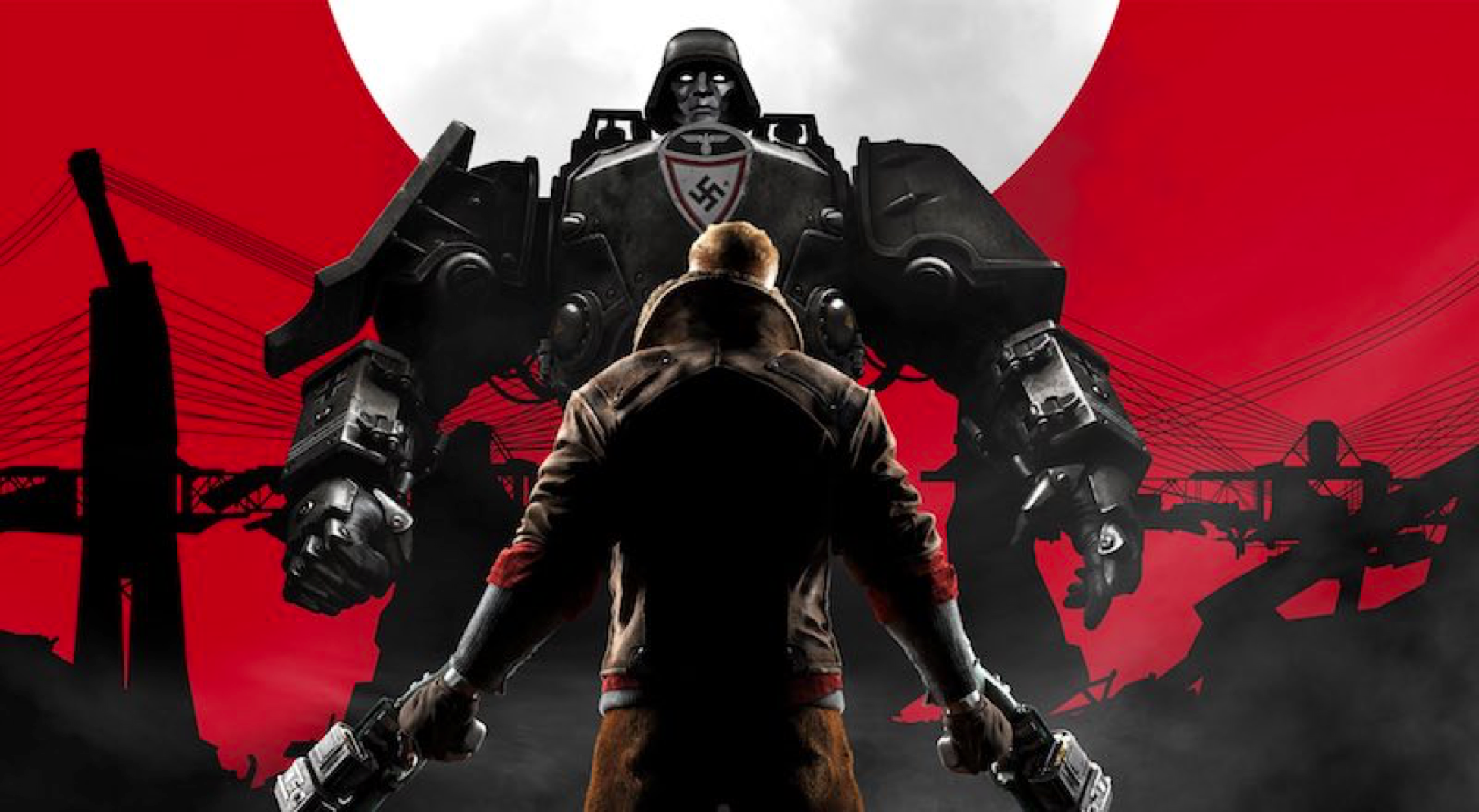 WOLFENSTEIN II: THE NEW COLOSSUS
If anyone "lost" E3, it was without a doubt Bethesda. Two more re-releases of SKYRIM in 2017, a gallery of VR spinoffs of other games that already exist, and paid mods (!) left the publisher's conference floor a turd-covered minefield. WOLFENSTEIN: THE NEW COLOSSUS was not one of these deuces. 2014's WOLFENSTEIN: THE NEW ORDER was good, gory fun following the exploits of BJ Blazkowicz, a superpowered resistance fighter charged with mowing down mountains of Nazis in an alternate 1960s Earth ruled by the Third Reich. The newly revealed sequel picks up with our hero waking from a coma and wheeling himself out of a Nazi hospital, blasting the guards apart with a machine gun with as much nonchalance as a recently recovered vegetable can muster. That's only the tip of the iceberg of the ridiculousness on display, as combat ration LSD tabs, fire-breathing robotic mounts, and enough Nazi TV game shows to make THE MAN IN THE HIGH CASTLE blush all make an appearance. As hard of a pedigree it is to top, THE NEW COLOSSUS promises to be a goofier, more cinematic experience than the first game, and should prove to be a wonderful relief to 2017's drought of shooter gems.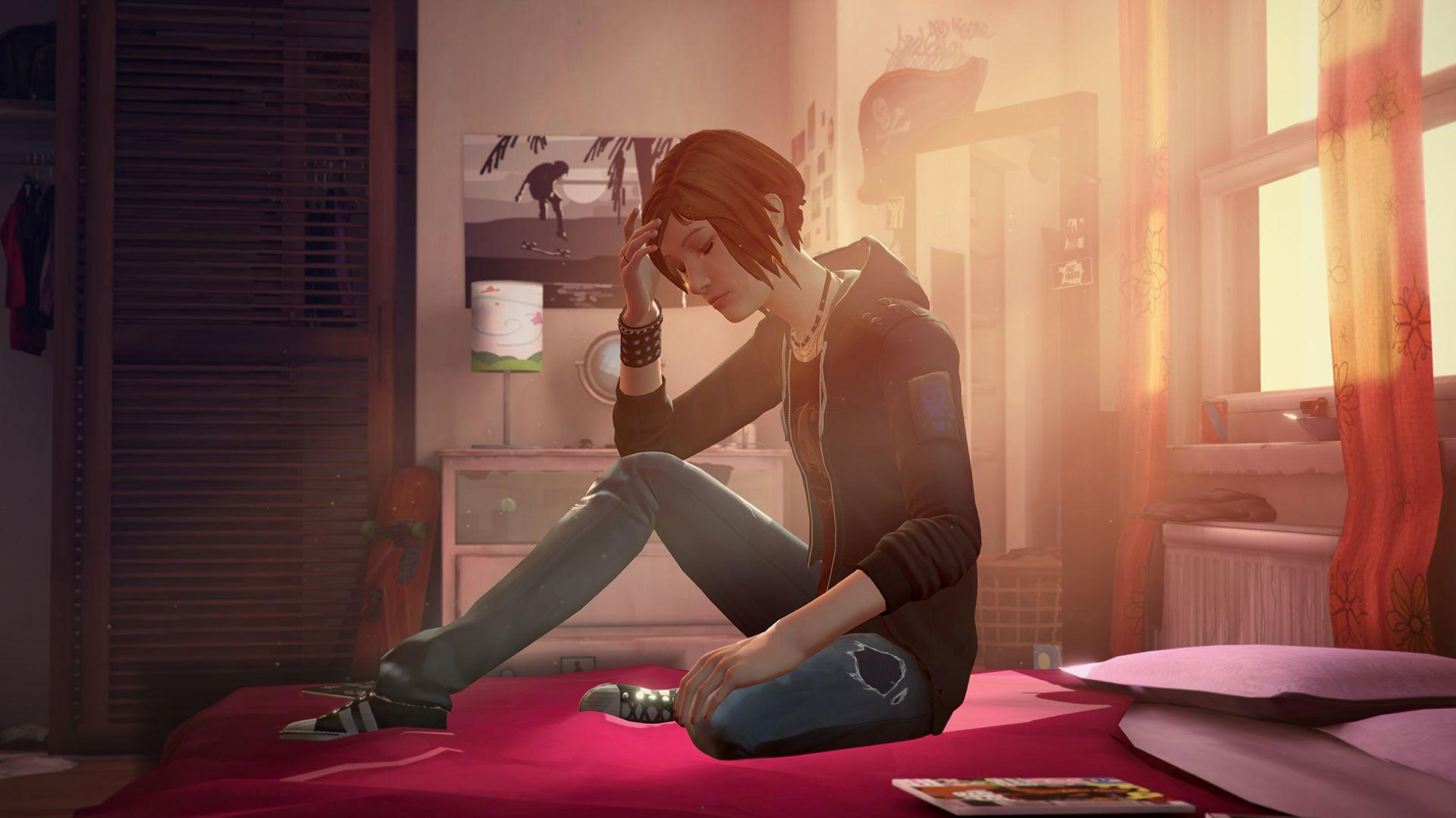 LIFE IS STRANGE: BEFORE THE STORM
We at Crossfader love LIFE IS STRANGE more than life itself, so when developer DONTNOD announced last month that work on a sequel was already well underway, we were already fumbling for our wallets. With the announcement of BEFORE THE STORM, a completely separate prequel, releasing a little over a month from now, Square Enix is poised to completely break our bank accounts. BEFORE THE STORM is set three years before Max Caulfield's return to Arcadia Bay, focusing on teenage rebel Chloe Price's relationship with Rachel Amber. Rachel's conspicuous disappearance drove the first season's plot, so getting to finally meet her, as well to get a chance to control Chloe, will provide the ultimate form of fanservice to followers of the original. Unlike DONTNOD, BEFORE THE STORM developer Deck Nine is based in America, and it's already clear from the brief gameplay footage that switching to a team who speaks native English has yielded tremendous upgrades to both the dialogue and lip-syncing. Though this series was built on a mechanic where players rewind time, we only want to fast forward to BEFORE THE STORM's launch.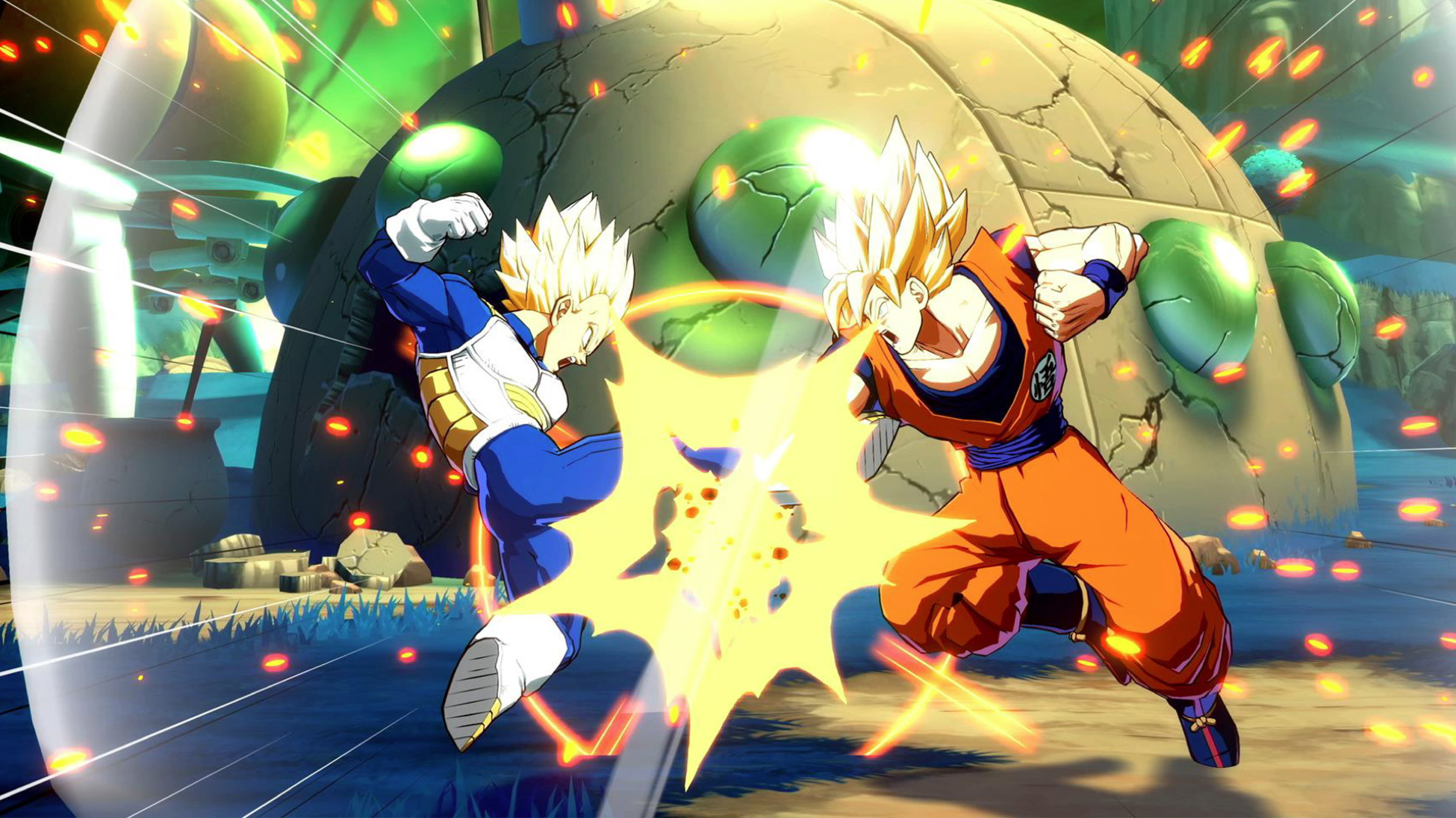 DRAGONBALL FIGHTER Z
Nobody would've been able to guess that we would be getting a 2D Dragon Ball Z fighting game any time soon. Developer Arc System Works drove the crowd at Microsoft's conference bananas with DRAGONBALL FIGHTER Z, a frenetic 3-on-3 brawler in the vein of the Marvel Vs. Capcom series and a welcome respite from the slew of shallow, mediocre 3D DBZ fighters like RAGING BLAST and XENOVERSE. But while MVC: INFINITE failed to impress on numerous levels at E3, initial response to DRAGONBALL FIGHTER Z has been nothing short of stellar. With a gorgeous cel-shaded art style and some truly hectic gameplay that captures the look and feel of the classic anime, and powered by the same team that most recently brought us GUILTY GEAR XRD: REV 2, DRAGONBALL FIGHTER Z is ready to take the fighting game community by storm early next year.
The Entire Devolver Digital "Press Conference"
Devolver Digital is the indie gaming label best known for giving us HOTLINE MIAMI, so news of the publisher of games that can be primarily described as "8-bit" hosting an E3 conference sounded a bit off. "Off" was definitely the operative word at Devolver's presentation, a descent into madness that aped everything from carefully scripted speeches given by CEOs to the inauthentic interactions from the audience, as well as all the hapless, awkward developers caught in the middle of it all. Shots were fired! Lives were lost! Very few games were shown! Nothing new was revealed at Devolver's conference (the faux announcement of a collaboration with Suda51 felt more cruel than funny), but having the piss taken out of E3, an event that doesn't know whether it wants to target consumers or investors, was a very welcome change of pace. Words can barely do the event justice, so check a look for yourself:
BEYOND GOOD AND EVIL 2
BEYOND GOOD AND EVIL is probably one of the most enchanting games ever made, so it's only appropriate that its complete and utter commercial failure was one of gaming's biggest tragedies. Even a decade ago, fans had all but given up hope for a sequel, which is why Ubisoft's sudden announcement that a follow-up is indeed happening made for the biggest surprise of E3. The gorgeous cinematic trailer managed to be at once new and nostalgic, featuring a brand new cast traipsing about the familiar anthropomorphic sci-fi cityscapes the original game treated us to. We likely won't see BEYOND GOOD AND EVIL 2 on store shelves for a long time, but even the simple reveal that this series is back from the grave is welcome news.
MARVEL'S SPIDER-MAN
Ever since the monumental reveal for the new PS4 Spider-Man game at E3 2016, it feels like gamers and Marvel junkies alike have been waiting with bated breath. After all, the wall-crawler himself had just debuted amongst his MCU brethren in CAPTAIN AMERICA: CIVIL WAR, making the years and years of abuse that FOX and Sony doled out on poor Spidey seem like a distant memory. Now there's a bit more to justify the high expectations; the 10-minute gameplay trailer highlighted the game's BATMAN: ARKHAM KNIGHT-style combat and, perhaps more importantly, Peter Parker's penchant for wisecracks. The snippet sees Pete facing off against the Demons, a gang of sharply dressed thugs wearing Japanese oni masks, with some tentative assistance from an incarcerated Wilson Fisk. There's even a Miles Morales cameo thrown in for good measure! Could there be any more fanservice here? This looks better than next month's SPIDER-MAN: HOMECOMING. Sony and Insomniac can't mess this up, right? RIGHT?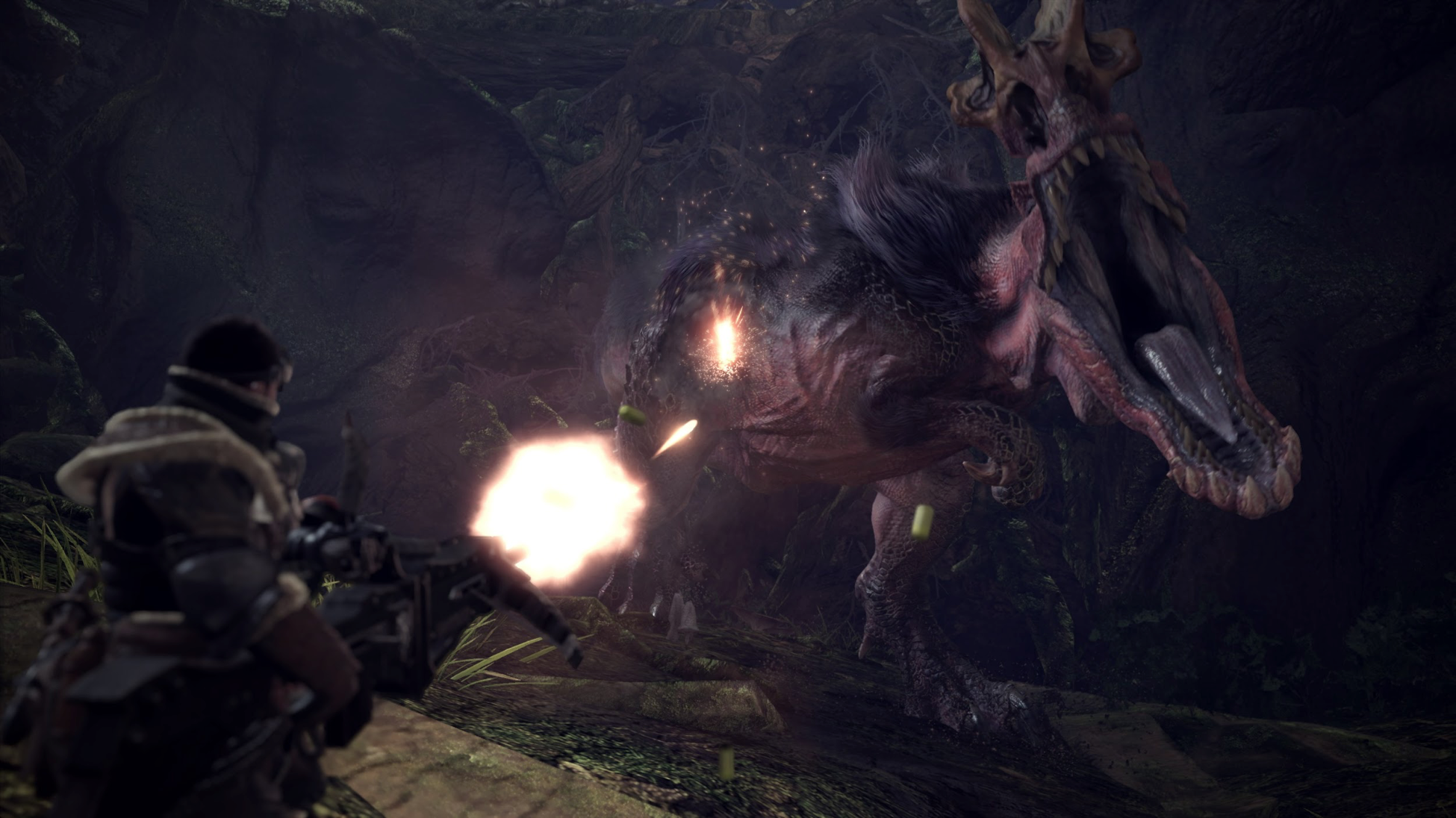 MONSTER HUNTER WORLD
Monster Hunter is home! Capcom's quirky, addictive cooperative action game makes its way back to consoles for the first time since 2013's MONSTER HUNTER 3 ULTIMATE on the Wii U. More notably, MONSTER HUNTER WORLD marks the series's return to the Playstation, where western gamers haven't seen it since the inaugural MONSTER HUNTER in 2004. The trailer showcased some gorgeous new scenery and a vibrant ecosystem, the likes of which the series hasn't seen before. Monsters seem to react much more organically to a hunter's presence, and hunters can track monsters via footprints and markings. With some new weaponry (that automatic bowgun looks pretty sweet) and the ability to grapple monsters with ropes and hooks, as well as some voice-acted sequences and absolutely terrifying new monsters, hunters everywhere should be hyped for MONSTER HUNTER WORLD in 2018.
METROID GALAXY
Did Nintendo just "win" E3? Amidst the miscues of major companies like Bethesda and Sony, Nintendo's day one spotlight event unleashed a veritable barrage of information about new titles, as well as a blink-and-you'll-miss-it METROID PRIME 4 announcement . . . but that wasn't all. Their follow-up Treehouse presentation revealed something far more substantial—METROID: SAMUS RETURNS, a reimagining of the Game Boy classic METROID II: RETURN OF SAMUS and the first 2D Metroid since 2004's METROID: ZERO MISSION. Developer MercurySteam is heading the project, which is a bit of a toss-up; their 2010 Castlevania revival LORDS OF SHADOW was a rather uninspiring 3D brawler that lacked the charm of the Koji Igarashi Castlevania titles, but the 30-or-so minutes of gameplay Nintendo showed of SAMUS RETURNS certainly resembles the classic Metroid fans know and love. Armed with a new melee counter to repel enemies and expose weak points and the ability to aim 360 degrees for precise shooting, Samus is preparing for a graceful return to form this September. Don't call it a comeback.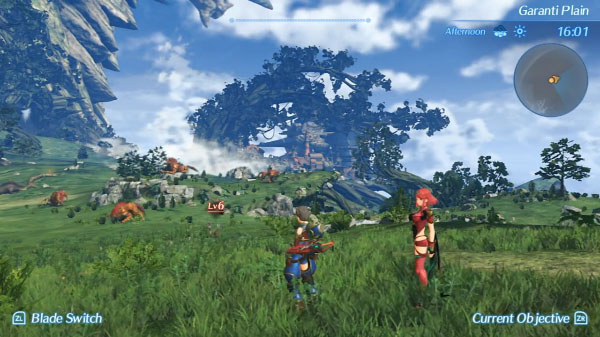 XENOBLADE CHRONICLES 2
Let's be honest here—it's going to take a lot for XENOBLADE CHRONICLES 2 to be the proper sequel that 2009's XENOBLADE CHRONICLES deserves. XENOBLADE CHRONICLES X certainly wasn't what fans had hoped for; it ditched the razor-sharp narrative beats and character development that made the first game an instant favorite in favor of an open world and blank slate avatar, likewise diminishing its appeal in the process. At first glance, XENOBLADE CHRONICLES 2 looks like a return to glory for Monolith Soft, who seem to have gotten the message that X didn't mark the spot. 2 seems set to add numerous new gameplay twists to an already-stellar battle system (one of the lone shining spots in X) and features the same composers that worked on the original—specifically, JRPG veteran Yasunori Mitsuda of CHRONO TRIGGER fame. It's a shame the original character designer isn't returning, though, because these characters look about as generic as JRPG heroes can get. Look for XENOBLADE CHRONICLES 2 on the Switch by the end of the year.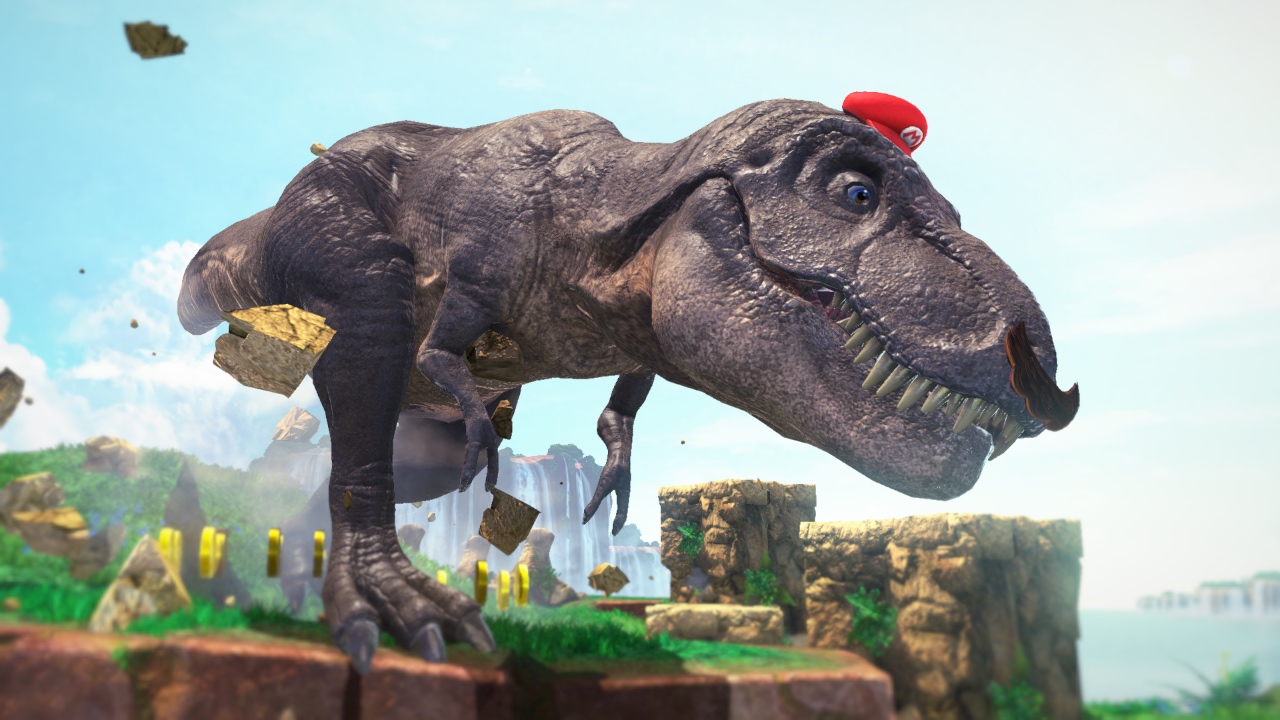 SUPER MARIO ODYSSEY
Nintendo just wouldn't be quite themselves without a requisite amount of cheek, so of course they waited until the very end of their spotlight event to talk about the most anticipated Nintendo title due out this year: SUPER MARIO ODYSSEY. This time around, viewers were treated to a snazzy, jazzy theme song and some exposition of the game's core mechanic: the ability to throw Mario's hat onto various critters and possess them! From Mario mainstays like Goombas and Bullet Bills to the T-Rex (!!!) at the beginning of the trailer, it would seem that nothing is safe from Mario's new demonic magic. So far, so good—the game is chock full of the charm and ambition that pervaded SUPER MARIO GALAXY. Only time will tell once the game releases in late October, but another superb-looking Switch title is a promising proposition.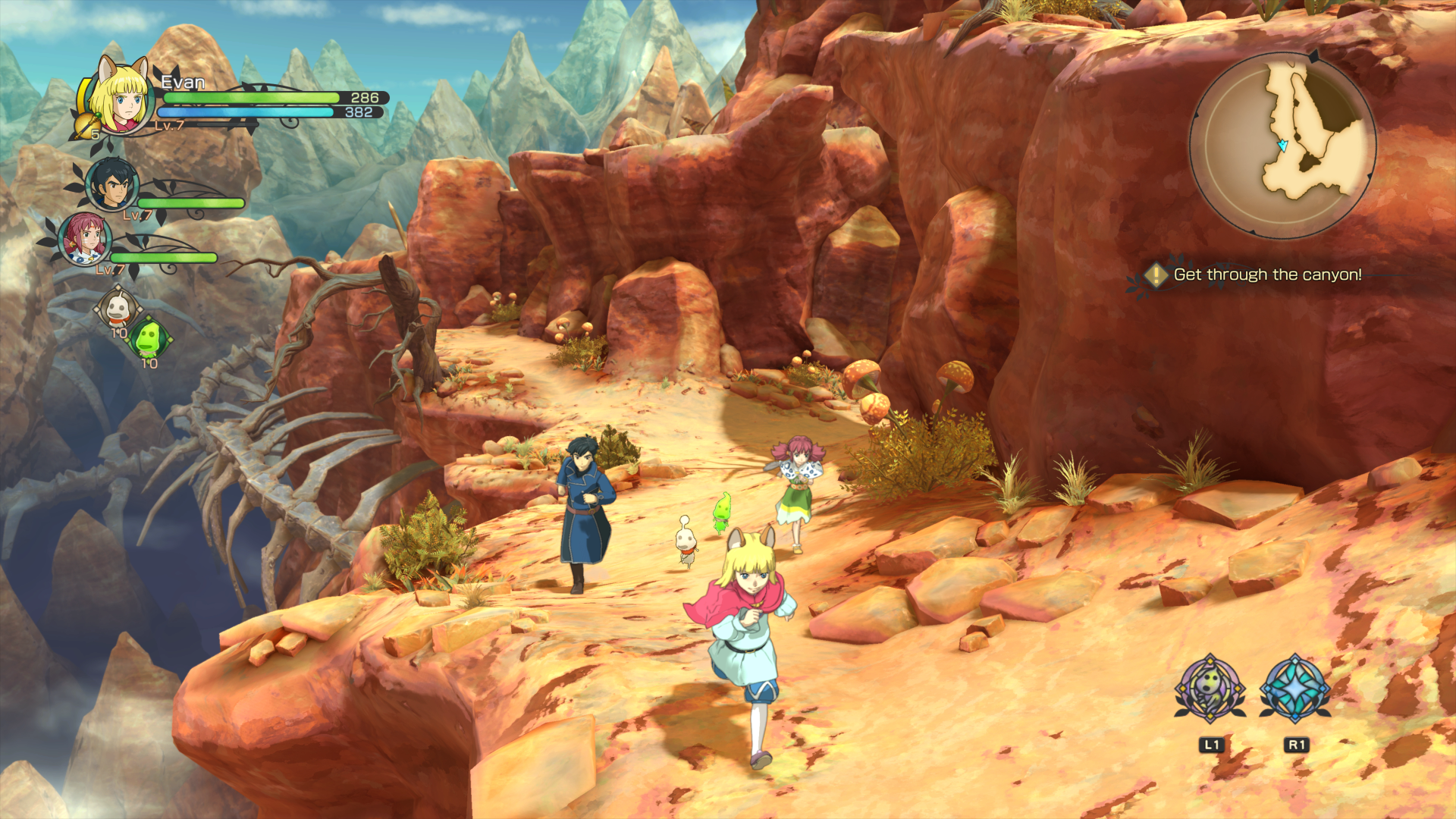 NI NO KUNI II: REVENANT KINGDOM
NI NO KUNI II: REVENANT KINGDOM and developers Level-5 have the solemn duty of following up one of the most emotionally resonant, heartbreaking, purely satisfying RPGs of the last decade. The release of some new information here is timely—very little had been revealed about the game since its initial debut at PSX 2015. It's already off to a great start; hearing familiar music from legendary composer Joe Hisaishi pulls at the heartstrings, even just while watching a short gameplay clip. Essentially being able to play another Studio Ghibli epic should be enough of a draw (despite Studio Ghibli's reduced involvement with this game), but NI NO KUNI II seems to have replaced the wonky battle system of the PS3 game with real-time action. The plot follows the delightfully-named boy king Evan Pettiwhisker Tildrum and some companions as he sets out to reclaim his kingdom following a coup. If it even comes close to matching NI NO KUNI's stunning aesthetics and touching storyline, we're in for another real masterpiece. Best get the tissues ready for November, just in case.