Hit or Sh**: Amazon's THE MAN IN THE HIGH CASTLE
In this Crossfader series, our intricate and complex rating system will tell you definitively whether new television pilots are worth your valuable time. We call it: HIT OR SH**.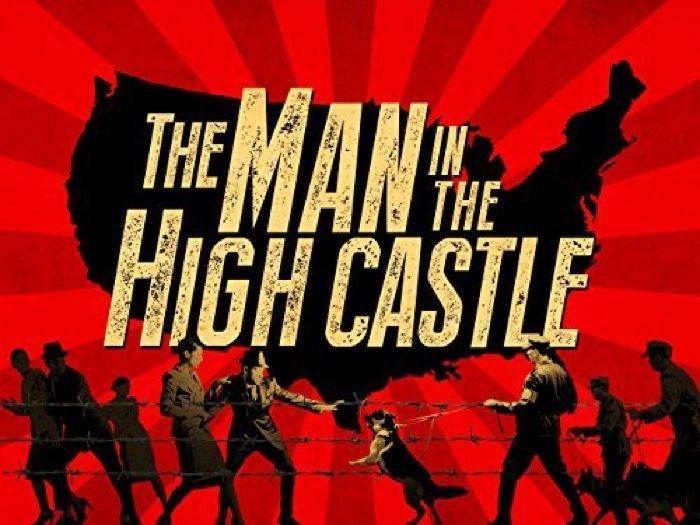 THE MAN IN THE HIGH CASTLE kicks off like a near-silent drum roll, constantly building and adding texture to a large mystery. Amazon's newest original program is adapted from Philip K. Dick's novel of the same name, exploring an alternate universe where America loses World War II and is split into Japanese- and German-controlled territories. Evil ol' Adolf Hitler is about to die, and copies of anti-fascist propaganda films are being rushed around the county, with every party desperately trying to nab them. There are enough cats, mice, and metaphorical cheese-laden traps for a good mountain of stakes in every corner and every character. The new series benefits from functioning like a big, nation-wide chess match, amped up with paranoia and conspiracy, like a messed up combination of Bobby Fischer and Pixar's GERI'S GAME. It ends up being as thrilling and amusing as watching an old man play a chess match against himself, and incidentally, as unnerving as an anti-semite genius playing high-risk mind games.
By unanimous decision, Utah was extra-nuked
The writers do a good job keeping up with each faction's mindset at any given moment, playing with complex logistics, human folly, and collusion behind closed doors. The directing in certain sequences is superb, specifically when playing with perspective. For example, initial sequences where characters see the forbidden films linger entirely on the protagonist, and only let the viewer see the film's themselves the second time around. There are smart visuals to pair with the expositional, and thorough docu-drama style dialogue.
The show falters when it focuses on intimate subplots and characters within the world. The "protagonists" of sorts have interesting positions within the conspiracy, but watching them is a melodramatic exercise. Alexa Davalos, Luke Kleintank, and a young, Brad Pitt-looking Rupert Evans play characters thrust into the middle of war-time politico insanity, and they all look and sound like they were just in a season of TRUE BLOOD. The journeys they set out on outweigh the dramatic capabilities of these performers, at least early on. But even if hanging out with these characters feels like a slog, it's hard to deny that their adventures are loaded and tense as part of a greater narrative.
Definitely not Banksy's best work
While the leads are handsome and beautiful in a way that affects actual performance, most of the older and diverse characters are played with great period-aware grace. There's a growing joy of seeing performers like Rufus Sewell, Joel de la Fuente, and Carsten Norgaard chew scenery as American Nazis, Japanese Officers, and elderly spies. Every development feels like it has world-shaking potential when these people are at the helm. Characters like Rufus Sewell's Obergruppenführer John Smith shed light onto smaller social commentary corners, such as how fascism is affecting schools, youth, and family. It's surreal, but these side players convey it all with assured ease and mystery.
Obergruppenführer Schmoberschgruschppenschführer
The real star of this show is its setting. The opening credits sequence alone hits the ground running with its unique feature world building. The imagery of a Nazi- and Japanese-controlled U.S. post WWII is as dedicated and ridiculous as anything from the BIOSHOCK series, or even Bong Joon-ho's SNOWPIERCER. Revealing an American flag's stars replaced with a swastika followed by a proud American narrator uttering "SIEG HEIL" is hard not to scoff at, but the show plays it straight and with dedication. While there's some really obvious green screen, the designs of Nazi-run New York, Japanese-ruled San Francisco, and a desolate and neutral Colorado are gargantuan and intricate. The trick up THE MAN IN THE HIGH CASTLE's sleeve is revealing all of this gradually, laying its cards on the table one by one. Thankfully, the hand it has currently is pretty strong.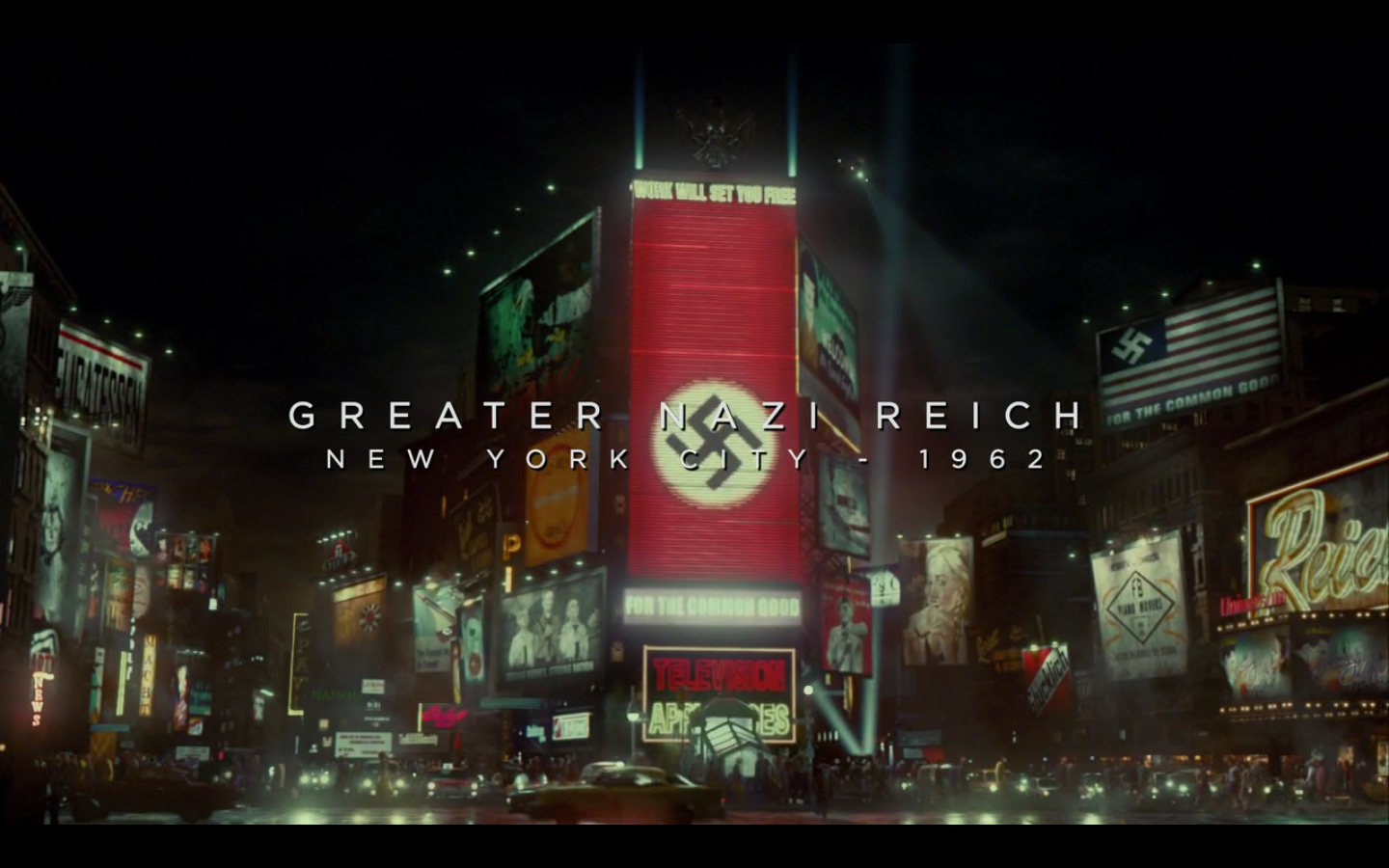 The giant Toys 'R' Us is still intact
While its protagonists aren't the most gripping of their kind, THE MAN IN THE HIGH CASTLE is worth watching just to see how this alternate universe runs itself. To be fair, it would probably be interesting enough to watch even without a looming change in the distance. In this day and age, most novel adaptations that go straight to film struggle with never having time to explore their territory, as well as the need to push the plot from minute one. With episodic television, THE MAN IN THE HIGH CASTLE struck partial gold, for the most part using each hour-long run time to its advantage. The subplots explored successfully outweigh, and in some instances support, the melodrama, making the series a mostly consistent mystery worth following up on.
Congratulations to Amazon for curating another solid show under their streaming branch, right next to TRANSPARENT, and… Well… TRANSPARENT. RED OAKS? Sure.
Verdict: Hit
THE MAN IN THE HIGH CASTLE is available to watch in its entirety on Amazon Prime