THE COLOUR IN ANYTHING by James Blake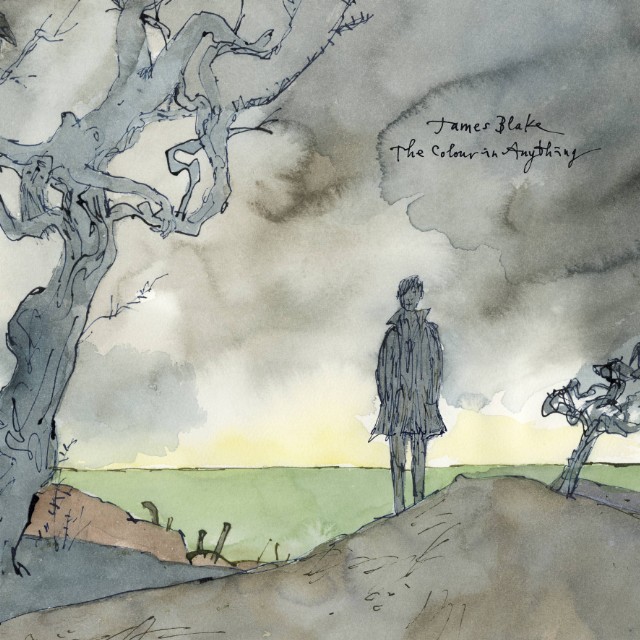 Genre: Art Pop
Favorite Tracks: "Radio Silence," "Timeless," "Put That Away And Talk To Me," " My Willing Heart," "Modern Soul," "Always," "Meet You In The Maze"
As the old cliché goes, "April showers bring May flowers." However, as the northern hemisphere moves into warmer weather, James Blake stays behind in the icy sleet of his third studio album, THE COLOUR IN ANYTHING. Not too far off from the old Londoner who teeters along the line of humming electronic instrumentation, post-dubstep beats, and soulful, crooning melodies, THE COLOUR IN ANYTHING draws us into a gray, sedative wasteland that attempts to melt away into watercolored hopefulness.
From his self-titled debut to his matured OVERGROWN and all of the extended plays peppering his catalogue, Blake has squeezed into quite a few corners under the electronic umbrella. At 76 minutes in length, THE COLOUR IN ANYTHING feels like an amalgam of all the armpits he's tickled. While this practice makes for some magnetic standout tracks, it's less of a boon to the album as a whole; the lack of an overt, overarching narrative does not justify its length. Cohesion is not this album's strong suit, but it also doesn't have any sore thumbs sticking out amongst the track listing. Each song sounds quintessentially James Blake, and because he has dabbled in so many different avenues of his genre, the sonic progression of THE COLOUR IN ANYTHING doesn't always make sense, leaving the listener a bit confused about where the album is going or what Blake is trying to say as a whole. Simultaneously, Blake seems to pull away from experimentation despite production and writing collaboration with Rick Rubin, Bon Iver, and Frank Ocean, and instead trades vocal doubling and lush, layered samples for minimalist piano ballads and subtly concentrating synthesizers.
Nevertheless, what THE COLOUR IN ANYTHING lacks in cohesion, as well as narrative and production complexity, it makes up for in some of Blake's most expressive vocals and emotional lyrics to date. His soliloquies on this album remain poetic and ruminative without becoming cheesy or cryptic, all whilst decorating untangled instrumentation with vocals that feel rhythmically appropriate and uncluttered. One characteristic that Blake has used across his foray into electronic subgenres that feels at home on this album is his on-and-off use of vocoder and autotune. Blake sounds emotionally numb as he metallically asks himself, "Where is your beautiful life?" but in a song soon after he removes his robotic self and candidly sings: "I suggest you love like love's no loss" amidst soothing horns and what can only be described as the sound of shooting stars.
The a cappella closer "Meet You In The Maze" is arguably a hallmark of the album, and is stylistically comparable to Imogen Heap's "Hide and Seek," with poignantly optimistic lyrics and swelling vocalization to lull you to sleep after weeks of anxious insomnia. The qualities on this song are the ones which create a rejuvenated version of James Blake that we will hopefully get to hear more of in the future. Although the rest of the 16 tracks on THE COLOUR IN ANYTHING fight for hit-or-miss status, the underdeveloped or overly-cacophonous misses are luckily overshadowed by the hits – the ones that seek to indulge and envelop the listener through elegiac prose, growing walls of synthesizers and beats, and serene piano melodies.
Despite the straightforward and vulnerable nature of Blake's lyrics, it's not an album that can be described as happy. What differentiates THE COLOUR IN ANYTHING from Blake's previous work is not that it isn't heartbroken or stagnating, but rather that he is slowly learning to accept the essences of love and impermanence. On "I Hope My Life – 1-800 Mix," he may be running through a hypnotic vacuum where opening one door only leads him back to the same place he began, but by "Modern Soul" he realizes, "I had no idea of the difference between/The way I saw your face and the way it was," finally submitting to the natural flux of love and life. Perhaps if happiness necessitates acceptance, the future of Blake's music might grow a garden to full bloom.
Verdict: Recommend