BEASTMODE 2 by Future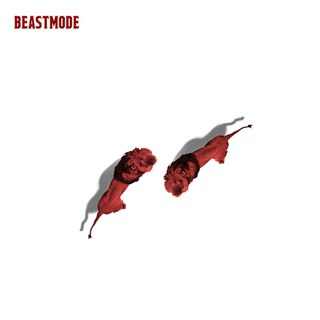 Genre: Trap Rap
Favorite Tracks: "DOH DOH," "RACKS BLUE"
I had hoped that Future releasing a nine-track mixtape would mean that a newfound sense of focus and care was being brought to his work. Not that his prior releases, loaded to the brim with 15+ songs, were ever perfunctory, but it has led to more misses than hits. Future has always been a prolific artist, but he's at his best when he gives himself and his art some time to marinate. Even if BEASTMODE 2 is comparably pared down to its predecessor, the result is more slight than anything, with the Atlantic trapper reveling in well-worn subject matters and squandering some of Zaytoven's best work.
Aside from promising opener "WIFI LIT," where the "Mask Off" flute returns to soundtrack his millionaire woes ("I've been counting it up for hours / That cramp my hands"), and the later "DOH DOH," which sees him bobbing and weaving on a chorus with infectious Auto-Tune warbling, BEASTMODE 2 feels wholly flat. Even in that latter track, Future ultimately has to sidestep Young Scooter, who bests him in both delivery and content. As he glides with jocular charm, "Young Scooter got them trees, I ain't talking 'bout timbs," Future lurches forward with an ill-matching staccato, and imparting bromides like, "Cuban link, Cas-tro / Count it fast / Tur-bo (brr)." Moments like this, where Future can't do Zaytoven's work justice, are when the mixtape starts to falter, pointing perhaps to a larger problem that's pervaded most of his recent output: complacency.
When Future's flow occasionally delivers, it's only on a superficial level, and his lyricism can't hold up under scrutiny. Apart from drivel like "I fucked her and made her pee" or "she done got a lil' schlong on my teeth" on "31 DAYS," I lost count of how many times "lean" or "Patek" were mentioned. I try not to complain about repetitiveness in rap or in music in general, but knowing that Future has the ability to cover new and more rousing ground, seeing him fall back on rap's worst clichés is a disappointment. That he seldom balms these edges with singing doesn't help either—part of why "DOH DOH" is the project's ringer is because of the melody he brings on the chorus.
With such slack volatility from Future, his comrade can only do so much to compensate. "RACKS BLUE" features some of Zaytoven's most layered fretwork, marrying wistful piano and violin with buoyant synths, and on "DOH DOH," there's superb usage of the 007 GOLDENEYE theme. Future may not hold up his end of the bargain, but it's nice to see a producer continually striving to reinvent while also refine his intrinsic assets. He makes it seem easy, but there's a knack to timing the piano appearances. The nimble strolling on the keys in the coda of "DOH DOH," or its complementing of "SOME MORE"'s cavernous bass and spacey production are reminders of the instrument's value in this genre.
And yet, despite sparks of creative mobility, Zaytoven's reliance on the piano can't save all of his production from monotony, especially when he gets caught up in mid-aughts hip hop trappings, like the dreadful horns on "HATE THE REAL ME." Coincidentally, the track with the weakest production has some of Future's more poignant lyrics. He reflects on the impact gang violence has had on him and his family ("My mama stressing out, she say these drugs got me / And I ain't been the same since that n**** shot me") and addresses the self-incriminating hypocrisy that comes with protecting his crown ("Loading up the cartridge right now, I hate the real me / Voices in my head, 'you the enemy'"). It's this type of honesty and fragility that has made Future one of the most intriguing rappers to listen to, but it's mostly buried here. The songs tend to feel like him just checking off items of the trap gamut and I guess one could say that's the very intention of the BEASTMODE tapes—luxuriating in the bona fides—but I like when Future asks a bit more from us. And so, BEASTMODE 2 remains a rather lumpen entry in the rapper's catalog.
Verdict: Do Not Recommend