CHINESE NÜ YR by Iglooghost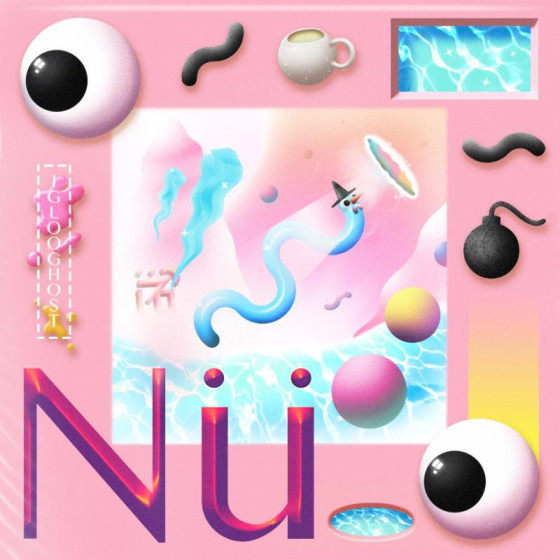 Genre: Wonky
Favorite Tracks: "Mametchi / Usohatchi (featuring Mr. Yote)," "Gold Coat (featuring Cuushe)," "Peach Rift"
On October 30th, UK producer Iglooghost made his debut on Flying Lotus' independent label Brainfeeder. In January of 2014 he released TREETUNNELS, a 16-track tape of FlyLo-esque beats, mastered by Brainfeeder producer Matthewdavid. In September of that year Iglooghost produced the entirety of Milo's debut A TOOTHPASTE SUBURB. Since then, Iglooghost has put out two tapes, PLACES U HIDE… [ S K E T C H E S ] in May 2015, and the MILK EMPIRE collab with Mr. Yote in June. Iglooghost's sound has evolved along the way; the fuzzy synths, wonky melodies, and lush percussion on TREETUNNELS and A TOOTHPASTE SUBURB, though still enjoyable, had progressed on PLACES U HIDE… [ S K E T C H E S ] and MILK EMPIRE into a sugary, fast-paced realm only describable as "Iglooghost." Now, CHINESE NÜ YR distills that progression into a delectable four-track Brainfeeder release.
CHINESE NÜ YR illustrates the journey of Xiangjiao, a "gelatinous, worm-shaped creature who wears a witch hat" and travels through an endless array of wormholes at light-speed. Being scared shitless, our young Xiangjiao hurdles from one universe to the next trying to make sense of their random existence. Did the music come before or after the conceptualization of Xiangjiao and their multidimensional experiences? Regardless, Iglooghost captures the listener for a neon-glazed, high-speed ride for the duration of the 16-minute EP.
The opener, "Xiangjiao," acts almost as the little worm's theme throughout the journey, starting off with a harsh digital crash that simultaneously expands and crushes as Xiangjiao is thrown into existence. The kick comes in with high-speed percussion and chopped vocals and synths that fly past while the inertia of the beat pushes the listener – like Xiangjiao – along from one realm to the next.
"Mametchi / Usohatchi (featuring Mr. Yote)" slows things down a bit. Microscopic vocal, synth, and steel drum samples pull us through a digital rainforest that breaks down and becomes increasingly chaotic by the end of the Mametchi section. As the beat clears up we are brought into the Usohatchi section and Mr. Yote comes in at the last minute providing an outlandish verse, as if somewhere off in Xiangjiao's travels they came upon a universe where rap had evolved out by convergent evolution; still familiar to us, yet strikingly alien.
Things start to relax during "Gold Coat (featuring Cuushe)," which presents smooth synths, womping bass, and a heavenly vocal line that arpeggiates throughout the song. Midway, the beat picks up and this track becomes among the most poppy on the EP. It almost sounds like Blank Banshee infused with drum and bass, a knack for vocal harmonies, sudden stops, tempo changes, and sliding midi-vocals reminiscent of 2012 vaporwave. This is definitely the most "banger" track on the EP, and to me one of the more conventionally enjoyable (which is not to detract from how wonderful this track actually is).
"Peach Rift," the closer, seems to bring us back to Xiangjiao the worm's experience of being shot aimlessly through the multiverse, but develops more heavily on the eccentricity of their experiences. Despite being the most aesthetically diverse track, "Peach Rift" maintains a solid structure and plays off the textures and samples used throughout the EP. Settling down by the end, it sounds as if our worm has finally reached their destination, but the closing samples referencing the opening track suggest Xiangjiao is only going to be shot off into oblivion once more.
Elements of glitch, grime, drum and bass, post-vaporwave, and "Brainfeeder" are thrown all over the place, but it remains obvious how far the young DJ has come since releasing the somewhat derivative TREETUNNELS back in January 2014. It appears as if on CHINESE NÜ YR, Iglooghost has truly found his own sound at Brainfeeder rather than succumbing to the sound desired by the bulk of the label.
Verdict: Recommend