BEERBONGS AND BENTLEYS by Post Malone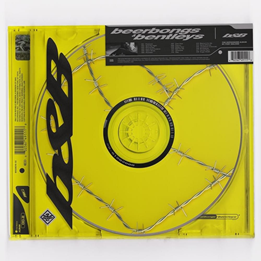 Genre: White Rap
Favorite Tracks: "rockstar" "Rich and Sad," "Takin Shots"
Darkness engulfs America. Where Truck Nuts once hung, now droop the impenetrable anxieties of the modern age. America needs a hero. A musical revolutionary. A boundary-pushing patriot, true to America's grassroots ideals. Low and behold, from the ashes of the late 1990s suburban American dream has emerged a corn row-touting, Margiela-rocking Dallas Cowboys fan, boldly proclaiming himself "White Iverson."
Somehow this ridiculous apparition has a talent for really pissing people off while simultaneously getting stuck in people's heads, like a large scoop of Jif ended up lodged in your ear. After a brief career as simply Malone, two number one singles, and comparisons to Kid Rock as well as a block of moldy cheese, Post Malone is back with his sophomore album BEERBONGS AND BENTLEYS.
BEERBONGS AND BENTLEYS flaunts its privilege before the listener even gets a chance to hit play, Post Malone able to simultaneously crush brews and cruise because he's visibly a rich white guy from the Southwest, with no fear of being pulled over by the police. His lack of sympathy for the more sensitive aspects of the American condition further manifests itself on the track "Zack and Codeine." Although it may be a staunch assertion, the world doesn't need a Top 40 musician making the opioid crisis seem trendy, even worse when he's profiting off of an epidemic that has killed tens of thousands of people since the start of the 2010s. Lines like "I wake up rinse my mouth with fucking codeine" may take on a Tony Montana stylishness when they come from less meme-y rappers, but Malone's attempt at sounding like a DS2-era Future just comes off as insensitive. That said, if you're looking for a perfect example for how to ineffectively address the topic of drug abuse in a rap song, you would be hard pressed to find a better example.
Unfortunately, Post Malone seems too caught up in his own celebrity status to heed any criticism about his tasteless ostentation, as evidenced by tracks like number one single "Rockstar," as well as "Spoil My Night," which may contain the album's most laughable content. The line "I ain't even seen her face but she got beautiful boobies" may be one of the most absurdly childish proclamations from a rapper in years. There's so much '70s rockstar pastiche on BEERBONGS AND BENTLEYS that it starts to seem like Malone really can't sense any of the irony surrounding his character. Where Malone tries to portray that he's living the lifestyle of Jimmy Page, in actuality, the lifestyle he portrays is more similar to that of Andy Samberg's character in the 2016 film POPSTAR: NEVER STOP STOPPING. Luckily, the more blatantly ignorant material makes its way into in his music, the easier it becomes to chuckle away any room for affront by imagining a grown ass man standing in the booth saying the word "boobies."
All digs at Post Malone's moral character aside, the most disappointing element of BEERBONGS AND BENTLEYS is that it lacks the high quality Hollywood production of his debut album STONEY. Post Malone was never an easy guy to take seriously, but the silky smooth, borderline chillwave instrumental on "White Iverson," the chunky synthesizers of Justin Bieber feature "Deja Vu," and Shlohmo's expert production on "Boy Bandz" made it seem like the dude at least cared about musical originality. The instrumental influences on BEERBONGS are easy to pinpoint, often so much so that they sound like plagiarism. The really poorly titled "Rich and Sad" has a beat that sounds almost exactly like SahBabii's "Pull Up Wit Ah Stick," and "Takin Shots" plays like a milky attempt to disguise a Jeremih type beat ripped straight off of YouTube. Though many of BEERBONGS' shortcomings end up making for a hilarious listen, the subpar quality and tiredness of the album's instrumentals show Post Malone abandoning the only good thing he had going for him.
From the title to the objectionable lyrical content to the hackneyed musicality, Post Malone has proved himself to be, similarly to Kid Rock, a musical McMansion. He has all the makings of a good investment, but, similarly to a brand new home, he lacks the soul of a more weathered property. Although BEERBONGS AND BENTLEYS is affable in its intentions, it is soft at its core and misses its target audience, appealing more to fans of pop country and radio rock than to rap fans. BEERBONGS is a wild party from start to finish and it'll definitely be the soundtrack to many summer a 2018 pool party across the United States, but when examining it from a critical standpoint, it may be the year's biggest flop.
Verdict: Do Not Recommend