POPSTAR: NEVER STOP NEVER STOPPING Review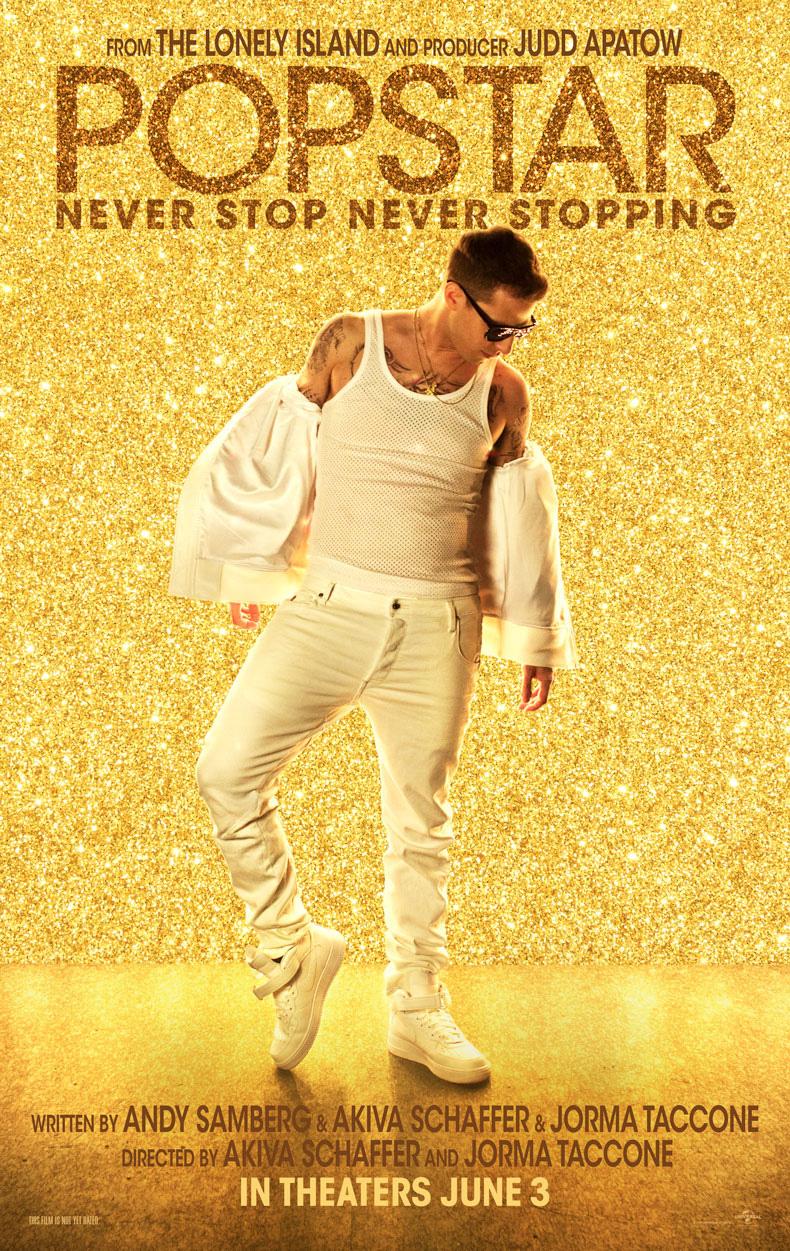 Director: Jorma Taccone and Akiva Schaffer
Genre: Mockumentary
Year: 2016
It's late at night. I'm sipping on a hot chocolate and have comfortably tucked a blanket between my legs in order to form a semblance of eroticism in my pedestrian life. I smile. As I turn on the TV to watch yet another episode of Saturday Night Live, I realize I have work in the morning. Heavens, I should be asleep. Nay, cries my heart. This is ritual, a man does not break 'fore the episode is over. And so I slug on into the dreary night, a hollow feeling permeating my soul. I take yet another sip of cocoa, chuckling at half-baked comedy that some hack wrote only to keep me up tonight. The next evening, I head to the theatre and find myself enjoying a genuinely hysterical faux-doc prologue to what appears to be 2016's incarnation of WALK HARD: THE DEWEY COX STORY. But shortly thereafter, my hopes are crushed, because after the title track has run its course and the opening credits have rolled, I realize that the entire film is going to just be one elongated mockumentary, and thus, somehow, I have found myself in exactly the same situation as last night, sans blanket.
You'd be a fool to not know exactly what you're getting yourself into when paying entry for POPSTAR: NEVER STOP NEVER STOPPING. After all, one couldn't cry "simple pleasures" any louder if this Lonely Island mockumentary would feature Gangnam Style in its prologue. But the real questions are: Are you paying entry for this film, should you, and why are you? Objectively, this 2016 comedy is just as much of an in-one-ear-out-the-other vehicle as last years HBO special, 7 DAYS IN HELL, another Andy Samberg project that at least had the decency of not getting a cinematic release. What elevates Samberg's latest foray into the mockumentary scene is that it's committed to making its audience at least chuckle every few seconds, even if that means completely embracing its idiocy. But that's really not saying much. If anything, it only helps rationalize why this got a cinematic release at all, and that's about it.
The women were also used as bribes for theatre managers
The intrinsic pitfall of the mockumentary format is that it always feels lazy, as if a team of filmmakers wanted to make a rapid-fire comedy that channels the likes of AIRPLANE or THE NAKED GUN, but didn't know how to approach this within the constraints of traditional narrative cinema. BORAT really remains among the few that have managed to avoid this issue entirely, thanks in large part to how cleverly it capitalized on candid camera. Through the conventions of the documentary genre, directors Jorma Taccone and Akiva Schaffer virtually negate the complexities that come with crafting a powerful narrative by using jump cuts to quickly offload all necessary exposition, only to t-bone the viewer with some visual and verbal comedy. As such, their biopic, albeit mildly entertaining, never feels like an accomplished film, but rather an elongated series of SNL skits that tire shortly after the film's prologue.
This impression is also what will make or break the experience for most people. If you're willing to ignore the blatant laziness on part of the filmmakers, then you're bound to have a good time. Samberg has a natural chemistry and the star-studded cameos are all mostly entertaining (save for DJ Khaled, who is and always will be a garbage fool), but that doesn't change the fact that Taccone and Schaffer are barely scratching the surface of what could have been a hilarious study of a Kanye-level pop culture personality. The casting of Tim Meadows doesn't help either, because his endearing charisma only serves to remind viewers of how expertly WALK HARD: THE DEWEY COX STORY already tackled the same concept within the more emotionally resonant boundaries of a traditional linear narrative.
Considering that we live in a musical climate where a single hip hop artist has such a firm grasp on the public eye that they can release fashion lines and smack talk other celebrities on live television, POPSTAR: NEVER STOP NEVER STOPPING is oddly inept at making a statement about the lunacy of what actually exists in the world. Musical numbers are fun in the same way a Lonely Island YouTube video is fun: quickly digestible but without any further context. Samberg's onscreen shenanigans are also going to feel teeth-gratingly dated in a matter of years considering his reliance on popular culture, featuring gags with burning hoverboards, Macklemore parodies, concert holograms, and further references to the past five years of pop culture. Thus, the film never services a greater commentary on superstardom in the 21st century, missing its mark completely and consequently playing out like one big missed opportunity.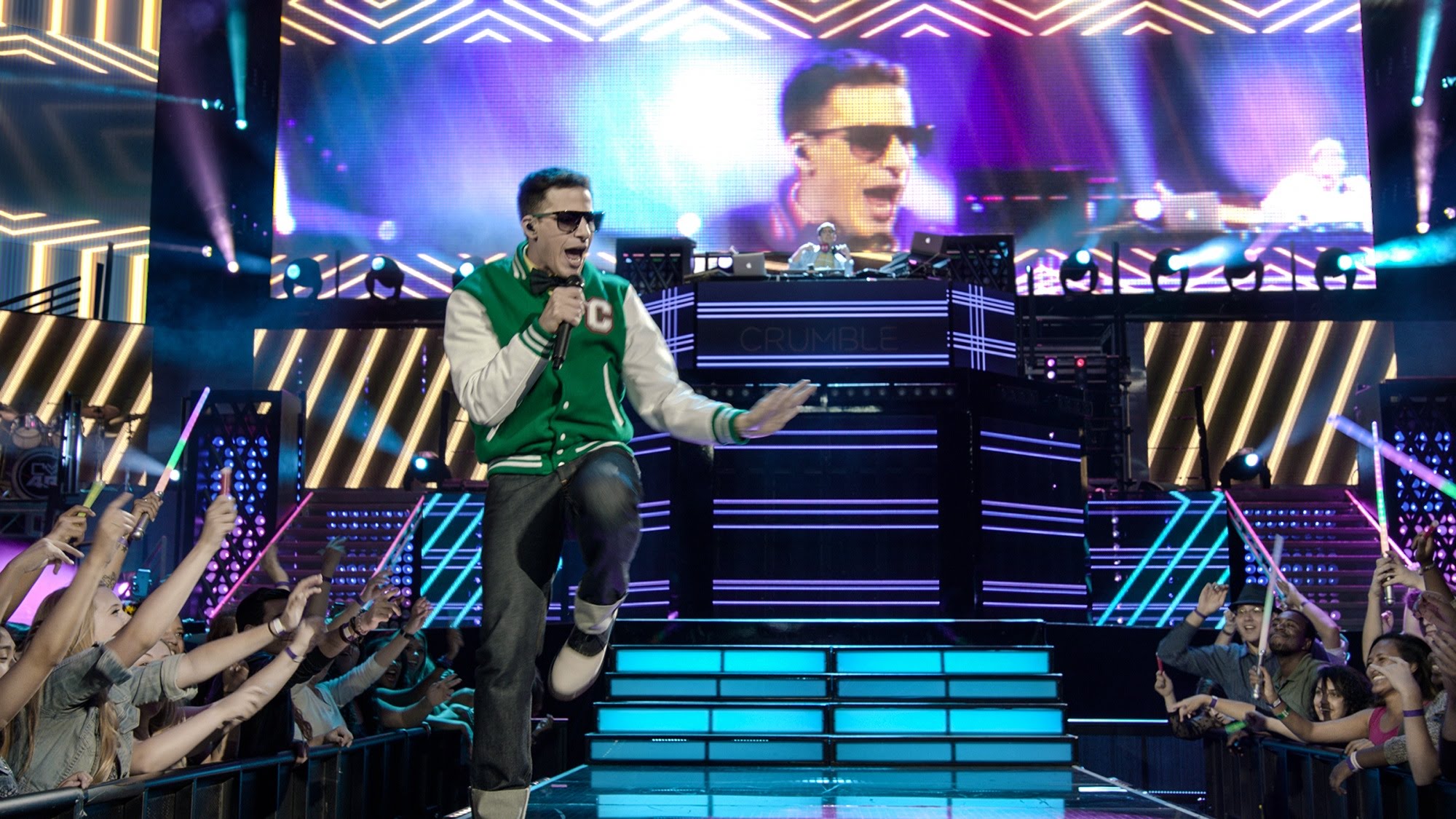 Pictured: Samberg dodges opportunities to make a better movie
And yet, this star-studded biopic does succeed where almost all of its contemporaries have failed. It is certainly funnier and more polished than 7 DAYS IN HELL — although the Kit Harrington-Andy Samberg tennis mockumentary was a fantastic proof of concept for HBO — but it fails to actually do anything new with its plot, a peculiar failure considering that there really are not that many comedies about this subject, ultimately only reaffirming just how haphazard the film is in execution. As such, POPSTAR: NEVER STOP NEVER STOPPING is perfectly serviceable comedy for anybody looking for a quick fix. It's charming and goofy, but also brazenly aware of just how irrelevant it is to literally anybody who isn't going to watch it in the next three months. The irreverent spring break hit of 2016 cinema, The Lonely Island's feature outing is the closest thing your cinema ticket will get to being an SNL episode, so for what it's worth, stay at home and enjoy having your blanket to snuggle.
Verdict: Do Not Recommend