WINTER'S DIARY 3 by Tink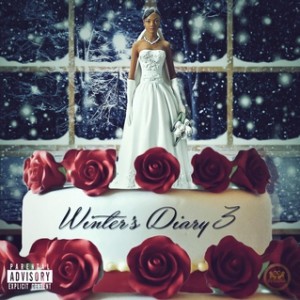 Genre: Contemporary R&B
Favorite Tracks: "I Like", "L.E.A.S.H.", "Medicine (Interlude)"
Hailing from Illinois, Tink (not to be confused with cloud rapper Western Tink) came onto the scene in 2012 with the first installment in the (currently) three part WINTER'S DIARY series. A straightforward contemporary R&B release, Tink experimented with the addition of drill and pop rap elements on the subsequent ALTER EGO (2012), BLUNTS AND BALLADS (2013) and BOSS UP (2013) mixtapes, picking up collaborations with Chicago locals such as Lil Durk and Lil Herb along the way. Tink largely avoided the critical eye until 2014 saw her release the sequel to WINTER'S DIARY, appropriately named WINTER'S DIARY 2, in addition to landing spots with more readily apparent artists such as Future Brown and Sleigh Bells. WINTER'S DIARY 2 finally burst Tink into mainstream popular appeal, with both Rolling Stone and Billboard placing it in their respective lists for the top R&B albums of 2014. Coupled with two more high-profile features with Kelela and Jeremih, in addition to a public partnership with Timbaland, the stage was set and the hype train was boarded for WINTER'S DIARY 3.
Ultimately, WINTER'S DIARY 3 can best be described as frustrating. What's immediately made apparent is that Tink possesses large amounts of raw talent and skill in terms of her signing ability. Opener "I Like" makes sure to highlight Tink's vocal abilities, and segments of the album such as the outro to "Route 42 to San Fran" and Tink's interweaving and mixing of her own voice on "There's Somebody Else" are undeniably impressive. Unfortunately, especially on higher pitches, Tink seems unwilling to trust her own vocal prowess, instead relying on incongruous Auto-Tune ("Jupiter", "Stripclub"). Tink is far more impressive when she indulges her propensity for full-fledged rap verses, as on "Very Very", "L.E.A.S.H.", and "Medicine (Interlude)".
Tink is clearly just as talented as mainstream female rap contemporaries such as Nicki Minaj (and features a much less predictable rhythm and timbre), and is more melodic and palatable than other new female artists such as Snow Tha Product. When the production is content to be more minimalistic and sparse, the mixtape reaches its highlights. It's a shame that this is rarely the case.
A majority of the production doesn't stand out in the slightest, content to rehash the modern R&B sounds we've heard countless times before. The producers don't add a tangible amount of signature style (except for Timbaland's West Coast-flavored "L.E.A.S.H.", which is the highlight of the album), and the only two tracks that stand out in terms of instrumentation are the stark, piano-laden intro "I Like" (which feels like something Drake will jump on), and the bizarre closer "Afterparty", which feels culled from the ironic PrismCorp Virtual Enterprises.
The subpar production does no favors for Tink's lyricism, which makes up her largest area for improvement. Tink's rapping techniques are interesting enough to smooth over the rough lyrical spots, but when Tink is slowly commiserating the troubles in her love life, stinkers such as "You bring the milk to my carton" (on album lowpoint "H20") and "My love for him is deeper than the South Pacific" ("Very Very") are made all the more cringe-worthy. Thematically, 7 of the 10 songs revolve entirely around Tink either wanting a man, or detailing just how a man did her wrong. While this is standard territory for R&B, it's jarring to hear a female perspective still so firmly married (pardon the pun) to filial piety and heteronormativity in the current social climate. It casts a dated pall on the proceedings as a whole, and Tink would do well to incorporate more empowering anthems in future releases.
Tink has immense potential and could easily enter the lexicon of popular female artists, but needs to let her natural voice shine, incorporate more hard-hitting bars, and take more chances thematically. Let's hope her debut album (due out this year) addresses all of the above, in addition to presenting better lyrics.
Verdict: Do Not Recommend