TICKLED Review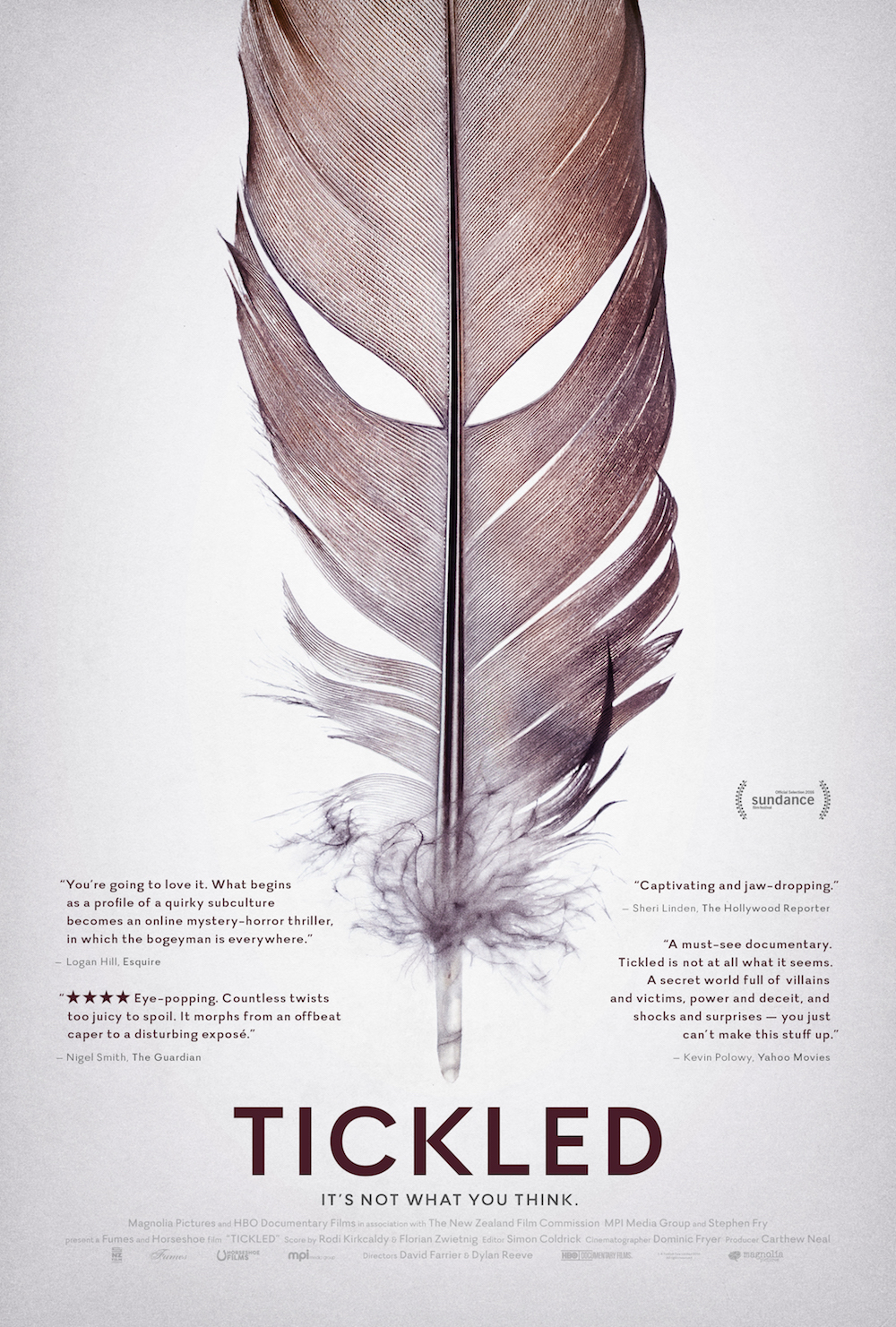 Director: David Farrier and Dylan Reeve
Genre: Documentary
Year: 2016
If you've read anything about David Farrier and Dylan Reeve's TICKLED, you certainly know that it's shrouded in scandal. A film that's openly marketed as a descent into a quirky subculture of competitive tickling sparked outrage at Sundance, causing individuals featured in the film to scream at the directors during Q&A sessions. The thing most people who haven't seen it don't understand about TICKLED, is just how far away the film shies from being an exploitative investigation into a fetish, never condescending towards the participants and fans of the movement, but rather trying to pull the lid off of a more complex legal investigation. With a marketing campaign that solely focuses on the absurdity of its facade, TICKLED lures you in as an unsuspecting viewer anticipating to be amused by a garish form of alt-porn, only to flip the tables on you, resulting in some of the most thoroughly exciting investigative crime reporting since last year's THE JINX.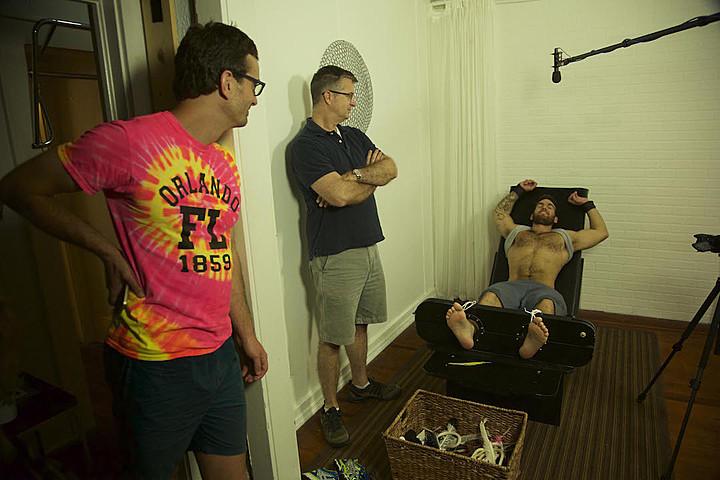 In this sequence, nobody gets tickled; the guy on the right was just really tired
Filtering out great and average documentaries has always relied on one necessary facet: indispensability. Even if a documentary is funny, entertaining, heartwarming or visually polished — which TICKLED is and then some — it should never feel like it's exploitative regarding its subjects. What Farrier and Reeve showcase in their film is that they've found a way to take a story that's fascinating on the surface in order to ultimately expose a far more sinister, essential narrative about cyber-bullying, exploitation, abuse, power plays, and legal threats.
Having said that, if Farrier and Reeve want to misdirect their audience when stepping into the theatre, I believe it's best to read this review after watching the film. Let me just say that I guarantee it's worth it. If you don't believe me, check out this link from the film's confrontational, emotionally-charged Q&A in which a key antagonist decided to attend the screening.
By flipping the camera on its antagonist, TICKLED is brutally confrontational but never unfair. Farrier and Reeve only attack once provoked and their journalistic ethic helps to elegantly and amusingly propel the narrative. The fact that the film keeps digging despite the amount of legal threats that are made against the filmmakers is perhaps its most overwhelming accomplishment. But what Farrier and Reeve should be most proud of is the fact that they not only created an entertaining film, but one that resulted in exposing a criminal whose family legacy has protected him within the confines of a gilded, digital cage.
Every year, viewers are treated to a slew of documentaries that aim to address either political or social reform in some way or another, often resulting in films that preach to the choir. TICKLED has found a way to downsize and specify its agenda, targeting a threat that could only be taken down through cinematic exposition. As such, TICKLED is really a film that needed to exist in order to help provide closure to the victims portrayed on screen. No amount of print journalism or legal work could have provided enough public shaming to the film's antagonist as a comedic venture into this bizarre landscape.
Verdict: Recommend