THE NOW NOW by Gorillaz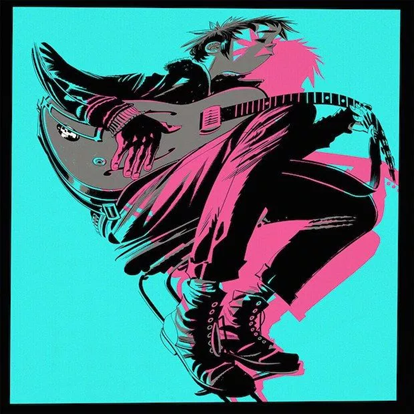 Genre: Electropop
Favorite Tracks: "Fire Flies," "Sorcererz," "Magic City," "Lake Zurich," "Kansas," "Souk Eye"
After the longest Gorillaz drought to date, Damon Albarn and Jamie Hewlett have spent the last year watering their thirsty fandom with a torrential downpour. Last year's HUMANZ was massive enough even before the deluxe and super-deluxe editions added more moisture. Now, just over a year later, Gorillaz have pulled a Radiohead and released another full-length LP, THE NOW NOW, an album that in spite of being beautiful on its own requires some context given the nature of its creation.
Leading up to its release, fans thought THE NOW NOW might be THE FALL 2.0. The 2010 album was unlike Gorillaz projects preceding it—a less collaborative, personal wave of Albarn's inspiration created on the road during the PLASTIC BEACH tour. It was an impressive work given it was created with just an iPad, but it lacked depth to the point that some fans don't consider it a true Gorillaz album. THE NOW NOW is similar in that it rides the wave of inspiration that had burst forth post-HUMANZ, features songs named after places, and sheds many of Gorillaz usual collaborations (only George Benson, Jaimie Principle, and Snoop Dogg are split between two tracks), but collectively it is more vibrant, more musically cohesive, and lyrically head and shoulders above THE FALL.
THE NOW NOW has more of a true "phase" feeling to it. While other Gorillaz projects have come with fully fleshed-out storylines for the band's virtual characters, here Albarn and Hewlett aren't pouring over with lore—though we did see Murdoc get locked up and replaced as bassist by "Powerpuff Girls" villain Ace from the Gangreen Gang (yes, really). While the "z" trend of HUMANZ rolls over onto songs "Sorcererz" and "Tranz," and "Idaho" was debuted back on their last tour, these aren't just remnants of songs that didn't make on the 2017 release. HUMANZ  was mostly to the bereft of guest stars, and as a result, THE NOW NOW is perhaps Gorillaz' most inwardly focused music since their debut; it's a bona fide sixth Gorillaz LP, and it's a beautiful thing.
On "Sorcererz," a brooding, lip-curling bass evaporates around 2D's wistful lyrics. Listeners are told "hold onto your innervision" and "everybody cool down, everybody see yourself." Gorillaz have made great work trying to mend some of the world's problems through song, but THE NOW NOW takes us all back to a center within ourselves. "Kansas" is about the attempt to understand our own mistakes, and how we can grow from them: "I'm not gonna cry, I've got more time to give. . . put my engine back into overdrive, so I can breathe again, photosynthesize again."
THE NOW NOW's 40-minute length and relatively low BPM make for one of the most digestible albums in their catalogue. "One Percent" is a bloated nimbus that rolls leisurely in before parting for a piercing lightning strike of keys just after the minute mark. "Souk Eye" is the closest we get to an acoustic ballad, while "Idaho" is an ode to the lusciousness of the American landscape and the serenity found here. These, along with "Kansas," are the slow-simmering songs that represent the slightly solemn looking 2D, alone with with his guitar on the album's cover.
The softer and lighter songs serve well to break up the heavy-hitting singles, and Albarn, along with producers James Ford and Remi Kabaka, have firmly cemented the album's 11 tracks in the same musical realm. "Humility" might be 2018's Beach Banger of the Year, if that ever becomes a thing. Some Gorillaz fans lamented the lack of nearly any organic sounds on HUMANZ, and George Benson's crisp, cool, watery guitar is an upfront gift to those fans. "Tranz" is a straight up dance groove for when "you get back on a Saturday night and your head is caving in," "Lake Zurich" is a throwback instrumental on par with any of the group's other brilliant instrumentals, and something tells me "Magic City" will be a fan favorite live. But "Fire Flies" is the shining creative achievement of THE NOW NOW. I interpret its slightly cryptic lyrics as the nagging feeling you get after "one too many" of anything, about how it feels when you're "living on the limits" and "all my fear's invading." The stuck-in-the-mud bass and dripping, glittery synths fill one of the most satisfying moments in Gorillaz history, from the 2:22-minute mark on.
Even when it's not being directly referenced, THE NOW NOW exudes the feeling of being written from tour buses and planes. These are songs about alone time, inebriation, brief moments with one another, and reconnecting along our journeys—something about it feels good for my health. Gorillaz might never get around to that TV show, but we are still in the midst of one of their greatest creative explosions in a very long time. They're currently touring THE NOW NOW in Europe before heading to North America in October, where they're bringing the Demon Dayz Festival to LA. I already got my ticket, I suggest you do the same.
Verdict: Recommend