THE LEGO BATMAN MOVIE Review
Director: Chris McKay
Genre: Animation
Year: 2017
As a needlessly critical viewer of animated films, I would be the first to concede that THE LEGO MOVIE just might be the single best children's film to grace the silver screen in years. Ignoring the works of Ghibli for a minute, few animation houses have been able to cleverly veil highbrow concepts through cutesy spectacle. With my ever-fading interest in the works of Pixar (I just had to watch a trailer for CARS 3, a number I never thought I'd see stamped on a Pixar product), I found myself less and less interested in western animation. As much as KUBO AND THE TWO STRINGS resonated with viewers worldwide, it left me cold, and despite the roaring success of INSIDE OUT, it's waned on me with time.
Looking back, THE LEGO MOVIE and ZOOTOPIA appear to be the only post-UP films to really tickle my fancy. The reason why seems to lie entirely in the writing. I have rarely, if ever, cared for the technical advancements of the medium (after all, an animated film obviously needs to look better than its predecessor), and THE LEGO MOVIE caught me so off-guard in its ingenuity that I prayed it be held sacred in some idealistic shrine. But alas, this was nothing but wishful thinking. The forces of franchising are greater than any respect for an original work. And so we got THE LEGO BATMAN MOVIE, a film that is still leaps and bounds better than last year's FINDING DORY or MOANA, but rubbed me the wrong way through the sheer nature of its existence.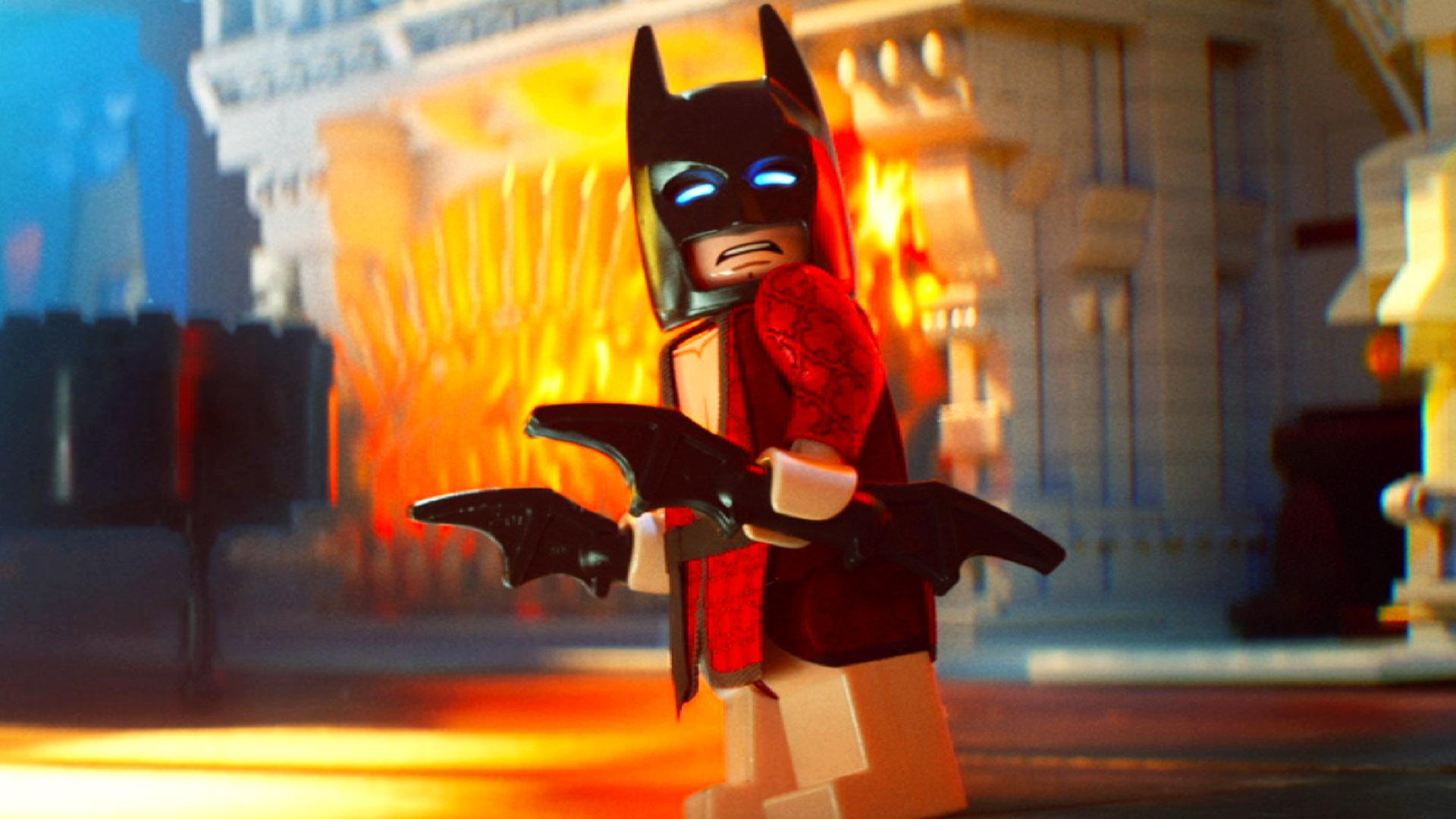 This just in: Will Arnett has been typecast to play wealthy animated bachelors with fears of commitment
On the surface, Animal Logic has crafted yet another beautiful film on everyone's favorite brick toys. Tracking Will Arnett's bat-hero by way of a Batman/Joker romantic comedy, viewers get a fun spin on an edgy comic book icon, throwing him through the loops of being a foster parent and learning to — quite literally — love thy enemy. This latest animated property is smart, pretty, fast, and utilizes its endearing faux stop-motion aesthetic to its full advantage, confidently lessening the stigma around its cash-grab identity. As a Batman film, THE LEGO BATMAN MOVIE is surprisingly clever as well. Witty, referential, and brutally self-effacing, there's a huge appeal to watching our titular antihero come to terms with his own predilections. Knowing there probably isn't a need for a sequel, it hilariously crams every villain in the Batman saga (and more) into one film.
And yet, the heart of its conflict is entirely Batman's internal struggle. In some capacity, it's all of the psychological analysis that a regular Batman film would never delve into, opening up a deeper understanding of the character for viewers across the globe. Will Arnett's voice acting is brilliant in its dry delivery, out-pooling-DEADPOOL at every turn, and goofy fake-outs, one-liners, and SUICIDE SQUAD insults all combine to make for grand popcorn cinema. If you enjoyed Arnett's brief appearance in 2014's THE LEGO MOVIE, you will find a lot to love here, but that doesn't change the fact that the fourth wall breaks and unabashed childishness wear out their welcome. Regardless, the way director Chris McKay has inserted a unique, worthwhile character arc into his Batman story is a huge accomplishment. As wholesome family filmmaking, it really doesn't get a lot better than this, and that's perhaps the most important quality in animation.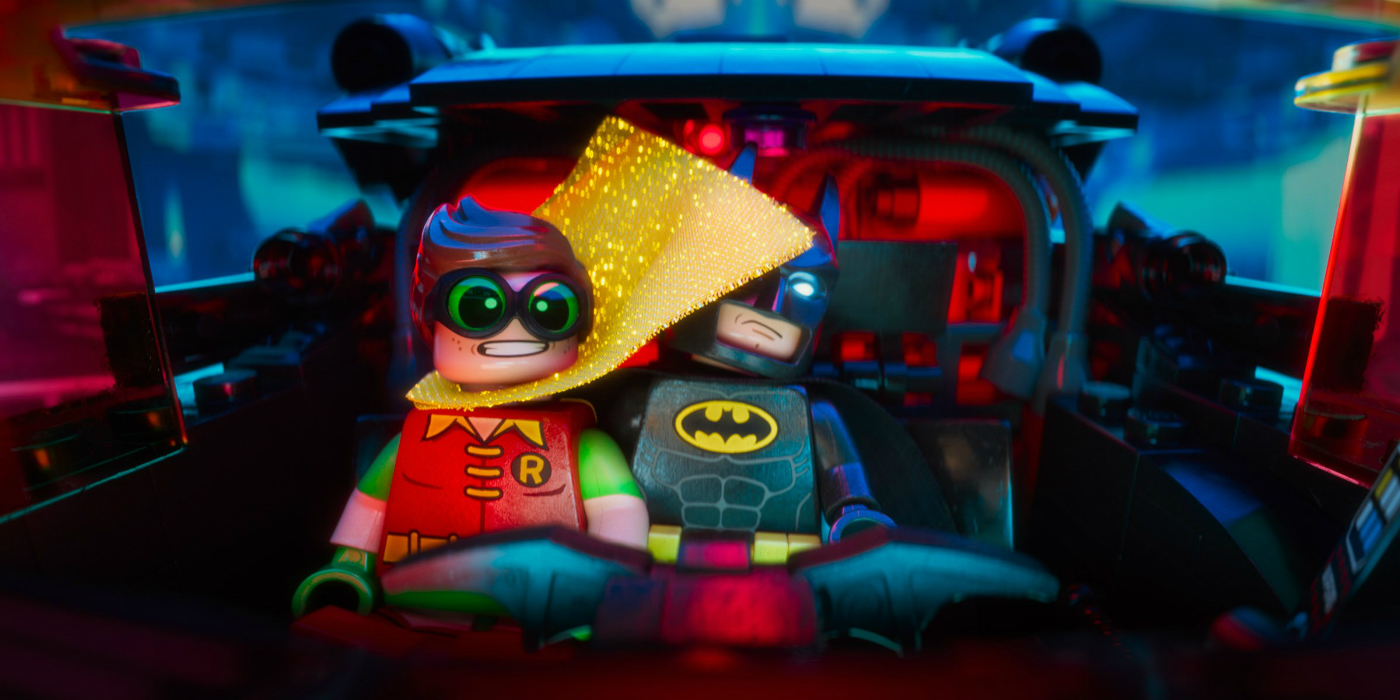 When your passenger DJs and puts on The Chainsmokers
Where my issues begin to arise with THE LEGO BATMAN MOVIE is that it's all rather been-there-done-that. I've never seen it done with the caped crusader before, sure, but at the end of the day, it's just another action-comedy about a lone wolf learning to accept the help of others in his life. Where THE LEGO BATMAN MOVIE is a fully functional quasi-relationship drama, THE LEGO MOVIE was so much more. Phil Lord and Christopher Miller's original 2014 outing was an assault on capitalism, class-structure, corporate America, and most importantly (at least in my opinion), the notion of play. What made THE LEGO MOVIE special was that it functioned as a brilliant hero's journey for children and adults alike.
For academics, THE LEGO MOVIE was a clever evisceration of 21st century America and the way pop-culture affects our complacency with government. But for everyone caught right in the middle (the most important majority of viewers, if you ask me), THE LEGO MOVIE reminded us how important it was to play, a narrative beat that was brilliantly explored through a live-action interlude involving Will Ferrell and his obsession with gluing his lego bricks together. This ingenuity isn't to be found in THE LEGO BATMAN MOVIE. As such, where Lord and Miller's film felt like an inventive spin on familiar territory, McKay's spinoff treads the waters that the original so cleverly subverted.
Despite all this, THE LEGO BATMAN MOVIE isn't bad by any stretch of the imagination. It simply lacks the transcendental qualities that made the original so touching. Sure, certain plot beats aren't as clever as I'd hope, and much of Batman's catharsis is a little too easy, but I'm honestly willing to let most of that slide for the pure enjoyment the film brings. There are moment of great profundity in Chris McKay's 2017 film, and that's the most important part of filmmaking geared to young viewers. Nonetheless, I'd be remiss to say that I'm not a little upset. 2014's THE LEGO MOVIE is a film of great value, perhaps the seminal animated film of the 2010s. It proved that we can not only adapt a toy for the silver screen, but tell a story that exists on multiple intellectual planes. It was not the first animated film to do so, but it was a breath of fresh air to not see it done by Disney or Pixar. THE LEGO BATMAN MOVIE is something only the most hardened cynics can't enjoy. I can't imagine leaving the theatre without a smile on your face. For that alone, it's worth a recommendation. Knowing that the Lego universe will continue with the upcoming THE LEGO NINJAGO MOVIE, I suppose I must accept the future of this franchise. Here's to hoping that one day we get an animated film quite as brilliant as the original, because something with that Lego just clicked.
Verdict: Recommend