Television Roundup April 2018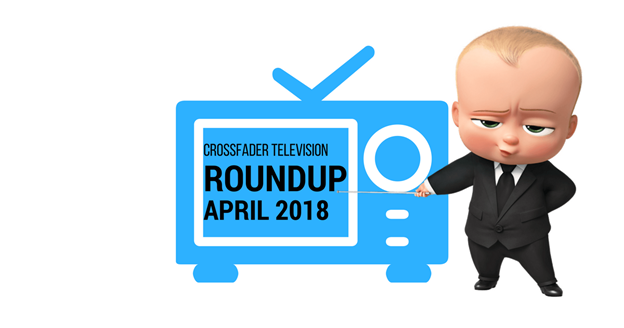 After a long break, we're finally back in action to tell you about all the shows we loved in April—and one we really, really hated! Can you guess which one? Enjoy!
THE BOSS BABY: BACK IN BUSINESS (Netflix)
There are very few things I approach with absolutely no idea of how they will come across, but THE BOSS BABY: BACK IN BUSINESS was one of them. Look, I can't really explain in good faith why I have seen THE BOSS BABY more than once in one evening; I will link to our review of TRANSFORMERS: THE LAST KNIGHT and let you fill in the blanks yourself. Regretfully, I must report that the Boss Baby has lost his signature feature . . . the voice of Alec Baldwin, you pervert. As such, we're left with a rather odd programming choice for DreamWorks animation, and one that doesn't necessarily lend itself to the series treatment. The Boss Baby seems to have not learned his lesson gleaned from the film, the animation is half-assed and ugly, and oh yeah, the cohort of babies are apparently anti-liberal now, with at least two jabs explicitly directed towards those who are compassionate to the needs of others. The plot of the first episode involves the worst baby on the block, who the Boss Baby and his cronies must capture for literal mind-washed re-programming. I'm left with many questions. Why does the adolescent Tim hang out with more than one literal infant, the majority of which do not belong to his family, and is not forcibly removed from society at large? Why does this show want to drill in aggressive, hyper-capitalist rhetoric into the minds of pre-teens? Is it the show's fault or my fault for finding some of the imagery disturbingly "mature"? After watching THE BOSS BABY: BACK IN BUSINESS, I felt as if I needed a shower, and that's a criticism I had only given to Adam Sandler's THAT'S MY BOY up until this point [Thomas Seraydarian]
Verdict: Sh**
THE BOSS BABY: BACK IN BUSINESS is available to watch in its entirety if you're a small child or a psychopath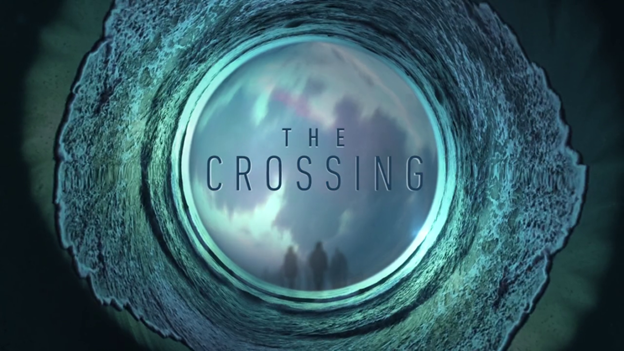 THE CROSSING (ABC)
"When in doubt, Christopher Nolan" is what someone, anyone, should've said to the screenwriters of this pilot. THE CROSSING is a story about Jude, the town sheriff, who discovers a bunch of bodies, some dead, some not, mysteriously floating ashore. Mysterious is the key word there, as the rest is just a bunch of characters telling, literally just sitting there vaguely describing a chaotic, but more importantly, very interesting, world of the future. So, here I am yelling at my laptop, "Christopher Nolan, people!" Nolan has a nice way of mixing time and visual storytelling to unravel detailed stories. THE CROSSING has the perfect amount of detail to Nolan the entire season out, something that would be very interesting to bring more of into TV! Instead, the show introduces a problem with every character, of which there are many, all in one episode—creativity aside, that's just bad business. Show longevity is important, the concept of not throwing every twist into one confusing pilot, and that concept is certainly not demonstrated here. The big issue with this is, we the audience are so busy trying to catch up, we have no time to invest in any of the characters. This would all be solved if the show went back to its film school roots: visual storytelling. Show us the character's lives; reveal them slowly, like we are authentically meeting them! And most importantly . . . Christopher Nolan! [Jade Michaels]
Verdict: Sh**
THE CROSSING airs on Mondays on ABC

KILLING EVE (BBC America)
To catch a criminal, you have to be a student of character. The nuances of personality, the patterns of cognition that impact decisions large and small, the telltale physical characteristics that remain even under the most believable of disguises all help anticipating and countering a dangerous enemy. Well-written drama, too, requires an eye for character, comedy even more so. It's lucky then that writer/creator Phoebe Waller-Bridge proves her chops once again with her new BBC America show, KILLING EVE. Her first American foray, FLEABAG, was in many ways a case study on what 2016/17 would call "difficult women," the female anti-heroes who are remarkably relatable and even more devastatingly broken than their male counterparts. That Amazon series may have wet fans' appetites for Waller-Bridge's particular sardonic, self-effacing humor, but with her new spy-thriller KILLING EVE, she takes a different tact, adapting a series of successful novels and subtly layering the feminism central to her style by making it even more central, an undercurrent under the show's developing relationship.
Eve Polastri (the triumphant Sandra Oh) is a desk jockey at MI5, England's counterterrorism and security agency, spinning her wheels, waiting for excitement in an admittedly boring job. She finds it with the death of a European diplomat, killed with the discrete prick of a hairpin, with no explanation and no video footage to back it up. Her theory that the killer could be a woman launches her into her own private investigation into the mysterious psychopathic killer Villanelle (Jodie Comer) and a budding obsession with a woman she's not sure exists. It's electrifying stuff, more hilarious than it has any right to be, while still leveraging drama and the surprisingly dark violence of Villanelle to achieve that same satisfying blend achieved in FLEABAG with a new, more cinematic wrapper. Oh and Comer make a fantastic pair and their budding relationship (professional, antagonistic, and potentially romantic), conveyed with a clear mastery of visual imagery from Waller-Bridge and collaborator Harry Bradbeer, create a series that is not only narratively satisfying but also an impressive flex of filmmaking muscle. It's honestly astounding, and well worth a watch. [Ian Campbell]
Verdict: Hit
KILLING EVE airs on Sundays on BBC America
THE LAST O.G. (TBS)
Sitcoms traditionally need a bit of time to find their footing before they can actually be judged on their merits, so hear me out. I think THE LAST O.G. has a lot of promise. That being said, the pilot was fairly uneven. We find Tray Barker (Tracy Morgan) having just been released from prison after being held for 15 years on drug-dealing charges. He returns to Brooklyn—only now, it's chic and hip ("Seaweed is alkalized!") Some of the gags in the show play really well, but that's due mainly to the performances—Morgan shines as Tray, and the show serves in part as his big comeback following the 2014 car crash that nearly killed him. He's joined by the "breakout star" of last summer, Tiffany Haddish, and Cedric The Entertainer. Together, they make at-times lazy writing shine (a couple random prison-rape jokes got mixed in along the way?), and offer promise for the show. The tone is definitely a little melancholy in this episode, mixed in with a few laugh-out-loud moments and a couple "back in my day" jokes, but I'd expect the show to get funnier as time goes on. If you're a fan of the stars, and you have some spare time on your hands, THE LAST O.G. may just be for you. [Derek Daniels]
Verdict: Hit
THE LAST O.G. airs Tuesdays on TBS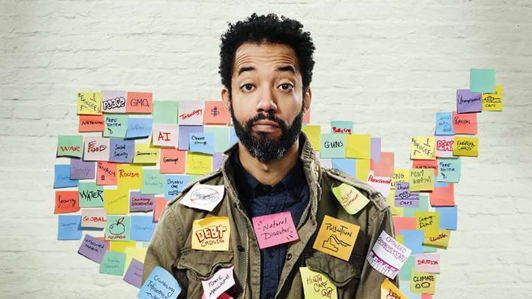 WYATT CENAC'S PROBLEM AREAS (HBO)
While 11:30 PM on a Friday isn't exactly the late night slot you dream of when you're coming up, WYATT CENAC'S PROBLEM AREAS is a strong foot forward for HBO in terms of highlight more diverse voices and a a solid triumph for Cenac after PEOPLE OF EARTH gave him a chance in the spotlight. Having written and corresponded for THE DAILY SHOW during the heyday of 2008 – 2012, Cenac clearly has both a strong comedic sensibility and a demonstrated prowess for news journalism and interview capability. With a retrofitted set and a loose, canned-laughter-free, conversational tone, the many who fondly recall the late night public television of the '70s while watching PROBLEM AREAS are pretty much right on the money. But what's most interesting about the show is that Cenac has effectively given it one specific issue and arc to explore over the course of its first season: gun violence in America and how that relates to law enforcement, systemic racism, and society at large. It goes without saying it's a topical subject to tackle, but relegating buzz-worthy current events to a brief intro segment before delving into the meat and potatoes almost makes it more of an extended docu-series than the typically segmented structure of something coming from John Oliver. Unfortunately, and I'm sorry to say it, the written jokes during the studio segment are notably sub-par, and the show only really takes off when Cenac is going about to a diverse and varied Rolodex of sources to fully explore the macro-issue at hand. But with that caveat, Cenac himself is regularly charming, keeping a dogged sense of gallows humor that regularly pokes fun at, but never belittles, his interview subjects. Besides, when police training videos are presented without comment, you don't need commentary to experience a grimly befuddled sense of amusement. I do sincerely hope the jokes get punched up as the show goes on, but it's well worth a watch to see HBO banking on a late night series that gives careful and curated attention to important issues such as this, with a bit more bite than our beloved Brit. [Thomas Seraydarian]
Verdict: Hit