Television Roundup 1/29 – 2/19
Not unlike the subjects of our new favorite show QUEER EYE, the Crossfader TV section has undergone a transformative make-better! In this nonstop world of content, who has time to read full 500-word reviews for every ho-hum medical drama and crime procedural CBS's team of sentient screenwriting robots crank out? Not you—that's who! We at Crossfader TV have always valued your time, dear reader, and we've distilled the latest and not-so-greatest TV premieres into digestible blurbs. Please enjoy the "hits" and "shits" of the latest batch of televised content to hit the pipeline.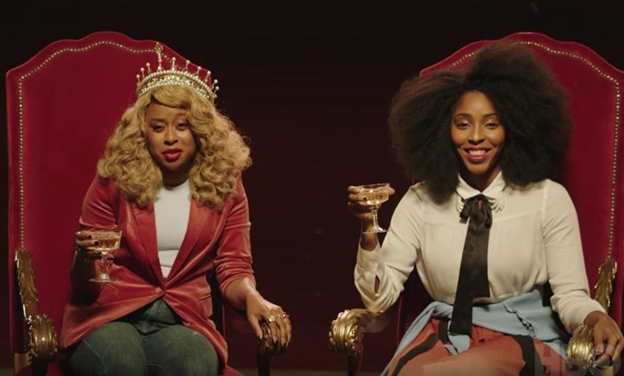 2 DOPE QUEENS (HBO)
2 DOPE QUEENS is a great podcast to listen to in the car, but it's even better to watch in the comfort of your own home! The first episode of 2 DOPE QUEENS, a special, four-part HBO series, features an interview with Jon Stewart and standup cameos from Michelle Buteau and Baron Vaughn (of GRACE AND FRANKIE fame). It is the exact format of the podcast, which is so excellent because no one segment goes for too long; personalities are always rotating on stage and the stand up routines are always fresh, original and, most importantly of all, funny. This is due in large part to the fact that hosts Jessica Williams and Phoebe Robinson go out of their way to feature . . . well, not white guys. In addition, 2 DOPE QUEENS is always dependable for a wonderful baldness and honesty from both Phoebe and Jessica as well as their guests. The show is worth a peek for anybody who appreciates humor and feminism, equality, and diversity in equal measure—but don't worry, nobody could claim these episodes are clean! Tune in for some side-splitting liberal fun! [Nicole Barraza Keim]
Verdict: Hit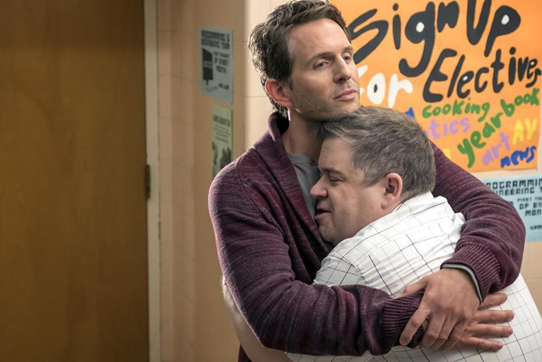 A.P. BIO (NBC)
The lasting effects of IT'S ALWAYS SUNNY IN PHILADELPHIA have been, and will continue to be, fascinating to watch play out. For an astounding 12 seasons, the line between actor and character has been blurred significantly. For nearly the first decade of the show's existence, Charlie Day, Glenn Howerton, Rob McElhenney, and Kaitlin Olson were synonymous with Charlie, Mac, Dennis, and Dee, and it wasn't until Day fully broke out into movies where the idea that he could exist outside the dark and toxic world of Philadelphia had to be confronted.
NBC's A.P. BIO is, on paper, primed to water down Howerton's Dennis persona and make it approachable for network television. The single camera sitcom features Howerton as a disgruntled former Harvard philosophy professor who reluctantly moves back to Ohio to work as a high school Advanced Placement Biology teacher. Howerton's character Jack Griffin is an asshole, to be sure, presumably lacking the serial killer darkness that ALWAYS SUNNY's Dennis Reynolds harbors, but this is something the show doesn't bother diluting. One of the things THE MICK successfully accomplished was giving a lot of heart to Olson's character Mickey, featuring an empathy that Dee couldn't and wouldn't understand. There are fleeting traces of this on A.P. BIO in the form of a mentor-mentee relationship between Jack and emo teen Devin, but the pilot is bogged down by how similar Jack Griffin is in nature to Dennis.
Even amidst a ton of potential, A.P. BIO never really tries to hone in on anyone other than Jack, making this mostly a one-man show. Going forward, his relationship with Principal Ralph Durbin (played perfectly by Patton Oswalt) and a trio of female teachers (Lyric Lewis, Mary Sohn, and Jean Villepique) will presumably allow for chaos in the vein of truTV's THOSE WHO CAN'T, hopefully channeling that show's brilliant zaniness. But the show doesn't bother sussing out that potential, instead allowing Howerton to darkly breathe life into Jack and his ultimate motives of destroying a rival philosopher—a nice arc that will undoubtedly work over the season but fails to gain steam here. A.P. BIO will likely be fine if NBC gives it time to find its footing, but it needs to learn from THE MICK and figure out ways to truly separate itself from Howerton's past. [CJ Simonson]
Verdict: Sh**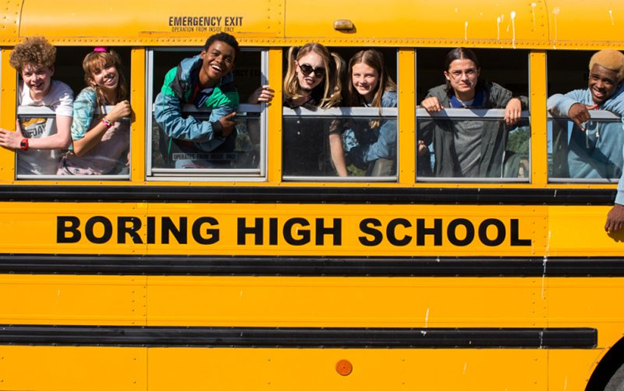 EVERYTHING SUCKS! (Netflix)
Despite its name and location, EVERYTHING SUCKS! is wonderful, and is anything but boring. Set in Boring, Oregon, this show finds itself creating a heartfelt and charmingly awkward portrait of high school in the '90s, complete with all the fashion, music, and temperaments that came with it. EVERYTHING SUCKS! explores issues such as dating and sexuality, and how much exploring those things in high school can totally suck. This nostalgic coming-of-age story follows two different groups of high school misfits—tech nerds from the A/V club and theatrical drama students putting on a school production. These two worlds collide when A/V kids Luke (Jahi Di'Allo Winston) and Kate (Peyton Kennedy) accidentally destroy the drama club's set pieces for their play; in order to make up for it, the A/V club suggests the two clubs team up to make a movie to show the school. Interwoven in this narrative are the touching relationships that blossom between these social outcasts, as well as between the single and confused parents around them. More than the on-point nostalgic production design and tone, each of these characters' troubles and misadventures and how they grow through the series are what make this show worth the binge. [Jordan Valdés]
Verdict: Hit
THE JOEL MCHALE SHOW (Netflix)
If you loved THE SOUP, then watch out for THE JOEL MCHALE SHOW WITH JOEL MCHALE, because its format originality is about as creative as its title. Joel McHale's aggressive and witty persona is a carbon copy from the old E! Program; in fact, one of the only differences between the two shows is a new backdrop and lower quality segment transitions. Prepare to be mildly entertained during the 28-minute pilot as Joel reviews reality shows and takes viewers on a tour of his new home: Netflix. The series kicks off with a bizarre scene of a dog jumping on a sleeping pig, which is juxtaposed against a clip of Kevin Hart nudging Joel McHale awake from his hosting slumber. While there are an assortment of celebrity guests beyond Hart in this episode, hardly any make an impact with their presence, appearing as if they were thrown in only to promote their own Netflix programs. Everyone's jokes were poorly set-up and had an awkward landing, so much so that Joel even addresses his writers in a bit about their laziness and how Netflix must have run out of content to produce. Despite its flaws, the program did have several funny moments, particularly during its only new segment: a bit about pop culture from around the globe. Netflix has given McHale full creative freedom and the ability to harass demographics all over the world—including any Netflix programs! All being said, it is a B-rated version of THE SOUP, and since E! dropped that long ago, for fans, this will have to do. [Jade Michaels]
Verdict: Sh**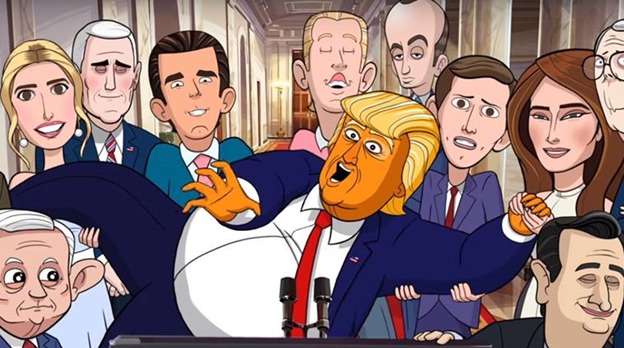 OUR CARTOON PRESIDENT (Showtime)
Given the state of the nation, it's a surprise this show wasn't made yet. OUR CARTOON PRESIDENT is a clever 27-minute show whose title reflects more than just its style. The series follows the life of President Trump, mocking what a day may look like for, what many would argue, the most unqualified president to date. In its pilot episode, Trump explores ways in which he can "win" the State of the Union Address after hearing that Fox & Friends co-anchor Brian Kilmeade agrees with the 70 percent of American that feels unsure about Trump's time in office. The episode has some laughable moments and a few witty character details that call-out everyone from politicians to journalists. However, it progresses at a rapid pace that disrupts the landing of jokes and makes the episode feel cramped with information. It flows like something that may be fun to leave in the background of a liberal drinking party, but nothing one would binge on a Saturday night. Although Trump has been noted as a comedic gold-mine, it won't be long before the humor of this show becomes repetitive and, given the subject matter, hard to watch. [Jade Michaels]
Verdict: Sh**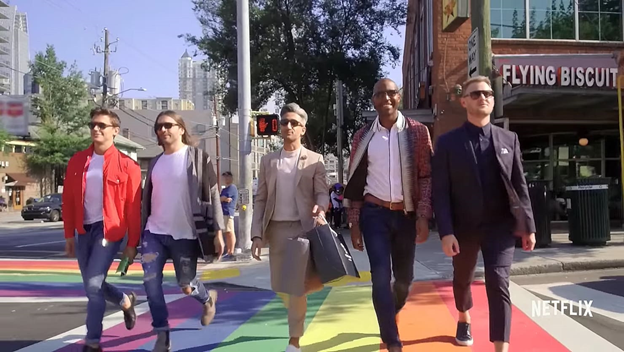 QUEER EYE (Netflix)
Fans of the original series can breathe a massive sigh of relief: Netflix has done it again with this dare-I-say perfect update to the original series. If you didn't spend your days home sick from school in the early aughts watching the original QUEER EYE on Bravo, it's essentially a makeover (or, "make-better") show where a squad of gay men (the "Fab Five") come bursting into the lives of the str*ights to teach them how to groom, feed, dress, and respect themselves, plus a dash of EXTREME HOME MAKEOVER. The conceit remains the same in the 2018 reboot, but with an element of political timeliness that rockets this daytime premise smack into primetime. The regrettably short first season finds the New Fab Five leaving behind the metropolitan, gay-friendly havens of the original series, spreading their expertise across the small towns of post-Trump Georgia. Every episode is a complete emotional rollercoaster in the best way, packed with laughs (the subjects themselves are often as charming as the guys) and full-on ugly tears. These aren't all just clueless straight 20-somethings whose girlfriends are sick of their shit. They're often gruff southern men in their 40s or above who have obviously never had anyone gush about how beautiful their eyes are, and the experience is always as powerful for them as it is for the Fab Five. Not only is the new QUEER EYE certified Damn Good Television™, it is an invaluable deconstruction of masculine culture and a meeting of the minds across party lines. Anyone can find something to enjoy from Netflix's latest knockout, and everyone should. [Kate Brogden]
Verdict: Hit