SUMMER SONGS 2 by Lil Yachty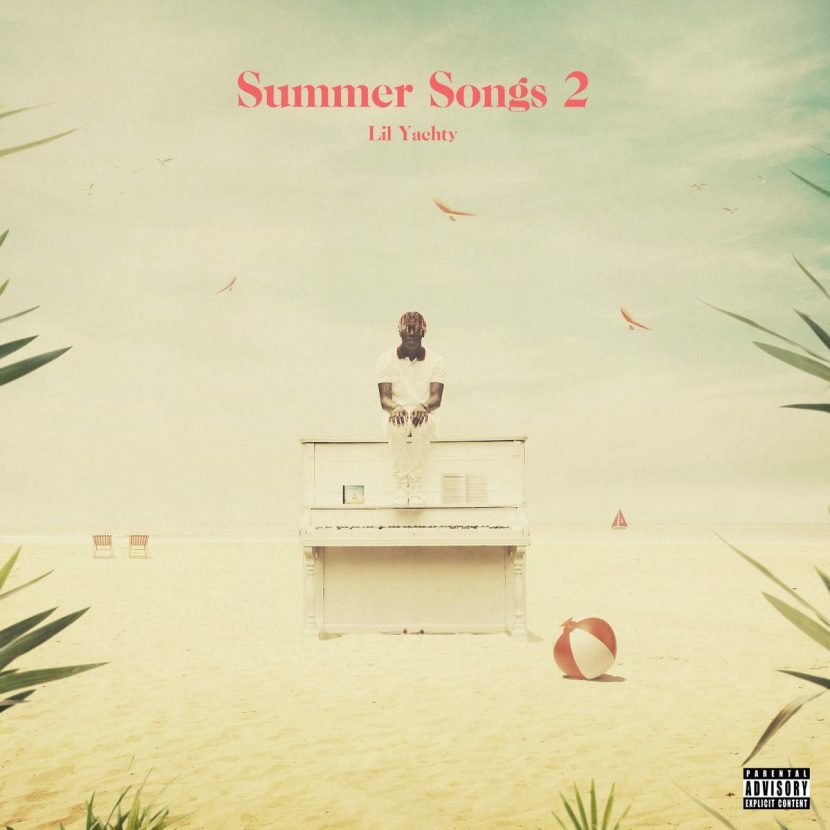 Genre: Post-Trap
Favorite Tracks: "Intro (First Day of Summer)," "For Hot 97 (featuring JBan$2Turn, Byou, and BigBrothaChubba)," "IDK," "Shoot Out the Roof," "Up Next 3 (featuring G Herbo)," "DipSet (featuring Offset)," "Such Ease (featuring Burberry Perry and Tyler Royale)," "All In (featuring JBan$2Turn, Byou, BigBrothaChubba, Burberry Perry, Kay the Yacht, $oop, Kodie Shane, and K$upreme)"
Where the Hell do I begin? After spending two hours dealing with Clams Casino's 32 LEVELS, Lil Yachty's SUMMER SONGS 2 is quite literally a cool glass of lemonade in comparison to Clammy's warm glass of questionable milk. And look, I'm not the most well-versed in the throes of trap, but what I do know is that, among what else has floated to the surface, Lil Yachty is a very special boy — a warm ray of sunshine on the cold musical landscape of 2016. Following high profile releases from Beyonce, Kanye West, Kendrick Lamar, Chance the Rapper, and Schoolboy Q, there is an aspect of that terrain left only to be explored by those brave and willing enough to leave familiar shores.
In March, Lil Yachty did exactly that, dropping what may very well be the best mixtape of 2016, LIL BOAT THE MIXTAPE. If you haven't taken the time to appreciate that piece of work, please get ahold of your senses, sit down, and let Uncle Darnell Boat take you on a hypnotizing journey down an icy river of Tom Collins and buzzing flip phones (make sure to listen to the soundcloud version as it has the original Finding Nemo samples and the glorious "Run/Running").
Alright, so we're set. It's summer 2016 and Yachty drops SUMMER SONGS 2, the sequel to the EP, SUMMER SONGS, which featured the original versions of "Minnesota" and "1Night," and is currently difficult to locate beyond individual tracks on YouTube. So, how does the sequel fare? Well, it's obviously an improvement on the preceding EP, but does it live up to the mixtape that blew Yachty up?
That's a hard one to answer, really. Given tracks like "For Hot 97," "Shoot Out the Roof," and "DipSet," it's become difficult to argue that there hasn't been an improvement during the short time between LIL BOAT and SUMMER SONGS 2. There really isn't a better opener for a summer album than the bright, beachy "Intro (First Day of Summer)," complete with a cushy intro from Darnell Boat, the imaginary uncle of Yachty's two egos (Yachty and Boat), the triumphant chant, "We are the youth," and a sweet-and-sour hook, "That's right, that's right, that's right / Niggas Kawasaki bike riding on a nigga wave / Oh my days, I want to engage, but I won't give 'em clout / No I can't, but Ima make this chant so I won't have to rant." From "IDK" to "King of the Teens" to "Why? (Interlude)," Yachty makes it clear he really isn't bullshitting us. His juxtaposition of intense trap beats and vicious lyrical delivery with melodies and textures reminiscent of a child's crayon drawings has been the defining characteristic of his career, and it's clear those are here to stay.
The only moment SUMMER SONGS 2 deviates from the familiar Yachty/Boat vibe is on "Up Next 3" (though, in a sense it's probably the most clear-cut Boat track, as opposed to an obviously Yachty track like "Pretty"), but when it features the ridiculous bulldozer of a contribution from G Herbo, and stays short and sweet overall, there's really not much to complain about. The following track "DipSet" gets back into the Yachty style, featuring a beautiful sample of Cowboy Bebop's "Green Bird" and breaking into the second half of the record, which, similar to LIL BOAT's B-side, features the sweeter Yachty character more so than the aggressive Boat character who dominated the preceding tracks.
The second half of SUMMER SONGS 2, however, may be jarringly different from the first to some listeners. "Life Goes On," while lyrically positive, is somewhat instrumentally unimpressive and can occasionally enter the realm of corniness. That being said, for some, the heartfelt message about overcoming hard times and keeping your head up is enough. Really, it doesn't ruin the record, but it begs for a more in-depth instrumental to match the heaviness the lyrics are attempting to illustrate.
On "Yeah Yeah," Yachty's goofy, open-heart presence is illustrated by lines such as "You left my heart froze like cold turkey / all my diamonds cold like cold soda," as well as a voicemail message leaving you just sad enough that by the opening notes of "Pretty," you can't help but feel for Yachty. Despite that "Pretty" initially felt like a rehash of "I'm Sorry," it really does grow on you — first it's the saccharine melody, then the deceptively intricate beat, and finally the sincere delivery from Yachty.
Soon enough, the crayons and naptime are back! "Such Ease" is a standout, signature Yachty-style track, and everything's there: the toy piano melody, an uplifting hook ("We no longer live the same life no more / I remember nights we slept on the floor / Now we can buy 'bout anything when we please / We survived through the breeze with such ease"), and a sugary beat to back it all up. Then the record's celebratory "All In" cuts to the core of what Lil Yachty's been all about, uplifting his friends and captaining the whole Sailing Team. Far from a last-minute attempt to showcase his buddies, the Sailing Team show their chops on this six-minute gauntlet, Byou and Kodie Shane's verses being personal favorites.
Finally, on closer "So Many People," Yachty acknowledges his sudden rise to fame in a piece that, while not out of place thematically, doesn't seem to add much to the record besides the literal statement being made, "So many people ask me how I do it / I don't know, I don't know," and while it could be argued that "We Did It (Outro) *Positivity Song*" didn't add much to LIL BOAT apart from the statement that they did it, at least it was a statement made at a time when Yachty hadn't quite blown up yet, with a solid instrumental to boot. Now, making the same statement through "So Many People" reduces triumph to redundancy.
SUMMER SONGS 2, being a record to come out less than six months after LIL BOAT, the mixtape that catalyzed Lil Yachty and is likely the reason SUMMER SONGS 2 exists at all, shares many of the aspects that made LIL BOAT so great, while also carrying the same traits that will turn people off from Yachty, and there's really nothing wrong with that. SUMMER SONGS 2 ultimately proves through and through that Lil Yachty can continue into celebrity without having to compromise his signature charm.
Verdict: Recommend