Staff TV Favorites of 2016
In a time when our world seems more divided than ever, there's still one thing almost everyone can agree on: TV is kicking ass lately. Modern television is nearly on par with independent film in terms of quality and variety – something many thought impossible back in the days of cookie-cutter '90s sitcoms. Just a cursory scroll through the many images in this article show how unique and diverse this year has been for TV, and as the editor of the Crossfader TV section, I couldn't be more proud. However, the thing that dampens this flurry of superb television somewhat is the prices charged for it by many cable companies. In order to get a reasonable deal from their cable company, many customers have to use cable bill negotiating tips to reach an acceptable agreement. Although, if you shop around and compare the prices of various different providers, you should be able to find a good deal. You can get lots of channels for a reasonable price with at&t tv, so that might be one of the first prices you compare. Despite this, there are many people that feel as though they can't afford to continue racking up these sorts of cable bills, no matter how good the quality of television is.
Rather than concoct some kind of be-all-end-all ranking of the nearly infinite amount of available televised content, I opted for the staff of Crossfader to simply share a few words about their favorite piece of TV from this year – including both new and existing shows. The response was amazing, and it's downright inspiring to see how many of us at Crossfader had our cold little critic hearts warmed by the small screen in 2016.
Without further ado, I present to you, in no particular order, our Staff TV Favorites for 2016.
LADY DYNAMITE
Yeah, it's okay, you can say it: the autobiographical dramedy of a comedian playing themselves is getting a little tired. Thankfully, Mitch Hurwitz and Pam Brady are aware of this, and Maria Bamford does not have a traditional life or perspective. This combination makes LADY DYNAMITE anything but familiar. The eclectic stand up deals frankly with mental illness, the hypocritical stresses of the entertainment business, and pugs in a way that juggles frantic absurdism with heart-wrenching humanity in a way rarely risked. You get a sense why – because this is a super polarizing comedy, despite the pedigree behind and on camera. Fred Melamed, Mo Collins, Ed Begley Jr., Mary Kay Place, Ana Gasteyer, and many others hold up LADY DYNAMITE's screwball energy. Meanwhile, Hurwitz and Brady create the comedy equivalent of a rail of cocaine: colorful, with metatextual leanings about its own form. Bamford is the glue, offering both a bravely honest portrait of her headspace during times most people would not want to dredge up, and a genuinely great performance! LADY DYNAMITE and Maria are not for everyone, but they dare to smash the familiar in episodic storytelling, and a tonal familiarity within mainstream pop culture, in an attempt to show an open, bleeding heart that we don't see enough of in art. Hopefully this is an opening of the floodgates. [Rocky Pajarito] Read our full review here.
VICE PRINCIPALS
High school sucks. Cafeteria food is shit, relationships are scary, and the teachers are an absolute pain in the ass. This is the mantra that we're fed in far too many coming-of-age tales, but rarely do we see it preached by the "grown" "adults" actually running the show. VICE PRINCIPALS would be notable alone for the incredible meanness and vulgarity its eponymous educators exercise while carrying out their administrative duties, but the real significance lies in the sincere, well-meaning message hiding beneath the ugly veneer. McBride and Goggins are spiteful, petty, and overzealous with their shared job, instilling a veritable reign of terror over the students of North Jackson High, but each has his own world of horror and insecurities to return to after the bell rings for the last time. VICE PRINCIPALS reminds us that we don't graduate from our struggles after we are handed a diploma and pushed out into the world, and that's okay. It accepts that we all feel like children more often than we care to admit, providing a safe space within its half-hour block to just let it all out. Though outlandish in premise and unbelievable in execution, VICE PRINCIPALS still manages to deliver one of the most heartfelt tales of growing up (more) on TV. [Ed Dutcher] Read our full review here.
BOJACK HORSEMAN
Writing satire on the state of the contemporary film industry is almost always grounds for guaranteed self-validation, and yet BOJACK HORSEMAN has avoided the pitfalls of this subgenre with wit, charm, class, and belligerence. Season two of our favorite equestrian's TV show will possibly go down as a series favorite, but with the third, the writer's room has humanized our anthropomorphic ensemble with more grace than most live action TV shows. In what might just be one of the best cartoon episodes of all time, BOJACK provided us an underwater-themed silent film by way of LOST IN TRANSLATION, beautifully capturing the emotional alienation of self-hating alcoholics, and cleverly doffing its hat to the ego-stroking of the film industry's awards season. Frankly, the whole season managed to do this, bowing out in one of the most emotionally eviscerating season finales of 2016. [Sergio Zaciu] Read our full review here.
ATLANTA
Sometimes the best can make it look easy, which is why ATLANTA comes across as effortlessly brilliant. ATLANTA's strong pilot indicated that Donald Glover's take on the hyper-personal sitcom style pioneered by LOUIE had more to say than most shows, and that Glover understands both himself and the world he comes from. My guess is that ATLANTA will be a fixture on a number of year-end lists, and rightfully so. But what warrants that praise isn't just the high-falootin' social commentary and frank, poignant dissections of American race relations, amongst other things. It's also incapacitatingly funny. Spawning not one but two memes, ATLANTA's humor mixes the unabashed honesty of George Carlin and Bill Hicks with the relentless energy of Chris Rock and Steve Harvey. ATLANTA's success ensures that Donald Glover will remain on his creative high for a good while longer, though to be honest, a release from Paper Boi could end Childish Gambino's whole career. [Dan Bomquist] Read our pilot review here.
ORANGE IS THE NEW BLACK
After a lackluster Season Three saturated with the logistics of for-profit prison and Ruby Rose, Season Four came back and reminded its viewers why ORANGE IS THE NEW BLACK was the runaway hit of 2013, all those summers ago. This was the best season since its first. Heck, it may have even been better. Creator Jenji Kohan has always had an eye for character, and now these characters have found their purpose. The story was fueled with the sensation that every beat and every moment mattered, propelling the narrative forward. Nicky's battle with addiction left her crumpled in the corner of a dirty shower stall and Suzanne's struggle to find love with Maureen pushed her past the breaking point – and the consequences were harrowing for them both. Piper reached a reckoning and nearly lost everything, while the once sidelined Maria rose to power. Various groups were pitted against each other, but we saw the season culminate in one of the most heartbreakingly resonant deaths in modern television history. Ultimately, everyone is oppressed. The question is only to what degree, and how long you can withstand it. [April French] Read our full review here.
ANIMALS
Every few years we get a TV show that's a brilliant breath of fresh air. In 2016, it was the Duplass brothers' ANIMALS, a minimalist mumblecore project that tapped into all our deepest fears and anxieties, from sexuality to drug abuse. Think EVERYTHING YOU WANTED TO KNOW ABOUT SEX BUT WERE AFRAID TO ASK meets MANHATTAN. The caveat? We learn it all from the cutest animals that HBO had to offer! From effeminate pigeons to heartbroken turkeys, the Duplass brothers helped their audience traverse through the metropolis of New York City with a keen attention to detail. The aesthetic choices only help draw attention to the fantastic dialogue, and boy is it great! ANIMALS is, without a doubt, among the most charming TV shows of 2016, and with fantastic voice actors (from Jessica Chastain to Danny McBride), this series of Woody Allen-esque vignettes opened up the sewers, kennels, and apartments of Manhattan in ways that we've rarely seen before. [Sergio Zaciu] Read our pilot review here.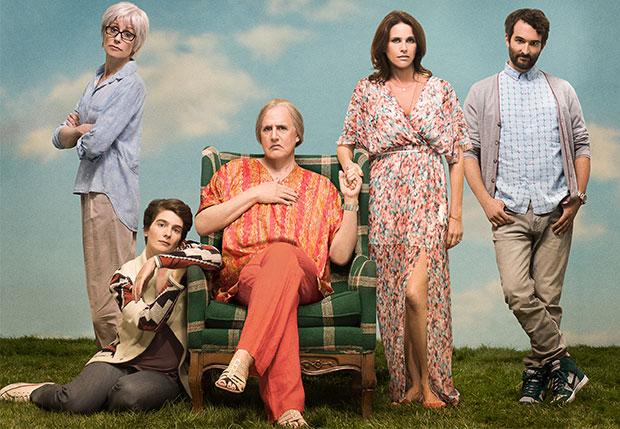 TRANSPARENT
TRANSPARENT returned in 2016 with an incredible third season, proving that this dramatic comedy gets better and better every season through the unique, raw, and totally engaging storytelling of Jill Soloway. This season brings even greater challenges to the Pfefferman family as they navigate life as a close-knit and equally dysfunctional Jewish Los Angeles family. I was struck by the compelling narratives that Jill Soloway crafted this year. It has been two seasons since Maura came out as transgender, but even this year, Maura still has a long way to go in understanding herself and trans culture in general. In one amazingly funny and poignant moment, Maura is reprimanded by a group of black trans women for assuming that they had seen a missing girl named Elizah "in the streets" (as though they were prostitutes). Like Caitlyn Jenner, Maura is living in quite the ivory trans tower, and this season of TRANSPARENT did an awesome job of continuing to develop Maura as a character and explore her awakening and learning. We even get flashbacks of a young Maura (when she was Mort) that serve as fascinating character moments and add a lot of context. Shockingly, Maura is not the only interesting character on this show, and the family around her bring interesting dilemmas, plenty of hilarious moments, and plenty of awkwardness to spare. [Maximilian Schafnitz] Read our full review here.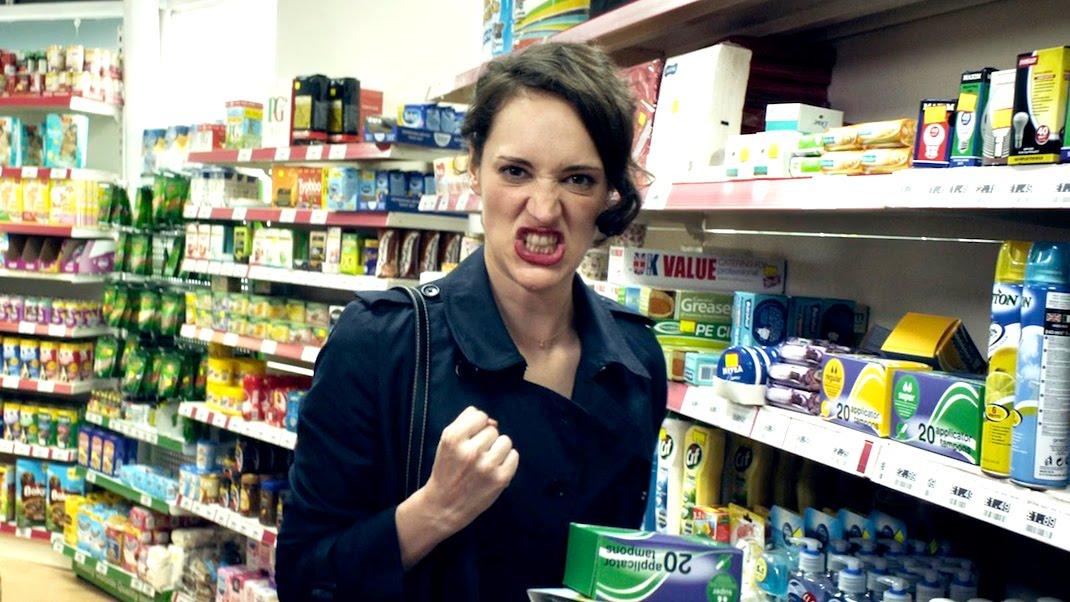 FLEABAG
This complete and utter masterpiece crept silently onto Amazon Prime this September and I haven't heard one word about it since. If we're talking straight quality to recognition ratio, FLEABAG clocks in at about a 1,00,000 to one. That's a damn shame. I originally wrote off FLEABAG as yet another entry in the "disillusioned white girl tries to find herself in major cosmopolitan city" genre, but it brought more heart and originality to the table than any other show I watched this year – and this was a great year for original voices! FLEABAG captures aspects of modern womanhood so simultaneously broad and specific it will make your head spin: from the usual pitfalls of modern dating, to feeling like a "bad feminist" because you don't like the way your body looks no matter how many empowering lectures you attend. It's about family and friendship, love and loss, humor and pain, all wrapped up around an unrelenting British core of sadness, all in a tight three hours. And don't even get me started on leading lady Phoebe Waller-Bridge, who not only delivers a sympathetic yet bitingly sarcastic performance, but also adapted the series from her hit one-woman show. Please do yourself the favor of creating three free hours in your schedule to experience FLEABAG, my personal favorite piece of TV content this year. [Kate Brogden] Read our full review here.
SOUTH PARK
Matt Parker and Trey Stone's 20th run around their familiar but evolving stomping grounds was a rough one, there's no denying it. Yet, whatever flaws it had, it saw the duo pushing their format in a radical way to dig at the heart of what plagued all of us in 2016: namely, trolling. SOUTH PARK may have been just as shocked by the results of this year as the rest of us, but even before Matt and Trey had to desperately re-write their election episode, they were tapping into the dark heart that made up Trump's rise to power. The ability of an elite, relatively small group of nihilistic trolls to manipulate the rest of the internet to their whim proved to ultimately be one of the lynchpins of the Trump campaign, which were embodied spectacularly in Gerald. (That, combined with some truly dystopian marketing strategies which seemed to hail directly from season 19.) This was a dark and troubled season, many have even said an unfunny season, but it ultimately was Matt and Trey honestly reflecting on a dark and troubled year. They looked inward and openly wondered if their brand of satire contributes to making this culture the steaming shit pile that it is. Plus, they compared Bill Clinton to Bill Cosby, and if that isn't ballsy and funny as fuck I don't know what is. [Carter Moon] Read our full review here.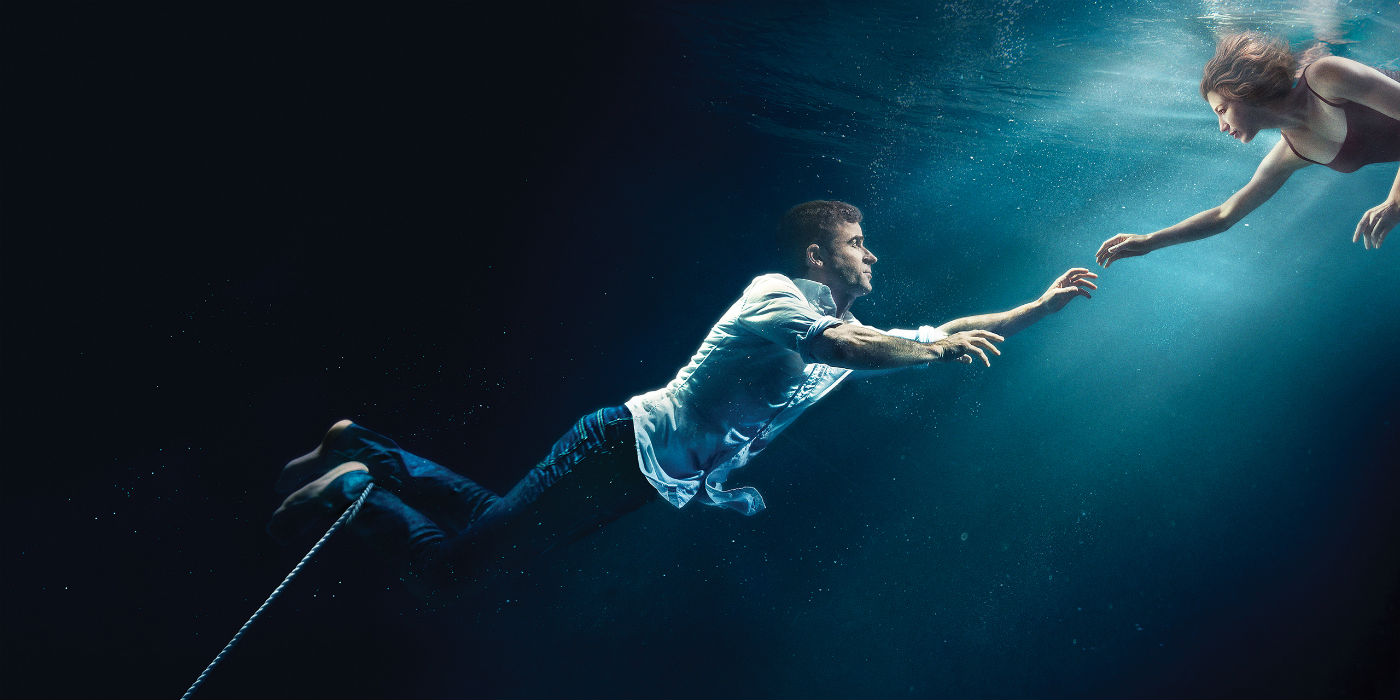 THE LEFTOVERS
THE LEFTOVERS manages to be about so much that it's almost impossible to boil it down to a single idea. This should be no surprise coming from LOST scribe Damon Lindelof, but his latest venture does more with less than that other serialized sci-fi ever did. While the first season admittedly took a while finding its feet, the second soars triumphantly from start to finish. Post-Rapture America is the most surprisingly apt allegory for post-9/11 America ever depicted in media, full stop. Dealing with a full range of themes from love, loss, faith, fear, mob rule, hysteria, mental illness, increasing government invasion of privacy, and the ever-shifting identity of the nuclear family, THE LEFTOVERS has something for everyone, and then some. The mysterious nature of the inciting catastrophe means the "true" interpretation of the series will vary as much between viewers as the characters themselves, but it's a testament to the show's strengths that such universal messages still pack a powerful punch. With the third and final season only months away, there has been no better time to hop on the train and witness the best thing to come out of HBO since THE WIRE. [Ed Dutcher] Read our full review here.
HORACE & PETE
Louis CK has always had something as heavy as HORACE & PETE in him. Watch any of his pre-fame short films, or hell, any episode of LOUIE, a show that featured David Lynch in a three-episode arc and has as many artsy jump cuts as there are farts. Hell, listen to his stand up – he's an intelligent man deeply aware of the harder things in life. But HORACE & PETE is different. You can hear it in Louie's voice when he talks about it on WTF with Marc Maron, when he practically begins weeping. See the show, released in an independent and bold fashion, and feel the pain. CK's dramatist tendencies are finally given a chance to fully stretch their legs in this biting ensemble multi-cam melodrama. It's funny, certainly, but it more importantly offers a stage for social taboo and interpersonal, familial tragedy to be exercised. CK set out to explore real human pain, and boy, does he dance around the core. This show is stacked to the nines with a Todd Solondz level of poetic misery, at once both cruel and thoughtful. It's a personal story about personal heartbreak, and CK follows through both as a director and a performer. He holds his own against the likes of Steve Buscemi, Alan friggin' Alda, and a fist-cocked Edie Falco, managing to deliver his brand of humor while also going deeper into corners he's dabbled in before. It was an intense experiment with an emphasized risk. But Louis CK put his money where his mouth is and then put his heart out on the table. HORACE & PETE deserves to be more than a cult classic, but as one, it can be quite legendary. [Rocky Pajarito] Read our pilot review here.
THE AMERICANS
Television's most nauseating scene this year was a conversation in a kitchen. This is THE AMERICANS, which in its latest season torqued the drama to such intensity that it seemed poised to fundamentally destroy itself and have to become something else. Yeah, it was a lot. A carefully-designed car wreck of a plot a la BREAKING BAD and a MAD MEN-like sense for place and person have always characterized it, and for its fourth season, it was firing on all those cylinders more effectively than ever. Not to say that it's just a great drama or a great thriller (though I'd say its frequent use of ellipsis is an unassumingly-subversive take on the genre), because THE AMERICANS has a flavor all its own: it's the explosivity of the whispered. It's intimacy as brinksmanship. The key to it all is pathological closeness and the key to that this season was, as ever, Keri Russell and Matthew Rhys. Each year they turn out complex and understated performances, and in meeting the challenge of the season four pressure cooker they, and the entire cast, did their best work to date. If the show is intimacy as brinksmanship, then season four went nuclear, and everything to know and love about it was how its greatest violence manifested not in fireworks, but a body slowly rotting from the inside out. The best drama on television topped itself for the fourth consecutive time in a row. [Jimmy Evans]
MARCELLA
From the opening shot of its titular character in a bloody bathtub, MARCELLA digs its hooks into you and doesn't let go. It's like a checklist of what makes noir so compelling: a complex web of seedy characters who steal, lie, and assault, not out of malice or grand evil, but out of self-preservation and desperation. There's a solid central mystery that branches out smoothly into other plotlines and impacts everyone physically and mentally, and a grey fog of moral ambiguity that encompasses everyone involved by the end, none more so than Marcella herself. Returning to the force after a nasty break-up and the reemergence of a gruesome serial killer, she also has to struggle with her estranged husband and recurring blackouts, adapt to the police force and detective work after being gone for so long, and cover her own potential involvement in one of the murders. She's the perfect noir protagonist: brilliant, charismatic, amoral, and fully capable of making terrible decisions that put everything in jeopardy in the name of justice. Can't wait to see the grave she continues to dig for herself in Season Two. [Blake Michelle]
BETTER THINGS
Based on its premise alone, BETTER THINGS looks like it covers well worn terrain: a single mother, three daughters, and Los Angeles. However, what Pamela Adlon accomplishes is entirely unique. It plays fast and loose with format, following Sam as she juggles her life as a working actor (who is neither uber successful nor destitute, a refreshingly rich middle ground), a mother to her daughters, and a daughter to her mother, whom depending on the day, conveniently or inconveniently lives next door. What follows is daily life: the chaos as Sam packs lunches while a dozen people make their way through her home, her oldest child chastising her parenting of her youngest, and it's madness. But the mundane manages to feel lived-in and authentic without ever losing its pacing. Each of her daughters give breakout performances. Her eldest Max (Mikey Madison) is uninhibited, rebellious, and simultaneously naive, with the crippling smallness of being 15, while her youngest, Duke (Olivia Edward), is wide-eyed and teetering on the edge of losing her childlike sweetness. However, it is Sam's middle child, Frankie (Hannah Alligood), who is magnetic. She's often acerbic, androgynous, highly intelligent, and she has no desire to fit in because she knows who she is. That's also what makes BETTER THINGS one of the best shows on television – it's doing its own thing, and it's knocking it out of the park. [April French] Read our pilot review here.
SEARCH PARTY
"I'm just tired of things that don't matter," bemoans Dory (Alia Shawkat), a millennial in search of her missing college acquaintance on TBS's SEARCH PARTY. The show is billed as focusing on four "self-absorbed 20-somethings" who work to become entangled in a mystery, but to dismiss Dory and friends as "self-absorbed" is to ignore the depth of the subject matter. Commentary on millennial culture is tired – we get it, selfies are bad and we're all narcissists. SEARCH PARTY presents characters who appear to be hollow caricatures of "the selfie generation," and in ten 20-minute episodes breathes life into Dory and friends, leaving you torn between sympathizing with their struggles and judging their missteps. Shawkat and co-stars John Reynolds, John Early, and Meredith Hagner deliver surprisingly nuanced performances, and creators Sarah-Violet Bliss, Charles Rogers, and Michael Showalter come through with a script that perfectly weaves dark comedy into a grim mystery. SEARCH PARTY keeps you on-edge and guessing until the final moments, making it the perfect show to binge watch (which is why TBS released it all at once on their streaming platform – expires on 1/29!). Make sure to avoid spoilers and consider a re-watch when finished – it's sickening and oddly satisfying to re-live the gang's downwards spiral. While season one wraps up with the perfect balance of answered and unanswered questions, season two is on its way with more crushing realities for Dory and co. [Aya Lehman] Read our pilot review here.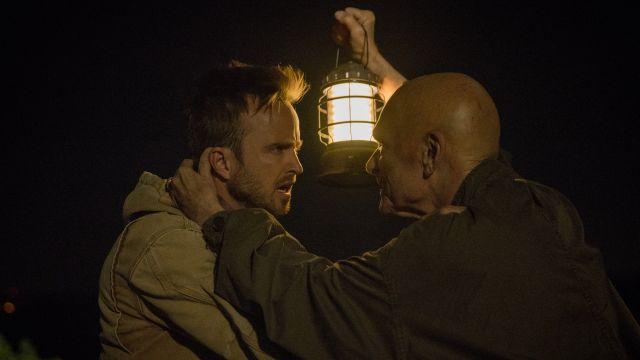 THE PATH
While it was generally unrecognized by awards shows, Hulu's THE PATH is one of 2016's most original and compelling new dramas. The story begins when Paul's character Eddie, a convert into the Meyerism movement (*cough*CULT*cough*), returns from a retreat to find that what he has rededicated his life to is possibly a giant sham. But he has to keep these thoughts to himself, lest his wife, Sarah (Michelle Monaghan), who was born into Meyerism, leaves him for being a non-believer. Hugh Dancy as the young, handsome, and seriously unhinged de-facto leader Cal rounds out the stellar cast. Besides the masterful acting (seriously, where were those nominations?), the show's themes are eerily relevant to today's social climate. THE PATH tackles everything from the phenomenon of groupthink to how dishonest, self-serving people can prey on the most desperate. But this isn't done in a slow, thoughtful way; this is truly action-packed, edge-of-your-seat television. So drop what you're doing, dig up your ex's Hulu password, and climb The Ladder, because the first two episodes of the second season premiered on January 25th. [Kallan Zimmerman] Read our pilot review here.