SNEAKY PETE Season Two Review
After being the only person to not enjoy the first season, SNEAKY PETE's second season has persuaded me that this is indeed a series worth watching. My main complaints last time around concerned Marius's (Giovanni Ribisi) dominating command of every situation, which drained the series of tension, and that the focus seemed to be on gawking at how cool of a guy Marius is all the time. I mention at the end of my review that these OCEAN'S-esque thief sequences, if strung together fluidly, would make a pretty cool movie. These sequences are still the best parts of the show, and in the second season compose a much larger portion of the screen time. What's more, the Bernhardt/Murphy clan finds themselves in much hotter water than before, bringing out the con artist in Audrey (Margo Martindale), Otto (Peter Gerety), and Carly (Libe Barer).
We pick up right where we left off in season one, with Marius getting kidnapped by goon duo Frank and Joe Hooper (Joseph Lyle Taylor and Desmond Harrington), who are among those who believe Marius is Pete. Marius initially tries to inform them he's not Pete, until they ask him to reveal where he hid the 11 million dollars he stole with his mom. Marius then decides to resume the Pete con and tries to finesse this large amount for himself. This involves going to such lengths as breaking the real Pete Murphy out of prison, tracking Pete's mom Maggie to the psychic healing mecca of Rosedale, and narrowly avoiding the clutches of Frank, Joe, and their acid-loving boss Luka. Marius's plotline follows pretty much the exact same pattern of failed escape attempts that culminate in him getting one last shot to do one big heist, but SNEAKY PETE has largely abandoned its attempts at commentary and wholeheartedly embraced the goofiness of its premise. It could be considered vaulting a lowered bar, but this season convinced me that there's no reason the bar needs to be that high here.
SNEAKY PETE, whooshing over my lowered expectations
The rest of the family doesn't have as much time to worry about Pete this season, so we get a greater variety of both tricky situations and cunning escapes. Audrey and Taylor (Shane McRae) are still covering up their execution of Winslow, the crooked cop from last season. Big shot New York City detective Joyce (Jennifer Ferrin) gets sent down to sort it out, and she gets flirtier with Casey as the investigation goes on. Between her and Shannon (Justine Cotsonas), the wife of family business rival Sean (Tobias Segal), Taylor's sex life brings about some pretty serious consequences. Otto spends most of his time dealing with the fallout of his botched hitman suicide, which is delivered through the deceased hitman's similarly skilled son, Colin (Michael Oberholtzer). Julia continues to single-handedly keep the family business afloat, this time by reluctantly laundering money for some of her less savory clients. The family's adventures provide needed reprieve from Marius's madcap schemes, which can grow stale over 10 hours.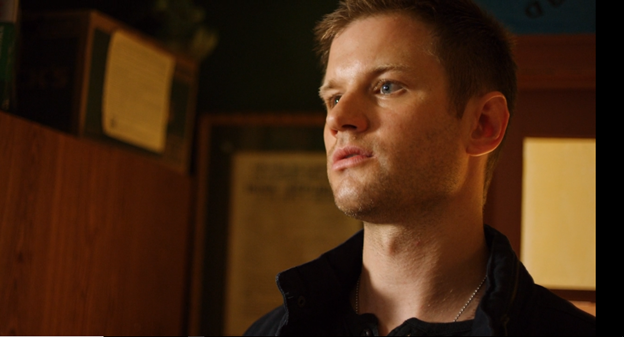 Who'da thunk contract killing was such a nepotistic industry?
Image Source: Screenshot
The show does begin to peter out (ha HA) around episode eight or so, as it becomes clear that Marius will be weaseling out again. The grand casino caper undoubtedly satisfies the sneakiness cravings, but it drags on for so long that it ultimately becomes too saturated to be a truly memorable spectacle. As would befit a show about deception, the season finale contains a slew of twists. Some of these twists actually surprise, and some of them (The FBI, Maggie's decision with the money) confuse and disappoint. I can appreciate the effort and the desire to make all of these different ideas work together, but I'd rather see one cool idea done exceptionally well than three or four done just well enough.
SNEAKY PETE's waffling between the worlds of high stakes thief action and tense family drama initially put me off, but this second season's willingness to commit more soundly to the former forces the latter into reduced but noticeable supporting material rather than underdeveloped main course fodder. Essentially, focusing on the action causes the formerly lackluster dialogue drama to do more with less time, and that pressure works in the series's favor more often than not. SNEAKY PETE likely won't wind up the flagship drama Amazon seemed to initially want it to be, but given the improvements of the second season over the first, my guess is this series is leading us exactly where it wants to.
Verdict: Recommend