Crossfader's Ska Punk Primer
I've recently made a mental transition — from seeing Utah as home and California as somewhere I reside temporarily — to feeling the opposite, now more comforted by palm trees than snowfall. Through this change, it's dawned on me that Salt Lake City is a weird place to grow up. Which reasons as to why random, disparate music scenes thrive in various urban pockets throughout the state. Metal has a rabid fan base up north and hardcore reigns supreme in the south (Orem, Utah granted us all a gift that keeps on giving — The Used). Downtown SLC itself houses, among other niche punk scenes, a passionate ska fan base, prevalent enough that the coolest venue in the state, Kilby Court, celebrates October 31st with a locally billed "Skalloween." That's where you would have found me for the eve of all four of my high school Halloweens. Yes, I'm here to proclaim — not quite proudly — my well kept secret, a golden nugget of my past, the most enlightening of character backgrounds for one Phillip Vernon: I was a fedora-donning, skank-loving, checkerboard-adoring ska kid. Enough so to call myself an authority on the genre. So whether it's out of morbid curiosity or wanting ammunition to tease me, look below for ten artists and albums that are the road map to a world of horn melodies, upstroke guitar, and tongue-in-cheek song titles. Save your snickers for the end.
Big D and The Kids Table – HOW IT GOES
Year: 2004
Favorite Tracks: "L.A.X.," "If We Want To," "You're Me Now," "Little Bitch," "How It Goes"
If you can't find something to enjoy here you should turn on a dime — ska's not for you. This is as eclectic as it gets for a ska album (hint: not very) and the closest the genre has to a sprawling, ambitious album that attempts to create a cohesive narrative by reaching in multiple different directions. Big D pulled it off, for the most part. Not many ska albums have songs that cross the five minute mark — the fact that this album has four is a testament to how dynamic it is. Any punk fan is weary of the unavoidable filler track(s) stuffed in the middle of a record, but aside from "President" and "You Lose, You're Crazy," all the cuts on HOW IT GOES are worthwhile. Credit singer and songwriter David McWane, as he's what elevates an otherwise run-of-the-mill ska group to one of the highest regard. His lyrical narratives often surprise with their poetic flourishes, and his commentary is sung earnestly. Especially on Big D's biggest hit, "L.A.X.," which was a far different listening experience six years later after my own relocation to Los Angeles. I guess I've sold out.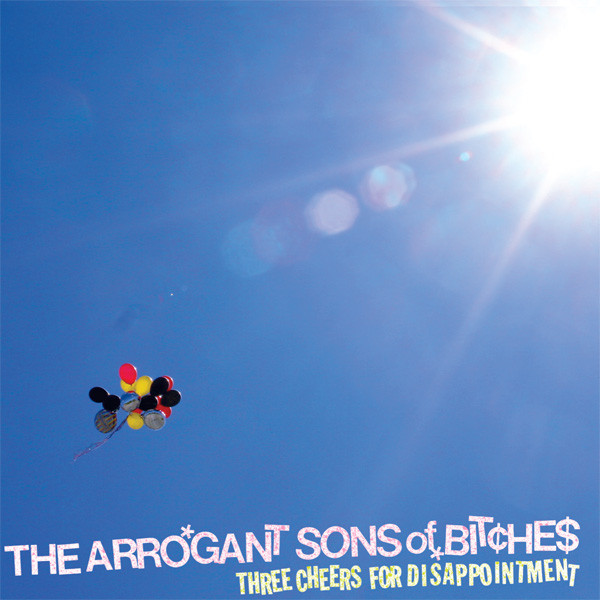 The Arrogant Sons of Bitches – THREE CHEERS FOR DISAPPOINTMENT
Year: 2006
Favorite Tracks: "So Let's Go Nowhere," "Rocketrocketrocketship," "Have Fun Rotting By Yourself," ""Yeah I Don't Know What It's Like To Be Around A Bunch of Hipsters""
Depending on who you ask, this record could be the pinnacle of the genre; it's the perfect blend of hardcore punk and campy ska. Fronted by the increasingly notable Jeff Rosenstock, ASoB always took themselves more seriously than other third wave acts — even when being silly they had a sharper edge. The lyrical content of these 13 tracks — stellar, all of them — is fucking up, having shitty friends, being a shitty friend, and frustration at waking up every morning. Delivered with abrasive vocals and a hell of a drummer, THREE CHEERS FOR DISAPPOINTMENT makes for one angsty album. This is especially true on a pair of late album tracks that ditch the ska sound in exchange for emotional ballads, whose devastating content can be deduced from the first of the two's title: "Have Fun Rotting By Yourself." They'd run the risk of being too depressing if they didn't hold onto the band's witty self awareness; the second is presumably a quote from an old friend or ex: "'Yeah, I Don't Know What It's Like To Be Around A Bunch Of Hipsters.'"  Such low lows are reached from these two songs that a climatic return to the band's mosh-friendly smashing comes as a relief. Rosenstock closes his ska opus with an "upbeat" tune about a friend who died in a car crash. The emotionality and commitment to a punk aesthetic make this the only album on the list I still regularly return to. Whatever that's worth.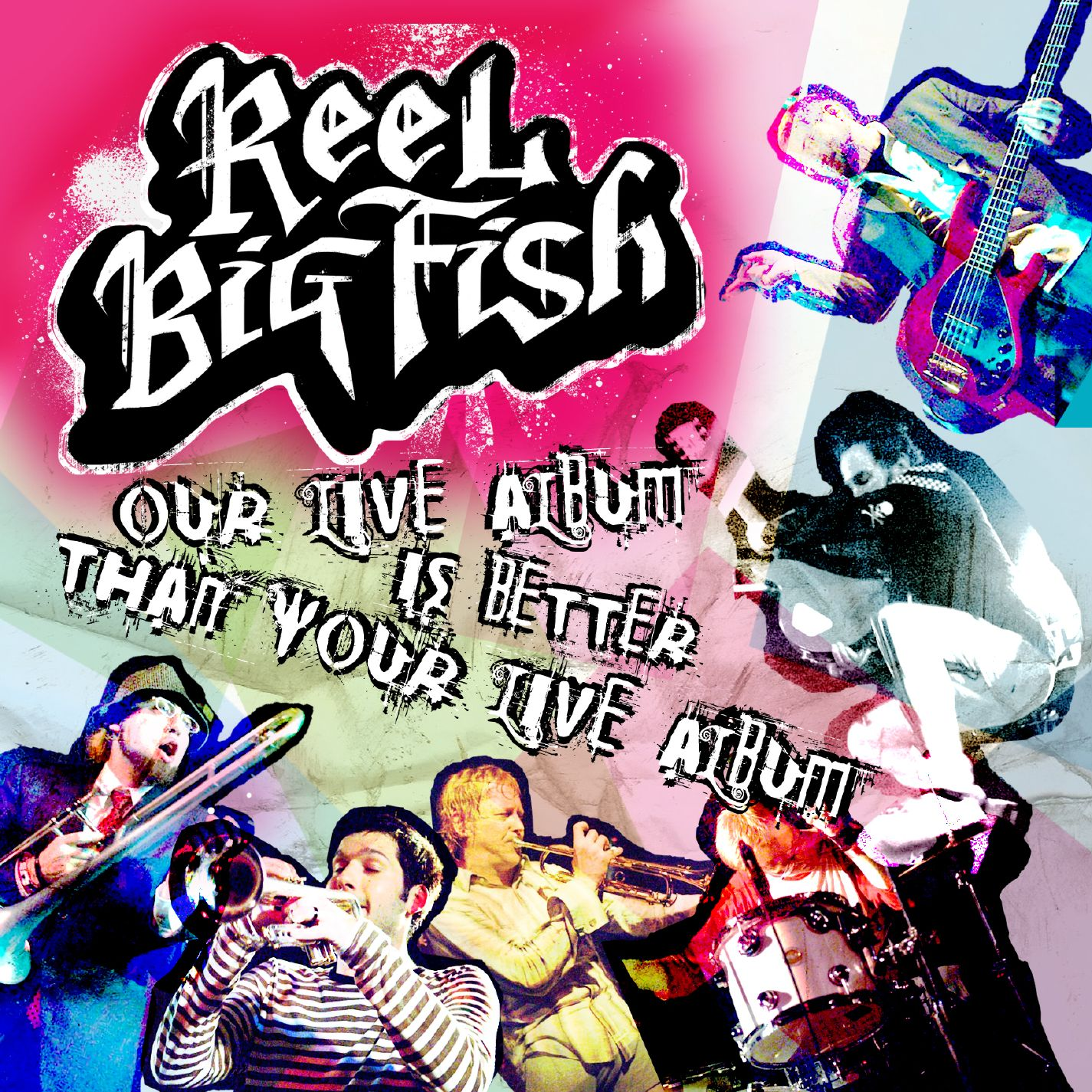 Reel Big Fish – OUR LIVE ALBUM IS BETTER THAN YOUR LIVE ALBUM (LIVE)
Year: 2006
Favorite Song: "Everything Sucks," "Boys Don't Cry," "Talkin' Bout A Revolution," "Beer," "Take On Me," "S.R.," "Kiss Me Deadly," "Sell Out"
A live album? Essential? Considering that most scenes, ska in particular, are built around live shows as opposed to critically acclaimed records then, yeah, a live album. Reel Big Fish is the band a ska-plebeian is most likely to be acquainted with due to their surprise '90s hit "Sell Out." That may not be great for the genre's image, as they are goofy as hell, but at least they're sincere and, above all, fun. As someone who has seen them twice, I can confirm that this live record captures the energy of a RBF concert perfectly. The natural and crisp live recording makes this a better produced album than any of their other records, as it avoids unnecessary studio gimmicks that the band is prone to. It also results in a more nuanced and dynamic listen, because the interludes where frontman Aaron Barrett banters with the crowd provide the breathing room usually lacking between their one-note party anthems, of which this crop gives you get the punchiest and catchiest, with a couple entertaining '80s covers thrown in. Easy listening and destined to make anyone crack a smile, OUR LIVE ALBUM reminds me that ska concerts are still the most fun concerts for everyone but the grumpiest of grinches.
Evil Empire – DOES THIS GENOCIDE MAKE ME LOOK SEXY?
Year: 2006
Favorite Tracks: "Prostitute Song," "Scam," "Support Your Local Police State," "Cult Of Domesticity," "Turn The Gun"
Is it effectively ironic or just offensive to back songs about an office shoot-up with muted trumpets and syncopated snaps? Evil Empire's sole anarcho punk/ska/metal/rap album is filled with lyrics abrasive as its title and delivered in alternating bouts of explosive anger and smooth, jazzy dynamic changes. The songs are loosely structured, moving from one idea to the next carelessly; it's impossible to know if you're about to hear a rap verse about "killing whitey," or a doom metal song about destroying America with cannibalism. On the first listen, it's hard to discern exactly what Evil Empire is trying to say. "Scam"'s second verse sums up Evil Empire's political stance succinctly: "We're the anti of everything you're pro." President Bush, police officers, television, imperialist colonists, and God are just some of the antagonists for the disillusioned characters featured in narratives like "Prostitute Song" (a white collar employee who brings a semi automatic to the office) and "Turn The Gun" (an adolescent with a magnum .44 and a revolutionary spark). DOES THIS GENOCIDE MAKE ME LOOK SEXY? was obviously made for cheap — as evidenced by the occasional peaking and basic left-right panning — but clearly by musicians who know what they're doing. In fact, I could postulate that this is a micro-budget album made by professional musicians who wanted to test how well they could pull off a genre-mixing anarchist crust punk record. They write irresistible, toe-tapping hooks that never overstay their welcome since the songs change so frequently, and know how to give an album a proper arc, with poppier stuff at the front, the mid-tempo tunes and ballads aptly tracklisted throughout. Or maybe the pure passion behind these revolutionary punks' writing is what resulted in such a fascinating, infectious album filled with trigger-warnings: "Fuck God and America, we don't need them – we'll tear them apart."
Operation Ivy – ENERGY
Year: 1989
Favorite Tracks: "Sound System," "Take Warning," "Unity," "Badtown," "Healthy Body"
Despite donning "Ska Man" on their album cover, Operation Ivy is the least adherent to the third wave ska formula — because they wrote the formula. The eldest of this group by seven years, ENERGY is the record where second wave ska and '80s hardcore punk intersected. This confluence of sounds was highly influential, spreading as far as the cheesy ska of this list to the popularized pop punk of Green Day and Rancid (whose Tim Armstrong plays guitar here but doesn't sing). "Bad Town" is the only track with a horn, making it stand out instead of blend in, and the upstroke guitar isn't predictable, sounding fresh and urgent. True to its name, ENERGY is a hectic album with 27 tracks that never take their foot off the gas. Lyrically, there's the standard "fuck the man," anti-conformist fare. For all the gems in the liners, there remains a few misses (I'll let you make the verdict on "Smiling when your friends are watching you!!!" from "Smiling"). Still, the lyrics remain a highlight. As does the consistency in sound — the scratchy guitar, bouncing bass, and popping snare become comforts by the end of the 50-minute album. And it is an album, working exponentially better as an entire piece than any single tune does on its own — something that is most apparent during the few rewarding tempo changes. Punk fans that can't quite sink your teeth into full fledged ska, this one's for you.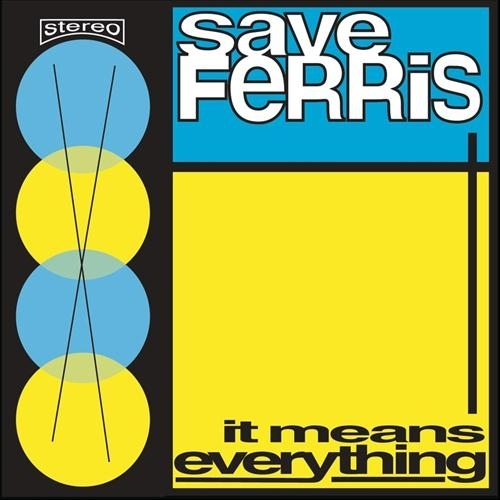 Save Ferris – IT MEANS EVERYTHING
Year: 1997
Favorite Tracks: "The World Is New," "Superspy," "Come On Eileen," "Everything I Want To Be"
Wikipedia credits Gwen Stefani's NO DOUBT for helping "launch the third-wave ska revival of the '90s." As a teenage rudeboy, this pained me to read, because I knew No Doubt was a disservice to the true ska being played by Save Ferris and their own charismatic female lead singer, Monique Powell. Their debut, IT MEANS EVERYTHING, is the '90s bouncy-ska-sound perfected to a tee. The best tunes here, like opener "The World Is New" and old school "Superspy," are led by infectious horn lines that interplay with Powell's vocal melodies. Dexy Midnight Runner's classic "Come On Eileen" gets the ska treatment and the shoe fits — Ferris cover it with confidence and nail the tempo change at the bridge, a moment which I'm sure was a highlight of their live shows for danceability. EVERYTHING is somewhat front-heavy, but closer "Everything I Want To Be" encapsulates what the band does well: imbuing the catchy, carefree quality of ska with some motivating punk lyrics delivered over three distorted chords.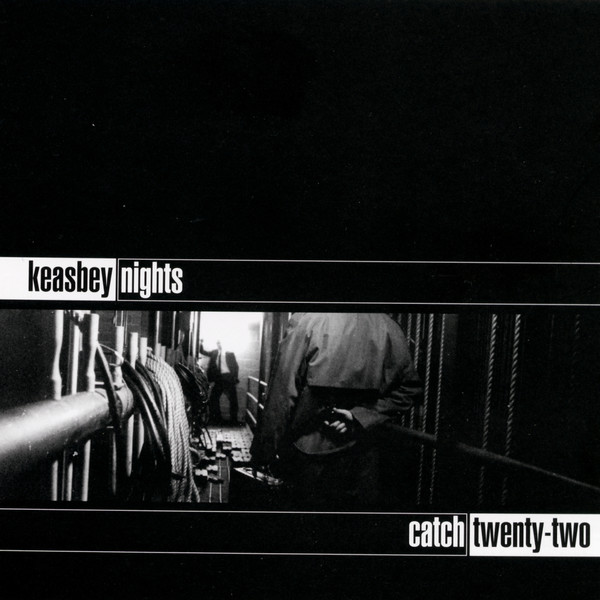 Catch-22 – KEASBEY NIGHTS
Year: 1998
Favorite Tracks: "Dear Sergio," "Keasbey Nights," "Giving Up, Giving In," "This One Goes Out To…," "Supernothing"
"Riding The Fourth Wave" is the eighth track of KEASBEY KNIGHTS, a not-so-subtle proclamation that the band would be ushering in a new brand of the genre — beyond that of the current third-wave ska punk. While this new generation was never seen, the album was the arrival of arguably the most important figure of 21st century ska, Tomas Kalnoky. He wrote all of the songs on KEASBEY before leaving the band and starting Streetlight Manifesto (wherein the two groups held beef with one another for some time). With Streetlight, Kalnoky recorded a new track-for-track version of KEASBEY, as Catch-22's has a raw, lo-fidelity production quality. Although he may disagree, that's how these songs sound best. It's a scrappy, imperfect work that exposes Kalnoky's immaturity as a musician and showcases his talent as a narrative lyricist. I'll save the rest of my gushing for the record at the bottom of the page, but suffice it to say that this is solid '90s ska backing a writer just discovering his own burgeoning talent.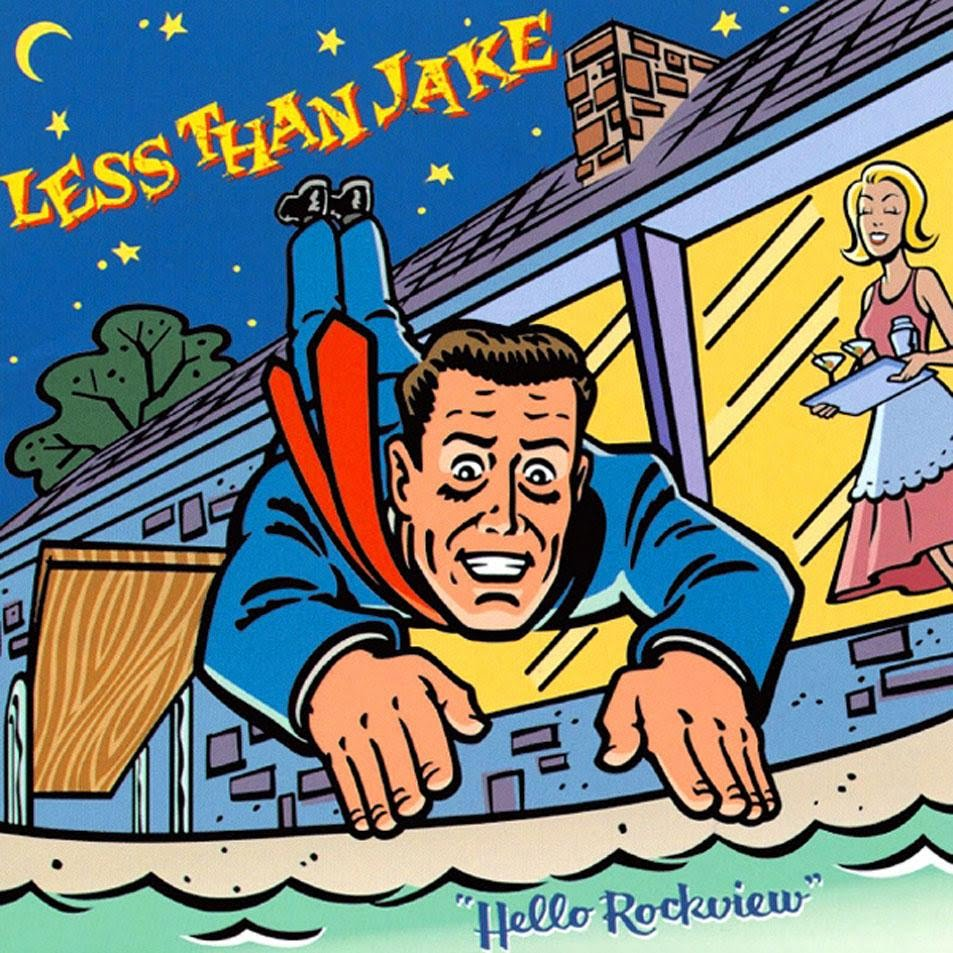 Less Than Jake – HELLO ROCKVIEW
Year: 1998
Favorite Tracks: "Help Save The Youth Of America From Exploding," "All My Best Friends Are Metalheads," "Nervous In The Alley," "History Of A Boring Town"
'90s ska's biggest selling point, especially for me growing up in Salt Lake City, is the theme of escaping the small boring town that you grew up in. Less Than Jake is from a shit college town in central Florida called Gainesville, imbuing their music with suburban nostalgia and angst that's missing in ska groups from the northeast or southern California. For over two decades the group has been a third wave staple, but this record still holds their biggest hits of their half a dozen albums. Although the last few tracks dip in quality, the woo's and woah's of "All My Best Friends Are Metalheads" and "History Of A Boring Town" make this an essential listen.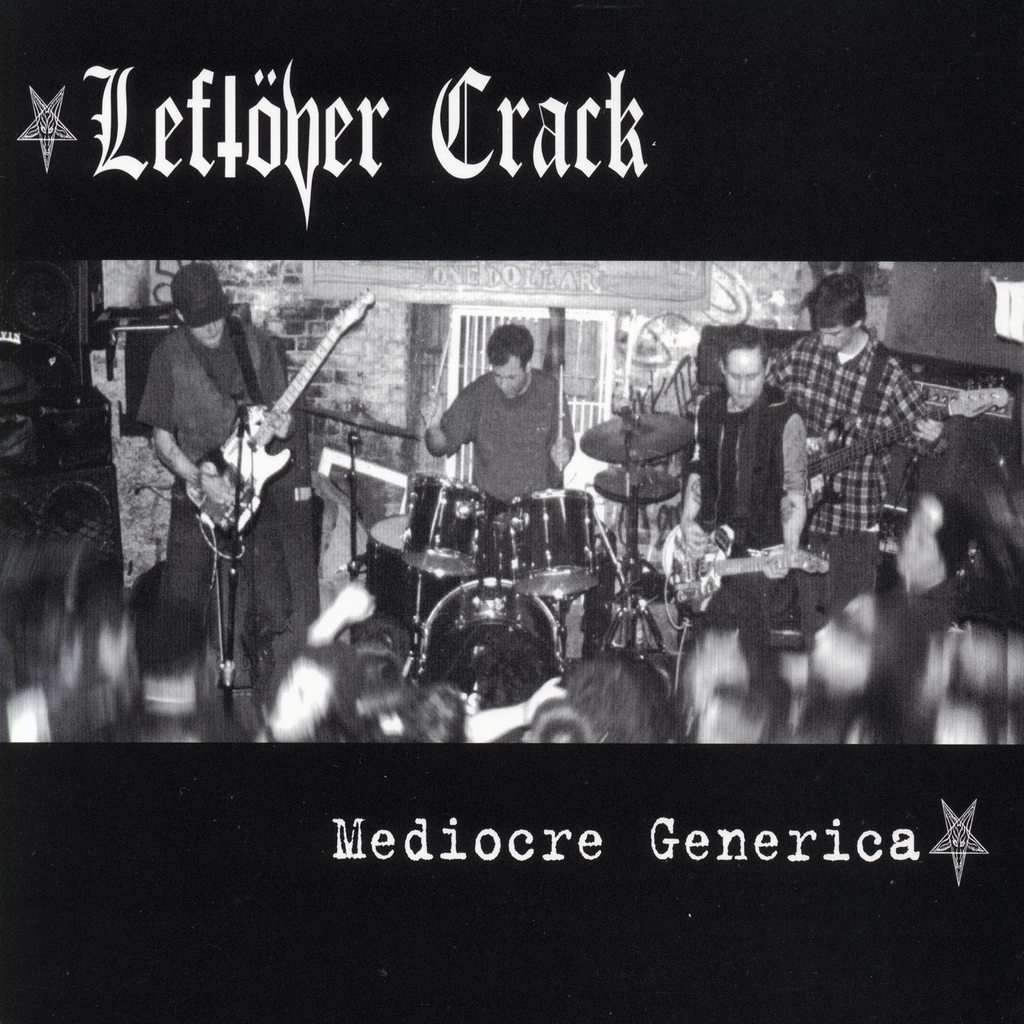 Leftöver Crack – MEDIOCRE GENERICA
Year: 2001
Favorite Tracks: "Hemeo-Pathy," "Nazi White Trash," "Gay Rude Boys Unite," "Crack City Rockers," "Untitled"
Released on September 11th, 2001, MEDIOCRE GENERICA's title is a stab at the group's parent label Epitaph (the original title was bolder: SHOOT THE KIDS AT SCHOOL). It's a fitting release date, at least in that the group's extremist left political views would put them strongly at odds with the Bush administration, the war in Iraq, and the mainstream narrative of 9/11. The flagship album of the crust-ska sound, Leftöver Crack spawned the tiny subgenre of "crack rock steady," a sound characterized by thrash punk, random interludes of gorgeous string orchestrations, and the necessary screech vocals that are often produced through a radio distortion effect. Contrary to the shock value lyrics of Evil Empire, Leftöver Crack never say anything they don't mean, as they take their politics very seriously (and have poor relations with the police of multiple counties, including their home of Manhattan). "Gay Rude Boys Unite" is a parody of Operation Ivy's classic "Unity," rewriting the lyrics to take aim at the allegedly homophobic group. It's the first memorable statement from Stza Crack, who remains a prominent figure in hardcore punk today as the frontman of not only Leftöver Crack, but The Starfucking Hipsters.
Streetlight Manifesto – EVERYTHING GOES NUMB
Year: 2006
Favorite Tracks: "Point/Counterpoint," "A Better Place A Better Time," "We Are The Few," "Failing, Flailing," "Here's To Life," "A Moment of Silence"
Backed by a horn section of Juilliard music school graduates, a drummer with unbelievable fills, and his own distorted guitar, Tomas Kalnoky ignores the cheesiness of ska and spews lyrics at an insane WPM rate with the self importance of a romance novelist. He writes sparse narratives with distinct characters (a thief, a suicidal friend, a dying soldier), but favors an abstract poetic approach over detailed storytelling, making all of Streetlight's work remarkably relatable to anyone who has ever felt dejected or alone: "A moment of silence please for those who never get the chance / they show up to the party but they're never asked to dance" (from "A Moment of Silence"). He sings the 12 songs of EVERYTHING GOES NUMB as though they're the only 12 the world has got. Kalnoky's genuinely profound delivery affected me so much that I can vividly recount the first time I heard it (in my brother's car) and truthfully claim that it sent me on a personal trajectory I can only describe as "post-Streetlight." But to focus on the songwriting would be a disservice to the most musically talented ska band (and, arguably, under the umbrella of punk). Trumpets, saxophones, and a trombone harmonize and tease one another in melodic bliss as an incessant bassline bounces underneath. They complement high velocity vocal melodies that inch their way into your psyche and stay on repeat, yet always remain interesting after the 100th time listening (I would know). However, Streetlight's most recognizable quality is their constant dynamic shifts, every song flying by at heart pounding speed, stopping for slow respites from the chaos at least once or twice — a formula which gives the tracks their consistently substantial length. Whether from this tendency to alternate between dynamic extremes or its over-sincerity, EVERYTHING GOES NUMB is not an album for everyone. And it shouldn't be. You either don't vibe with this record or you become convinced it was written specifically for YOU. I still am.