Podcast of the Week: THE NO SLEEP PODCAST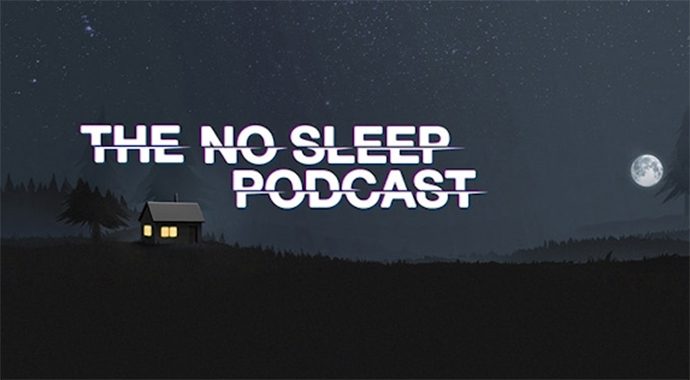 Now look, I can't pretend that THE NO SLEEP PODCAST is as pulpy and gripping as MISSING RICHARD SIMMONS, or as artfully constructed as S-TOWN, but, although it didn't make our roundup of horror podcasts last October, to me, this may just be the quintessential horror podcast. And why? Because it fully emulates every experiential nook and cranny of being a horror fan: thrills, chills, and scoffing disappointment in equal measure.
On paper it's a genius idea that everyone should be kicking themselves over not thinking of first: comb the depth and breadth of r/nosleep, find the best that the online repository of amateur horror fiction has to offer, and get voice actors (often culled from Reddit themselves) to handle the rest. Now don't sign off just yet. While r/nosleep has its passionate supporters, I'm just as aware that it's often considered with derision. Spoiler alert: there is a lot of bad on the forum. But for anyone who's ever spent a lonely evening or two browsing, you know the elated sense of triumph you experience when you come across an unassuming gem that'll raise the hairs on the back of your neck. Part of THE NO SLEEP PODCAST's efficacy is that it does most of the heavy lifting for you, with a dedicated team effectively excising the cream of the crop.
As a genre junkie, it's hard not to find the variety of tales offered impressive, with equal measure being given to gore, the paranormal, and the psychological alike. Yes, sometimes it's silly, and yes, sometimes the tales won't quite titillate, but you'd be surprised at the frequency with which a tale will stick with you, quietly gnawing away at the back of your mind, and besides, is there anyone who can look me in the eyes and tell me that loving horror is about being exposed to continual and constant quality? No, horror fandom is a tribalistic loyalty bent on the promise that somewhere just over the horizon is the tale that's really going to shock and terrify, and there are few podcasts I've found where I'm so curious as to see what's coming next. If you regularly find yourself browsing the darker side of Netflix or rushing to see the latest Blumhouse release, you'd be remiss to not have an hour or so of the sp00ps in your weekly commute. But most importantly of all, THE NO SLEEP PODCAST represents an inspiring and exciting example of channeling communal internet passion into a tangible product of quality. But a word to the wise: skip the intro.