Podcast of the Week: GILMORE GUYS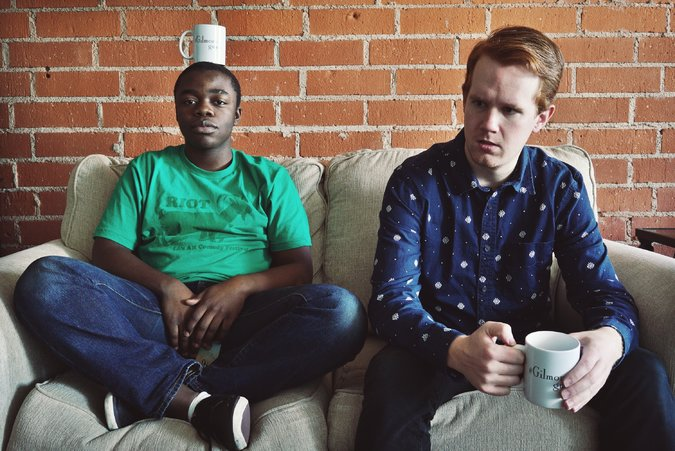 When I first heard the title GILMORE GUYS, I instantly thought, "Ugh the joke is that they're guys . . . But they're watching a show for girls . . ." But longtime fan Kevin T. Porter and first time viewer Demi Adejuyigbe are not here to fuck around.
Actually, they fuck around quite a bit. Their longest episode clocks in at over six hours, consisting of a fair amount of tomfoolery with some serious discourse sprinkled in. TIME named GILMORE GUYS one of the 50 Best Podcasts of 2017 and described it as "for fans of longform," and Demi recently averaged out their runtimes—unsurprisingly north of two hours per episode. These guys have spent more time talking about GILMORE GIRLS than there are hours of GILMORE GIRLS. But it never feels forced, it never drags on—it feels like you're sitting in gridlock traffic on the 5 North and chatting with two old friends about your favorite show.
There is something effortlessly entertaining about Kevin and Demi—the two have known each other for years and they extend the relaxed nature of their friendship to the audience. Their guests are most commonly friends of theirs, and they begin each episode mid-conversation, as if they were waiting for you to join them in the church basement where they started out.
The guys actually wrapped up their GILMORE GIRLS discussion as of December 2016, and have since been covering the short-lived ABC Family series BUNHEADS, creator Amy Sherman-Palladino's follow-up to GILMORE. The format has been completely flipped on its head for me, an avid viewer of GILMORE who knows next to nothing about BUNHEADS. I still tune in to every episode and plan to attend the live show, though, because I just can't get enough of the guys. The inexplicable familiarity and eccentricities of GILMORE GUYS mirror those of Stars Hollow itself, and saying goodbye to this show come May will be supremely bittersweet.