ORANGE IS THE NEW BLACK Season Five Review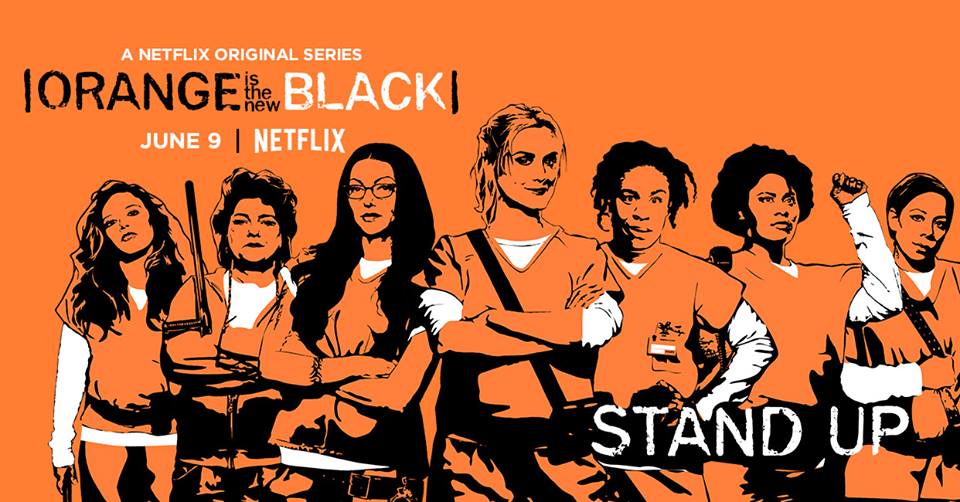 The fifth season of ORANGE IS THE NEW BLACK is a juggernaut—disparate, tonally inconsistent, and at times, blisteringly profound. The entirety of the season spans over the course of a three-day-long prison riot, and it's the boldest and most uneven season to date. And if this seems like an unnecessary risk for a hit show with a critically acclaimed formula, remember this is coming from the showrunner who blew up an entire town at the culmination of WEEDS' third season. Jenji Kohan has certainly never been one to shy away from risk, and the results are correspondingly mixed.
The decision to have the political and social ramifications of Poussey's death play out over the course of the season is a wise, if not necessary, one. However, 13 episodes is not an ideal format to sustain such a condensed time period and the pacing would have benefited from the riot ending, even three episodes earlier. Doing otherwise feels more rooted in the desire to set up another maddening cliffhanger in the finale than anything.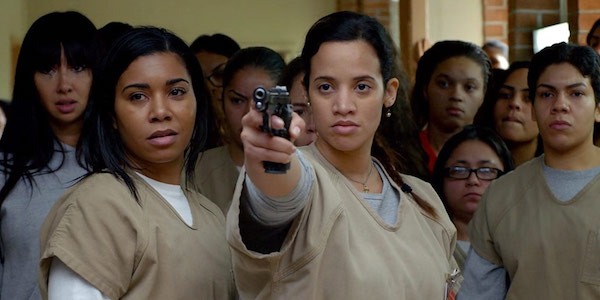 Who could forget the last finale?
The tone varies wildly from one episode to the next. Episode nine and 10 feel like they're straight out of a horror film, while episode 12 is a romance; the latter feels more cohesive than the former. The shortened time frame also means that the next scene always picks up where the previous one succeeded it. The continuous motion can get exhausting. However, the writing remains as sharply specific and bizarre as ever, as Leanne and Angie force the imprisoned guards to perform in a talent show. The white supremacists make lattes and read slam poetry. Piper and Alex bicker and play house in the yard. Suzanne summons Poussey from the dead. The list goes on, and on, and on.
ORANGE IS THE NEW BLACK has been known to tackle topical social justice issues with aplomb, most notably the Black Lives Matter movement and the privatization of federal prisons, a system so corrupt that it took Linda-from-purchasing disguising herself as an inmate during the riot to see prisoners as actual people. However, the larger issues can get lost in the shuffle this season, particularly in the earlier episodes. Riots breed chaos after all, and tend not to work out so well.
ORANGE IS THE NEW BLACK has always been a deeply flawed show, but it is also one of the greatest.
Yet, I've always found it's the smaller, more personal moments of ORANGE that speak the loudest. For when this show hits with its truth—often conveyed in just a single frame, it is as effective as ever. Tears roll down Taystee's cheeks with such frequency she stops noticing, but thanks to Danielle Brooks's impeccable acting, the audience never does. Nicky looks at Lorna from across a filthy linoleum table in the cafeteria, breaking, having loved her selflessly for far too long.
Amidst all its noise and chaos it makes certain you remember that these are women who are someone's mother, someone's daughter. Gloria goes from crying in the hallway, clutching a stolen phone to her chest, to moving mountains for her child who needs her in an instant. Yet, it is still not enough. Carol and Piper share an uncharacteristically tender conversation; it's the kind of moment that's a rite of passage between a mother and daughter. Yet, Piper's face is pressed against barred glass, and her mother is kept yards away, watching and waiting with all the other parents who fear for their daughters.
While some of these women deserve their sentences, and others do not, it is clear that none of them deserve to live under a system that serves to strip them of their humanity. The reasoning for the riot is sound, it's just a shame the U.S prison system isn't one to listen, or care. But we as an audience do, for to care about these characters is to understand the human condition.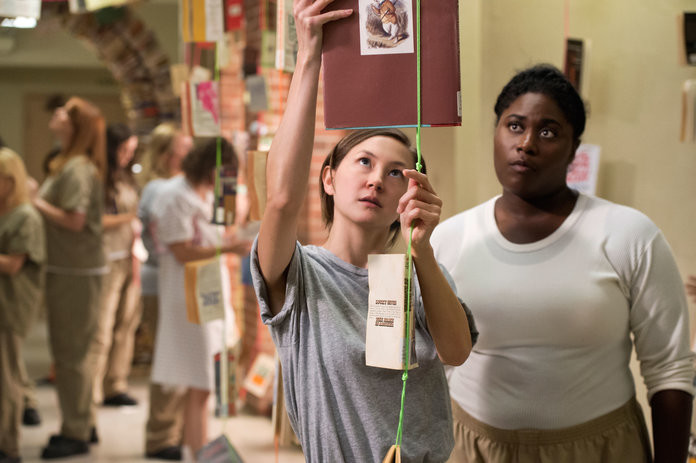 Taystee and Brook honoring Poussey
ORANGE IS THE NEW BLACK has always been a deeply flawed show, but it is also one of the greatest. It is exceedingly brave, as it is constantly changing,  reinventing, and digging deeper with each new layer it unearths. Just like its polarizing protagonist and the hundreds of women who are incarcerated alongside her, it does not stop. Profane, profound, and heartbreakingly poignant, there has yet to be a season of ORANGE IS THE NEW BLACK that is not worth binge-watching. Season Five is certainly no exception.
Verdict: Recommend