NEXT THING by Frankie Cosmos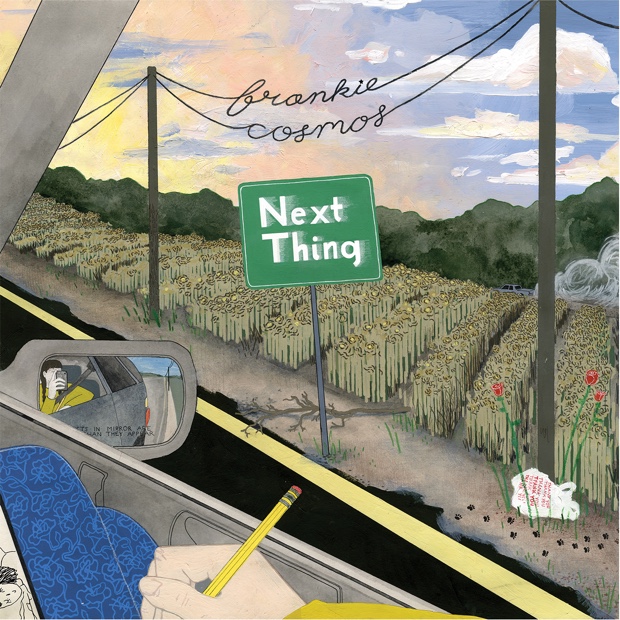 Genre: Twee Pop, Indie Pop
Favorite Tracks: "Fool," "On the Lips," "Sinister," "Outside with the Cuties," "What If"
On Frankie Cosmos' sophomore EP, NEXT THING, frontwoman Greta Kline, 22, pulls out an old scrapbook (or rather, like, a 5-, 6-, or 7-year-old scrapbook). With a wistful blow, she clears the dust from the front cover, singing to herself "What are you doing?" as she cracks it open. Inside are vague images accumulated from her nostalgic teenage memory; scrap paper with dog doodles, bread clips from expired loaves of multigrain, and bootleg copies of David Blaine specials. NEXT THING is exactly this handful of bric-a-brac — fragments of memories nebulously strung together amidst melodious vocals, uncomplicated (but uninspiring) lo-fi guitar progressions, and just enough drive from the snare drum and open hi-hat strokes to keep the album moving forward.
The album opener, "Floated In," is a glimpse into the foundational characteristics of each song. At just one minute and 29 seconds, it foreshadows the next 14 quips that follow. While this track is not particularly the most evocative on the album, it informs us of our narrator's hazy, almost adolescent memory. As each memory comes in and out of focus, we hear themes of puppy love, friendship, and the inner struggle of individual purpose. Kline has the confusion and angst of a blossoming teenager, ruminating on statements such as "I don't know what I'm cut out for" and "Do I belong?" — statements that are softly painful, but hit home regardless of whether you're 14 or 42. The brevity of these lyrics is only lightened by the innocence with which Kline sings "[I] Can't always be like Arthur," or the most evil insult she can muster: "You really were a pile of rocks."
Following the seventh track, "Interlude," we find a subtle maturation into the more danceable succeeding tracks with the introduction of some modest synth keyboard and vocal harmonies, such as on "I'm 20" and "On the Lips," respectively. "Sinister" is one of the standout tracks on the album, with cheeky lyrics and even a 4-bar synth flute solo. "Is It Possible / Sleep Song" is also one of the most poppy songs on NEXT THING, with more exciting drumming than we've heard so far amidst Kline's breathy vocals, but the track appropriately falls asleep at the end as she sings, "It all makes sense now/ Thanks so much/ Goodbye forever/ What the fuck." We are thus reminded of how personal this album might be, despite the hip-shaking and shimmying the instrumentation invites us, as the listeners, to do.
While the 15 tracks lack any significant variation and overarching narrative structure, the sweet pensiveness of NEXT THING lies within the simple, straightforward, innocent lyrics. They seek not to be decoded in any way — we can see directly into Kline's memory as she name-drops her pals and illustrates a stick figure scribble of each moment she is reminiscing. Right when you think the chorus is going to burst with angst-driven energy, Kline pulls us into a tamer headspace with her airy soprano voice. Whatever hurt or happiness she might be singing about is only a distant recollection, stored neatly between humble song structures, summery, lo-fi instrumentation, and a dainty, breathy, Elvis-like croon. NEXT THING is nothing experimental; its only goal is to take the listener in and out of an understated synth-and-guitar daydream with unimpressionable percussion. If you're a fan of bands like Eskimeaux and Girl Pool, your copy of NEXT THING will sit comfortably between the piles of half-smoked American Spirits and 8.5×11 prints of shitty MS Paint drawings. From tight, chapped lips, Greta Kline invites us into her storytelling corner and glows with fondness for the "grace and lightness" she has just created on this 30-minute collection of memories, but it's nothing beyond the simplistic ennui of adolescence and the nostalgia that lingers with you into your awkward transition to adulthood.
Verdict: Do Not Recommend