Music Roundup 7/17/18
We're here to tell you what's hot and what's not in this week's music roundup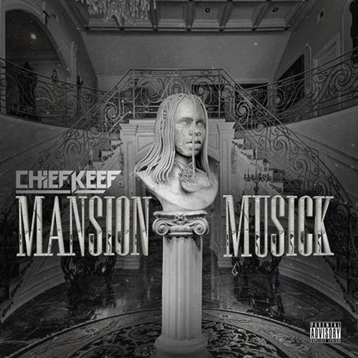 Chief Keef – MANSION MUSIK
Genre: Drill
Favorite Tracks: "Belieber," "Uh Uh," "Sky Say,"
The recent passing of Chief Keef's cousin and collaborator Fredo Santana hasn't stopped him from releasing five mixtapes since the start of 2018. The drill pioneer's latest effort, MANSION MUSIK, shows that Keef has kept up with modern trends while staying true to the character that made "I Don't Like," "Love Sosa," and "Hate Bein' Sober" smash hits in Worldstar's heyday. It is not surprising that Playboi Carti guests on "Uh Uh," as the mixtape serves up ample doses of Pi'erre Bourne-indebted, bone-dry instrumentals. "Hand Made" throws fans another curveball, with a noisy beat that brings to mind Death Grips' "Streaky." Moistened synths and full-bodied sound effects were once hallmarks of Keef's music, but on MANSION MUSIK, "Sky Say" is the only track that sounds like the Chief Keef of old. Lyrically, he never deviates from the content fans have come to expect over the years, focusing mostly on guns, drugs, and money, with the exception of unexpected Justin Bieber ode "Belieber." Though Keef finds time to pay homage to Hailey Baldwin's fiancé, he never delves into more serious topics like Fredo's death; the artistic inspiration from such a tragic experience is nowhere to be found here, and instead he falls back on the emotional fortitude that always made him one of the hardest rappers in the game. It would be nice if Keef dropped his unbreakable facade and inserted a bit of tenderness into flows that instead opt to focus on torture techniques. Despite the shallowness of the tape, MANSION MUSIK proves that even the loss of a comrade can't deter Chief Keef from staying true to his Chicago roots, working hard, and staying even harder. [Ted Davis]
Verdict: Recommend
Jim James – UNIFORM DISTORTION
Genre: Indie Rock
Favorite Tracks: "You Get to Rome," "Too Good to be True," "All in Your Head," "Out of Time," "Throwback"
UNIFORM DISTORTION fills the rootsy indie-shaped hole in my heart that Jack White's BOARDING HOUSE REACH refused to. Jim James, best known as the frontman of Louisville savants My Morning Jacket, delivers a record here that seems to be, for him, a return to form, and it's kind of a shame that this isn't an MMJ record, because it would be a really great one. James' solo work has seen a fair amount of variation, mostly consisting of "tribute" records meant to tip a hat to the likes of Woody Guthrie, the Beatles, and Bob Dylan, among several others, but this is the James solo album that's closest to what he became famous for. And for a songwriter that can (sometimes) get lost up his own ass a bit, UNIFORM DISTORTION is refreshingly simple. You can almost see James, sparsely armed with a fuzz and chorus pedal, playing these songs to a scuzzy bar, and many of them carry that lo-fi "local band" charm. Early album track "You Get to Rome," a fuzzed-out scorcher with an old-school, Roy Orbison-esque melody, really sets a precedent for this record to be a ton of fun, and it mostly stays at that energy level throughout. James has provided this record with a really nice mix of that old time rock and roll song structure, looks from stoner indie icons like Pavement, Thee Oh Sees, or Dinosaur Jr., some Motown-influenced background singers, and a reverb-heavy mix style that isn't exactly new coming from him, but is nonetheless extremely effective on this record. There's really only a couple of times that we see James pump the brakes on the tempo, and both are pretty solidly winning tracks, especially album closer "Too Good To Be True," sparsely orchestrated and just washed out enough to serve as a perfect palate cleanser to the rest of the record.
The thing that I think is most remarkable about UNIFORM DISTORTION is how transporting it is, especially considering its relative simplicity. The way it's mixed and orchestrated have a very live performance-ish feel to them, and so many things, like the way he chuckles around four-and-a-half minutes into "Throwback" as he loses track of the note he's singing, really work together to put the listener into the room with James. It's a thoroughly enjoyable record that makes me want to don a flannel shirt and a trucker hat, head out to a grungy dive bar and slam bourbon til I can't walk anymore, and I don't know if there's a higher compliment you could pay to a Kentucky man. [Adam Cash]
Verdict: Recommend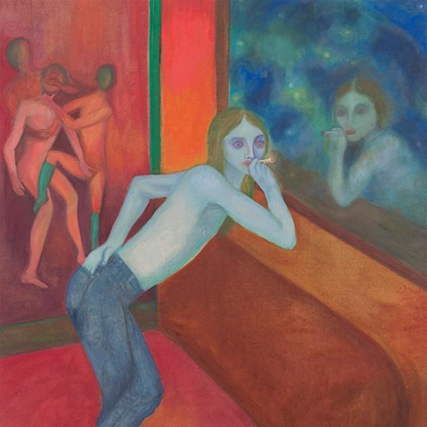 Laurel Halo – RAW SILK UNCUT WOOD
Genre: Experimental Electronic, Ambient
Favorite Tracks: "Mercury," "Quietude," "Nahbarkeit"
Laurel Halo is a globetrotting experimental electronic artist and Oneohtrix Point Never collaborator who has worn a lot of hats since she released her near-perfect debut album, QUARANTINE. Her latest, the mini album RAW SILK UNCUT WOOD, is a Burial-esque blur of ambient and experimental jazz. The incorporation of cello (played by Oliver Coates) and sparse percussion (performed by Eli Keszler) make the LP feel like an unearthed work from New York's late-1970s downtown art scene. Halo's previous releases are driven by haunting vocals that sound like an alternate female take on Thom Yorke's on KID A, but RAW SILK relies solely on instrumentals to discomfit her listeners, "Quietude" and "The Sick MInd" conjuring 20th century minimalist Terry Riley's "A Rainbow In Curved Air." There is a sickly quality to the entire record which makes listening to it feel like a sonic counterpart to its cover, a painting called Prince S by Uruguayan-Swiss artist Jill Mulleady. RAW SILK is bookended by two ethereal, 10-minute pieces, the title track and "Nahbarkeit." The format of the tracklist feels like a storyline when listening to the record in its entirety, though not a word is spoken in its 32 minutes. Vocals would have been a welcome addition to Halo's album; however, RAW SILK UNCUT WOOD is a spooky, frail, and highly emotive work by a one-of-a-kind boundary pusher. [Ted Davis]
Verdict: Recommend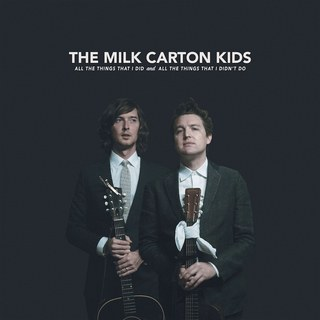 The Milk Carton Kids – ALL THE THINGS THAT I DID AND ALL THE THINGS THAT I DIDN'T DO
Genre: Indie Folk
Favorite Tracks: "Unwinnable War," "All the Things"
For the most part, ALL THE THINGS feels like you're being serenaded by two of the most beautiful voices in the world, but by softening the edges of their morose and "dressed for a funeral" style, The Milk Carton Kids also lost my attention.
I don't know of any other album that can put me to sleep as well as ALL THE THINGS. The few times I've attempted to take in all 51 minutes at once I have fallen into the deepest, most satisfying of slumbers. Funny as it may be to watch someone pass out, it's also heartbreaking, because The Milk Carton Kids are talented at crafting beautiful folk songs, but the low-tempos and mellow guitar strumming work better than any lullaby ever created. The duo from California have maintained their Simon & Garfunkel harmonies once again, but to switch things up, they've decided to include some new instruments, like with "Big Time," a slightly more upbeat, country-style hit which welcomes a lovely fiddle arrangement, or on "Younger Years" and "You Break My Heart," which both add a Spanish guitar to their country twang. The most uncharacteristic addition is the staccato piano in "Nothing is Real," which leaves an impression of jazzy playfulness. They are great at exploring complicated emotions and apply it in tracks such as "Mourning in America" ("Tied my shoes when I woke up /  Drew my curtains just enough / Thought about the ones I love / Tucked my chin into my coat"), where they tie in these specific snapshots that reflect the pain our country is in whether you are an immigrant, African-American, or afraid of lax gun control laws. If that's what I was reviewing alone then they hit the mark, but ALL THE THINGS is their fourth studio album and, though it might not have the desired effect, it shows that they are willing to experiment without losing who they are. I don't recommend giving the album a listen from start to finish unless you are struggling to fall asleep, by which means go full steam ahead, but the individual songs are beautiful, especially "Unwinnable War," in which they explore what it's like to feel stuck in our choices, to want to leave without being noticed. [Liliane Neubecker]
Verdict: Do Not Recommend
Valley Queen – SUPERGIANT
Genre: Indie Rock
Favorite Tracks: "Chasing the Muse," "Ride," "Bedroom," "Two of Cups"
Recently I threw on Alabama Shakes' SOUND & COLOR for the first time in what felt like forever, and here were a few instant takeaways:
It's an immaculate sounding album, about as well-produced and mixed as you could hope.
Brittany Howard is this decade's greatest revelation, an unprecedented talent regardless of what musical form she takes.
"The Greatest" remains one of the top 10 best Strokes' songs of this decade.
And my main conclusion:
Despite producing two decently far-reaching singles ("Sound & Color," "Don't Wanna Fight"), the spacious and vast tonality of the record really didn't carry quite as far as I assumed it would have in the years to come.
This hard-hitting analysis is coming about three years removed from SOUND & COLOR, but the influence of its genre-bending weirdness really never carried as much weight as I assumed it might at the time (another testament perhaps to that album's currently untouched greatness). Even though rock continued down somewhat predictable trajectories in those three years, 2018 has produced two records that, even if they are stylistically different in many ways, contain spells of that future-bending and atmospherically spacy aura: Kacey Musgrave's GOLDEN HOUR and Valley Queen's debut, SUPERGIANT.
With a title that acknowledges the group's massive-sounding celestial folk rock, Valley Queen explore the cosmos on SUPERGIANT, an album that might not have the gaping expansiveness of SOUND & COLOR, but sonically frolics amongst the stars nonetheless. Like an interstellar transmission, the first sound we hear on the Los Angeles quartet's debut is rolling static, and sweeping guitars and heavenly vocals define the record from there on. Valley Queen shed a fair amount of the folksy identity they've built through touring and with their excellent 2017 EP, DESTROYER, and opener "Silver Tongue," in particular, devolves into a mass of fuzzy guitars and twinging feedback. Tracks like "Boiling Water" and "Bedroom" take on similarly driving rock forms, though the latter's second half quickly shifts into a sparse, blissed-out meditation, with aching country guitars and the lightest patter of drums. Unlike seemingly most of their peers, Valley Queen make music to be heard at the back of amphitheaters and football stadiums alike, and they're at their best when lead vocalist Natalie Carol is riding a rush of explosive solos and rousing drums to the moon and back on mid-tempo songs like "Chasing the Muse," "Ride," or "Two of Cups." Even the group's slowest songs, which lack some of the obvious punch of the rest of the record, float beautifully, including "Crimson and Clover"-nod "Gems and Rubies" and closer "Highway Pearls." That the group's songs can achieve such a simultaneously ethereal yet cutting quality is to the credit of producer Lewis Pesacov, who really pushes these songs to feel larger than they are. Valley Queen are one of LA's most exciting up-and-coming acts, and even with a sound that exists outside of the current trend, you can feel SUPERGIANT's weighty ambitions just as clearly as you could with other breakthrough outliers like The War on Drugs or the Alabama Shakes. While SUPERGIANT might not have enough pop whimsy to push them into that increasingly rarified territory, it's one of the years great rock albums. [CJ Simonson]
Verdict: Recommend