Music Roundup 6/5/18
We're here to tell you what's hot and what's not in this week's music roundup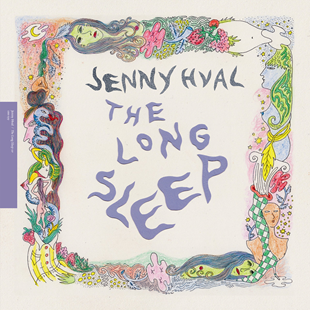 Jenny Hval – THE LONG SLEEP
Genre: Art Pop
Favorite Tracks: "Spells," "The Dreamer Is Everyone in Her Dream"
Jenny Hval's latest EP, THE LONG SLEEP, is like a TWILIGHT ZONE matryoshka doll: each track is a macrocosm of the last. The beginning of "The Dreamer Is Everyone in Her Dream" is curiously familiar before revealing itself to be an interpolation of it's preceding track. That preceding track, "Spells," is the standout despite being followed by more experimental and ambitious incarnations of itself. Unlike the other tracks on THE LONG SLEEP, it's not impossible to imagine hearing "Spells" on the radio. Hval cooks up a hell of a hook on this track; buoyed by a gentle but driving drum rhythm and a flowery piano melody, her vocals soar on a trajectory straight towards the clouds. The lyrics are equally beautiful as Hval conjures images of jazz hands getting tangled in hair and delivers uplifting affirmations like, "You are your own disco ball." She then turns that line around on "The Dreamer Is Everyone in Her Dream," where the disco ball is deflecting everything to maintain a dark interior. The instrumental is a much darker twist on "Spells" as well. Hval's vocals are somber and the stripped-down piano even more so, but that all dissipates when the track is bum-rushed by a frantic swarm of percussion. Things take a creepier turn on the title track, a 10-minute droning ambient piece that repurposes bits and pieces of the previous two tracks and obfuscates them to the point where they are hard to recognize. It's an interesting artistic endeavor, but doesn't quite pay off in the way its source material shines. [Ryan Moloney]
Verdict: Recommend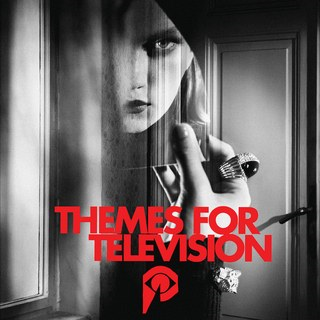 Johnny Jewel – THEMES FOR TELEVISION
Genre: Electronic
Favorite Tracks: "Windswept (Minimal)," "Saturday (Evening) (featuring Desire)," "Deja Vu," "Tomorrow is Yesterday," "Embers"
David Lynch seems to really love Johnny Jewel, and it makes sense: both Jewel and Lynch project Hollywood flamboyance while artistically gravitating towards bewildering eeriness. Jewel's band Chromatics musically possess the same damp disposition that helped TWIN PEAKS turn so many Lynch fans on to the charm of the rural Pacific Northwest. Not only did these stylistic similarities land Chromatics a cameo in the show's latest season, but it also got Johnny Jewel a gig composing the aforementioned season's soundtrack. THEMES FOR TELEVISION is Jewel's second solo release of the year, and the 56-minute album compiles outtakes from the supposed 20 hours of music Jewel recorded for the TWIN PEAKS: THE RETURN soundtrack. The fourth track on THEMES FOR TELEVISION, "Saturday (Evening)," may not have been used in the show's latest season, but it certainly wears its compositional intent on its sleeve. With fellow Italians Do It Better artist Desire providing the only vocal feature on the album, the track addresses quintessential Lynchian themes like small-town boredom and weeks rife with bad weather. "Shadow (Opening Titles)" and "Saturday (Evening)" provide alternate versions of Chromatics tracks of the same name, and though they may not serve much of a purpose within the context of the band's overarching catalogue, it's still a cool novelty to have synth pad-heavy versions of good songs floating around on streaming platforms. Jewel also asserts his progression as a composer and producer by adding a number of new tones to his pallette on THEMES FOR TELEVISION. "Tomorrow is Yesterday" and "Embers" are both driven by crystal-clear electric pianos, an instrument not incorporated as heavily in previous Jewel compositions. "Deja Vu" utilizes an Oneohtrix Point Never-style vocal synth that isn't exactly original but is still an impressive nod to one of modern electronic music's most pedestaled artists. However, like its predecessor DIGITAL RAIN, THEMES FOR MUSIC often comes off as a meandering and purposeless release intended to kill time between TWIN PEAKS stardom and the next Chromatics record. Tracks like "Red Curtains," "Caffeine," and the serialism-meets-bebop crossover "Black Room" all sound more like a talented musician noodling on an expensive synth than an artist hard at a work on a long-awaited full-length. Although THEMES FOR MUSIC has a number of striking moments and continues to assert the already established notion that Johnny Jewel is better at making ambient music than the average musician with an arsenal of expensive vintage gear, it's hard to imagine the release serving a purpose for anyone who isn't either a TWIN PEAKS diehard or an Italians Do It Better junkie. While it may be a nice soundtrack for a drive through the Portland, Oregon suburbs, unless you're really desperate for new music to listen to, you could skip THEMES FOR MUSIC and redirect your anticipation towards the next Chromatics full length. [Ted Davis]
Verdict: Do Not Recommend
Mazzy Star— STILL EP
Genre: Dream Pop
Favorite Tracks: "Quiet, The Winter Harbor," "That Way Again"
With their breakout hit "Fade Into You," Mazzy Star became somewhat of a '90s shoegaze staple akin to Cocteau Twins and My Bloody Valentine. In 2018, they're still out here doing their thing, and that thing has not changed in the slightest. There's a charm in their dedication to their trademark sound on their latest EP, STILL—languid, bleary-eyed vocals blended with earnest, reverb-heavy guitar. "Quiet, The Winter Harbor" features a warm, ruminating piano melody that gets joined by sliding guitars and light cymbals. It's dark and alluring, with vocalist Hope Sandoval crooning to her object of desire: "You're like a villain in some old film / walking in the dark, in somebody's room." This is a ballad that would fit in a dimly lit, smoke-filled bar à la TWIN PEAKS. "That Way Again" fits all too perfectly into the Mazzy Star canon, considering it was debuted on tour in 2000, 18 years before its official release. Bittersweet lyrics such as "He looks to my eyes once more / And gives me away like someone's bride" root the tune in melancholy, even as the sweet acoustic guitars allude to happier memories. "Still" is less dreamy, its nearly talk-sung vocals and buzzing violin emitting a darker aura.The final track is a remix of "So Tonight That I Might See," a sprawling eight minutes that comes off a bit heavy-handed compared to the easiness of the rest of the EP. It's hard to be practical when talking about Mazzy Star's music, because it's anything but. It's purely emotion, mood, vibe, and atmosphere. STILL is not going to challenge you, but its simplicity is refreshing. There's a swoon-worthy quality to Mazzy Star, and on their latest EP, they prove that it's not worth letting go of yet. [Claire Epting]
Verdict: Recommend
Snow Patrol – WILDNESS
Genre: Alternative Rock
Favorite Tracks: "Empress," "A Dark Switch," "Soon"
At some point while I was first listening to Snow Patrol's first album in seven years, I heard a lyric about the lead singer remembering the first time he got high. I just had to laugh, because imagining Gary Lightbody doing anything remotely dangerous was an impossibility for me. Upon further contemplation, I found I couldn't imagine Lightbody, or any member of the band, doing anything aside from pumping out melancholic adult-alternative rock that lacks Coldplay's aching sincerity, The Fray's warmth, or The Script's almost embarrassing vulnerability. I blame "Chasing Cars" for this; it's a big, romantic spectacle of a song, but it doesn't feel connected to any real experience. Furthermore, Lightbody's singing has always come across as too controlled for me, amplifying the sense this is all staged and made only because TV and movies demand vaguely emotional ballads.
Since I've been rather negative so far, I'll say that the sweeping, cinematic spectacle is better realized on WILDNESS than previous Snow Patrol works, since the Ash-esque, energetic Brit- pop is pushed to the side. FALLEN EMPIRE, their last album, flirted awkwardly with electronica, and those flirtations are smoother here; the quiet electronic bleeping in the bridge of "Heal Me" creates a beautiful lull with the ascending fragments of guitar, and the blaring synth bass of "Soon" only adds to the confrontational, dramatic tone. Sadly, a greater sense of bombast is ruined by inappropriate instrumental elements, like the wet clap on "Life or Death," or oddly pushy and condescending lyrics. Statements like, "Don't give in / Don't you dare quit so easy" on "Don't Give In" or, "Try to keep your heart on higher shelves for once" on "Wild Horses" could be affirmative confidence boosters, but they turn unhealthily forceful when delivered one-after-another and delivered without the necessary empathy, which requires experience Lightbody cannot convey. Throughout the album, there is constant mention of the idea "this" isn't like it was before or "this" isn't like the first time. However, much like the album, these attempts to break from the past or illustrate why and how this will be different are never fully realized. At the end of the day, it's just another Snow Patrol album. [Blake Michelle]
Verdict: Do Not Recommend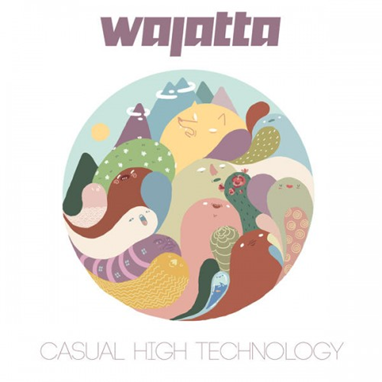 Wajatta – CASUAL HIGH TECHNOLOGY
Genre: Tech House
Favorite Tracks: "Make Some Sense," "Runnin'," "Red and the Blue"
Reggie Watts is a goofy man whose shtick hinges on being taken at least somewhat seriously, whether you realize it or not. Consider what it actually is that he does for a moment: live highwire comedy based around extreme vocal tics and shifts, looping pedals, and beat-making. The actual art in what he's doing is undervalued by its very nature because if it's not funny or interesting as spectacle, it isn't working right, and fortunately for anyone who's ever seen him live, Reggie Watts' comedy is always working right. So what happens when you simply dissect his raw talents as a musician, not as a comedian who makes music? Because at 54 minutes, CASUAL HIGH TECHNOLOGY really needs you to believe hook, line, and sinker in Watts' electronica bona fides.
A partnership with producer John Tejada under the moniker Wajatta, the duo's debut album is scarcely funny but nonetheless figures out a way to build around Watts personality, using his vocals and charm to build earnest, rave-ready techno tracks. CASUAL HIGH TECHNOLOGY is simple by Tejada's standards, but the L.A. producer has never been overly complicated in terms of how populated and dense his mixes are, and the tracks here remain similarly meticulous and straightforward. It's easy to hear Watts' loose sampling tendencies colliding with Tejada's groove-oriented marathons, like on closer "Somethin' Bout The Way," where a variety of vocal interpretations on its simple hook ("Something about the way you move") layer themselves over the rising and falling four-on-the-floor beat. When Watts croons, as on opener "We Know More (Than We Leed on)," or on the the ping-ponging '90s rave "Red and the Blue," CASUAL HIGH TECHNOLOGY really shines, an obvious exploration of how magnetic Watts can be as a performer. But when the production becomes more off-kilter and odd, like "Let Me Come To Your Party" or "Get Down (with Ya Bad Self)," the experience feels obvious, a kind of anti-comedy that winks at how silly hook-based electronica can be without actually providing any genuine commentary. And when Tejada uses Watts' vocal samples as a simple instrument, the results are a mix of shiny and exciting disco ("Runnin'") and cluttered experimental beatmaking ("Easel Does It"). For what it is, CASUAL HIGH TECHNOLOGY is a decent collaboration, but it's hardly precise and polished enough to appease fans of Tejada's and barely over-the-top enough to draw in the average Watts fan, so its purpose and direction is muddled. The Wajatta partnership provides a messy, near-hour-long listen that at times excites, but never quite reveals what the artists are providing each other. [CJ Simonson]
Verdict: Do Not Recommend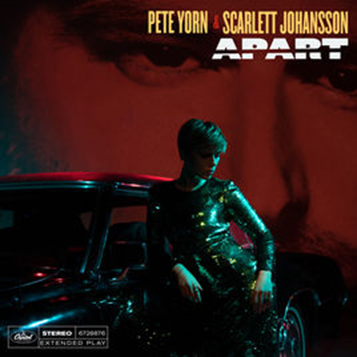 Pete Yorn and Scarlett Johansson – APART EP
Genre: Alt-Pop
Favorite Tracks: "Iguana Love," "Bad Dreams"
Pete Yorn has never been aware of his own strengths. He's got a knack for simple yet effective melodies, yet he surrounds them with extraneous, wonky tones and electronic enhancements that don't match his scraggly, downtrodden demeanor. His first collaboration with actress Scarlett Johansson, BREAK UP, was a pretty clear She & Him wannabe without any of the charm and vibrancy. APART, an EP with four new songs and one remix, discerns Zooey Deschanel is a better fit for coffee-house fluff than Johansson, and the new focus on a nocturnal, wistful mood is more conducive to her composed, icey delivery. She and Yorn have much better chemistry here than on BREAK UP, which significantly helps with the album's motif of couples dealing with distance and time atrophying the initial excitement of romance. "Bad Dreams" is the clear highlight, illustrating fears both ho-hum and substantial ("Worried I lost my car keys or that I said something wrong / Worried about the mess that's in my house, that's in my heart") over swirling synths and twinkling guitars aching with emotion. Sadly, though the more blended production is a step up from previous Yorn work, the vocal production still leaves something to be desired; "Movies" does not need the echo and soft crackle of Yorn, especially since Scarlett's voice is jarringly raw in comparison and the following song has him booming right in the front of the mix. After starting off rather strong, APART falls into this dull quagmire of gloomy synths, with the final track oscillating between a tight diddy and an EDM anthem. While this Yorn and Scarlett collab has more of an identity and purpose than the last one, it runs into a lot of the same problems I've had with Yorn, and a better usage of Scarlett's talents can't make up for that. [Blake Michelle]
Verdict: Do Not Recommend