Music Roundup 5/8/18
We're here to tell you what's hot and what's not in this week's music roundup
Belly – DOVE
Genre: Indie Pop
Favorite Tracks: "Human Child," "Suffer the Fools," "Army of Clay"
Reviewing comeback albums from bands who haven't seen the light of day in a good 20 years leads one to think about how they will deal with that huge gap of time, and how its members' subsequent artistic output will seep into the existing musical core. Between a solo career, Throwing Muses, and The Breeders, Tanya Donelly has certainly kept herself busy, but she's chosen now to revive Belly and its blend of dream pop, '80s post-punk drive, and '90s alt-rock snarl. I'll give DOVE, their first album in 23 years, this: it's different then what I expected, but it would not have surprised me if Belly hadn't broken up in '96 and released this two years later.
Tanya's faint, ethereal vocals are much more twangy and prominent in the album's mix, along the lines of a Shawn Colvin or Shania Twain. The music has a similarly acoustic, folk-pop, singer-songwriter bend to it, as do the lyrics, which are filled with a lot more quirky details and aphoristic musings. These are not misconceived changes, as Tanya still sounds amazing and transitions from the dark, mystical vibe of 1993's STAR to DOVE's positive spirituality with ease. Unfortunately, it is kind of a slog to sit through, as it should have been about 35 minutes rather than almost 50. A lot of the clean acoustic guitar-work becomes rather indistinguishable, and songs like "Girl" and "Quicksand" sound like something that would be played at a lame beach party alongside Sugar Ray. One of STAR's best attributes was its variety of guitar textures, from fragmented nocturnal notes to a low-end rumble to ringing, post-punk squeals; little of that is replicated here. There are moments where the new musical, lyrical, and vocal directness works, especially "Suffer the Fools" and its amicable, post-divorce promise to "bring you that terrible wine you love" and "the book I've been trying to get you to read." However, those flashes of brilliance make the filler all the more tragic, and what could have balanced new and old ideas made me yearn for the old way too often. [Blake Michelle]
Verdict: Do Not Recommend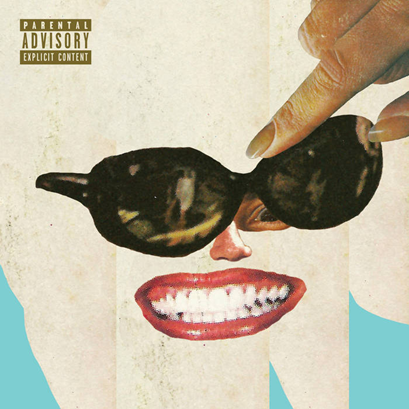 Black Moth Super Rainbow – PANIC BLOOMS
Genre: Neo-Psychedelia
Favorite Tracks: "Panic Blooms," "Bad Fuckin Times," "Bottomless Face," "We Might Come Back"
The album artwork on Black Moth Super Rainbow's latest is a collage of a face with a Dadaist approach, which perfectly sums up PANIC BLOOMS. Epic in scale, their sixth studio album drifts around different electronic sounds, slow and syncopated, operating analog electronic instruments to the best of their abilities and showcasing what they are meant to do. It fits in line with the rest of the Pittsburgh band's distinct albums. Sound pieces like "Rip on Through" and "One More Ear" simply play with noise, warping anything that seems listenable into reduced practice chords. Other interludes, such as "To the Beat of a Creeper," highlight the acoustic guitar, which is used carefully in certain places around the album. PANIC BLOOMS is enjoyable, but not as out-of-the-box as it may initially seem. After a song or two, the psychedelic electronica vibe makes consistent sense among the 16 tracks. Central to BMSR's performance is the immensely distorted vocal and deconstructed beat structure, examining how to put music together. Hardly any words on the album can be understood, exemplified by "Bad Fuckin Times" and "New Breeze," where the lyrics get muffled and cracked by a vocoder. The standout track, "We Might Come Back," is another sound piece, this time feeling more upbeat than the other interludes. It starts with synths that fight by twinkling and wailing loudly at each other, with a groovy beat underneath to guide the whole adventure. PANIC BLOOMS could be considered discomforting, but could easily also be a pleasant journey. Black Moth Super Rainbow have solidified their goals into a consistent theme of distortion synths that sits comfortably with itself. [Nikki Reifler]
Verdict: Recommend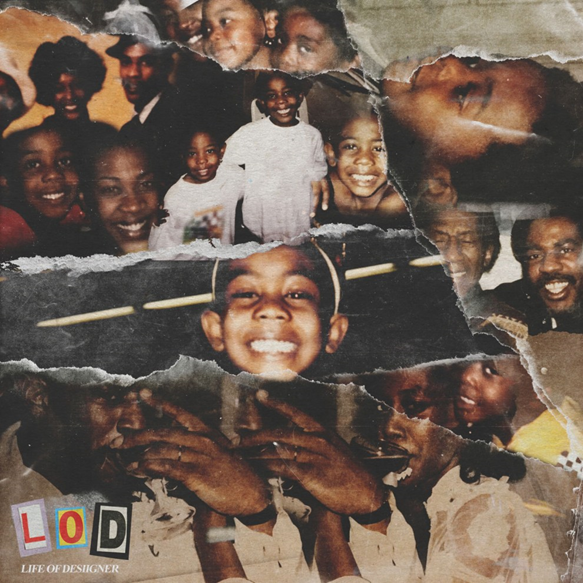 Desiigner – L.O.D.
Genre: Trap Rap
Favorite Tracks: "Priice Tag," "Tonka," "After Party"
If Desiigner's signature "rrrraaa" and "kee kee kee" embellishments are an artistic crutch, than he must have broken both legs between the chart topping "Panda" and his new surprise EP, L.O.D. (Life Of Desiigner). The G.O.O.D. Music-signed rapper has gone somewhat under the radar since "Panda" made waves as a sample on Kanye West's THE LIFE OF PABLO in 2016. Now, he is giving us his best attempt to steer out of the One Hit Wonder lane on course to the debut of his first full-length album. While L.O.D. might seem like a qualifying first record, Desiigner was keen to assert on Instagram that this EP is actually not his first album. Instead it is just an appetizer to hold over listeners until he is ready to release his actual freshman project currently titled, NEW ENGLISH 2 (a sequel to his popular hitmaking mixtape). The energy across the seven-track, 20-minute EP is consistently as exuberant as we would expect from him, but it provides no evidence to support the thinking that fans were starving for a new Desiigner project.
It is not uncommon for up-and-coming hip hop artists to drop a surprise mixtape or two before an album; however, it is likely that L.O.D.'s streaming number will suffer from its last-minute announcement. Desiigner certainly is not playing in the same league as Drake or J.Cole, where an overnight release can actually maximize visibility. At the same time, he also does not necessarily have the SoundCloud clout of Lil Pump or Lil Xan, who might be able to get away with such a marketing risk. This, among other reasons, forces L.O.D. to feel rushed and inattentive. The opener "Priice Tag" has a catchy lyric to it but could easily be replaced by a Migos song, while "Destiination" (you can see what he is doing with the iis) provides the most range, with its soothing flute hits and muted Desiigner vocals that are sung rather than rapped or mumbled. With NEW ENGLISH 2 on the horizon, hopefully Desiigner will be able to turn to his G.O.O.D Music family for guidance on how to focus in with a new perspective, although now might be the worst time to ask Kanye West about "perspective." [Michael Stanziale]
Verdict: Do Not Recommend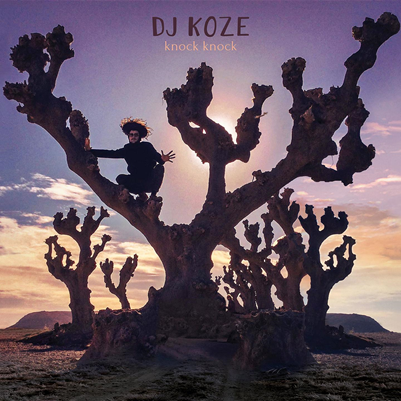 DJ Koze – KNOCK KNOCK
Genre: House
Favorite Tracks: "Bonfire," "Pick Up," "Baby (How Much I LFO You)," "Lord Knows," "Seeing Aliens"
Brevity may be the soul of wit, but DJ Koze certainly doesn't think so. The German producer's third proper full-length LP, KNOCK KNOCK, is a carefully constructed 80-minute expedition through Koze's rolodex and record collection. Over half of the tracks feature another artist, but the star guest contributions come from decades past. KNOCK KNOCK is teeming with disco, funk, and soul samples that are pasted together with marvelous synth work to create some the year's best dance tracks.
Perhaps the most impressive accomplishment on the record is Koze's ability to make so many different genres capture the same feeling. From the trip hop tracks to the pure disco cuts, each piece of the record evokes the feeling of a serene desert sunrise. The album opens with "Club der Ewigkeiten," which truly feels like the first moments of waking up outdoors. It transitions into "Bonfire," a fantastic bit of techno that blends wobbly low frequency synths with a vocal sample from Bon Iver's "Calgary." The albums then dives into a five-song stretch of features. "Moving in a Liquid (featuring Eddie Fummler)" and "Illumination (featuring Roisin Murphy)" are the two standouts from this ru,n with the former splicing in samples to build a staccato rhythm as Fummler provides a vocoder vocal melody, while the latter is somewhere between trip hop and techno with a synth that sounds like an 8-bit version of Chic's "I Want Your Love." "Pick Up" is an instant classic dance track with one of the year's best music videos. Koze samples the rhythm and beat from Melba Moore's "Pick Me Up I'll Dance" and the vocals from Gladys Knight & The Pips' "Neither One of Us (Wants to Be the First to Say Goodbye)." He really starts to flex his sampling prowess towards the end of the record starting with "Baby (How Much I LFO You)," a beat that chops a number of different vocal and instrumental samples into a euphoric smorgasbord that'll leave you smiling long after the track ends.
The best track on the record is "Seeing Aliens." It's DJ Koze at his absolute best, constructing an ecstatic melody with warm keys over filtered drum loops with all sorts of buzzing flourishes that click and whirr throughout the track. It may not have a sonic analog on the record, but it is the perfect summation of the album. It's DJ Koze's love letter to dance music. It's incredible. [Ryan Moloney]
Verdict: Recommend
Eleanor Friedberger – REBOUND
Genre: Indie Pop
Favorite Songs: "Nice to Be Nowhere", "Make Me A Song"
While I was never the biggest fan of The Fiery Furnaces, the Carole King vibe that Eleanor Friedberger took with her solo career grabbed my attention, though I regret to inform you that it is now long gone. REBOUND is her fourth album in seven years, and it's as though she switched majors at the last second. When I first heard her debut, 2011's LAST SUMMER, she had that natural troubadour style that made King sound earnest and relatable, with experimental distortions that gave Friedberger her own sound. Eight years later, using mostly a Casio keyboard and varying synthesizers, she has produced an album sans guitar but with lyrics as poetically ambiguous as ever. By far the most jarring issue with REBOUND is how it came into being; inspired by a discotheque in Greece while escaping the political climate after the 2016 election, Friederberger incorporated an '80s resonance present across all 11 tracks. "The Letter" starts similarly to Cyndi Lauper's "Time After Time"—fitting, since Friedberger is exploring the difficulties of human connection and how relationships fall apart. Similarly, "Everything" has her sounding like Blondie, nostalgically pleasant but only serving to mask her natural talents. The best piece is "Nice to Be Nowhere," and whether you're stuck in between summer and spring, or tired of winter or summer and longing for the next season, it's all worth it "to be nowhere with you" in the lo-tempo gray area. The composition on REBOUND is artful, and the sound quality is proof that Friedberger is a talented musician with experience under her belt, but this is not the capstone thesis I expected or wanted. Even though she experimented with synthpop before, throwing '80s melodies into the mix doesn't really give me my Friedberger fix. It's a mellow and sort of forgettable, if not unnoticeable, record—the kind of music Starbucks adds to one of it's CDs. [Liliane Neubecker]
Verdict: Do Not Recommend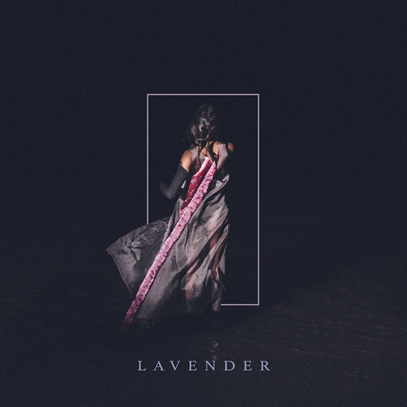 Half Waif – LAVENDER
Genre: Art Pop
Favorite Tracks: "Keep It Out," "Lilac House," "In the Evening," "Silt," "Salt Candy"
Nandi Rose Plunkett sounds sad and curious throughout LAVENDER, her third album and latest under the name Half Waif, exploring the full range of vocal performance and where electronic music is willing to join it. When taking on LAVENDER, I'm not sure if I am more entranced by Plunkett's lilting voice or the complex beat structures working with her voice. Levels of '80s industrial synths mix into a fresh vocal approach. "Lavender Burning" starts the album off ethereal and spacey, but as soon as "Torches" comes in, the tone becomes more experimental, incorporating clinking glasses and a new age synth pattern. Her voice has a quirk to it, knowing how beautiful it is and how un-ordinarily her vowels come out. LAVENDER keeps you on your toes, sometimes offering the chill side to pop where you can lay in a hammock on a lazy Sunday. "In the Evening" is a hauntingly beautiful piece, building on itself to escape natural talents and linger into Auto-Tune as a tool for her voice, and "Back in Brooklyn" strips down beyond the bare opening track, only utilizing a whirlwind of a piano to narrate unfamiliarity in a familiar place. Most tracks end without a button, they just happen to stop evolving and disappear entirely. It's an album that mainly seems sad because of the relationship Plunkett reveals about her grandmother, who was coming to the end of her life during the album's recording process, especially through "Leveler." Much of LAVENDER relates back to gardens, cities, and oceans, with Punkett aware of her place on earth and where her family fits into it as a key to keep her going. Half Waif is unique but essential in communicating personal family stories, and LAVENDER is Plunkett's story. [Nikki Reifler]
Verdict: Recommend
Lake Street Dive – FREE YOURSELF UP
Genre: Rhythm & Blues
Favorite Songs: "Good Kisser," "I Can Change," "Musta Been Something," "Dude," "Hang On"
In the sense that Lake Street Dive's previous album SIDE PONY came off canned and controlled, FREE YOURSELF UP is all about beautifully composed raw emotions. From funky beats and soulful vocals to groovy guitar riffs, the 15-year-old conservatory school band has tied off their sixth studio album with a bow. Though these same elements can be found on their previous albums, the talented quartet has tapped into a new pool of creativity that doesn't confine them: it feels and sounds organic. This un-pinpointable quality is what sets FREE YOURSELF UP apart from the equally powerful BAD SELF PORTRAITS, which put Lake Street on the map back in 2014. The experience they've accumulated since graduating from the New England Conservatory of Music has created a bond and level of trust which allowed them to successfully self-produce their first studio album and continue to perfect their retro '60s soul and '70s funk with various nuances in between. FREE YOURSELF UP opens with the rhythm & blues hit "Don't Leave Me Alone With My Thoughts," which belongs as a Blues Brothers tribute. The funky turn it takes in the bridge and outro are pleasantly unexpected. On the other hand, "Musta Been Something" is a low-tempo track that has a very simple melody repeated as Rachael Price's voice makes you swoon, Mike Calabrese's lowkey drumming keeps the song from coming to a halt, and Mike Olson's trumpet raises the song out of its indie folk-pop sound by adding a layer of soul. Despite most of FREE YOURSELF UP being mid-to-high-tempo rock out tunes, "I Can Change" is another slower song that has a beautiful melody and message of hope: "I am scared that I won't get it right / But fear won't rule my heart tonight." Also worth mentioning is "Dude," a gospel rock cousin of Beyoncé's "If I Were a Boy" and an ambiguous contribution to the "can men and women be friends" debate—I don't know, can we? The ending isn't as dramatic as Meg Ryan faking an orgasm in a restaurant, but it is a chaotic ruckus of trumpets, drums, and guitar distortions that slowly fade. The lyrics also manages to rhyme Obama with mama while crushing on his romance with Joe Biden. Put simply, Lake Street totally slayed their new album in terms of music and content, and here's to a long tour and many more albums! [Liliane Neubecker]
Verdict: Recommend
Matt and Kim – ALMOST EVERYDAY
Genre: Electropop
Favorite Tracks: "I'd Rather," "On My Own," "All In My Head"
If you have a chance to see Matt and Kim live, you should do it. You've never seen two people more happy to be doing what they're doing, and that insane positivity translates to every moment of their euphoric live show. It's honestly kind of exhausting, that THAT much indie electropop energy could be created by two people and then regurgitated back via the crowd for 90 minutes.
There's a bop on their latest album, ALMOST EVERYDAY, entitled "All In My Head," and it's stupid fun. The only lyric is the title, shouted loudly and proudly over simple but dynamic production, the musical equivalent to slowly building up to a hip hop air horn. It's fun. That's really all Matt and Kim have to be to succeed, and yet their last two albums have refused to just be, well, stupid fun. The "Daylight" duo have spent the last eight or so years moving away from indie pop and embracing more EDM and hip hop conventions without ever actually sticking the landing, their messiest attempt being 2015's NEW GLOW, which sounds painfully stripped-back and small despite its obvious big room aspirations. And that's the problem, is that when you see these songs performed live, it all just clicks. ALMOST EVERYDAY captures that live feeling just about as well as the previous records, and features an unnecessary number of transparent features, including everyone from Kevin Morby and King Tuff to Mark Hoppus and Santigold, none of which really reveal themselves but are meant to give the songs a theoretical sense of amped-up energy. And when Matt and Kim do go slow and sincere, something that's never really worked for them in the past, it can be painful; the snapping "Happy If You're Happy" and closer "Where Do WE Go From Here?" are eyerollers that end the party early. The intro track is a strange piece of instrumental music that would be better on a different artist's album and the following "Forever" is a kind of messy and forced "we're all in this together" party anthem which probably plays great on a big stage, but here falls flat. ALMOST EVERYDAY isn't a great album. But there are a number of fun moments that hit their mark despite of all of this, including the groovy "I'd Rather" or the horn dropping on "On My Own." It's a release with not much substance, and while the duo can still create a three-minute party with the best of them, you just kind of wish that Matt and Kim could figure out a way to make their music as fun as they are. [CJ Simonson]
Verdict: Do Not Recommend
Okkervil River – IN THE RAINBOW RAIN
Genre: Indie Folk
Favorite Tracks: "The Dream And The Light," "Family Song," "Shelter Song" "How It Is"
I think a lot (probably more than I should) about prolific musical artists who have a high release output. More specifically, I consider how an artist could have anything to say? Don't you need to live life and experience the world to have to make exciting, thoughtful music? To change your worldview and continually advance your musical themes?
Of course, this is simply something I consider—it's hardly required to make compelling art. The Men and Run the Jewels are good examples of artists who have had albums released in quick succession while keeping up a high quality. But for every good example there are five bad ones. Weezer, Mark Kozelek, Guided By Voices, Future, among many others, are all good examples of what a high shot rate can yield: occasional brilliance but frequent filler.
I bring all this up because IN THE RAINBOW RAIN, Okkervil River's latest, comes to us only seven months and 18 days since the underrecognized gem AWAY, his first record in over three years. Of course, Will Sheff is no stranger to this type of quick turnaround—his discography with Okkervil River features a number of back-to-back record releases, but one of the things that helped make AWAY such a fantastic album was that it felt like Sheff had actually lived in the years between releases. He had a renewed sense of voice, experiencing the death of his grandfather and seeing the band itself go through a number of personnel changes. Those things led to a record that saw him reconsider some personal truths, and even though he'd only been gone for three years, it felt like a comeback record. In a move that feels almost too silly to be reality, Sheff opens his newest on a song called "Famous Tracheostomies," in which Sheff recounts the tracheostomy he had when he was a child, as well as tracheostomies of other famous celebrities, reflecting on the struggle of child rearing and the fragility of a life supported by friends and family. IN THE RAINBOW RAIN can be funny in the way that other Okkervil River albums can be, but it contains none of the urgent earnestness that AWAY was overflowing with, exchanging heavy-hearted release for harmless, casual, and lackadaisical '70s soft rock. "Famous Tracheostomies" is perhaps clever, and it's a cutesy pop culture namecheck to be sure, but it's the kind of songwriting that feels stretched thin, less in its desire to communicate themes and more in the way it goes about using memory and structure to form its template. This feels true of single "Don't Move Back to LA" as well, a track rooted in experience that fundamentally doesn't feel essential or urgent. And when the lyrics aren't channeling specifics, they're painfully broad, like the closers "External Actor" and "Human Being Song." As the name would imply, the production of IN THE RAINBOW RAIN is appropriately hazy, coated in a misty greenery that includes plenty of fluttering background vocals, pulsing jazz guitar, flute, horns, and captures a Hall & Oates lightness while staying true the bands folksy roots, not unlike My Morning Jacket's excellent album THE WATERFALL. IN THE RAINBOW RAIN is hardly a bad album, it just fails to build on the outpouring of intensity that AWAY carried with it in spirit, and it brushes by without much of an impression. Let's hope for another three year break from this band to let them regroup and experience the world. [CJ Simonson]
Verdict: Do Not Recommend
Saba – CARE FOR ME
Genre: Conscious Hip Hop
Favorite Tracks: "Life," "Fighter," "Calligraphy"
Throughout Saba's early career, he's been known to experiment with different genres and flows—easily one of the more imaginative young artists we have in hip hop currently. Coming up with other talented artists like Chance the Rapper and Vic Mensa, Chicago has become a hotbed of young creative minds who have all carved out careers from the same ideas and sentiments. So while Saba could have continued his own career by trying to create even more genre bending music, he tones it down a touch on CARE FOR ME, one of the most grounded and intimate projects of 2018. This record is a honest and open look at the internal struggle and grief that has been bubbling up in his life. The album is filled with impactful soft jazz beats, with just enough drums and horns to stitch together his powerful lyrics in each track. The idea of depression is a very visible on CARE FOR ME, whether it is from within or from the community as a whole. On "Broken Girls," he lays out the difficulty of dating when both of the individuals are in that depressed mindset. But when discussing mental health it can be quite tiresome, pushing the music to become exhausting. Saba never lets it get there on the record because there is such a warmth to the expression of depression.
"Calligraphy" becomes a spoken word poem about the gang violence of the Southside of Chicago where he discusses his place in the community, as well as his purpose as a rapper and the messages he can convey to those afflicted by terrors in that community. "I don't tell the truth so y'all will feel sorry for me / I don't write this shit so y'all will feel God comin' / I don't get down like that" reminds listeners exactly what it is Saba is setting out to do with his art and craft. That spoken word vibe emanates throughout the album. Certain somber tunes on the project begin slow, but as Saba's voice gains traction the tracks come alive, building and blossoming to a profound climax where his entire heart and soul are put on the line. Love is what makes this project feel so special, and there is a fondness to the subject matter that makes one feel uplifted and motivated. That's where CARE FOR ME succeeds. [Mohammed Ashton Kader]
Verdict: Recommend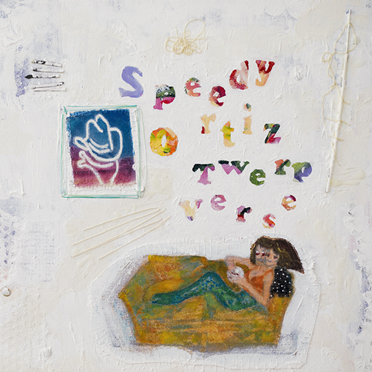 Speedy Ortiz – TWERP VERSE
Genre: Indie Rock
Favorite Tracks: "Lucky 88," "Can I Kiss You?," "Moving In"
The closing track of Speedy Ortiz's latest album, TWERP VERSE, "You Hate The Title," is also the album's brightest song; it's the closest we get to some DIY beat tape sonics as it inches closer to Sadie Duprie's solo work as Sad13 than anything else the band has ever offered. It's a pretty direct message to the haters: "You hate the title / but you're digging the song."
Indeed, TWERP VERSE is a terrible name for an album, but Duprie isn't wrong about the second part either. It's the band's freshest sounding work since their debut EP, 2012's SPORTS, one of those passed-around internet releases that sounded special in its indie obscurity. Back then they were focused on wordy, off-kilter '90s worship, and when the riffs got heavier and more complex on their sophomore full-length, 2015's FOIL DEER, their sound felt stale. FOIL DEER is an interesting album by an interesting band (the TOXIC-era Brittney homage "Puffer" remains a deeply fascinating song, as does the true-to-form whiplashed single "Raising the Skate"), but it's an ove- thought record in many ways, featuring too many great songs or ideas buried inside a mostly forgettable release. From TWERP VERSE's lead single, "Lucky 88," it was clear that rather than deliver the same power chords and off-beat rhythms, Duprie's excellent songwriting would be getting a candy-coated makeover, and the band is all the better for it. The rhythm section in general is less wonky and far more straightforward, and the inclusion of synthesizers tastefully gives these songs a different tone. All this leads to laser-focused rock-around-the-clock pop songs like "Lean In When I Suffer," "Can I Kiss You," or "I'm Blessed," each of which are quirked up to 11 but are simple and accessible. None of this is to say the guitar chords crunch any less satisfyingly, or that the band have lost the dizzying backbone that made them so appealing in the first place—tracks like "Moving In" and "Sport Death" still have that Malkmus-ish quality. Even though some of the filler here bleeds into the memory of the band's past work in ways that make those songs indistinguishable, for the most part, TWERP VERSE is a strong release that freshens up the bands sound and gives them a new direction to pursue going forward. [CJ Simonson]
Verdict: Recommend