Music Roundup 10/2/17
Hopefully you know the drill by now! Here's our music roundup focusing on the notable releases of the past week or so, letting you know which ones are worth your valuable time.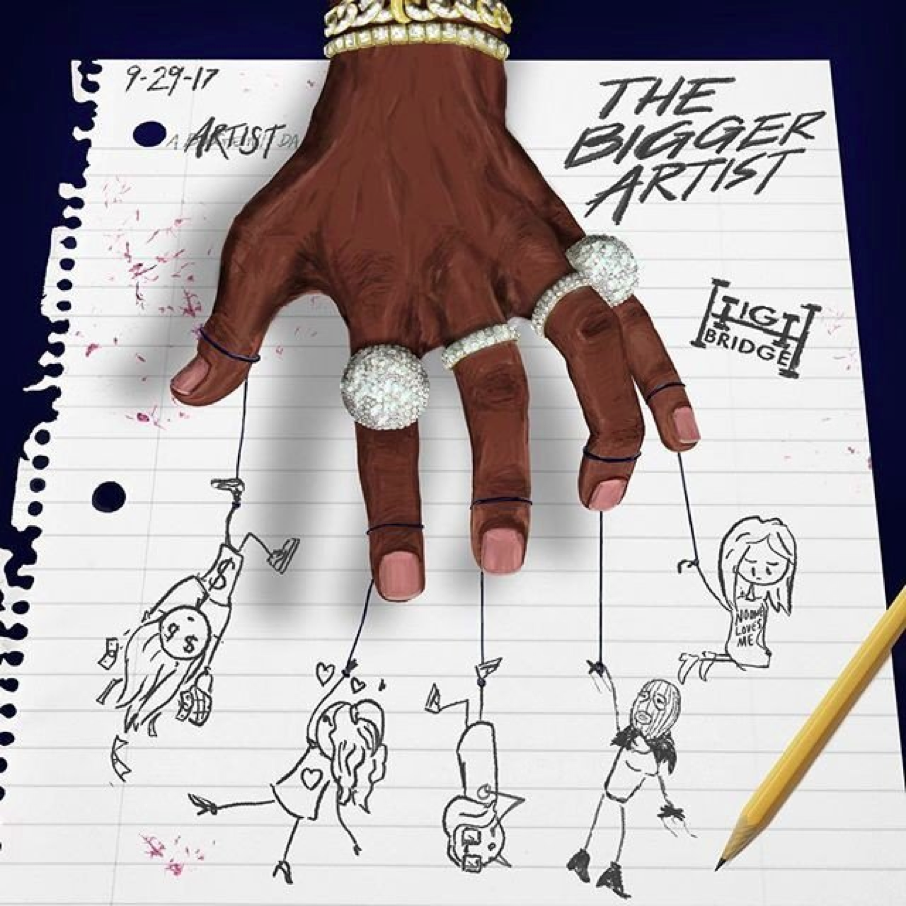 A Boogie wit da Hoodie – THE BIGGER ARTIST
Genre: Trap Rap, Pop Rap
Favorite Tracks: "Drowning," "Say A'," "Bad Girl" 
A year-and-a-half after his debut mixtape, 2017 XXL Freshman A Boogie wit da Hoodie released his long anticipated debut album, appropriately titled THE BIGGER ARTIST. The album includes the already platinum song "Drowning," with a feature from Kodak Black which was originally released in March of 2017. The spotlight was on A Boogie wit da Hoodie to really deliver on his opening album. The first track, "No Promises," sets the stage for THE BIGGER ARTIST, with a trap beat that is nothing new to the mumble rap era. That seems to be an overall theme of this project, with most songs failing to stand out as something that goes above and beyond. This album doesn't sound bad, but it is interchangeable with three out of every five rap albums that come out. That being said, there are a few songs that will solidify A Boogie wit da Hoodie as a regular contributor to the game. On "Say A'" there is a catchy piano riff that Boogie's vocals fit over like a puzzle piece, and "Bad Girl" garners features from both Trey Songz and Robin Thicke, providing a nice reprieve as the album's token slow jam. Even though these songs are few and far between, they are enough for the album to leave a positive taste in my mouth. With a handful of songs that already have well over a million plays on Spotify, I think A Boogie wit da Hoodie's commercial success will continue to elicit marginal improvements as the saga of his music career unfolds. THE BIGGER ARTIST leaves a lot of room for growth, while at the same time establishing Boogie as an artist with a prominent voice in the New York rap scene. [Emmett Garvey] 
Verdict: Recommend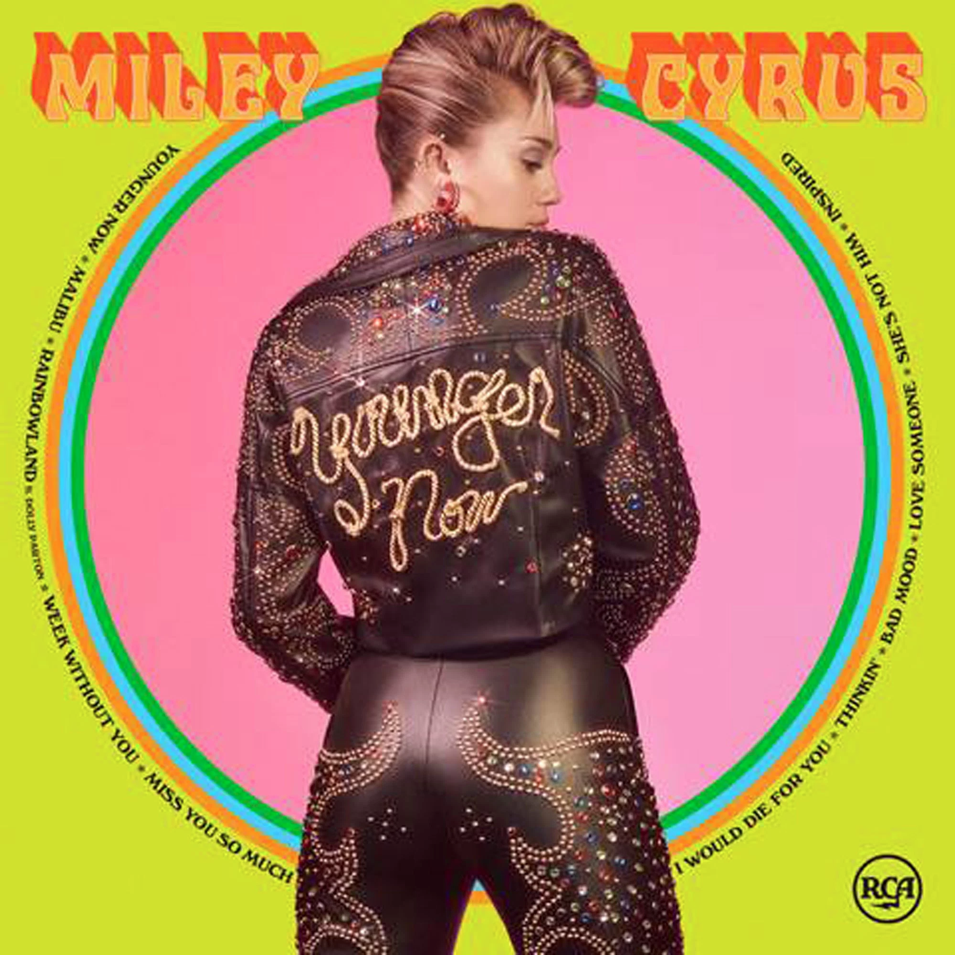 Miley Cyrus – YOUNGER NOW
Genre: Country Pop
Favorite songs: "She's Not Him"
BANGERZ was fun, albeit wholly misguided, shlock, but I respected Miley Cyrus for so boldly demarcating her current self from her Disney self. For such a young artist, audacious ambition was on display and it was exciting. Yet she's undergone another transformation from twerking bad girl to lovestruck good girl. The makeover was so immediate and blatant, it feels disingenuous, and maybe exposes a little too much about the industry's shady reliance on appropriation. Expedited growth aside, Miley's maturity is still in on the level of typical teenage girls (even if she is in her 20s now): rebelling has lost its fun (and marketing potential) and now she wants to prove herself as an adult.
While it's nice to see Miley getting back to her roots and her guitar, the majority of the songs on YOUNGER NOW are hackneyed and dulled by toothache-inducing pop trappings. Miley seems to think every song needs a sugary beat or it won't work, and it brings more staleness than cohesion to the album. Discordant violins introduce "She's Not Him," but leave right as Miley enters—I guess they couldn't bare to stick around either. However, what it lacks in instrumentation it makes up for with some pretty stinging lyrics, comparing her past partner Stella Maxwell and her current husband, Liam Hemsworth. The song plays out like a wolf-in-sheep's-clothing, with that overtly stressed message of "Still no way you can take his place" under all of its glossed production. Even the moments of "you deserve better" feel like additional salt being thrown on the wound, and calls back to a cold-hearted Miley whose irreverence was hard to ignore. This is the only instance on the album where she momentarily departs from her self-indulgent, meadow-laden Miley-topia where her and Liam Hemsworth live in dazzling harmony.
Not long ago, she was reeling from heartbreak, "empowering" women through her scandalous publicity stunts and championing devil-may-care behavior over rap banger beats. On album ender, "Inspired," there's still a desire to uplift, but now in the guise of a mawkish hippy. Now with hand in marriage, this Miley is too saccharine, jejune, and in no way fresh. It really feels like a step back, rendering YOUNGER NOW a most fitting title. Maybe divorce will suit her better. [Nick Funess]
Verdict: Do Not Recommend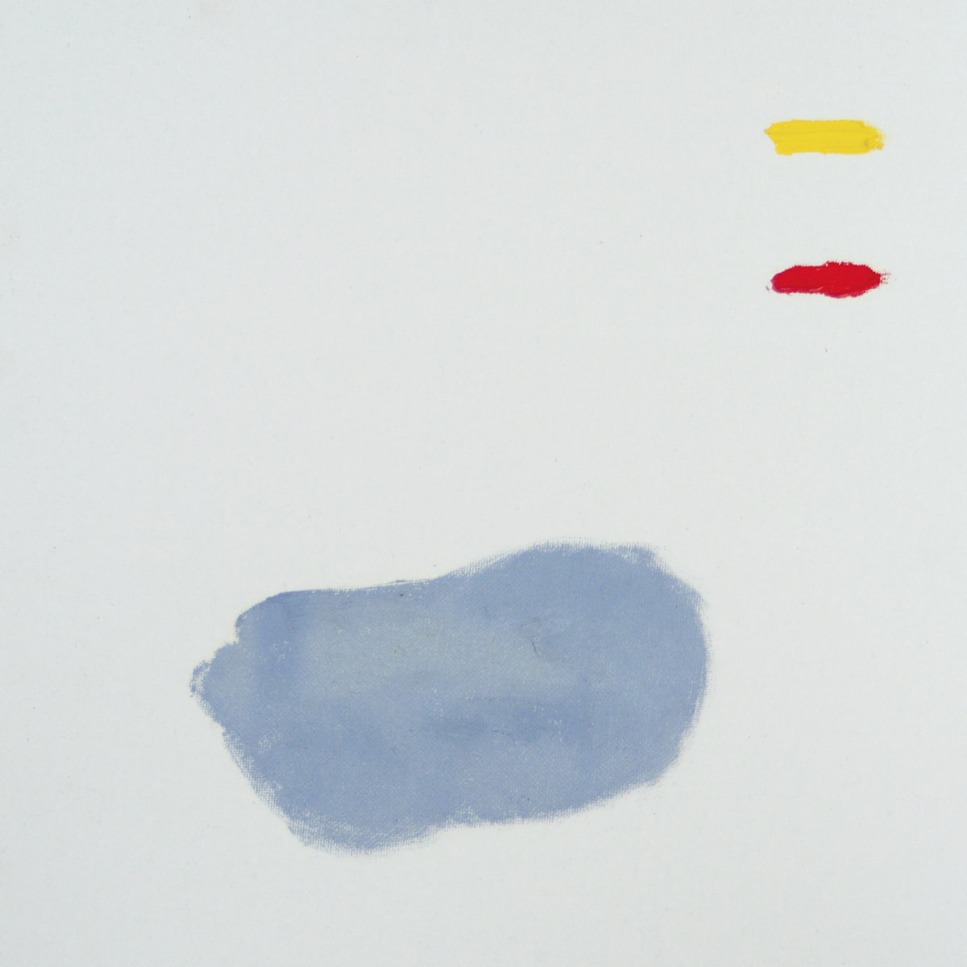 Florist –  IF BLUE COULD BE HAPPINESS
Genre: Indie Folk, Lo-Fi Indie
Favorite Tracks: "Glowing Brightly," "What I Wanted to Hold," "If Blue Could Be Happiness," "Thank You Light"
Similar to Maggie Nelson's experimental prose book BLUETS, Florist's IF BLUE COULD BE HAPPINESS is acutely interested in exploring blue not only as a color, but as an all-encompassing feeling that permeates the mind and soul. This notion will either immediately turn you on or off. Why? Because if you are particularly happy or content with your life, there's not much for you here. But the rest of us sad sacks need our blinds drawn and our headphones in until, little by little, we step out blinking back in the sunshine. Florist covers both these phases of trauma and healing with candor. Sprague's voice carries each line with the fragility of an eggshell, suiting both the folkier and poppier sides of Florist's sound. A true standout is "Glowing Brightly," an iridescent rainbow jewel of a song that breathes life into the blue. However, this "blue" being referred to on the album runs much deeper than just your average shitty day. The lyrical landscape dances with the subject of the passing of Sprague's mother, gingerly addressing her spirit in several songs. Mortality and desolation are tinged with hope—often times it's less of a silver lining and more of a light blue one. IF BLUE COULD BE HAPPINESS is delicate, personal, and meditative, setting Florist up as an act to watch. Sometimes there's no use in trying to chase away the blues, and Florist proves that it's possible to paint with them. [Claire Epting]
Verdict: Recommend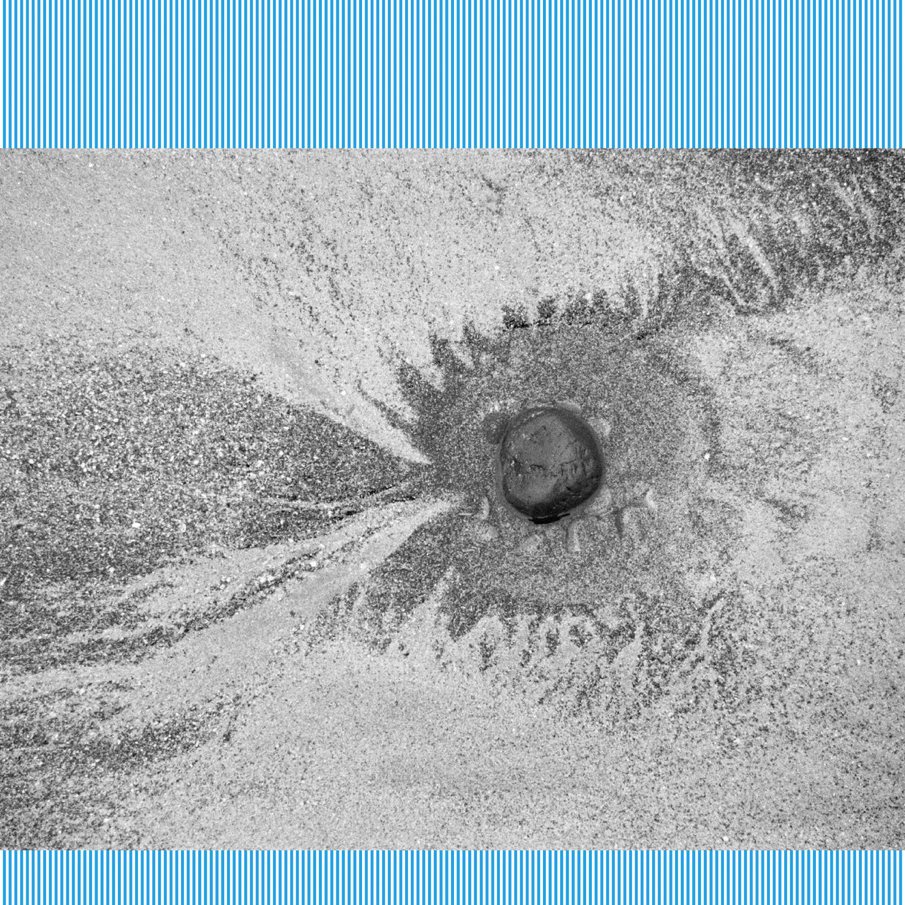 Four Tet – NEW ENERGY 
Genre: Microhouse, Ambient House
Favorite Tracks: "LA trance," "Daughter," "You are loved"
Contrary to its title, Four Tet's newest album in over two years isn't much of a change of sound for the English producer. For listeners who have enjoyed his past works, and for those who have never partaken, there will be much to enjoy on NEW ENERGY. Despite a lack of progression, what Four Tet is able to weave on this album is blissful and groovy. With plenty of bass-driven and infectiously catchy dance tracks, Four Tet propels himself towards mainstream appeal. A prime example of this is "SW9 9SL"; while the prominent dance beat featured on that track does come off as derivative and slightly uninspired, it is redeemed by the eerie, aetherial, and droning note that plays throughout, making it reminiscent of Fennesz's ENDLESS SUMMER. Thankfully, Four Tet doesn't wallow in the repetitive dance beat too long, having multiple moments where there is a tune change, helping create a slow buildup that'll have even the most cyncial electronic music listeners anticipating the drop. "Daughter" features  a slow-building kick drum beat at the beginning of the song, feeling extremely inspired by Massive Attack's early works. The backing string section working in unison with the dancing piano ballads gives it a somber overtone, helping it stand out among the rest of the more upbeat cuts. All of these elements working in unison with the indecipherable lyrics make it a thoroughly enjoyable listening experience. Four Tet has once again shown his competency as a producer in his ability to conjure up yet another collection of eclectic dance tracks. Even though there is nothing truly revolutionary or subversive in its delivery, NEW ENERGY will only bolster Four Tet's already expansive body of work, and I'm eager to see what comes next. [Will Turmon]          
Verdict: Recommend

Ben Frost – THE CENTRE CANNOT HOLD
Genre: Post-Industrial, Dark Ambient
Favorite Tracks: "Eurydice's Heel," "Ionia," "Entropy in Blue"
Ben Frost transcends sonic boundaries and creates an album of tangible visual texture with THE CENTRE CANNOT HOLD. Playing with the contrast of light and dark, he conjures up soundscapes of palpable ice. Many of these tracks carry a haunting, crescendo-like structure, with cockroach-like skittering in the back and swelling synths in the front; as the listener, you're scared of what's next, but you can't help but want to see whatever Frost has in store. If there's nine rings of Hell and Arca's sounds inhabit the dungeons of the second circle, than Frost's music dwells in the final ring: a frozen lake where subterranean bass thumps underneath, looking for a hollow spot in the surface, putting you right under there with him. These enveloping synths that bubble and twitch are cumbersome, but make the rare moments of spatial clarity resonate, making them all the more compelling. There's a sadomasochistic quality to his work that leaves the listener willing to go through a lot of pain just to get a moment of pleasure. While there's no lyrics to relate to, there is certainly overwhelming emotion to feel. At times, he even manages to out-intensify Hans Zimmer. Vibrant strings and tip-toeing synths on "Ionia" swell to anticipate a climactic cluster-fuck of lacerating beats. Frost cuts them out just before you indulge the urge to dance to them. It's just a nod to his capabilities, achieving accessibility with such inaccessible sounds. On "All that You Love Will be Eviscerated," the beat suggests failing controls, as if it's working to hold something back much greater and sublime from tearing through. There's a quiet before the storm. And then we get a glimpse into the "Entropy in the Blue." The song throbs with unrestrained intensity, drilling synths, and mechanized chugs. What sounds like sawing, visceral screams intermittently appear—like a mental patient writhing in his metal harnesses before the doctors return with god knows what. We're in their head with them now and all that's heard is a beating pulse. Sounds of waves crash at the end, signaling maybe they've made it out alive, safe on land, and by extension, the listener as well. Or maybe, the tide is about to drag us back in for more. [Nick Funess]
Verdict: Recommend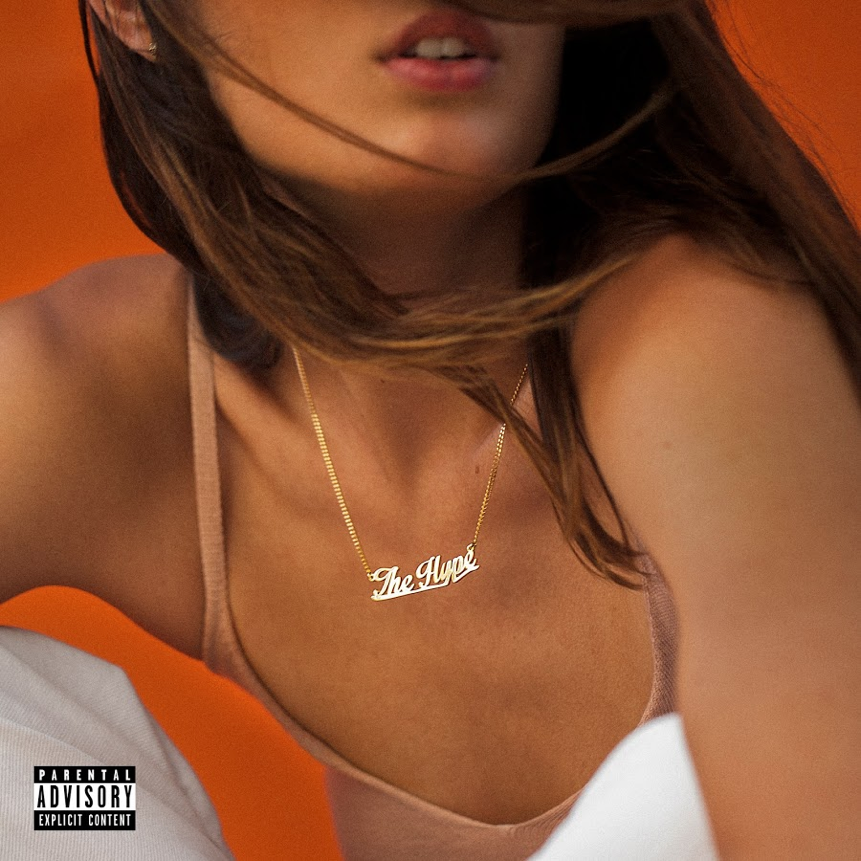 Hoodie Allen – THE HYPE
Genre: Frat Rap
Favorite Tracks: "Believe," "Mad"
Ah, Mr. Allen, we meet again. It feels like it's been so long since the last time I had the privilege of making your acquaintance. The best part is you haven't changed one bit. No, I don't doubt your new album, THE HYPE, will have some commercial success—there are enough pop anthems thrown on there to get teenage girls to convince their parents to buy a ticket to whatever you're calling your next tour, and each and every song sounds like it could be off a Maroon 5 album that you just happened to rap over. On "Mad," my second favorite track on THE HYPE, you haven't matured out of your "I'm a freshman that just rushed Pike" persona. You mutter, "When I think about all the time I wasted with you that make me mad / probably should have known I'd never get the approval of your Dad." Wow, Hoodie, you really are a modern day Romeo in a world full of frat bros and fuck boys. When I take the time to really dissect these lyrics, they are just so juvenile. On "All My Friends" you vomit, "And for the girls who would hit me on / Even gotta buy a drink for 'em to be makin' out." Okay, a few things with this: first, and foremost, the way the sentence is constructed doesn't even make sense, and second, what are you Hoodie, 2005 Drake Bell? I think we can all agree no one is impressed by how many ladies are "makin' out."
I've had a long history of shitting on Hoodie Allen and honestly, I would not be opposed to the idea of him coming out with an album that completely changes my stance on him, but this guy just insists on coming out with the SAME EXACT ALBUM year after year. The day Mr. Allen decides to hang up the mic for good will be the day I can finally get some good sleep. Until next time, Hoodie. [Emmett Garvey]
Verdict: Do Not Recommend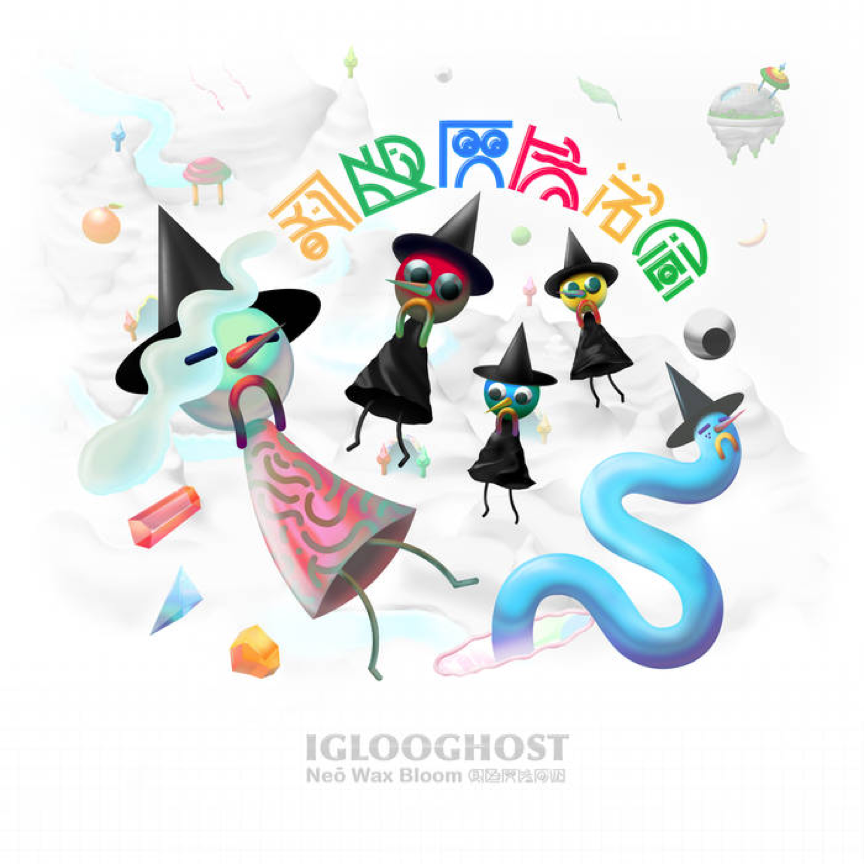 Iglooghost – NEO WAX BLOOM
Genre: Wonky, UK Bass
Favorite songs: "Pale Eyes," "Bug Thief," "Solar Blade," "Infinite Mint," "Peanut Choker," "Super Ink Burst"
The Brainfeeder label, headed by Flying Lotus, is a hodgepodge of bizarre and forward-thinking artists across all mediums. Be it animator David Firth of viral Salad Fingers fame, or the 20-year-old electronic producer Iglooghost, everyone on the label is offering something truly unique to their fields. Iglooghost gained a viral fame from his EP, CHINESE NU YEAR, setting him apart from others with his densely packed instrumentals and creative sampling choices. While his newest album, NEO WAX BLOOM, is not a massive departure from his previous sounds, this lack of change is not a bad thing, for he has improved upon it greatly. Iglooghost has truly hit his stride and put together a collection of dizzying, confusing, and captivating tracks.
For such a dense and instrumentally colorful album, the beginning track, "Pale Eyes," is a wolf in sheep's clothing, luring the listener in with a small chirping vocal sample, reminiscent of "Doll's Polyphony" from AKIRA's soundtrack, immediately establishing the surrealness to come. As soon as the relatively peaceful track comes to a close, "Super Ink Burst" does exactly as its name entails, bursting into the forefront with a delicious saxophone sample paired with densely layered, chiptune-like synths. The driving background beats make it an infectiously catchy extraterrestrial dance tune. The song "Infinite Mint" is a great representation of the progress Igloo has made since his last commercial release, a perfect balance between his newer experimental influences and his more traditionalist electronic roots. The beginning intro, which swells back and forth from overwhelming highs to complete silence, is the most stripped-back Iglooghost has ever gone. The stuttering, rapid beats mesh beautifully with the indecipherable female vocals, making it one of the most "traditional" tracks Iglooghost has produced in recent memory. Even with this ease of listening, it doesn't ever grow stale with repetitive electronic loops or beat patterns, always meandering in directions that make it seemingly fresh upon every listen.
It is easy to see the progression that Iglooghost has made since his prior EP. The core of his sound has retained many of the same elements, but every part of it has been accentuated and refined to a razor-sharp degree. His sampling has only become more eclectic and the rhythms are only more bewildering, making the end result immensely enjoyable. [Will Turmon]
Verdict: Recommend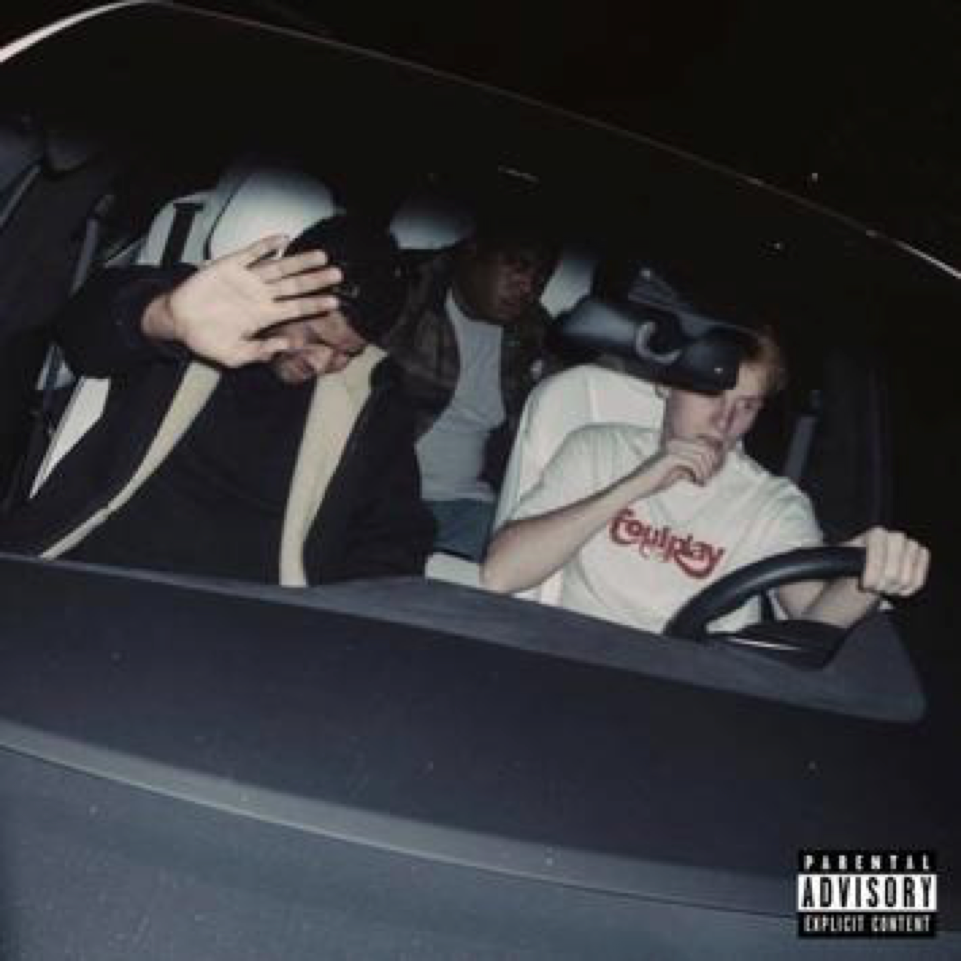 Injury Reserve – DRIVE IT LIKE IT'S STOLEN
Genre: Hardcore Hip Hop
Favorite Tracks: "Boom (X3)," "Chin up (Outro)," "91 Cadillac DeVille"
Arizona hip hop collective Injury Reserve live in a post-Kanye world—not a conceptual ideology I subscribe to necessarily, but the group seem to view his ability to consistently dodge genre labels with reverence, and in turn have done a fair job emulating that idea without forcing sonic shifts. Their first two records, 2015's LIVE FROM THE DENTIST'S OFFICE and 2016's FLOSS, each represented totally different points on the hip hop spectrum, one a DIY, jazz-centric odyssey and the other a grinding, braggadocious "spazz rap" party record. With DRIVE IT LIKE IT'S STOLEN, the group's newest EP, they take the intensity that steered FLOSS's big, expansive 2000s club sound and transition it into hot, ambient, post-dubstep beats. Producer Parker Corey channels his inner James Blake with the hypnotic ambiance of "Colors" and the vocal sampling on "North Pole," and rappers Steppa J. Groggs and Ritchie With A T adapt admirably. The two have developed a Big Boi/Andre relationship on recording, Ritchie playing the wordy, high-energy leader to Groggs's intense, stout, more aesthetic-focused backbone. The sexy minimalism of these beats has been explored by the group before, perhaps most prominently on LIVE FROM THE DENTIST'S OFFICE cut "Ttktv," but DRIVE IT LIKE IT'S STOLEN has a demanding urgency to it, with only seven tracks that get to the point intensely and effectively. Corey has always found ways to use piano samples to great success, and he does so again with the standout banger "Boom (X3)," where the group's underdog aggression burns bright and fast. "See You Sweat" delivers the groups most pop-accessible chorus yet, while "Chin up (Outro)" has a triumphant, drugged-out swagger to it, as though the victory lap has gone late into the night. Making hip hop in Arizona for so long has lead the group to develop a "shout to be heard" mentality, and DRIVE IT LIKE IT'S STOLEN is perhaps the group's loudest cry yet. All meat and no fat, Injury Reserve are legacy builders, not check chasers, and this latest project emphasizes the groups brilliant stylistic chameleoning without ever sacrificing their manicured style. [CJ Simonson]
Verdict: Recommend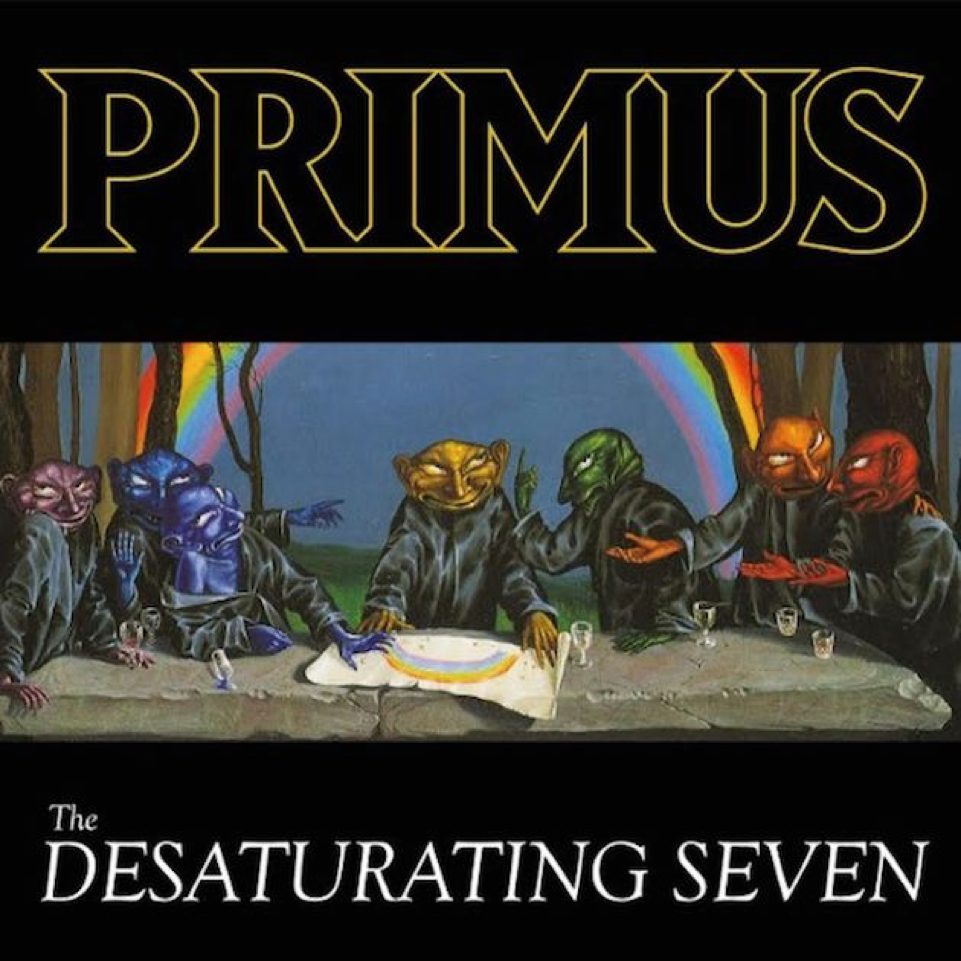 Primus – THE DESATURATING SEVEN
Genre: Goblin Rock
Favorite Tracks: "The Trek," "The Scheme," "The Dream"
Primus, like many of those "alt" bands born in the weirdness of the late '80s/early '90s, has always done its own thing. It's fitting, then, for a band that has spent the better part of the last three decades making music that sounds like it belongs on a whacked-out, acid-drenched kid's show, that their latest album is based on an equally bizarre children's book—Ul de Rico's THE RAINBOW GOBLINS. THE DESATURATING SEVEN is Primus's first original material in six years, and the first time Les Claypool, guitarist Larry "Ler" LaLonde, and drummer Tim "Herb" Alexander have gotten together in 22 years. It also happens to be a concept album about rainbow-hued goblins that feast by sucking the color out of their surroundings, so, yeah, you should already know if this is for you or not. And even if you are one of the few that "get" Primus, this is not a return to the salad days of "Jerry Was a Race Car Driver" either. This is Les and co. at some of their most psychedelic, and without a doubt their most progressive—Goblin Rock, as it were. This turn is perhaps best exemplified in "The Dream," something of a six-and-a-half minute crash course in prog—err, goblin rock. Building from a languid intro reminiscent of Belew-era King Crimson, the song undulates and shimmers for more than five minutes before kicking into a heavy jam that sounds more than a bit like a mash-up of Rush's "Cygnus X-1" and Neurosis's "Through Silver in Blood." Less patient listeners are sure to be irked that the meat of such a long, meandering song lasts only about a minute, and that general sentiment does hold true for the album entire, but prog and psych have always been about the build-up as much as the pay-off. Don't let this dissuade you, though. Standout track "The Scheme" is straight-up bonkers in the best possible way. Ler, always a criminally underrated guitar player, gets right into it with some of his career best here, going tit for tat with the prestidigitation of Les. It goes without saying that this isn't for everyone, but music geeks rejoice! Mind-boggling bass, time signatures, polyrhythms, and, yes, "Kermit the Frog" vocals abound as Primus proves they still suck. [Joseph Simpson]
Verdict: Recommend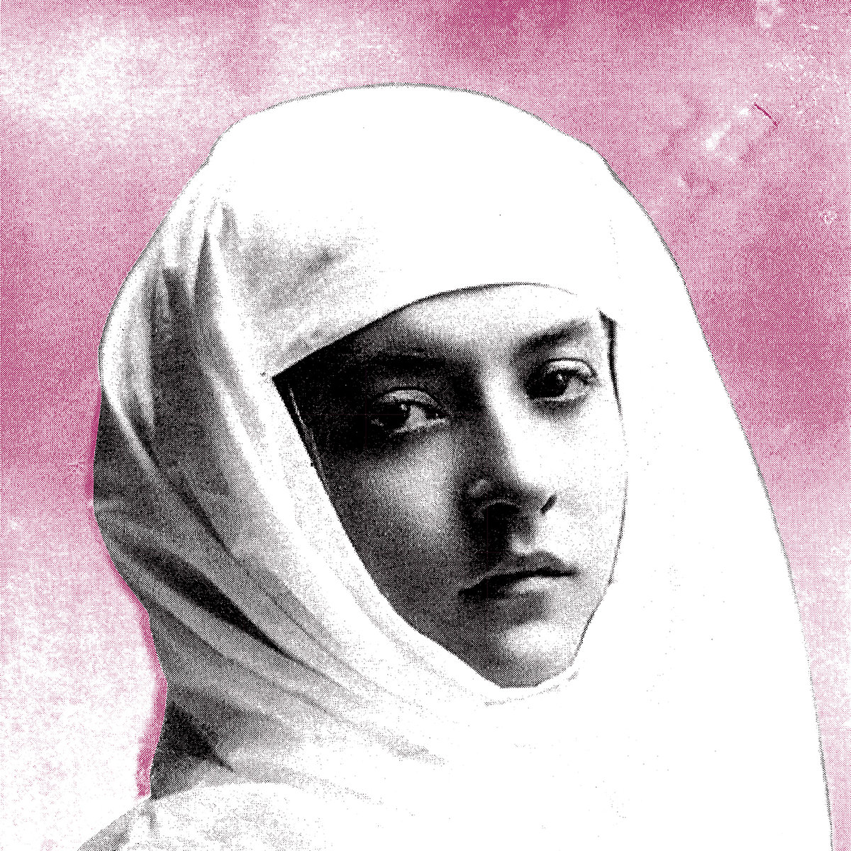 Protomartyr – RELATIVES IN DESCENT
Genre: Post-Punk
Favorite Tracks: "The Chuckler," "Don't Go To Anacita," "Half Sister"
Noisy Detroit outfit Protomartyr have really emerged as the face of the 2010s post-punk, partly (and most obviously) because of Joe Casey's Ian Curtis-esque vocals, and partly because the band have figured out a way to rearrange the genre's staple of dark, new wave sounds and avant-garde ambitions to create something surprisingly melodic and accessible. The group's first two records, 2014's UNDER COLOR OF OFFICIAL RIGHT and 2015's THE AGENT INTELLECT, don't shy away from fuzzy, lo-fi recordings, even exploring Sonic Youth's electrified no-wave, and their newest release is more of the same. RELATIVES IN DESCENT, their bands first record on Domino, has Protomartyr stuck in hazy neutral, delivering a solid but stale outing that tries and fails to overcome the admittedly limited box Protomartyr exist in. With a fair share of standout tracks, including the longing "The Chuckler" and the poppy ripper "Don't Go To Anacita," Protomartyr have made sure that each song on RELATIVES IN DESCENT has its own distinct bite, making this the most colorful release the band has had yet. But in emphasizing each track's unique tonality, Protomartyr sound less urgent and earnest than they did THE AGENT INTELLECT, and lack the singularity they had on their debut. A song like "Here Is The Thing," the second track on the record, immediately jolts the album away from the feverish feedback that envelopes the ending of "A Private Understanding," instead turning to ground-and-pound speak-sing with interesting individual parts that emphasize space. Similarly, the nebulous rock riffs on the damning political statement "Male Plague" awkwardly transition into "Corpses in Regalia," where slick bass grooves dominate a track that fails to do anything meaningful with the previous song's stupefied aggression. The album's tendency to jerk from one direction to another, moving from pretty and warm melodies to icy distance, is done so with less fluidity than in the past. By all accounts, if you, like me, are a fan of what Protomartyr bring to the table, you will find songs to appreciate and enjoy—the punk hits harder, and the melodies here stray as mainstream as they ever have. But this is a band who are close to being in dire need of retooling, and RELATIVES IN DESCENT barely stands out in the shadow of its predecessors. [CJ Simonson]
Verdict: Recommend
TORRES – THREE FUTURES
Genre: Art Pop
Favorite Tracks: "Three Futures," "Greener Stretch," "Helen in the Woods," "Marble Focus"
Art pop holds a strange spot of reverence in modern music culture, and could be argued as the last bastion of that stuffy, rarified attitude of East Coast tastemaking that dominated music journalism in the early aughts. Always just too esoteric to approach for pleasure-seekers and just too accessible to have much traction in actual art house circles, I think there's a coded obligation to try to be interested in the genre for the musical layman, and, always the contrarian, I find a lot of the A-listers lowercase-g "good." All of this is to say that I was not looking to do THREE FUTURES any favors, especially since it's a blatant attempt at "experimentation" following the straight-cut, folk-y indie rock of 2015's SPRINTER, but against all odds, it impressed me! In terms of timbre TORRES's voice is somewhere between St. Vincent and Chelsea Wolfe, but as presented on THREE FUTURES, there's something very plodding, carefully considered, and pensive about her sub-alto intonations, contributing to a reverie state as dreamlike as it is vaguely ominous. As for the music, THREE FUTURES is notably more electronic than previous works; while guitar sketches pop up here and there throughout the runtime, there is an appealing, drone-laden construction of hypnotic sample pads and drum loops that I find particularly enticing. But that's just the core of the album working in the background; there is also a praise-worthy sense of Mackenzie Scott pushing the boundaries of her artistic vision and palette while still remaining cognizant of what the same are capable of. In short, it's not wankery in the slightest, and the subdued, hypnotic title track, the cloying, Xiu Xiu-esque brightness of "Greener Stretch," and the lilting, Sundfor-reminiscent ebb-and-flow of "Marble Focus" are among the best tracks of her career. But the highlight by far is "Helen in the Woods," a short, acerbic, and disturbing slice of distortion-laden narrative and musical violence. Feel free to tell me to stuff it in the future, TORRES. [Thomas Seraydarian]
Verdict: Recommend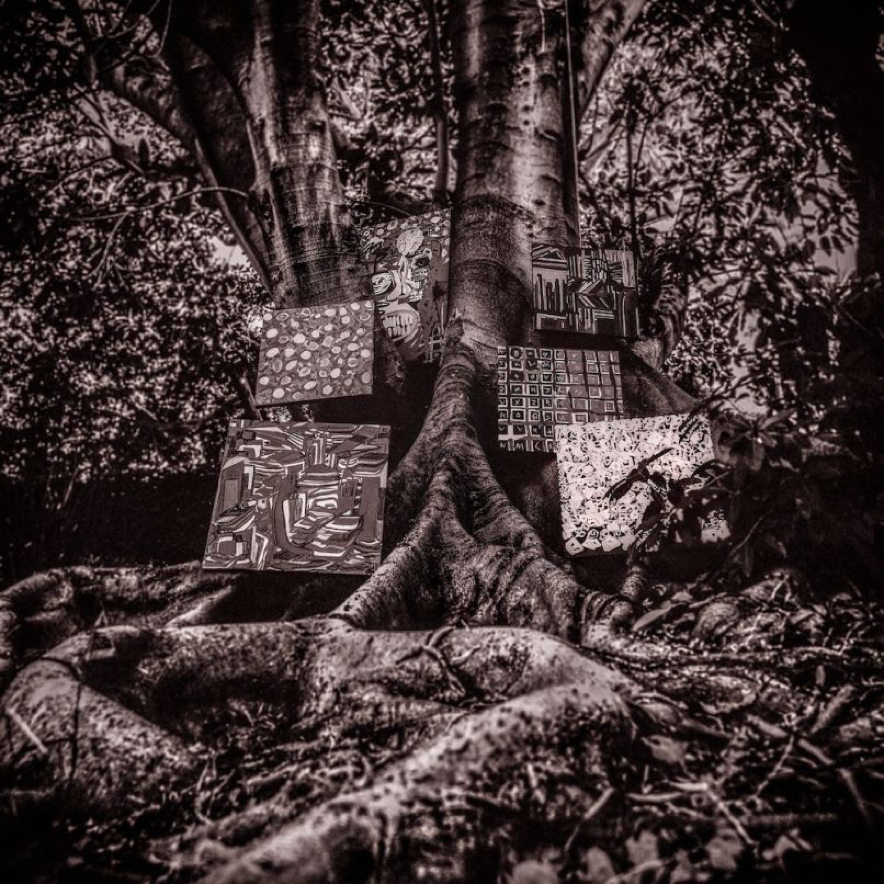 Kamasi Washington – HARMONY OF DIFFERENCE
Genre: Spiritual Jazz
Favorite Tracks: "Knowledge," "Truth"
When did jazz become thought of as something stuffy and academic? When did it become more frequent to see a set of 50-something white dudes who call each other "brother" unironically playing in a quartet than a group of friends just having fun playing their instruments together? Jazz has changed massively over the years, in part because it's inherently so mutable. That causes our idea of what jazz is in the first place to go all over. Some will think of the drug-fueled experiments in free jazz, some of the legendary intensity of a Miles Davis gig, and others of whatever jazz LA LA LAND was supposed to be. What makes Kamasi Washington so compelling is that he brings ALL of these people together in his music, making ethereal and deceptively complex tunes that both please an academic jazz theory nerd and return jazz to its role as a democratic, accessible form of music. This is reflective of Washington's background; first, he was an LA public school kid, then an ethnomusicology student at UCLA, and now a virtuosic jazz man who became known as a high-demand musician both in and outside of the genre. HARMONY OF DIFFERENCE is simultaneously complex and accessible, sprawling and intimate, technical and vibey. Like a 2017 version of jazz legend Herbie Hancock, Washington sees music from all sorts of directions, and it's clear in his music, which layers elements of soul, hip hop, and even stadium rock onto a base rooted in a more classic sound. His gift for melody is just as apparent as it was on 2015's THE EPIC. Where saxophone players of the past have opted for busier, more dissonant melodies, Washington does the opposite and plays his saxophone as if he were a singer, particularly on the R&B-reminiscent opener "Desire" and 13-minute album closer "Truth." Washington is nonetheless still a skilled and dexterous soloist, as shown on the lush "Knowledge," in particular.
HARMONY OF DIFFERENCE also benefits strongly in a practical sense from its reduced length time in comparison to THE EPIC. The 31-minute run time is comparable to most record releases in 2017, which will give listeners who aren't as well adjusted to a three-hour record more time to digest the full range of Washington's sound. Even if some of the songs might benefit from a little more room to breathe, the arrangements do mostly work in three-minute, radio-friendly formats. It may not be as rewarding in the long term as THE EPIC, if only because THE EPIC is a much tougher mountain to summit. But even if you've professed to not being a jazz fan in the past, HARMONY OF DIFFERENCE is a grand musical testament to the human experience by a future jazz legend, and it might be a record that could change your mind. [Adam Cash]
Verdict: Recommend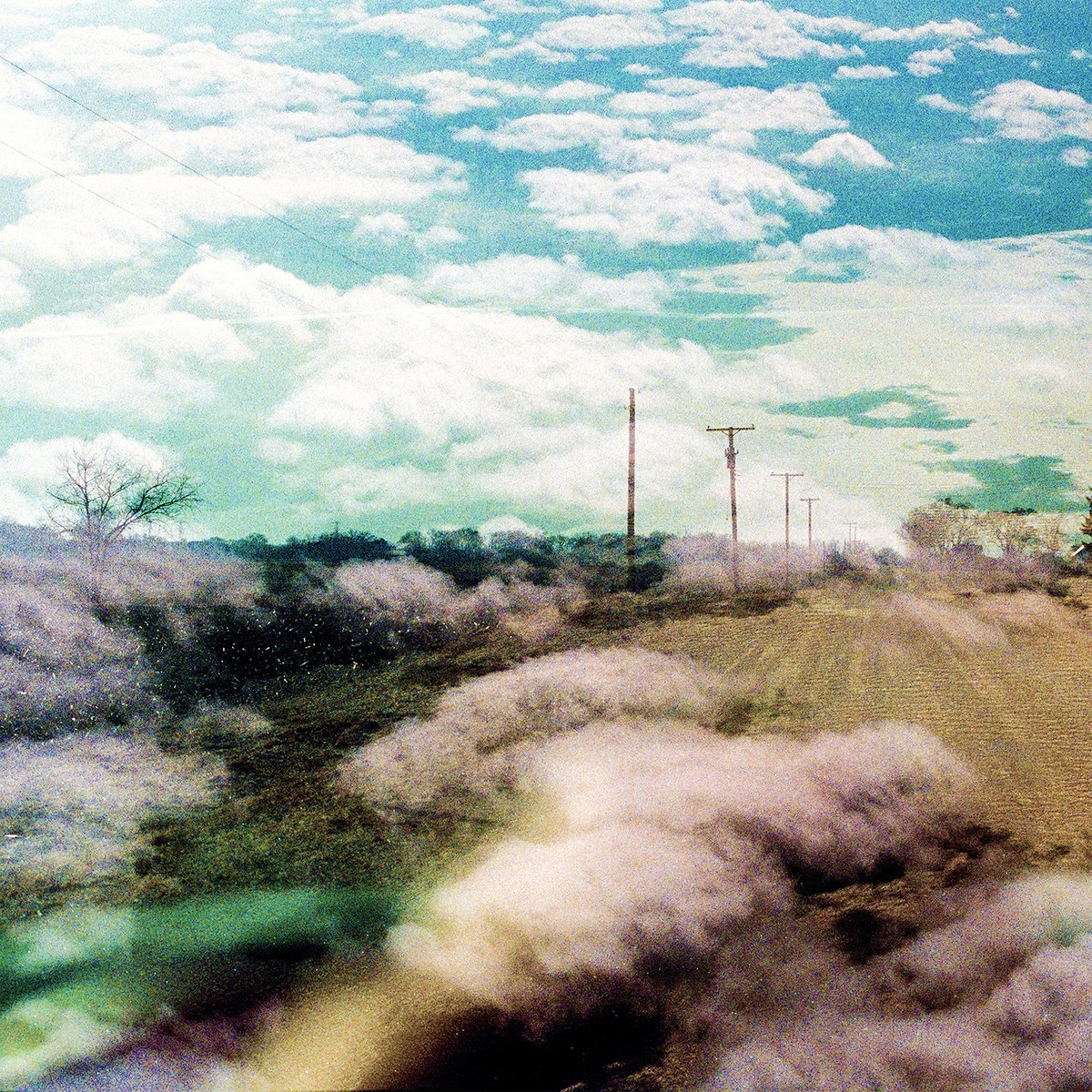 The World is a Beautiful Place & I Am No Longer Afraid to Die – ALWAYS FOREIGN
Genre: Emo Revival
Favorite Tracks: "The Future," "Infinite Steve," "Hilltopper," "Dillon and Her Son"
Rock collective and possessors of the emo-est of emo band names, The World is a Beautiful Place & I Am No Longer Afraid to Die, are coming into their own as one of the most well-known acts in the emo revival, and though it's not time to declare them the best of them all just yet, ALWAYS FOREIGN is a serious breakthrough for the band. Though each of their past few records has been very solid, ALWAYS FOREIGN is the first record that has made me believe that this could be a wide-reaching, financially successful act. The band tends to be the most successful when embracing its size and genre crossover potential; songs like "Dillon and Her Son" have a maximalist indie feel to them that compares favorably to bands like Twin Atlantic or Los Campesinos!, and wouldn't sound too out of place within the modern mainstream indie scene. Their more traditional emo tracks are also just as solid as ever, particularly the shamelessly poppy album closer "Infinite Steve," which is aided by a dramatic string section that sounds ripped straight out of a pop punk ballad in 2006, and "Hilltopper," a taut, old-school emo tune that is dressed up a bit by a squealing stadium rock guitar and a lush arrangement of synths and clean guitar sounds. But the thing that sets TWIABP apart from lesser bands is their sense of ambition. The band can wear several hats well, but the density of sound and sheer grandeur that they achieve on "Infinite Steve" or towards the end of "Marine Tigers" approaches U2 levels of pomp, which the band is able to wear successfully. ALWAYS FOREIGN is a diverse set of songs that proves that TWIABP can take this project exactly as high as they want it to go, and, along with other outstanding emo revival acts like The Hotelier and Sorority Noise, proves that the movement is far more than a trend dictated by millennial nostalgia. [Adam Cash]
Verdict: Recommend