MATERIAL CONTROL by Glassjaw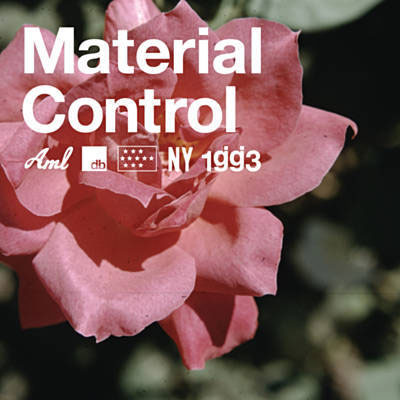 Glassjaw – MATERIAL CONTROL
Genre: Post-Hardcore,
Favorite Tracks: "shira," "strange hours," "new white extremity," "citizen," "material control," "closer"
So it's the year 2000, nearly a decade since the eruption of grunge, and with its nails still dug deep into the pre-9/11 cultural firmament, music's more aggressive acts could still enjoy some time at the top. While Korn and Limp Bizkit ascended the charts with their scabrous rap-rocking, more experimental bruisers like Deftones and Glassjaw were, put best by none other than '90s metal ringer Ross Robinson, out to "destroy Adidas rock." The two defied and transcended the stigma that marked their nu-metal peers.
Deftone's WHITE PONY and Glassjaw's EVERYTHING YOU EVER WANTED TO KNOW ABOUT SILENCE contained virtuosity that granted them consideration from critics and a heaviness that was unignorable by the genre's fans. The artistry they brought to their respective scene (and coast) had ensured agog eyes with every future release. Yet Glassjaw decided to curb it at their most refined with 2002's WORSHIP AND TRIBUTE, and the prospect of seeing these two bands evolve side-by-side ended there—that is until this month. Deftone's 2016 GORE will find a worthy, albeit flawed, contender in MATERIAL CONTROL, the post-hardcore veterans' first full-length album in 15 years.
The two bands always had the knack for tempering the hideous with the gorgeous, the wrenching with the melodious, yet Glassjaw had always worked in a more theatrical vein. While they've moved on from their broken and bloodied heartache to a bigger, louder platform, their ambition has been reined in. The jazzy, ambient touches that made them so unique on their earlier material only show up on the two instrumentals, "bastille day" and the title track, with the latter even showing off some math-rock flair (the one hardcore avenue Glassjaw has yet to really fleece).
That's not to say that the breakneck is gone, it's just coarser. Each track sees guitarist Justin Beck bringing in some of his most barbed and dense arrangements, and right alongside him is newcomer (and former Dillinger Escape Plan drummer) Billy Rymer's ruthlessly pugilistic percussion. Yet, even with all the nonstop angular dynamics, there's a sense of uniform that undercuts what made Glassjaw so exciting. The breaking moments remind us of a spaciousness once given to frontman Daryl Palumbo to traverse wildly. His vocals are raw and textured, but the thick, volleying guitar and drum work somehow keeps his old, volatile self at bay. On "strange hours," we see them working with a slower pace, giving a bit more stage to Palumbo. It also uncovers a bit of that versatility they've been neglecting, with ghostly, metronomic synths, off-kilter drums, and a guitar that sidles and jolts at Palumbo's command.
The abrasive instrumentation may overwhelm at times, but it does lend a primitivism to MATERIAL CONTROL. Always ravenous, always hunting, the innate savagery of man is the thematic pulse here, and we're lyrically confronted with Palumbo's most pithy vitriol. Opener "new white extremity" documents the festering sore that is racism in America and the prospect of history repeating: "The writing on the wall is fading . . . New neighbor / You are my / Homewrecker bleeding the last one." He hisses on the chorus, "Nothing's bigger than nothing," warning of the pure annihilation such hate-filled conviction will breed. Similar themes of blind, failing, or misguided faith are further explored on the back half of the album. "closer" pokes at religious violence and the irony of killing to secure a spot "up there," ("One extreme to another / I need it like a hole in my head / Dead silent / Heaven sent") while "Pompeii" maintains the mighty demise we'll meet if we keep it up ("The guilty, and us alike / All fall, in the big one / A new spring"). It's a direct challenge to how far we've really progressed as humans when such atrocities are still being committed daily. A dialogue takes place over "bibleland 6," where each side's zeal feeds into more aggression as the guitar itself grinds and writhes like a skirmish itself.
But occasionally Palumbo will bring these images of war to a more intimate level, as he comments on the pervasion of toxic masculinity and his contribution to it. "my conscience weighs a ton" contains a seething bass lick and lyrics that harken back to his days of venomous rancor—caused by none other than a woman ("New scars, same war / Slaughtered as she croons to the wolves"). His scathing self-deprecation arrives earlier on "citizen," "Battered / Disemboweled / All alone / I want more," where he paints himself as this gutless "King of Kings" whose delusions are nothing other than "comical." For a man with former philosophies like, "You can lead a whore to water and you can bet she'll drink and follow orders," it's pretty meta to see him blast at all of the virile pieces of shit, only to then turn it on himself.
MATERIAL CONTROL is not Glassjaw's finest, nor particularly their most toothsome (have they ever been?), but maybe it's for the best. It helps to illustrate the current state of things with all of its bloodshed, chaos, and inexorable grind with little sign of hope. Will they go back into hibernation after this one? Who knows. But I don't doubt it with the way things are going. Two years ago, with the release of the album's first single, "new white extremity," Palumbo only gave this in lead-up: "This is a song about walking out your front door." On these optics, perhaps this is less of a comeback album and more of a second mic-drop, so let's be thankful.
Verdict: Recommend