M3LL155X by FKA twigs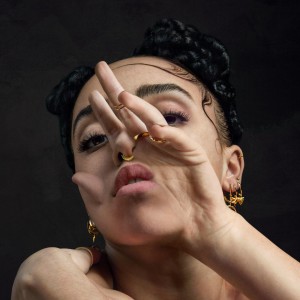 Genre: Art Pop, Glitch Pop, UK Bass
Favorite Tracks: "in time", "glass & patron"
Hailing from Gloucestershire, England, FKA twigs has rightfully earned the meteoric rise to the top that she's facilitated for herself in the past three years. Starting as a backup dancer for pop artists such as Kylie Minogue, Ed Sheeran, Taio Cruz, and most frequently, Jessie J, FKA twigs dropped her first EP around the same time that she landed the modeling job for i-D magazine that would burst her onto the collective social conscious. Initially situating herself firmly in the realm of alternative R&B with 2012's EP1, 2013's EP2 saw the incorporation of art pop elements that would continue on to place 2014's LP1 on the year-end lists of several publications. With 2015's M3LL155X, FKA twigs has produced a haunting, heady work possessing an aural equivalency somewhere between nightmare and wet dream.
Severely dialing back the alternative R&B that established her fan base, the most striking aspect of M3LL155X is the complex and layered nature of its production. Relatively unknown producers Boots, tic, and Cy An construct a heavily unsettling give track chill ride through glitchy art pop, heavily rooted in rollicking UK Bass. "figure 8" bursts onto the scene with a roiling, detuned bass line reminiscent of latter-day Chelsea Wolfe before FKA twigs chimes in with her haunting vocals.
However, we're not meant to become comfortable with much of anything over the course of M3LL155X, as the track quickly transitions to a segment featuring heavy vocal manipulation with a consistent synth chord plugging away in the background that brings to mind My Bloody Valentine and Death Grips in equal measure. This refusal to allow the listener to grow complacent is the EP's shining grace, although the specific methods utilized to achieve the result don't always land on two feet. "i'm your doll" is a case of the former. The song clearly defines the warped sexual motivations that are thematically present over the course of the release, but frames FKA twigs' voice in little more than sparse bass and glitch-heavy whispers of noise before giving way to manipulated vocal snippets and heavy washes of drone. "glass & patron" is another track that builds something out a seeming nothing, with esoteric arpeggiated synths and ghostly chimes ramming full speed into an urgent IDM breakdown that steadily builds in urgency.
This tension and urgency is similarly present on arguable album highlight "in time", which possesses the most cohesive structure, a slightly more upbeat melody, and a sense of raw desperation towards the end.
Although there's lots of reward to be had on M3LL155X, there's a hefty handful of risk to compliment it. The songs have the unfortunate inclination to switch mood and theme on the drop of a dime, contributing to a rather incongruous nature and splitting the five tracks into something more truthfully close to eight. Although most segments apart from album lowpoint "mothercreep" tend to be interesting, there is a distinct lack of cohesion present. Regardless, FKA twigs has contributed an engaging, challenging bit of art pop to the blogosphere with M3LL155X, placing herself well ahead of 2015 peers such as Holly Herndon.
Verdict: Recommend