LOVE, SIMON Review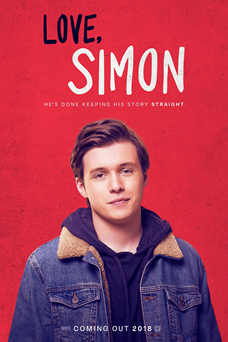 Director: Greg Berlanti
Genre: Drama, Romance
Year: 2018
Ya'll, I gotta say, I love love. I love unconditional love from a parent or a pet. I love the love of best friends. I even love PDA, as weird as that may sound. I believe the media and the average person focuses way too much on the hate in this world when there is so much love to go around. Most of all, I believe that love knows no bounds and if you feel all that warmth and fuzziness, you should be able to shout it from the rooftops with rose petals falling all around you while pedestrians wave their tear-soaked handkerchiefs at you from below. So I'm a little dramatic, fine. The point is, everyone deserves a little fairytale in their lives, a sentiment beautifully crafted in LOVE, SIMON.
This precious coming-of-age (and out) story is based off of the novel by Becky Albertalli, SIMON VS. THE HOMO SAPIENS AGENDA. The film tells the story of a high school student named Simon with a seemingly perfect life. I use the word seemingly because he conceals the fact that he's gay from his friends and family, creating a continuous weight on his shoulders. LOVE, SIMON was directed by Greg Berlanti, who has produced and written for oodles of movies, and worked in TV ranging from ARROW and GREEN LANTERN to RIVERDALE. This is only his fourth film as a director, but Lord have mercy, he played, stretched, and twisted my heart strings in the best possible way.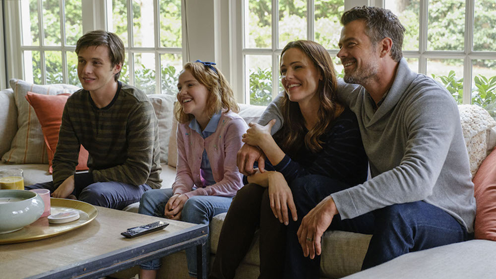 Look at that loving, accepting, white-picket-fence family. Think they'll adopt me?
I completely and utterly fell in love with this film. My heart and I were invested the entire time, jumping through all the hoops that Simon and his own heart were leaping through. I wanted only the best for not only Simon, but for his family and friends as well. I've been in many conversations about film where the other person believes that happy endings are too cheesy and predictable, or that it does nothing for the story and is in fact a better tale if the ending is tragic. While I agree with this in some cases, I don't think it's necessarily true for all. Maybe I'm just a sucker for sap, love, and tears, but I digress. I swear on my hopeless romantic little butt that I'm not going to spoil anything, but LOVE, SIMON does have an ending some cynics may view as too picture-perfect. This ending, however, is exactly what this movie needed to cement its theme. No matter who you love, what they or you believe or look like, everyone should be worthy of an enchanting and corny love story. That, and life can and will get better after you accept yourself. Kinda hard to show that through nothing but tragedy.
The cinematography was so brilliant in this film that it left me speechless. Berlanti used so many techniques that were so elegantly done, from a bird's eye view to several tight close-ups that admirably displayed reactions and emotions, and a few point-of-view zoom-ins when Simon is on his computer typing to his beloved pen-pal. Every shot lingered just as long as it was supposed to, and each shot was edited like a smooth transitional dream. Not only was I in tears from the sticky yet charming sap, but I also had waterworks from laughing so hard at some of the most knee-slapping and side-splitting dialogue I've heard in months. It was a combination of witty one-liners and drawn-out insults that had me doubled over in my chair. This film's story and production value had me marveling, crying, laughing, and cheering. What more could I possibly ask for?
One of these days I'm going to catch someone looking at me like this. One day . . . 
Acceptance has always been a massive issue all over the world, whether it be about race, religion, sexuality, gender, or what have you. Thankfully, we live in an age of progress, and loving whoever we so desire is becoming more possible by the minute. Yes, it is still an uphill battle to total tolerance, but one of the best ways we can fight hate and bigotry is with one of the most powerful sources in the world: love. That is exactly what this darling picture lends to the community. LOVE, SIMON is one of the most adorable, charming, and heart-warming movies that I have seen in a long time, and is just what we need within LGBTQIA cinema.
Verdict: Recommend