JUMANJI: WELCOME TO THE JUNGLE Review
Director: Jake Kasdan
Genre: Adventure, Comedy
Year: 2017
JUMANJI: WELCOME TO THE JUNGLE is a nice reminder that good ideas need good execution, and that the victory isn't found right from the get-go. A property that only meant anything to some, being "a lot" to the early youth of the '90s, JUMANJI wasn't necessarily screaming for an update. But screenwriter Chris McKenna of COMMUNITY fame seemed to have had a solid idea for a sequel, and it really is a good idea. Switching from board games to video games and using the concepts of role-switching avatars as a coming-of-age device for a BREAKFAST CLUB-style high school crew? That's some clever business, reasonable for thrills, laughs, and some solid thematic development. Throw in a bankable cast and a director with consistent recent box office success and a part of some creative note? On paper, this successor to JUMANJI seemed destined for victory. On the screen? Save for the performances and general narrative spine, this film is disappointing on many levels.
JUMANJI's appeal is mostly, if not entirely, for kids. Look to the original, or its follow up ZATHURA, and you'll see fantasy and sci-fi adventures dedicated to challenging the hearts and minds of growing children, hesitant and nervous to grow up. JUMANJI: WELCOME TO THE JUNGLE is a welcome premise in this pattern. A video game-obsessed but socially dead nerd (Alex Wolff, then Dwayne Johnson), a self-centered football player (Ser'Darius Blain, then Kevin Hart), a self-centered popular girl (Madison Iseman, then Jack Black), and an awkward, antisocial rebel (Morgan Turner, then Karen Gillan) are forced to confront their personality flaws when they're sucked into a haunted video game version of the Jumanji board game. After a familiar young adult slog of an opening sequence taking place in the real world, they're shifted into the bodies of characters who house their exact opposite traits, and are forced to work together and overcome/learn from their problems in order to survive and escape the game, along with a player who's been stuck in the game for a long time (Nick Jonas). It's simple, structurally sound, and ripe for exploration, and yet the film runs it through a Screenwriting for Dummies crash course and turns in the rough draft.
The eight-minute portion describing the "YMCA" dance is a peculiar inclusion
The body switching concept is pretty brilliant, both in concept and performance. Essentially playing nervous, self-centered teenagers, this cast earns their bankability with charm and dramatic awareness. Jack Black takes perhaps the most jokey role of the crew, portraying a teenage girl, horrified at her appearance and lack of phone, but fascinated by her sudden penis. It's Black doing what Black does best, so take into account one's own tolerance for his schtick, but his focus and dedication are admirable regardless. Dwayne Johnson and Kevin Hart prove their worth more successfully this time around as a comic duo, developing chemistry that's as infectious as the idea of these two being together promises. Hart uses his bag of tricks well, and Johnson's ability to play a scared teenager who doesn't know how to use his now-muscular body is a special thing to watch. Karen Gillam gets a bit of a monkey's paw role here, semi-muddled in how the film actually treats her as far as awareness of her over-sexualization goes, but she never drops in effectiveness. Her skills as an action star are on great display, and she too does a great job capturing teenage angst and anxiety in situations of panic. Gillam and Johnson share a kiss that belongs on a list of the best physical comedy acting of the decade.
Then there's Nick Jonas, who has no discernable sense of humor or ability to capitalize on emotions, heightened or grounded. It's understandable why he's in the film, which is definitely doing its job to get kids into theaters. This is, after all, most effective as a film for the young. That being said, this casting choice is highly neglectful of what made JUMANJI work well at all upon original release, which was the implementation of Robin Williams. Say what you want, but his ability to play a child stuck in a man's body, perhaps more effective than in JACK, was delivered with as much pathos as there was screwball charm. The fish-out-of-water element was a key aspect, and made the caring of this character worth it in the first place. Here we have Jonas portraying a fighter pilot avatar, unable to drive home the aesthetic point of his role. Mainly a vaguely handsome dead fish, Jonas finds himself surrounded by actors trying their best to make him look good. Their efforts are appreciated, but never manifest into anything stirring until Jonas himself is out of the picture (though who they cast as his real world self is touchingly perfect).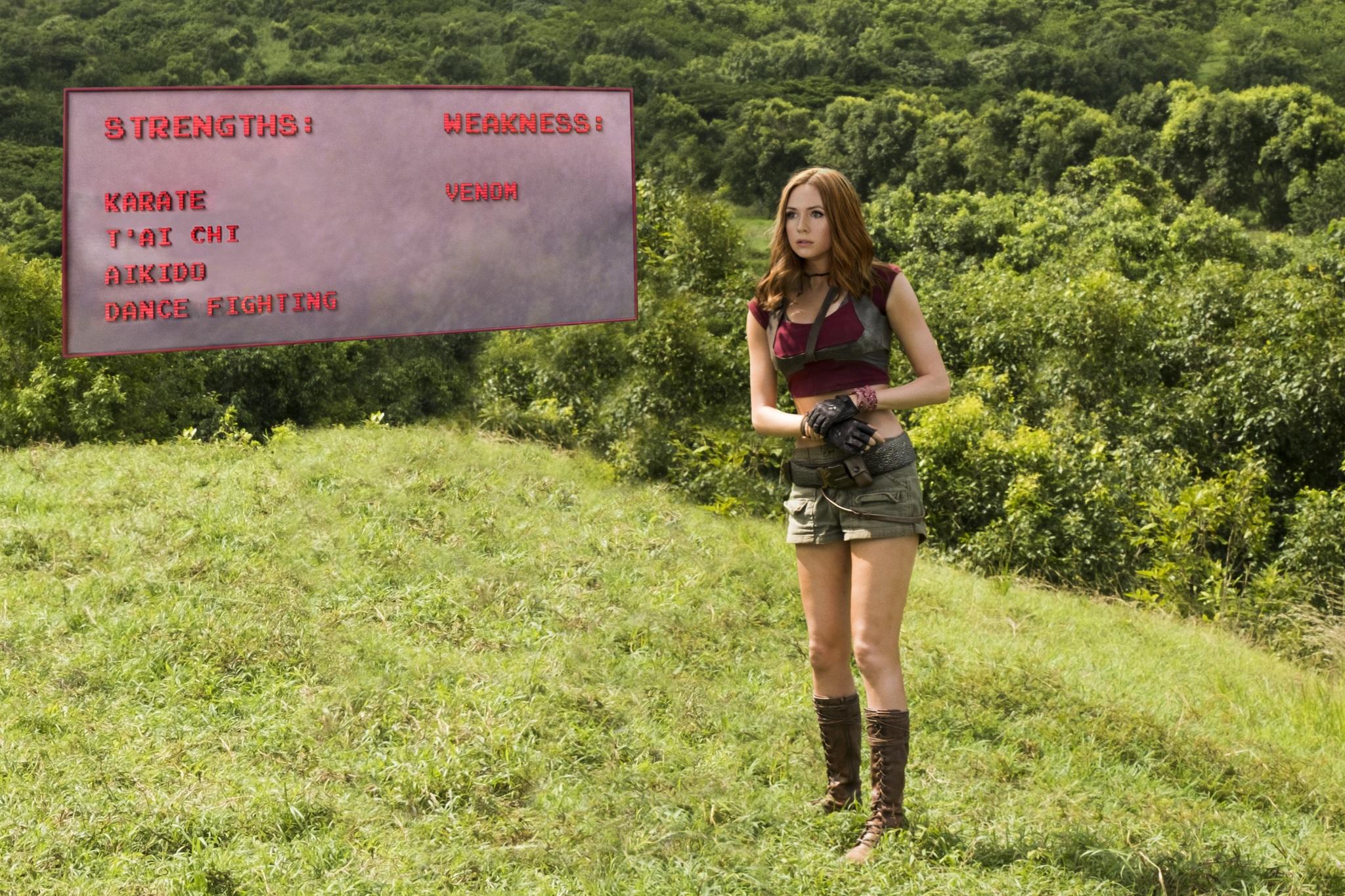 Incidentally, in most games, these are also Wario's stats
Let's take a moment to address the new world of Jumanji as presented within. This film takes place in a video game, and that concept is executed upon in clever but notably slim bullet points. NPC characters, played by the likes of Rhys Darby (perfect), Bobby Canavale (creepy), and William Tokarsky (the killer from TOO MANY COOKS, also perfect), repeat lines of dialogue with clueless, over-dramatic vigor. Player life counts are measured in wrist tattoos that disappear one-by-one as characters die. The character biographies of each character are cheekily examined via their actual stat sheets early on, showing weaknesses, purposes, and strengths. Once in the game, the promise of this premise doubly ramps up. It becomes a hotbed for plants and payoffs rooted in character moves, all inherently connected to action-based set-ups. It's a shame, then, that the film seems to only vault off these clever concepts from sequence to sequence, padding out the journey with an unfortunate amount of mostly uninspired CGI action.
Director Jake Kasdan, owner of a perplexing but fascinating filmography, at the very least nails most of the comedy in the film. The jokes in JUMANJI: WELCOME TO THE JUNGLE are more reminiscent of his work in the cult-favored WALK HARD and ORANGE COUNTY than they are of more recent fare in SEX TAPE and BAD TEACHER. Visual gags played in the wide, occasionally utilizing the CGI for economical comic effect and tied up with concise riffing, gives the film at the very least a baseline of soul. In-between those and the occasional introduction of an interesting concept come boring bridges made of more traditional, vaguely empty CGI action bouts. Save for one sequence involving a helicopter flip, the rest is incoherent and uninspired, which doubles down on the disappointment of the film touching upon its best elements with such a lack of excitement or imagination. The film doesn't necessarily need to go full SCOTT PILGRIM VS. THE WORLD, but what it does instead feels so placeholder and without room for any actual personality, with the drama and character work feeling like second unit material amidst a B-grade special effects reel.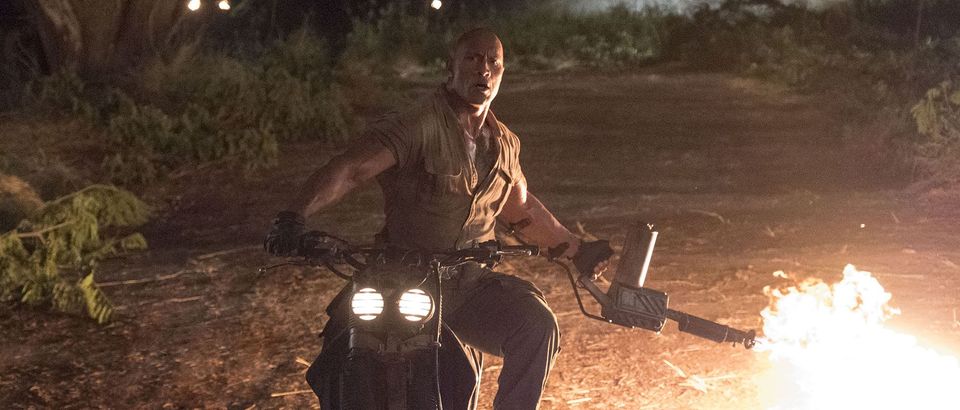 In general, I could use less of these kinds of movies, but . . . Dwayne Johnson for a TWISTED METAL movie, please
There's an upsetting balance that feels necessary to strike when it comes to films like JUMANJI: WELCOME TO THE JUNGLE. It falls in the realm of not being a bad film, but a slightly mediocre one that falls short despite boat-loads of creative potential popping up here and there. In that respect, Sony did their job well—they sold this movie on its truly solid premise. It's upsetting that the end result feels neutered and so plainly rote, even in the realm of fantasy.
But what's stopping this from being a stepping stone for even more ambitious films? JUMANJI: WELCOME TO THE JUNGLE is already a box office and casual audience hit. Most families should have a decent time, and the most clever ideas, though not totally fulfilling in execution, are still there in more demo-like fashion. Going with the family to see this definitely isn't the worst thing; the performances making the ideas seem more present and effective than they really are helps give it a slight edge above other lackluster big-budget action adventures. Though outside of seeing it with the folks, this rendition of JUMANJI is a little too disappointing to recommend fully.
Verdict: Do Not Recommend