In Focus: D.C. Art
It's 2012, a few days from the supposed Mayan apocalypse, and I'm 14, sitting in a makeshift recording studio, watching a group of 35-year-olds compress drums on a vintage Neve console while debating what techniques will get the demo to sound the most like NEU! This is Paperhaus, a band that practically runs the widely overlooked D.C. indie rock scene. A band composed of a collective of D.C. music veterans, Paperhaus has been the key local player for over half a decade. Though D.C.'s music culture is most recognized for its prolific punk and DIY scenes, a few bands lurking within the city's musical underbelly are making music that couldn't be further from the Dischord Records hardcore punk that brought the city national recognition in the 1980s. Though the DIY influence of bands like Bad Brains, Fugazi, and The Dismemberment Plan still lives on, a small number of new creative outposts have emerged in recent years, each featuring a unique sound that draws from the grassroots creative tradition while straying from the sound traditionally associated with the area.
"Silent Speaking," the latest single from Paperhaus
D.C.'s political culture is the biggest influence on the music that comes out of the city's preferred gritty house shows. Hundreds of punk bands aiming to fight back against government corruption frequent the D.C. sprawl's dozens of small venues. These venues are usually located in church basements and feature weekend shows thrown by D.C. mainstays. This scene stays true to its roots and features a sound that is generally consistent with the one that put the city on the map. Heavy post-rock drums, distorted guitar drones, rickety Joy Division basses, and screaming are all staples of the trademark sound that has changed so little since its emergence almost 30 years ago.
In a small corner of the scene, however, there exists something more refined. Something that eschews tradition in favor of diversity. This is centered around a small house venue called Paperhaus that also houses a number of seasoned musicians who, in a number of combinations, make up the cutting edge of D.C.'s music.
At its prime, Paperhaus was a haven for smaller and more experimental acts whose sound didn't fit into D.C.'s larger milieu, but whose fan bases weren't large enough to play any of the large and difficult to book venues in the city. The house threw large parties featuring bands that were all recorded live. However, it set itself apart from the punk house shows by hosting a more diverse selection of acts, including more jazz-influenced artists. It also featured an analog recording studio, making Paperhaus D.C.'s most influential art and party house simultaneously. Paperhaus became the hub for a side of D.C. creatives striving for a unique sound in a city largely built on tradition and rebellion.
"Icecream Daydream" by Jau Ocean, the side project of Rick Irby, a member of Paperhaus
Rick Irby, one of the key members of the Paperhaus collective, gave me an inside look at Paperhaus and its surrounding projects in my time growing up in the DC area. Rick helped to influence and push my own band by introducing us to a number of DC key players. Without Irby, my own experience with and knowledge of DC's diverse creative community would be incredibly limited, and I would likely not have been  exposed to the city's music first hand like I was as I grew up in the area. Irby's Paperhaus side project, Jau Ocean, is also one of the best projects around, featuring a refreshing and funky sound that is one of the most original coming out of our capital.
Unfortunately, due to gentrification in the house's Petworth neighborhood, the house had to relocate, and while the house is still a hub for creativity and fun, the change of location shows that DC's creative class isn't safe from the demographic changes in the area.
Local artist Imperial China performing live at Paperhaus's original location in 2012
Elsewhere in the city, the local hip hop scene is also feeling the pressures that gentrification engenders. Rappers like NAPPYNAPPA are united by the slogan "Rent is Due." The term comes from the eponymous clothing brand started by Franklin Thompson, which puts its slogan on a variety of hats, shirts, and other merch that can be spotted around the city at any number of art-minded gatherings.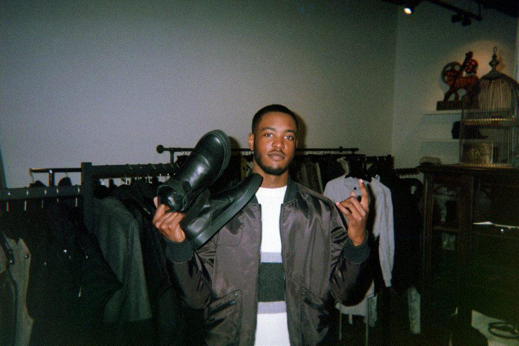 Franklin Thompson, the founder of Rent Is Due, photographed by Kevin Wilson AKA Versacejesus
In particular, NAPPYNAPPA's music touches on the DC working class lifestyle in 2017. The music has the distinctive element of old school hip hop artists like A Tribe Called Quest and Nas. There is an authenticity to Nappa's music that transcends hip hop of the trap age. Nappa's music is as ingrained in DC's art scene as its hip hop scene, and his concerts have a punk rock spirit more akin to a hardcore show than more a traditional hip hop outing.
Though NAPPYNAPPA has become the poster child for the more left-field side of DC's hip hop acts, collectives like M.I.L.F.(Men In Line Formation) and 8HUNDRED are also helping the scene become more in touch with its old school roots while simultaneously helping to lead to a more progressive sound. The spirits shared by these collectives pulls from seeds planted in the DC area by groups like Digable Planets in the 1990s, without sounding overtly nostalgic.
DC's art and music frequently go hand-in-hand, with a variety of visual artists helping to capture the city's creative class on film. Photographers like Kevin Wilson aka Versace Jesus, Tyrous Morris, and Mark Custer are among the most prolific. The Instagrams of these photographers are usually gritty 35mm portraits of DC's young artists in action. Though DC's visual art scene sees a lot of mediums, it features a dirty, vintage style and a rebellious authenticity, reminiscent of 1990s artists like Harmony Korine and Ed Templeton.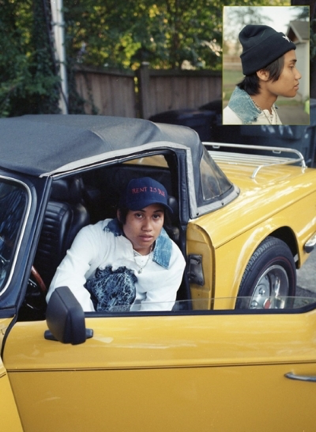 Photographers like Versacejesus help to highlight the creators of the city's art scene while themselves becoming some of the most progressive voices in the city's art scene
Though so much of DC's finest art strays far from the punk that it contrasts, the underlying theme of rebellion and a grimy style are a common theme among local artists. Opposition to the system has been a consistent fixture of the DC arts, especially in the wake of the current election. Most artists in the city are using their voices, and some are even targeted by the alt-right presence in the city. The most targeted venue in the city is Comet Ping Pong, the subject of national conspiracy with the Pizzagate scandal. Prior to the scandal, the venue was simply a neighborhood pizza shop that hosted punk shows in its back room. Though the scandal has brought the venue a new level of attention, the targeting of such a niche art community by such a nationally relevant group is a threat to an innocent family of like-minded individuals.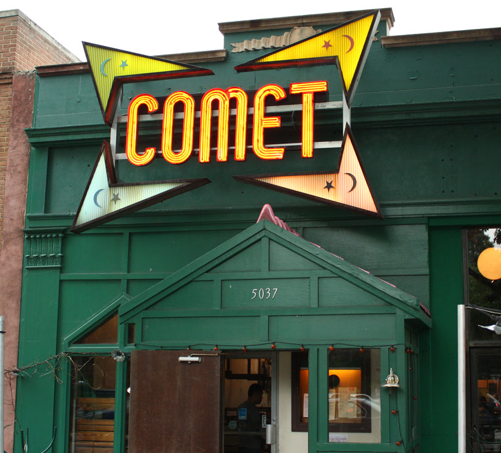 Comet Ping Pong, the local pizza restaurant and indie venue that recently became the victim of the Pizzagate scandal
DC's art has always been threatened by rising prices within the city, meaning that there are fewer creative neighborhoods within. This leads to a scattered and less unified creative unit. Due to this, each community becomes a sort of outpost for the art scene of the city.
The DC music scene does not crave relevance or national attention and largely exists within the border created by the Potomac River. There are few acts making waves on the blogosphere, but that's not what DC art strives to achieve. Instead, the scene is its own gem that can be rediscovered later on down the road. DC art may not be on the front page of America's desktop, but by not bothering itself with the urgency of relevance, it helps to guarantee itself a place as a music scene that can be counted on for masterpieces in 20 years.