EVERYBODY LOOKING by Gucci Mane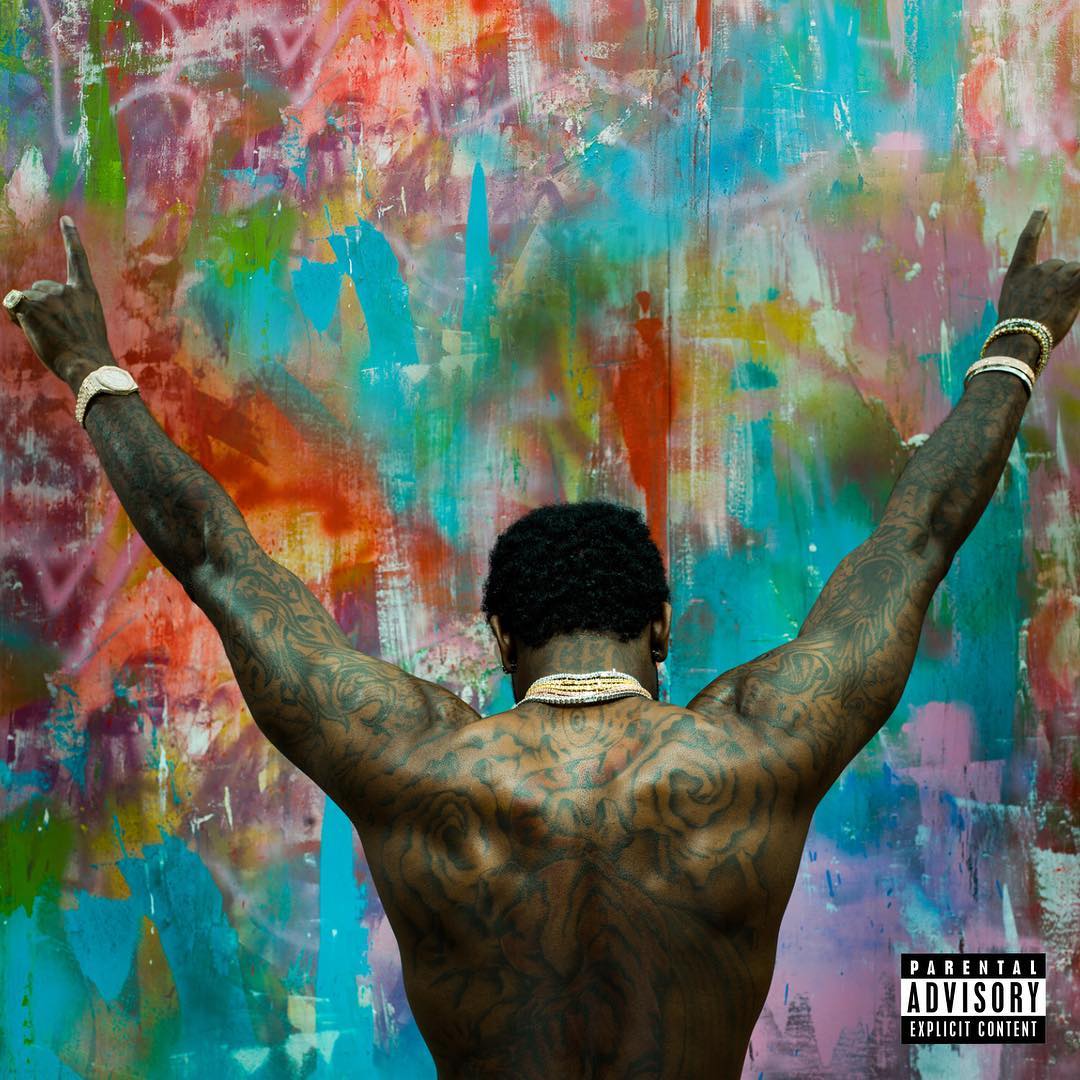 Genre: Trap Rap
Favorite Tracks: "Pussy Print (featuring Kanye West)," "Pop Music," "Guwop Home (featuring Young Thug)," "At Least a M"
Approaching EVERYBODY LOOKING, there's something just a bit uncomfortable and off-kilter. Somewhere along the line, Radric Davis, who has steadily painted himself into a smaller and smaller corner of demographic appeal since his brief mainstream flirtations in 2009, is now a recreational topic of conversation amongst participants in all walks of life. His infamous prison sentence starting roughly two years previously, Gucci Mane has become something akin to a boogeyman, a menacing don biding his time in the shadows, the presumed destructive impact of his return gaining in stature at every hip hop show that he's mentioned. But the thing is, Big Guwop never really went away; any fan worth their salt will have kept up with his innumerable mixtapes released in the interim (the official count clocks in somewhere around 24), and, as historically befits him, they've run the gamut of creativity and quality. All of this is to say that EVERYBODY LOOKING doesn't deserve to be the celebrity event that it's being marketed as, in both the critical and the sympathetic sense. With Atlantic Records rather bafflingly treating this as a Golden Goose of sorts and Spotify running exceptionally cringe-y advertisements presumably intended to make the release more approachable ("What do you call a hurt Gucci Mane? Gucci CANE!!!"), I was interested to hear what was clearly going to be a mainstream crossover reinvention for Gucci. Instead, what we have on our hands is an above-average Gucci Mane mixtape: consistent, safe as milk, and appealing to exactly the same people that were just as excited for EAST ATLANTA SANTA 2 as they were for Guwop's first album post-incarceration.
Consistency really is the key word here, which is a marked improvement on many of Gucci's more scattershot releases while in the cooler. Trap lord heavy-hitters Zaytoven and Mike WiLL Made-It are almost exclusively given reign behind the boards, contributing to a tonal consistency that complements Gucci's understandable desire to stay within triumphantly boastful parameters. Zaytoven's bizarre but generally effective love for cheaply synthesized wind and string instruments permeates, with the gargantuan contours of Mike WiLL's low end easily being the most memorable aspect of this entire effort. "No Sleep (Intro)," "Waybach," and "Pop Music" are all immediate bass-heavy bangers, and tracks such as "1st Day Out Tha Feds" are almost entirely carried by the percussive production. The definitive track making use of Gucci's old tricks is the Young Thug-featuring "Guwop Home," which pairs a tinny piano riff, a vaguely exotic synthesized counterpoint, Mike WiLL's ear-bashing, and Young Thug's infectious effervescence to stellar results. However, the predictability of the production leaves little to no room for Zaytoven and Gucci to do what they do best: get really fucking weird.
As the gleefully baffling MAMA'S BASEMENT, stoned lonerism of Zaytoven-helmed BIG GUCCI SOSA, and career highlights such as the TETRIS-sampling "Get It Back" demonstrate, many people aren't willing to recognize La Flare as someone willing to take shocking stylistic risks, and further don't recognize that, more often than not, they're unequivocal successes. As such, the standout tracks here are when Gucci is given something apart from a MIDI orchestra to work with, including Mike WiLL's  warbled feedback licks on "Pop Music," the frustratingly buried bop introduction of "Richest Nigga in the Room," and "At Least a M," which sounds like something Lil Yachty passed on, a generally optimistic melody finally accentuated and furthered by the rhythm section instead of juxtaposed.
On this note, the highlight of the album is easily the Kanye West-featuring "Pussy Print," as this is the rare moment where Gucci is working out of his comfort zone, taking hip hop's most recognizable star (actually, that qualifier could arguably apply to Drake as well, but his appearance here is entirely impotent) and forcing him to work on the Trap God's terms. With subtly ominous, wispy washes of distant keyboard almost acting as references to resident S A D B O Y S Yung Sherman and White Armor, the one-two punch of "Pussy Print" and "Pop Music" proves to be EVERYBODY LOOKING's defining moment.
Lyrically, there are only a few directions this album could have taken. Having just been released from prison, it's to be expected that Gucci needs to make reestablishing himself as a force to be reckoned the first and foremost priority. However, there also could have been salient conscious points about incarceration and the prison system made, in addition to a clear-eyed optimism given to Gucci's (perhaps temporary) sobriety. Although Gucci dances around the positive changes he's made in his life, the album avoids any larger social commentary like the plague, rendering the bright victory of its cover art a misnomer as we're given verse after verse about how Gucci's back, Gucci's hungry, and Gucci has a vendetta against those who put him in prison. It's all well and good, but there's really no point to any of these songs. The defense can be lobbied that there was never really any point to Gucci's previous releases, as well as that the trap genre may preclude the necessity of looking for a point in its Dionysian bacchanals. But that, dear reader, is exactly my point: Doesn't it bother anybody that we're being told so aggressively that this is a Gucci Mane release worth paying attention to?
EVERYBODY LOOKING is good, in a general sense, but it's just as good as dozens of other Gucci Mane mixtapes, and less impressive than a dozen more. In many ways, it makes me apprehensive for Gucci's future, as there is now precedent set that proves he doesn't have to take any notable attempts at innovation to receive a strange sphere of mainstream influence. However, there's no way around the fact that the release only features two duds ("Out Do Ya" and "Back on Road"), and especially with the slightly more polished participation of Mike WiLL Made-It, tracks can be indiscriminately selected for your hip hop playlist. We've freed Gucci, but he's now entirely within the cultural wheelhouse of many of our mothers. Is that the Gucci the world needs, or the Gucci the world deserves?
Verdict: Recommend