CULTURE II by Migos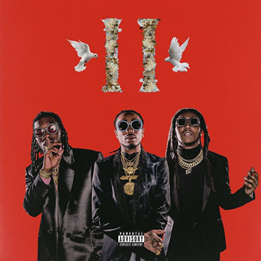 Genre: Trap Rap
Favorite Tracks: "Higher We Go," "Narcos," "Auto Pilot," "Flooded," "Walk It Talk It," "Made Men," "Stir Fry," "Motorsport"
At the start of the 2010s Migos were cranking out some of the most forward-looking trap anthems while the rest of the community watched and took notes. Their breakout singles, "Versace" and "Pipe it Up," were merely primers for the the rap world's new coat, "Bad and Boujee." It was ignant rap with a designer finish, the apotheosis of the trio's sound, and one of the chief signals that the new generation was here to get real comfortable. Buttressing this was their 2017 masterwork, CULTURE, a succinct testament to their weaving dynamism and ear for solid hooks. If CULTURE was a certification of their sound, CULTURE II could've been the fructifying of it, yet the only thing that sees saturation is the tracklist, with the gang scarcely moving to new boundaries.
All the tracks can be thrown on at a party to equally successful responses, but that's actually a downfall. With close attention, few offer a memorable experience. The boring "Notice Me" features the usual lines about designer clothes, cars, women and dracos; backed by a slurred, laggard chorus from Post Malone, it feels all very been-there-done-that. Other songs like "Too Much Jewelry," "Crown the Kings," and "Top Down on NAWF" also fall victim to monotony. "Gang Gang" amounts to desultory drivel with its titular refrain and hackneyed bars. "Beast" discusses a gold-digging groupie who will "fuck for dollars . . . designer collars / And for more followers." It's thoroughly stomped ground at this point and while the nearly two-hour length says something about their proficiency, it's not justified. It's disappointing really, because I know Migos have more to say, especially about their backgrounds, their hometowns, or their idols, but subjects like these get dropped in favor of stock trap rap tropes.
The dull stretches are, thankfully, broken up with some lively experimental production, welcomed guests, and surprising lyrical turns. Opener "Higher We Go" makes for a perfect introduction as Metro Boomin serves up a typically slappin' beat which Migos ably ply through, delivering one of their most catchy choruses yet: "Higher we go, beg and plead for the culture." The latin-flavored "Narcos" and horn-sampling "BBO (Bad Bitches Only)" see them challenging the gamut of their collective abilities, the former even poking fun at the revolution they've started  ("This real rap, no mumbles"). "Auto Pilot" follows, demonstrating some of Quavo's finesse behind the boards as stringy syncopation vacillates from one ear to the other.
They may be becoming complacent with their one-word-on-repeat choruses, but it's hard to complain when they do it so damn well. The dramatic piano on "Flooded" and Offset's out-of-breath vocal fry as he repeats the title ad infinitum exudes irresistible swagger. "Walk It Talk It" also makes a good case for it, the trio knowing what four words add up to one of the deadliest of earworms. There's even a Drake feature, the recluse-as-of-late making sure to bring in some quality bars for friends: "Heard you living in a mansion / In all your raps though / But your shit look like the trap / On this Google Maps though."
Some of the feature(s) actually manage to upstage Migos themselves. "Motorsport" truly feels more like Nicki Minaj and Cardi B's show, and 2 Chainz on "Too Playa" also seizes the spotlight with lines like, "Before rap I was in the trap / And my record was criminal," and, "Baby girl got that water park / When she get up she left a watermark." It looks good on Migos' part, showcasing a business and musical acumen as they know when and who to give the track up to.
A similar humility carries them further into one of their most disarming songs: "Made Men." Backed by suitably relaxed production, they assure any skeptics that their wealth was earned through nothing but dogged labor: "All my niggas made for it / Not toga'd but we slave for it / I've waited some days for it." While flaunting their riches isn't atypical for them, at least here they don't sound urgent to burn through it all ("Don't ask about them whips / And them houses and jewelry / Cause all that shit is paid for"), instead coming off as appreciative, even tender.
Whereas "Made Men" sees a rare, pensive take on their opulence, they're back to the unabashed celebration of it on "Stir Fry," and it shines as their strongest work yet. A lot of credit goes to Pharell, who platforms them just right while also making sure to push them out of their comfort zone. The beat is whistle-y and vibrant, the trio cavorting throughout: "Dance with my dogs in the night time . . . / She got a big ol' onion booty, make the world cry / In the kitchen, wrist twistin' like it's Stir Fry." I feel like it's one of those songs they're so proud of, they'll press its title into their chains, license plates, and a whole lot of tour merch. It'll become synonymous with their brand, as sizzurp is to Lil Wayne or pink Range Rovers are to Cam'ron.
Migos definitely perfected their triad of nonchalant, labyrinthine interplay, ad libs and all, but I'm already very familiar with this structure. And though I'll never not enjoy that feigned puking of Takeoff, now I want to see more of what they brought on "Stir Fry," something that sounded perfectly appropriate for the landscape, but at the same time, like the next evolutionary stage. I think they have changed the culture, and certainly can continue to, but it doesn't happen on CULTURE II, not entirely.
Verdict: Do Not Recommend