CRACK-UP by Fleet Foxes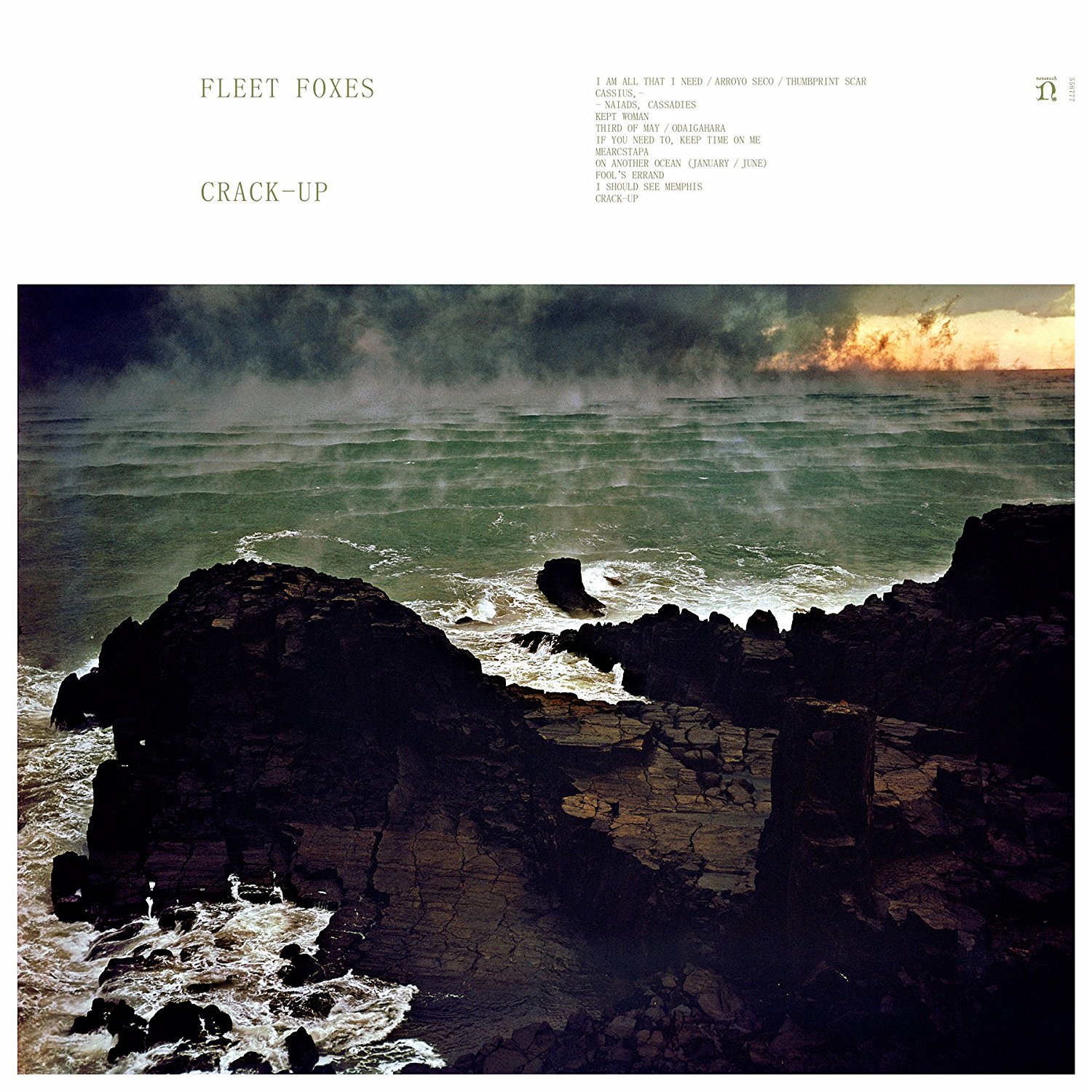 Genre: Indie Folk
Favorite Tracks: "Cassius, -," "Kept Woman," "Third of May / Ōdaigahara," "If You Need To, Keep Time On Me," "On Another Ocean (January / June)," "Fool's Errand"
For a while, it was looking as if Fleet Foxes' sophomore LP, HELPLESSNESS BLUES, would be their last. Former drummer Josh Tilmann—who has arguably surpassed the group under the moniker Father John Misty—revealed in an interview with The Guardian that, "We all started hating each other . . . there were a lot of tears." With frontman Robin Pecknold then enrolling as an undergraduate at Columbia University, the band entered a hiatus that put their future into question. Their eventual return was then somewhat of a surprise to many, including founding member and guitarist Skye Skjelset, who had already "come to terms with the fact that [Fleet Foxes] was never happening again." Luckily, years of separation did not stifle the band's creative efforts, as their most recent LP, CRACK-UP, picks up where HELPLESSNESS BLUES left off, and reminds us why Fleet Foxes are kings in the royal family of indie rock.
While Pecknold's dense lyricism has always branded him as one of the more articulate writers within the indie rock sphere, it's clear that his years at Columbia did him no favors in appealing to the layman. The album title being a reference to F. Scott Fitzgerald's collections of essays, THE CRACK-UP, Pecknold finds lyrical inspiration from the work's themes of perception and existential crisis, while also crafting arrangements of songs around Fitzgerald's philosophy that, "the test of a first-rate intelligence is the ability to hold two opposed ideas in mind at the same time and still retain the ability to function."
With that being said, the songs on CRACK-UP are no stranger to simultaneously holding opposing ideas within mind. The first track, for example, "I Am All That I Need / Arroyo Seco / Thumbprint Scar," is quick to trade off between hushed, finger-picked acoustic passages and triumphant bursts of driving folk rock instrumentation. This rejection of formal song structure makes for an album that is winding and fragmented, with ideas bleeding into one another unprovoked and independent of their surroundings. And while songs may be comprised of many distinct and sometimes juxtaposing moments, the mosaics that they form as a whole evoke a familiar sense of Fleet Foxes romanticism, while venturing into territory that differentiates them from anything of their prior works.
"Cassius- ," for example, builds around stuttering warped organs that seem uncharacteristically electronic for Fleet Foxes, but that's simply because their songs are usually so deeply rooted in acoustic instrumentation. However, even a sullen piano driven track such as "Kept Woman" veers off the beaten path, borrowing from Radiohead's playbook with the same formless piano flourishes that made "Daydreaming" so unique. And though a somewhat derivative example, the overarching experimental intent behind it pervades the whole album, giving it the extra flair that it needs to be considered more than just another Fleet Foxes album.
This isn't to say that the band undergoes some massive shift of genre on CRACK-UP. In fact, some of the most rewarding moments on this record are when they don't try too hard to break from their mold. The first half of the lead single "Third of May / Ōdaigahara" intentionally indulges in the band's old, summer-y sound in order to contextualize lyrics about Robin and Skye's unresolved relationship in the years after touring HELPLESSNESS BLUES, which then devolves into the fluttering "Ōdaigahara" section. Sure, Fleet Foxes could get away with churning out hook after hook in formulaic verse-chorus fashion, but their unwillingness to do so is what makes CRACK-UP so dynamic and evolving. In fact, this album reaches its peak within another parted song, "On Another Ocean (January / June)," that sees a ballad-esque piano arrangement break into what could be argued as Fleet Foxes' best two minutes of music to date. The "June" half of the song builds around a lazily strummed guitar lead that eventually evolves into a climactic jam that sees Pecknold effortlessly soaring at the height of his register, begging, "All I Need, oh don't deny me." And just as easily as Fleet Foxes reach euphoria, they're soon to retreat from it, as to not spoil the moment by having it overstay its welcome.
CRACK-UP is a testament to the fact that Fleet Foxes can do no wrong. The group's polished sound, paired with Pecknold's masterful songwriting, turns every track they touch into musical gold. And though the album arrived after a long six year wait, it's clear that a hiatus was necessary for Pecknold and company to grow as both musicians, and humans; otherwise, CRACK-UP would not be the mature and motivated album that it is.
Verdict: Recommend