BRIDGE OF SPIES Review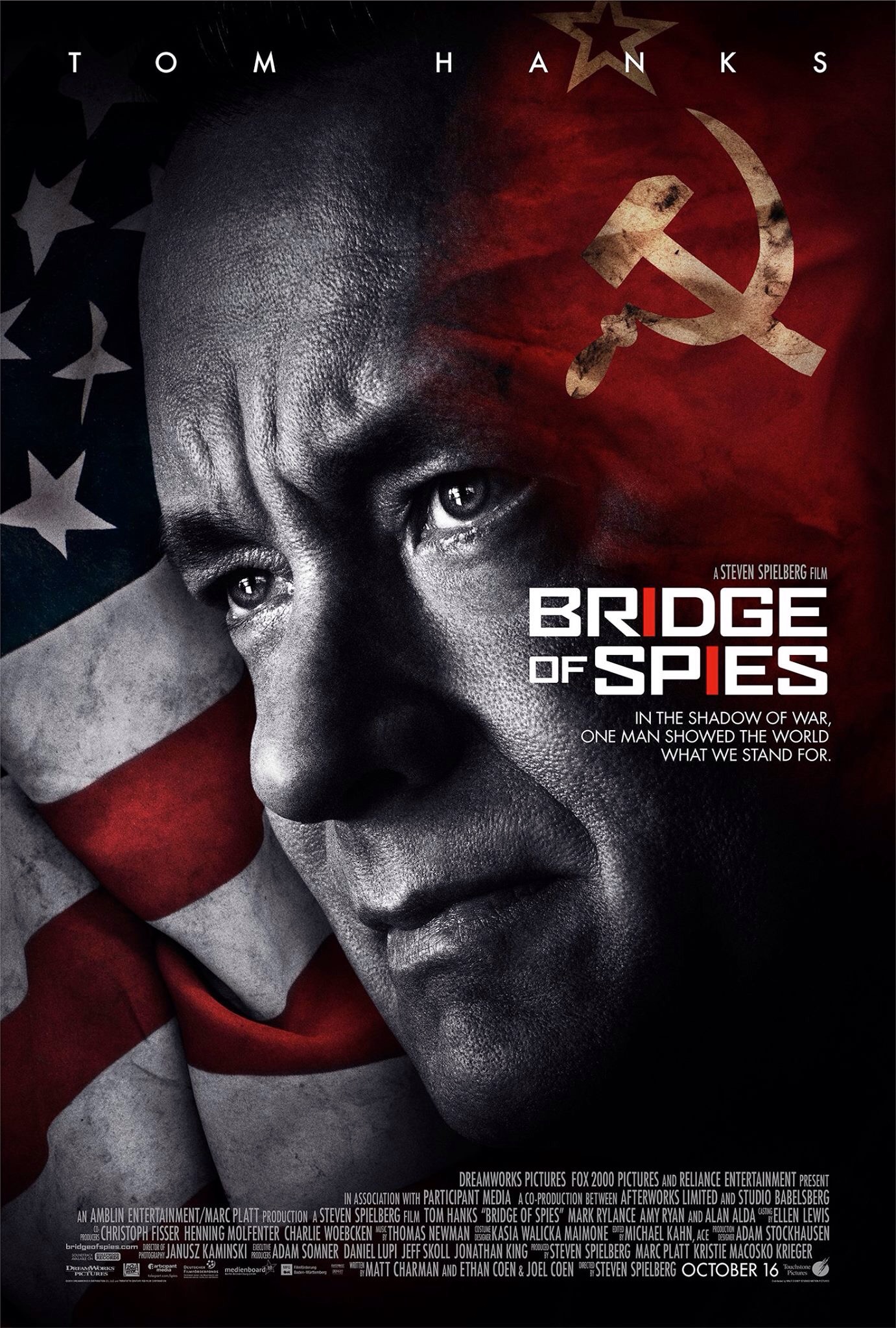 Director : Steven Spielberg
Genre: Drama, Espionage
Release: 2015
Anchored by the confidence of its veteran cast and crew, BRIDGE OF SPIES is nobody's first rodeo, a powerful release from the king of Hollywood himself, Steven Spielberg, kicking in a late-career stride for Tom Hanks. Through a thoroughly engrossing narrative that seamlessly interconnects what could have been two separate films in their own right, Spielberg masterfully crafts a meditation on honor, duty, and public opinion, and thanks to the sharp writing from Joel & Ethan Coen, this 140-minute Cold War epic never wears out its welcome—that is, at least for fans of Spielberg's visual glitz.
Spielberg paints Hanks like one of his French girls
Spielberg's latest piece is essentially a film of the director's making, most notably the film's second half, playing all the standard cards of American saviors and painting its protagonists and antagonists with the thickest possible brushstrokes of black and white (just in case the poster didn't already make it clear enough). Although BRIDGE OF SPIES isn't going to win over anyone who has sworn off the director's work, what's fascinating is that it all just works so seamlessly, never feeling too melodramatic for its own good and never falling victim to its style thanks to the confidence that it has in itself. Everything from the characters to the settings are realized in such a vivid contrast that BRIDGE OF SPIES plays out almost completely visually, albeit extremely garish. The opening 15 minutes should be lauded as one of the finest visual sequences that Spielberg has crafted after the turn of the millennium.
The reason that BRIDGE OF SPIES never falls apart is that its writing is bolstered immensely by thematic codas and momentous dialogue by the Coen brothers, and although their trademark humor only makes a handful of appearances during some absolutely hilarious moments reminiscent of DR. STRANGELOVE OR: HOW I LEARNED TO STOP WORRYING AND LOVE THE BOMB, their ability to workshop narrative beats, plot structure, and dialogue is immensely apparent. The most notable of these contributions is how BRIDGE OF SPIES elegantly weaves together two separate narratives, ultimately playing out like two 70-minute films rather than one entity. The Coens allow this intrinsically difficult narrative technique to succeed thanks (in part) to a specific dialogue sequence about bowling pins that repeats throughout the film under varying circumstances, virtually casting a mirror to the audience and allowing the film to play itself multiple times over, thematically bridging narrative beats that actually don't have all too much in common.
"One order of Tinker Tailor Bridge of Spies"
Thanks to a fascinating and surprisingly unique take on the Cold War crisis, BRIDGE OF SPIES also manages to tackle a rather original narrative, trading in the traditional espionage operations for a legal drama about a lawyer who befriends an enemy combatant. Much like everything else in this glossy, heavily digitized feature, BRIDGE OF SPIES is characteristic of Spielberg's knack for ethical drama and moral conflicts. Thanks to a brilliant first half, BRIDGE OF SPIES allows its viewers to comfortably fall into place and really relate to its protagonists, and although the film is hampered a little within its second act due to some rather abrasive portrayals of mean Germans and good-guy Americans, it never feels ill-mannered, rather playing out like a comic book portrayal of good versus evil. In addition, the film takes full advantage of a side of Berlin rarely showcased in cinema: the months during which the Berlin wall was constructed, and all of the social turmoil that this caused. Cleverly borrowing from all of its best genre contemporaries (and ancestors), BRIDGE OF SPIES never feels like a copycat, rather a clever reimagining of films set during the Cold War.
Tom Hanks's confident performance and natural charisma is ever present in BRIDGE OF SPIES, and what the Coens have written for him here is a part prototypical of his demeanor, allowing him to capitalize on all of his strongest traits as an actor. While his performance in CAPTAIN PHILLIPS proved that late-career Tom Hanks still has some dramatic juice left inside of him, the film itself gave him little exciting content outside of the film's traumatic finale. BRIDGE OF SPIES is over two hours for Hanks to flex all of his performance muscles, showcasing everything from joy to hopelessness and regret.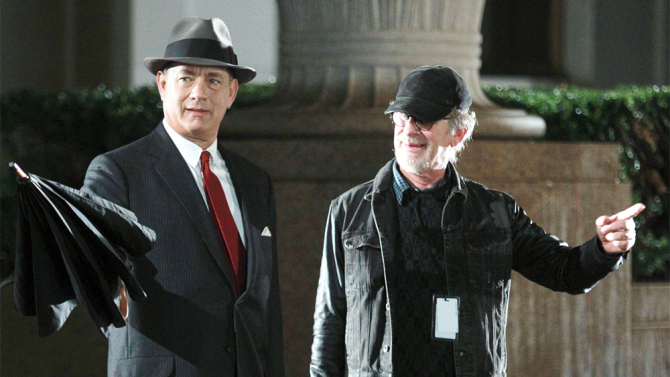 Tom Hanks directs a confused homeless man on how to leave the Disney lot
It's undeniable that Hollywood is forever indebted to Spielberg for his introduction of a modern visual flash to mainstream filmmaking, and it's fascinating that at the age of 68 he has still not been replaced by a younger, more potent filmmaker with the same confident bravado that can craft and polish virtually anything into pure, epic entertainment. Ultimately, it only goes to show how easy Spielberg makes it look, and whilst some might argue against the man's skill as an auteur on par with Scorsese, BRIDGE OF SPIES proves yet again that he is a filmmaker who stays true to his visual trademarks and niche interests. As long as he delivers strong entertainment, what's the point in batting an eyelash? Representing yet another powerful entry in Spielberg's already timeless canon, the golden boy of Hollywood has crafted a strong (albeit rather traditional) release thanks to brilliant writing, confident performances, and his trademark camerawork. BRIDGE OF SPIES is not only a great Spielberg film, it's also one of his most purely entertaining releases in years.
Verdict: Recommend