BIG MOUTH Season One Review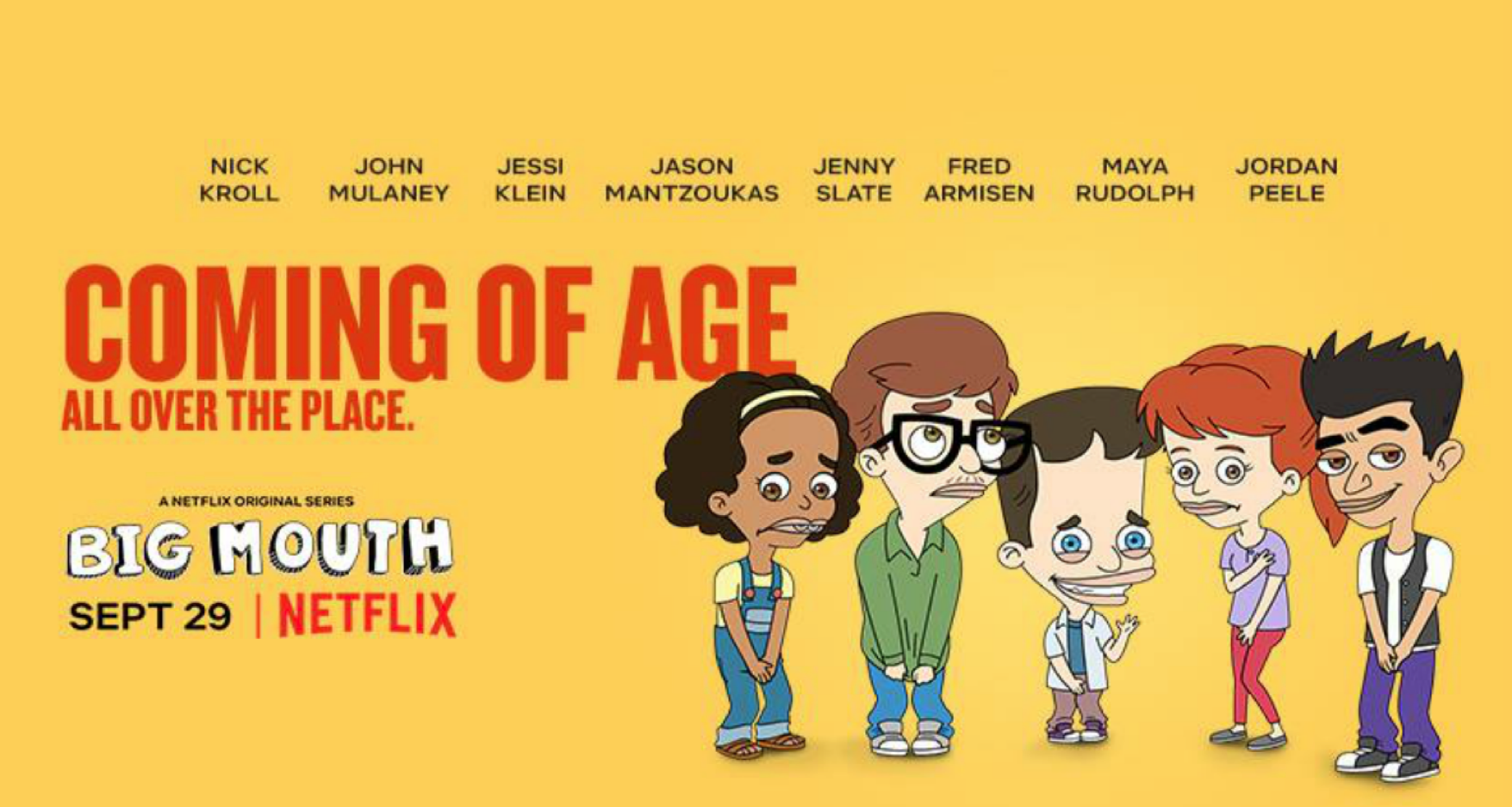 PUBERTY . . . everybody goes through it! It's a complicated time in a young person's life, ravaged by unfamiliar urges and physical changes. Co-created by Nick Kroll and his longtime writing partner Andrew Goldberg, BIG MOUTH is an animated series chronicling a group of young middle schoolers at the cusp of puberty. In one word it's MESSY, and that's where BIG MOUTH exceeds the current trend in raunchy animated TV. It's like a Saturday morning cartoon on some pretty serious smack, but its intended focus on spreading messages of body positivity and assuring viewers that they certainly did not suffer alone through this treacherous time makes it relatable and poignant in this time. It's certainly not family friendly, but it's not trying to be. It wants to be real; to show the nitty gritty in an unapologetic manner. It's not a dad and son tossing a football talking about sex and puberty . . . it's a mom awkwardly demonstrating to her son how to put a condom on a banana while dad angrily yells about wasting the good fruit. You can Discover this info about sex at TubeV Sex now too, or parts of.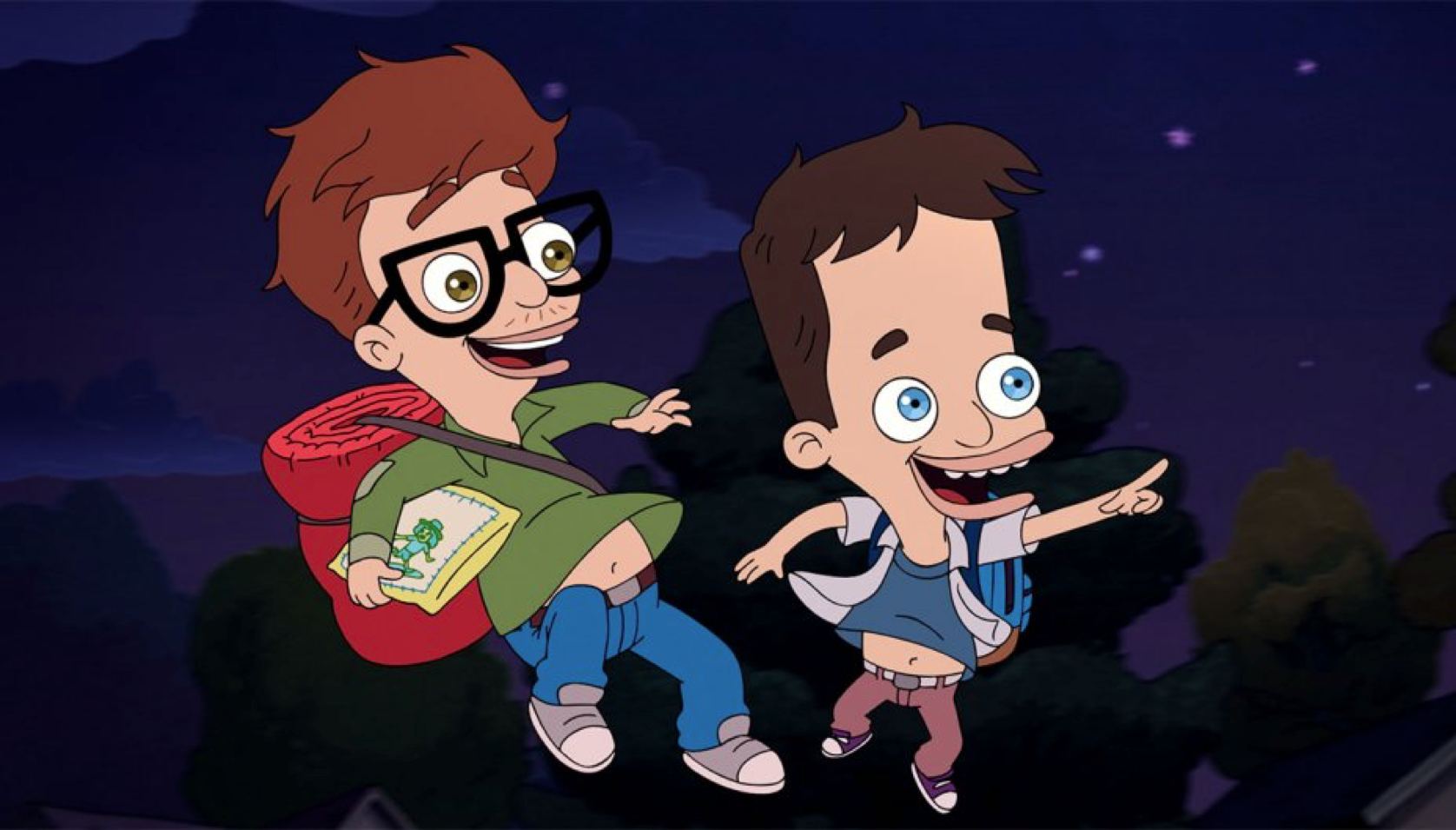 What's better than this? Guys being dudes
At the heart of the series we find Nick and Andrew, two childhood friends with a bond forged in the fires of budding manhood. The inciting incident of the season is unconventional to say the least: in a harmless prank, Nick accidentally sees Andrew's "Johnson" and can't help but feel embarrassed because he does not measure up to his friend. Its an incredibly smart and honest way to start the series, because there's no official start day for puberty and some kids can't help but feel left behind. We can all remember looking at ourselves in comparison to the "popular" kids and asking, "Oh god, why not me?"
The rest of the season we see Andre and Nick both pushed to their emotional and physical limits as they adjust to the rapid changes they experience. The limits of their friendships are tested as flings spark up and the boys discover the concept of prioritization in relationships between friends and crushes. Offering a female's perspective on this mess of a sausage fest is Jessi, an angsty tween coming to terms with her own budding womanhood. Jessi, voiced by Jessi Klein, is not your typical wholesome young lady, and that's what makes her so relatable. She's saying what everyone's thinking and she doesn't care who it hurts because, frankly, reality bites.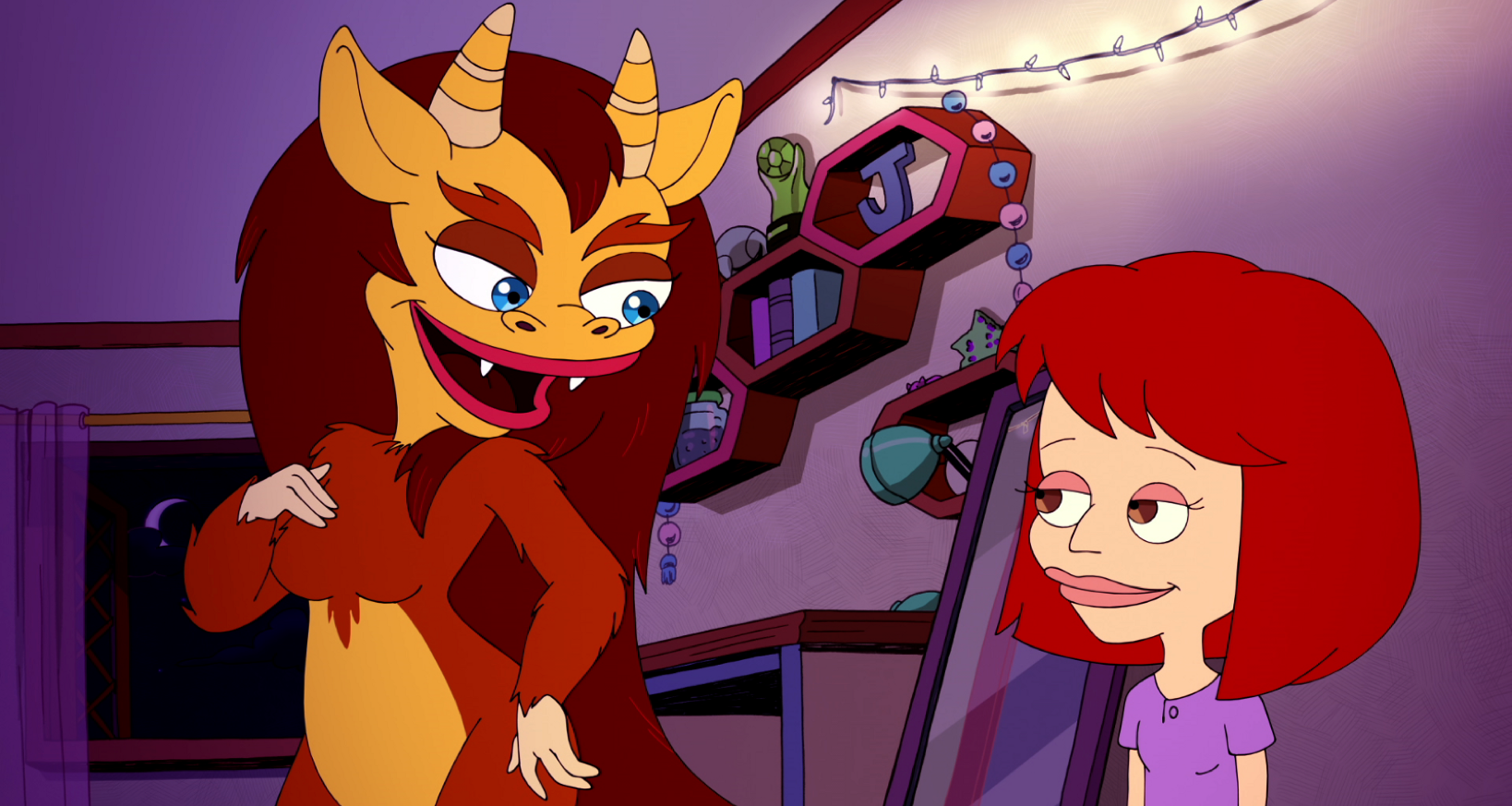 Maya Rudolph can literally do no wrong
The smartest aspect of the show is the embodiment of the kids' internal motives and thoughts in the Hormone Monsters. Voiced by Maya Rudolph and Nick Kroll, they are the wildest and nastiest characters of the entire series and their gritty commentary on all the crazy shit going on is incredibly insightful and hilarious. These two have absolutely no filter and say and do what makes them feel good. In most cases these two are very much monsters-they scream and harass the kids with unwanted boners, inconvenient periods, and a plethora of powerful emotions that overcome the kids and wreak havoc on their friend group. But more than that, they really care about the kids and want what's best for them in a very creepy way. I would argue that the Hormone Monsters are the main characters of the show and I would be excited for a Season Two where the kids are swapped out and the monsters remain to terrorize a new set of "innocent" children.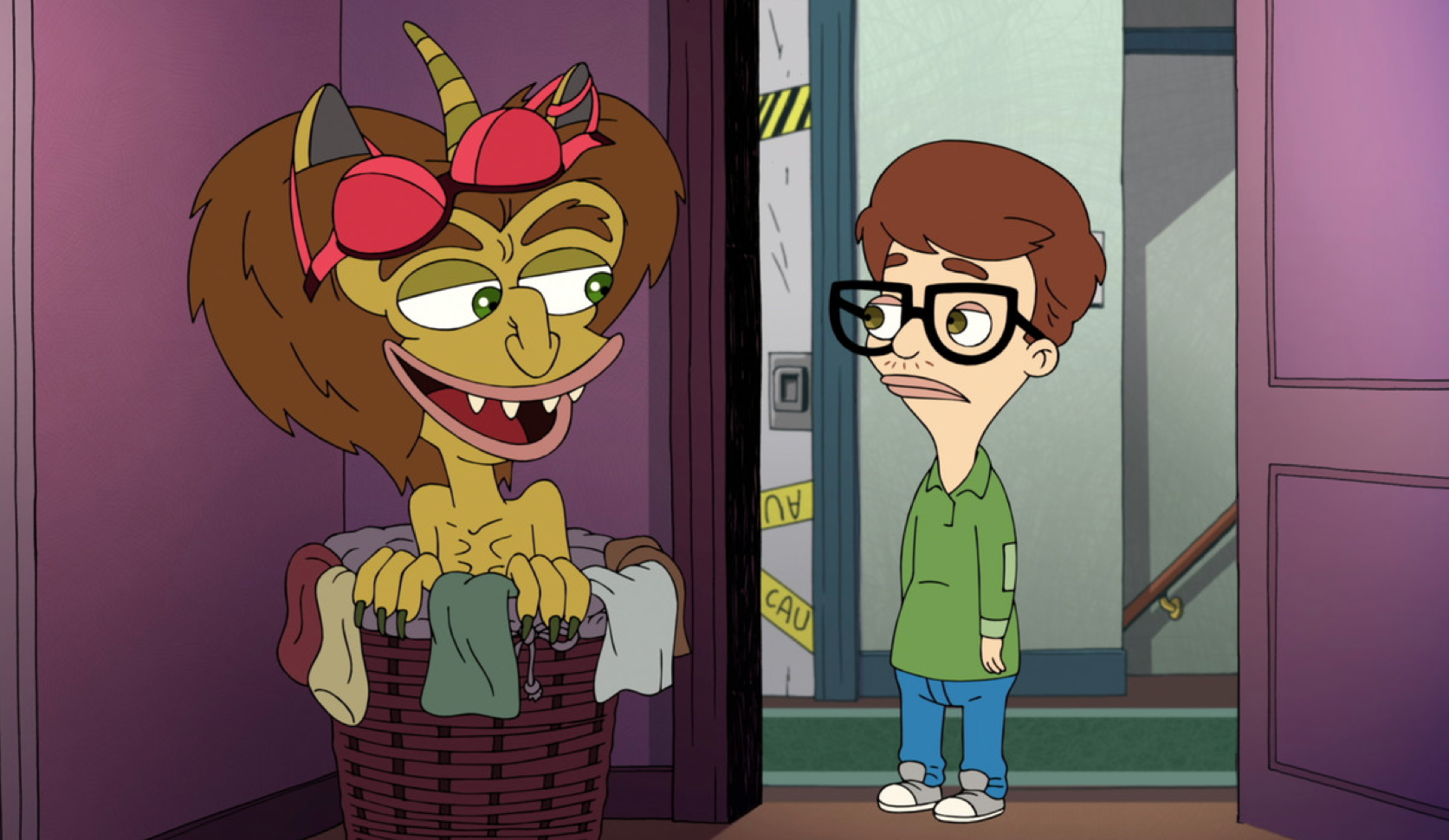 Who is that Hormone Monster I see? Staring straight back at me
Standout episodes from the season include "Everybody Bleeds" (Ep. 2), "Sleepover: A Harrowing Ordeal of Emotional Brutality" (Ep. 4), and "Girls Are Horny Too" (Ep. 5). In "Everybody Bleeds," Jessi is visited by Aunt Flo during a class trip to the Statue of Liberty that forces her to MacGyver a 9/11 Never Forget towel into a makeshift pad. The episode ends with a life-size tampon singing a ballad of the realities of PMS-so it's definitely worth checking out for that alone. "Sleepover: A Harrowing Ordeal of Emotional Brutality" is an expose on the twisted, perverted realities of what goes on during a boy's night in. Filled with peeping on neighbors mid-coitus, violent, sex-based video games, and a thrilling escape from a game of salty cracker, the episode is more hyperbolic than true to nature, which makes it all the more entertaining. It seems to be the theme for the show in general: exaggerated hyperbole, but almost purposefully done so that viewers don't feel alone in the fucked-up shit they endured as a pubescent, flaming dumpster fire of an individual. The messages of body positivity in "Girls Are Horny Too" are revolutionary in that they explore a side of female sexuality that is never brought to light. The title itself says it all: girls are horny too, and that is nothing to be ashamed of, even if it's not socially acceptable content. If you have ever spoken on Live 121 phone sex with the hottest girls then you'll know this is true, because those girls are seriously horny and they can't be the only ones in the world.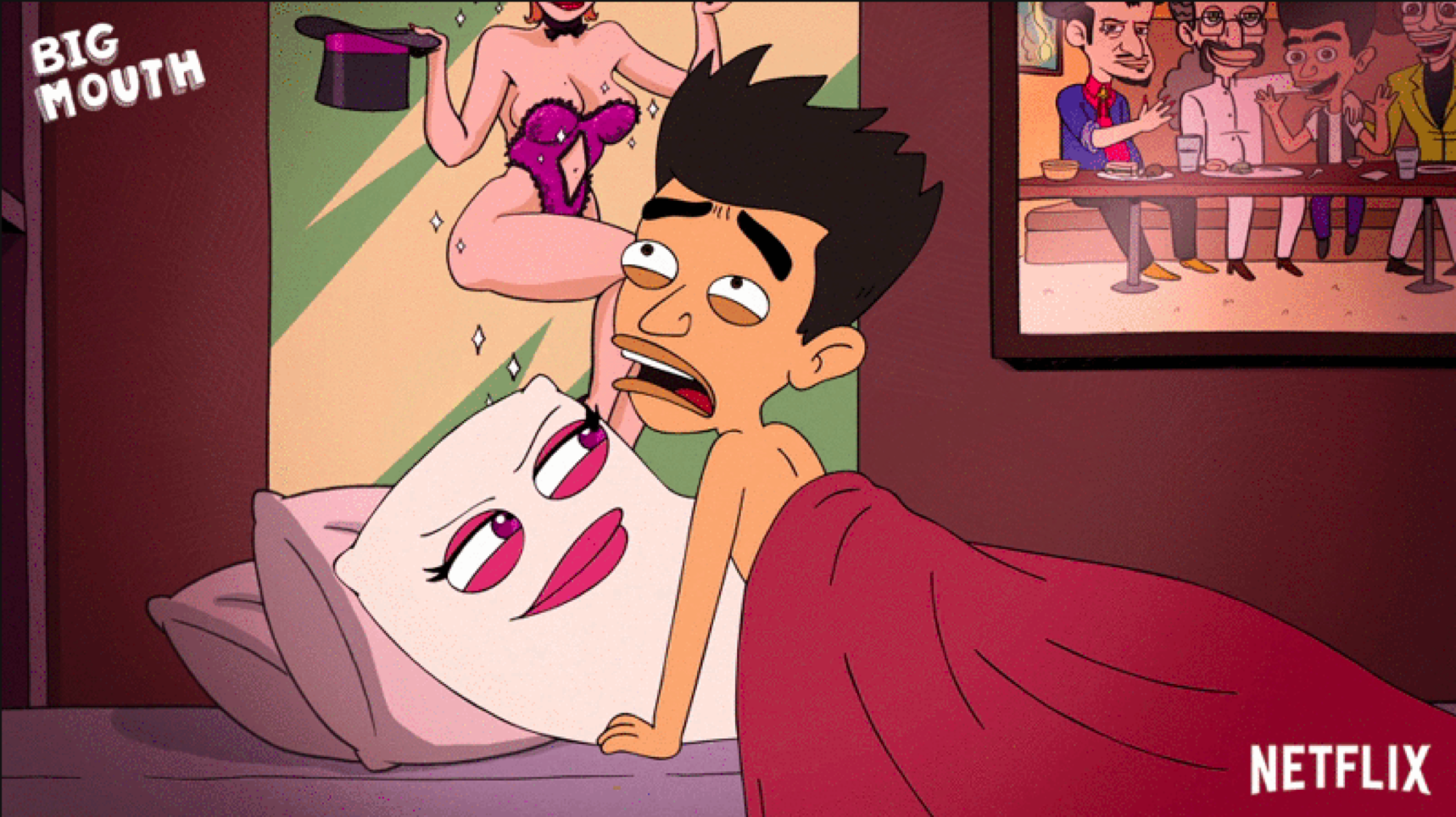 Every day we stray further and further from God's light
Admittedly, it took a second round through the season to surpass the general shock of the raunchiness to get to the real message of the show, but it was certainly worth it. It's shocking, and it's meant to be. It's easy to disassociate from that time because it only serves to open the floodgate of embarrassing and cringe-inducing memories we'd all much rather forget. What makes BIG MOUTH so profound is that it does not shy away from telling the true struggles during this seemingly awful time, and in the end, you can't help but laugh looking back at yourself: thinking about what you were going through in terms of family and friends; who your crushes were; even just figuring out what was going on in your own body. It's a show about growth in the face of total uncertainty and humiliation. It's a show about the small triumphs in a young person's life, a first kiss or a successful class project. It's a show with a lot of heart and a foul mouth. I know it's not an easy watch, but it's definitely a show to give a chance.
Verdict: Recommend