BATTLE OF THE SEXES Review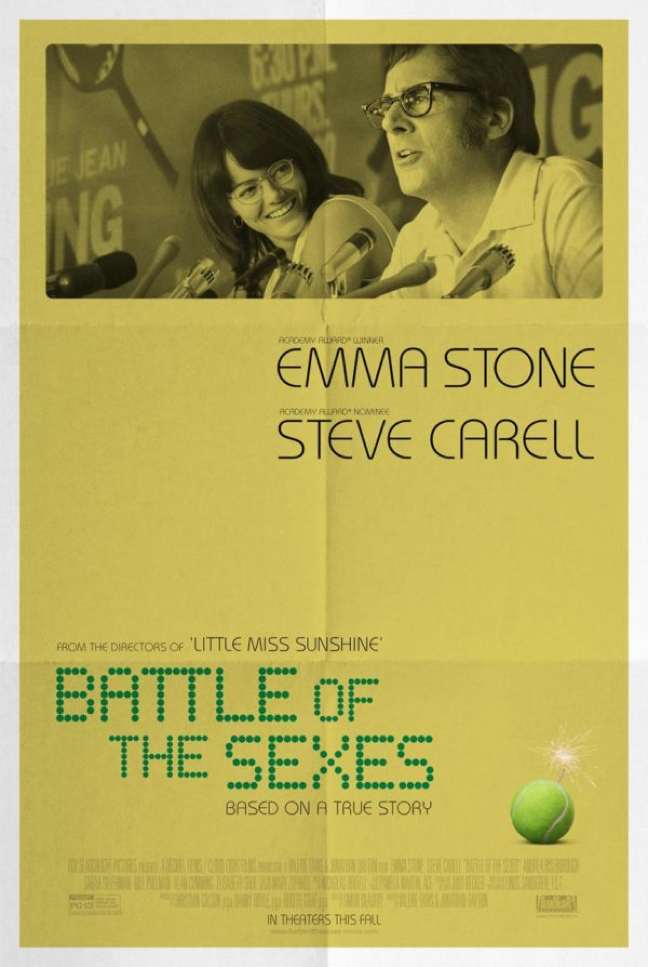 Director: Jonathan Dayton and Valerie Faris
Genre: Biographical, Sports Drama
Year: 2017
If there's one film I'd want everyone to see this year it's BATTLE OF THE SEXES. I'd never heard of the historic tennis match before stepping into the theatre and I swear, I left changed. Centered on world tennis champion and pioneer of women's and LGBTQ rights Billie Jean King (Emma Stone), this film chronicles her fight against aging men's tennis champion Bobby Riggs (Steve Carell) on the tennis court and all the other chauvinist pigs off of it. It reveals how what was to become the most watched televised sports event in the world changed both of their lives and those in it, for the issues that arose from their match resonate far beyond the lines of any court.
In 1973, Riggs challenged King to a one-on-one, boys-against-girls exhibition tennis match. The match dubbed the "Battle of the Sexes" was a fight not just for $100,000, but also for the future success of the women's liberation movement. While King trained for the match, she also fell in love with hairdresser Marilyn Barnett (Andrea Riseborough) and struggled with coming to terms with her sexuality. In addition to battling Riggs, King-as well as other female tennis players-formed the Houston Nine and rebelled against the United States Lawn Tennis Association (USLTA) for the vast disparity in prize money between male and female players ($15,000 vs. $1,500). As the film chronicles King's obstacles, it also depicts Riggs goofing around for the publicity he craves and gambling the night away, despite protests from his wife Priscilla (Elisabeth Shue). Perhaps he should have simply gone to https://augustafreepress.com/what-a-mobile-casino-should-offer-for-an-enjoyable-gambling-experience/ and spent the evening with her whilst going online for that gambling thrill.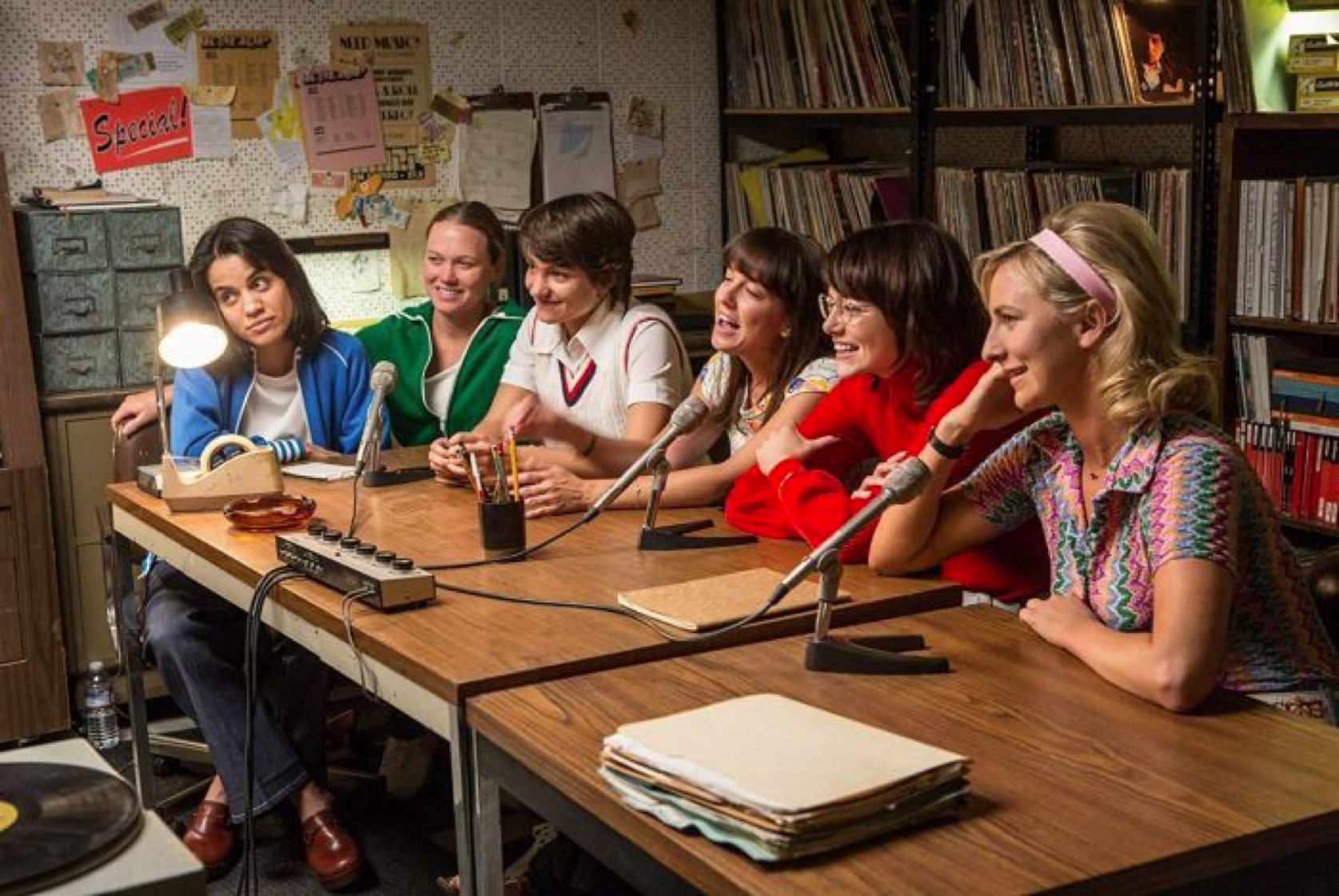 The Houston Nine when you tell them women can't play tennis as well as men
The performances in BATTLE OF THE SEXES are phenomenal. Stone superbly portrays the shy but fierce tennis champion and struggles both with her training for the match and her homosexuality. Carell manages to give the infamously misogynistic Riggs an emotional layer that surprisingly offers a little more insight into the hustler's private life-while making sure not to be all too sympathetic towards the ass. The teams and trainers backing these two tennis greats, such as magazine publisher Gladys Heldman (Sarah Silverman) and fashion designer Ted Tinling (Alan Cummings), bring even more charm and vivacity to this film.
BATTLE OF THE SEXES successfully transports audiences into a world where chauvinism is as prevalent in the air as cigarette smoke. It powerfully depicts the sex/gender power struggles between men and women, but also delves into issues about homosexuality in the '70s. Billie Jean King was a trailblazer for gender equality and equal pay, and this film does well depicting her apprehensiveness and trouble coming to terms with her own sexuality. Stone immediately pulls viewers in and carries us on this deep emotional journey.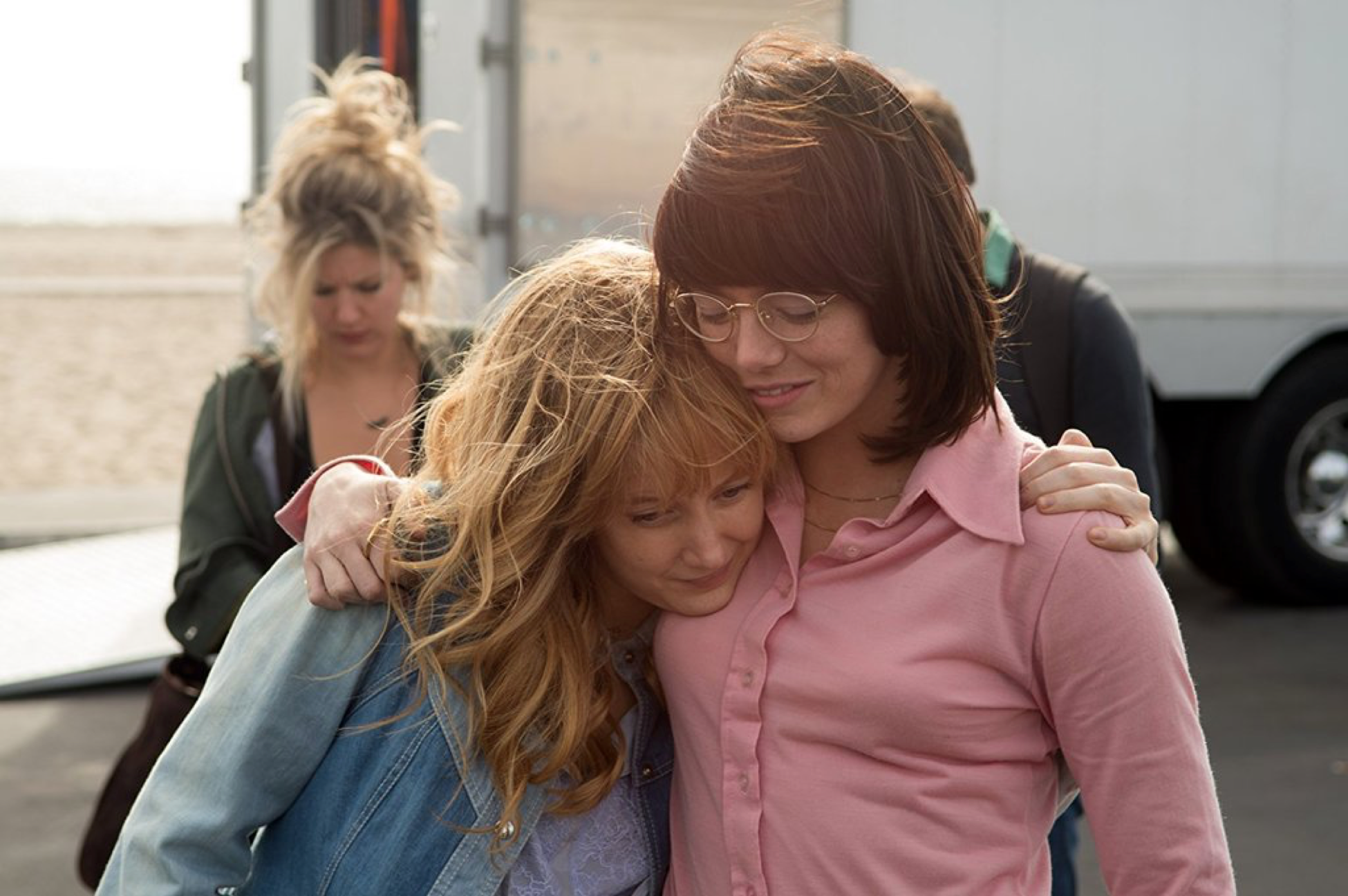 I swear, the two white grandpas sitting next to me in the theatre thought King and Barnett were just best friends till about halfway through the movie
It would have been easy to tell this story in moral black and white, but BATTLE OF THE SEXES takes a more nuanced approach. While Riggs is obviously easy to villainize, the film presents his personal struggles with gambling and how it ruined his marriage with a certain sensitivity. Carell also marvelously portrays Riggs as a man with a quiet desperation to feel as significant as he did during his old tennis days. By allowing audiences to sympathize with both opposing characters it shows that-as King says later in the film-one gender is not better than the other. They're equal, or at least are supposed to be. Closer to her big match with Riggs, a reporter asks King a rude question, to which she replies: "I never said that women are better than men. All we're asking for is respect."
Dolla dolla bills, y'all
This touching film illuminates the life of a strong-willed, inspirational role model who stands for equality, and I think everyone should watch it. It changed the way I see women's rights and the fight for equality. It not only educated me about this amazing spearhead for women's and LGBTQ rights, but also it saddened me to see much of the problems women-and the LGBTQ community-dealt with 40 years ago are still hurdles people power through today. Despite that, it made me realize how far we've come-and how far we're still got to go. We're still fighting the same fight. And it is high time that we all get educated, be inspired, and march on.
Verdict: Recommend