Bandcamp Picks of the Week 6/29/16
Our Editor-in-Chief pops by for some Bandcamp Picks of the Week action!
Florist – THE BIRDS OUTSIDE SANG
Genre: Lo-Fi Indie
Favorite Tracks: "I Was," "The Birds Outside Sang," "Only A Prayer, Nothing More"
For fans of Eskimeaux, Grouper, and Julien Baker, I give you Florist. As intimate, cozy, and unassuming as its cover art, THE BIRDS OUTSIDE SANG is a tear-stained tour through love, loss, and all of the other ups and downs that keep life worth living. However, although their general stylistic contemporaries are all (close to being) definitive one-woman shows, Florist is impressive for translating a more textured, fully realized sound into the realm of the bedroom performer. The result is an intensely personal effort that still benefits from lush, rich arrangements, with multiple guitars, keyboards, and percussion enveloping Emily Sprague's voice like the comforting arm of a friend helping another through a heartbreak. Of course, there are also the private diary missives of tracks such as "Thank You," which come across as welcome reference points to lo-fi indie acts of yesteryear such as Casiotone for the Painfully Alone. This is music that aims for the emotional jugular, but neither feels cloying, saccharine, flighty, or vague. You can check it out here.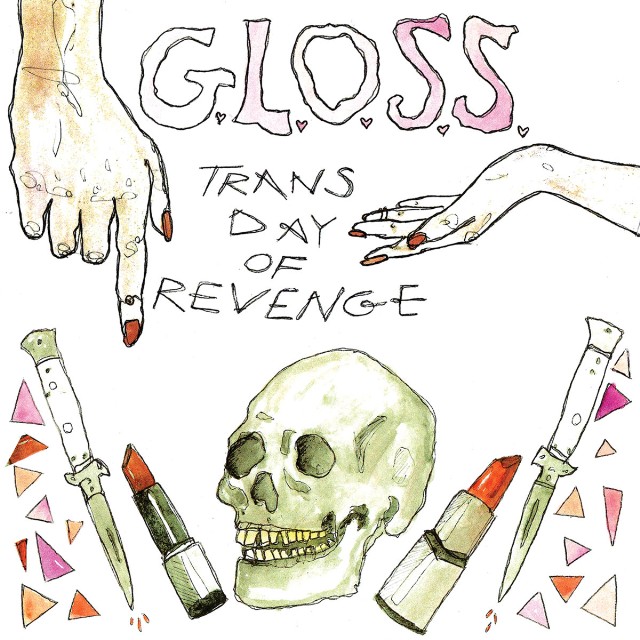 G.L.O.S.S. – TRANS DAY OF REVENGE
Genre: Queercore
Favorite Tracks: "Give Violence a Chance," "Fight," "We Live," 
A no-brainer for inclusion on Bandcamp Picks of the Week! Although the necessity of a full-length becomes ever more imminent, the second EP (well, the first release was technically a "demo," but you know) from Washington queercore giants G.L.O.S.S. doubles down on the influences from the historical legacy of hardcore punk. As such, things are just slightly less chaotic than on the demo; don't worry, Sadie Switchblade's Hellcat anger and frustration is still present in spades, but if anything, this more professionally-produced second outing clears away some of the cobwebs from her backing band, leaving ample room for the other performers to have their moment of fame instead of just contributing to a vilified caterwaul. It's a refreshing change of pace to hear short but effective guitar solos scattered throughout, the riffs are more clearly catered to, and the D-Beat influences reign supreme. Short, violent, and socially important. You can listen to it here.