ARRIVAL's Patient Message for the Survivors of 2016
As mirrors upon our trivialities, thoughts, and time on Earth, films have absolute relevance. They give us perspective more potent and visceral than any other storytelling medium. This is why the Oscars, despite structural grievances, are an important and feasible event and concept. We love films and want to celebrate them, because they have such a close feed to our morale, both in shaping and expression. Cinema gives us a common language with which to understand our dreams, each other, and the world.
Since 2010, when I reached my sophomore year in high school, I began looking for the rooted lasting power in each subsequent year's filmic output. Essentially, much like how we look back on specific years in the past for their films and what they say about the world at that time, even up through the 2000s, I wanted to get on the front lines of analyzing what the movies of our now say about us. While I could rattle on about how 2013 portrays "the American Dream" being subverted, fractured, and shattered in all of its bones, or how 2015 saw THE BIG SHORT and CHI-RAQ playing counterpart to portray an incredibly broken world we are slowly going down in like the Titanic, I want to get straight to this year.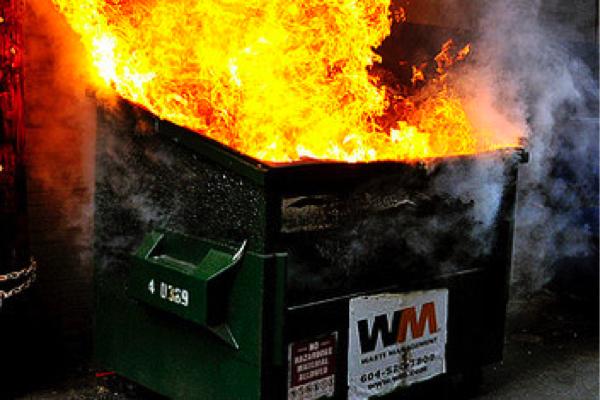 Anyone actually set a dumpster on fire? It's kinda fun! Unlike 2016
2016: a year so bad that active thoughts concerning the end of the world being closer than we imagined became mainstream, not entirely unreasonable possibilities. It's a year where huge chunks of humanity's population became somewhat endangered. It's a year where striking fear into each other's hearts became all too common. In the most troubling of times, the art community comes out of the fray and often gives way to outright expressionism, both subtle and in-your-face. My favorite films of the year so far have been quite odd, personal outliers that mainly give glimpses into worldliness. They've either been light on heft, or stand out more easily as natural manifestos for their respective filmmakers, who will certainly be important voices in the coming years. Near the end of the year, all the big guns are finally coming out, with plenty to still come. It's a triumph that one of the first films of the season hits so hard, stands out easily as one of my favorite films of the year (thus far), and is perhaps the most important film of the year for me. I am talking about Denis Villeneuve's sci-fi drama ARRIVAL. Allow me to translate.
ARRIVAL is the latest in a string of sci-fi films that dabble in all-too-real reality, occasionally flinging into flights of genre fantasy. THE MARTIAN, INTERSTELLAR, and GRAVITY, like ARRIVAL, function as testaments to the perseverance of humanity, in face of insurmountable odds. These odds often boil down to nature's uncaring hand, or the tragedy of broken men scared into believing in selfish intentions, or nothing at all. ARRIVAL so far stands chief among these films for perhaps being the boldest artistically, but also in being so crushing with its philosophy that it delves into deep, existential waters. The scenario it presents is grounded as close to our own reality as possible, showcasing a gradual rise in human panic in times of intense distress, caused by a true sense of misunderstanding. Seen in the fringes, ARRIVAL's fearful society is not too dissimilar to the worldly, visceral background narration of CHILDREN OF MEN. We might not have aliens, but all of our people certainly have reason to be concerned.
IDK, the new Trump Tower looks kind of nice!
There's a cyclical nature to the decidedly un-cynical ARRIVAL. The language of the aliens, or "Heptapods," is conveyed in a circular shape, with the differences being subtle jut outs. As noted by a character in the film, the unique shapes symbolize different concepts, people, and actions, but have no structure similar to that of sentences; they don't have a beginning or ending point. Like a shotgun blast of thought transferal, their language mimics the film's portrayal of time, which starts from frame one. Tricking the audience with a scene set to "On the Nature of Daylight" by Max Richter, assumed to be a flashback, only later revealed as a flash forward, is an ingenious sign of this film's time rules. The past, present, and future all happen at the same time and can communicate with one another. It gets muddy from there, but it's a beautiful notion, showing correspondence with one's self through the magic of non-linear editing. The Malick-inspired cutting patterns suddenly take weight, originally portraying the fractured nature of memory and thought but now becoming more palpable: a handshake.
This would all be simple pastiche unless its contents shared something important. Regardless of if the form works, ARRIVAL's message is an important one, especially in the context of shifting into a new calendar year. The core conflict ends up being a devastating existential query: if you knew a joyous period in your life will end in tragedy, for one person in particular, would you trade in all the good moments for the sake of saving everyone from grief? It's as ethical as it is an existential quandary, but the film lingers more so on the weight it has upon the heart, highlighting emotional truths through its high concept elements. Villeneuve's style stays as grounded as possible, making it feel more like a mirror than a long stretch of an analogy.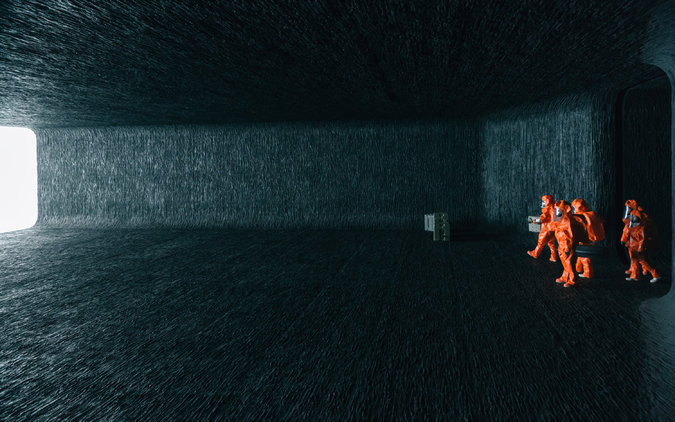 "Louise, ask them if we should take our shoes off."
More than any of its modern sci-fi contemporaries, ARRIVAL has more in common with ETERNAL SUNSHINE OF THE SPOTLESS MIND, positing a Charlie Kaufman-esque level of awareness of the horrors and beauties of living. The looping ending into oblivion feels in step with ARRIVAL's ending decision, with Louise deciding to always have her daughter for the sake of the good times she will have, cut around in snapshot fashion, despite the awareness of her early death. There's a self-admitted stupidity in humans that makes us feel that no matter how bad things get, we want to live. It's like our survival instincts collapse under whatever grey matter longs for a more complicated but more emotionally rewarding sensation generated by those around us. The good times somehow outweigh the bad on a visceral level. There's no better drug than having lived at all.
And I want to live. It's a seemingly obvious sensation, but we certainly do take it for granted on a constant basis. I think this year taught us that. It's like humanity is being pushed to a mental brink before a physical one can wipe us right off the face of the planet. But we've come so far. One reason is that I love a lot of people, and often try to find empathy with all people, as hard as it can be. ARRIVAL reminded me that patience is a virtue, almost at all costs. It can lead to beautiful things.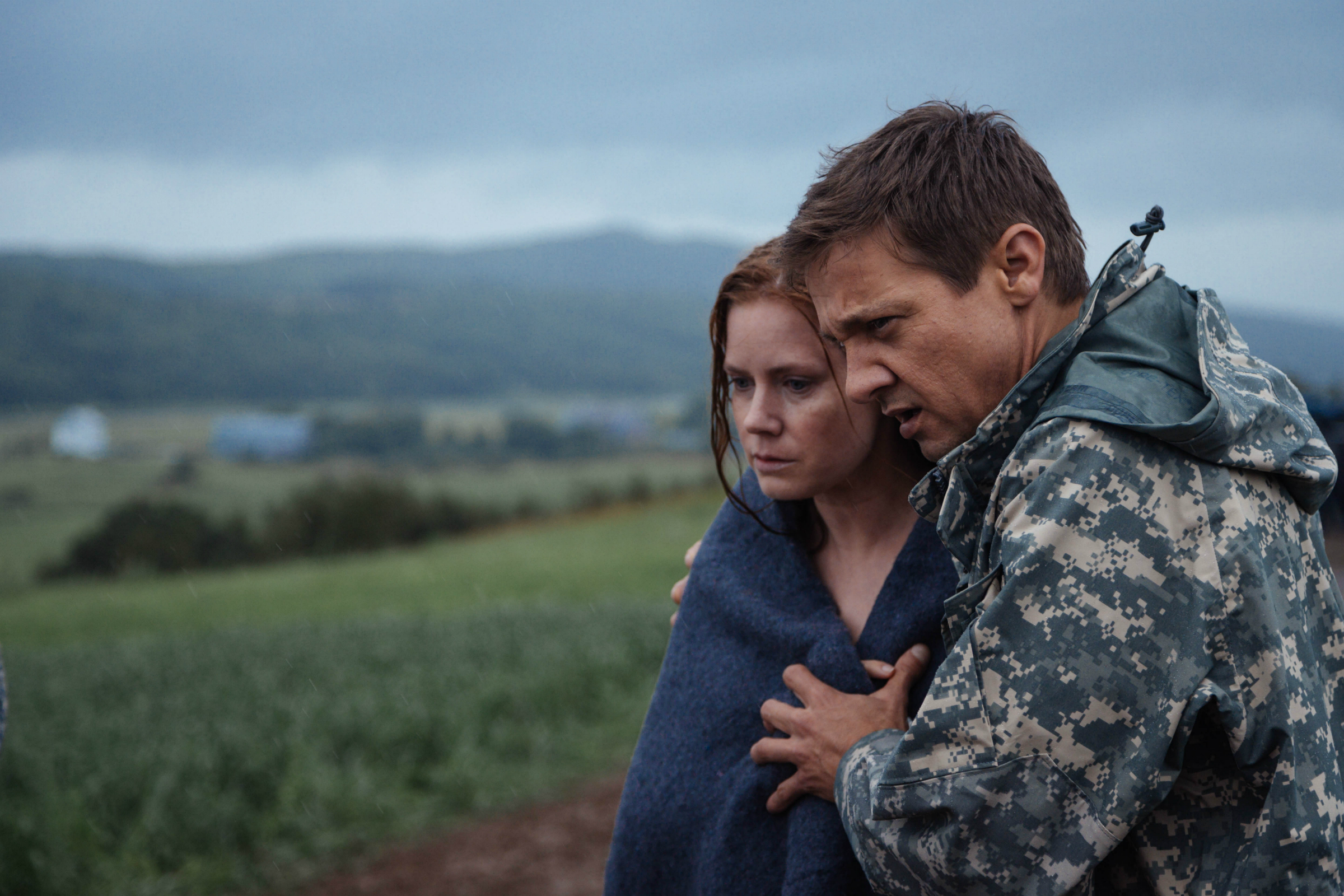 I truly hope we all get to be hugged by Jeremy Renner one day
But I'm optimistic. And ARRIVAL is stupidly optimistic. Its cockamamie way of getting the world to stand together plays out like a dream, driven by borderline convenient world-bending. But the button pushed to stop the world from tearing itself apart is a personal one. The de facto bad guy of the film, China's General Shang, who is BEYOND ready to blow these aliens up, comes to our protagonist in a vision. Yet this vision ends up being a glimpse of the future, wherein he thanks her for convincing him to take a more pacifist approach. Present day Louise has no idea why this happens, and is subsequently informed by her future self of what she told General Shang that got him to back off: it's the last words of his dying wife. Louise bored a hole and tugged at the General's heart strings to turn the mirror onto himself. We all have stake in this life that gives and takes away the things and, more importantly, people that we love. ARRIVAL wishes we all remembered that on a frequent basis, so as to inform our daily choices.
I feel like this leading empathetic charge is fairly popular amongst my favorite pieces of art this year. Be it the love-fueled frustration that comes in THE LAST GUARDIAN, or the fearful shedding of personal weirdnesses in SWISS ARMY MAN, or the identity crises of MOONLIGHT. These things remind me that communication is key. We're alone in this world otherwise, and it's a mysterious gift to be able to convey things to one another. Even to express hate is a miracle, but it feels like garbage in comparison to the sensation of love, or even simple conveyance of understanding. 2016 is an uncomfortable time, with discord amongst hundreds of groups of people. While a lot of different art represents varying states of life, ARRIVAL feels way too fitting to be a representative flare shot from a changing tide. It provides a hopeful vision that spirits such as my own really could use. Overly idealistic, maybe, but sometimes a little outlandishness gives light to new perspective, one that begs for patience. These days it seems further and further away from the solution, but it often seems like everything eventually boils down to it.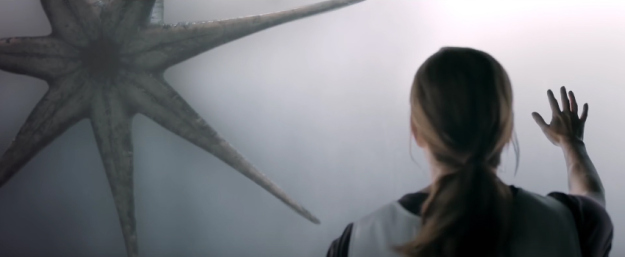 Note to self: teach aliens how to high-five good
Storytelling is a primary language we all understand and love to flex. The deeper philosophical elements of cinema, rooted in the origins of storytelling, cave paintings, and the like, often bring me to tears at the thought. I don't know why we're here, but while we're here, we find the great things in life, and share it with one another. When it works, it's miraculous. One of the jobs of cinema is to capture those moments, in whatever way possible. Our dreams define these feelings more than our words can say, so film is obviously our closest window into recreating said subconscious projections. Both good times and bad are incredible sensations to find in art such as cinema. Seeing someone else convey a sadness I've felt on my own means the world to myself, and many other audiences. In this sense, ARRIVAL feels like a pat on the back, and one that the survivors of 2016 need spiritually. A sincere acknowledgement of the mystery plaguing us, and the connectivity that we all experience no matter what. It's a noble effort I'd like to keep in mind for the rest of my time here.
Also, Jeremy Renner? Hunka-hunka.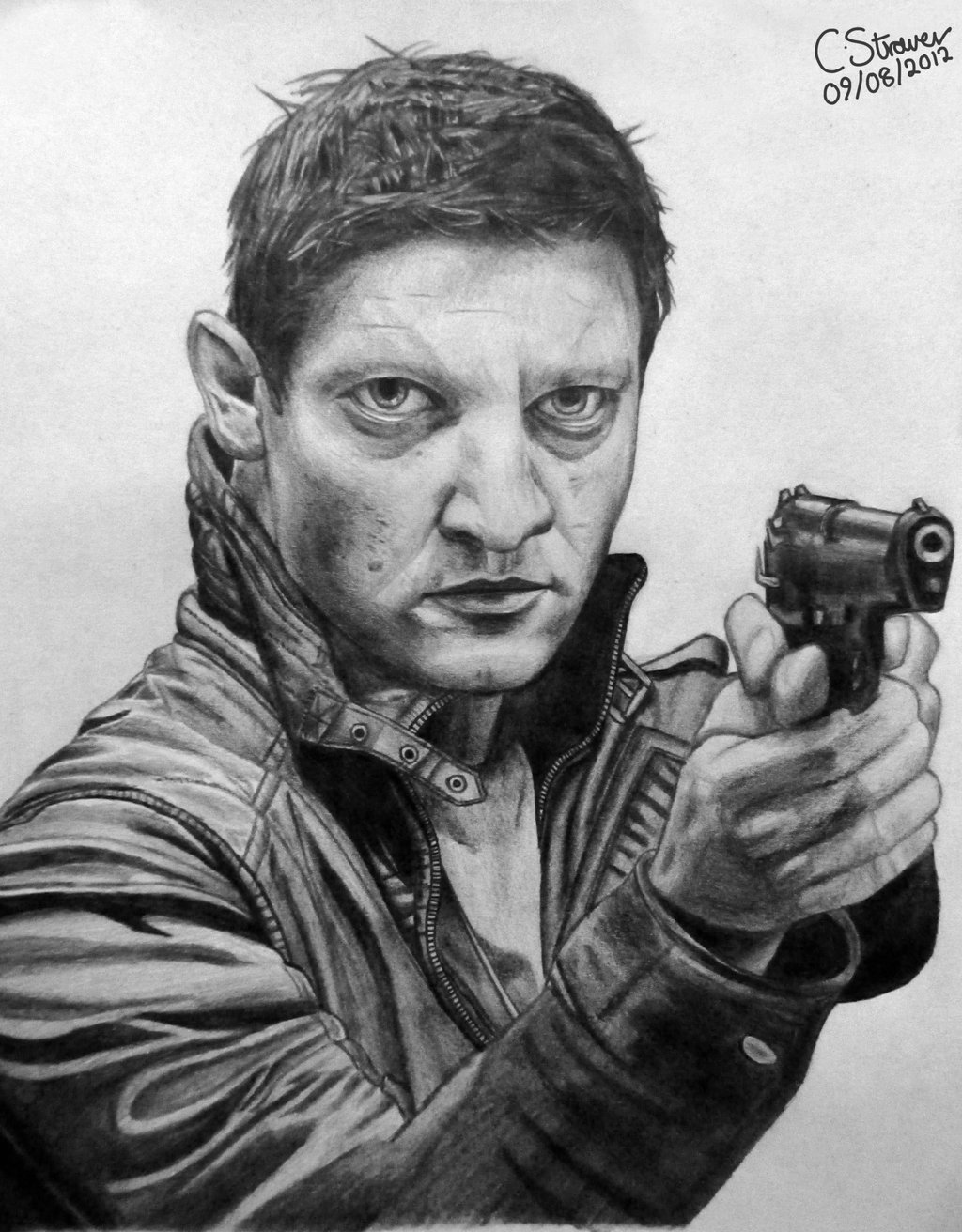 No wonder the aliens wanted to find us