A BAD MOMS CHRISTMAS Review
Directors: Jon Lucas, Scott Moore 
Genre: Comedy, Holiday  
Year: 2017
Twice the moms should mean twice the fun, right? The sequel to unexpected summer blockbuster, BAD MOMS, the misadventures of Amy (Mila Kunis), Kiki (Kristen Bell), and Carla (Kathryn Hahn) continue as they deal with the whirlwind of stress and tensions that face every mother with the arrival of the Holidays—and worse, the annual visit from Grandma. Featuring an all-star cast, including Christine Baranski and Susan Sarandon, A BAD MOMS CHRISTMAS sees the Grandmas come in full force to meddle in their daughters' lives and add to the already crippling stress of trying to juggle it all. These women prove that family is complicated, but members of the same are always there and always want what's best for you. Filled with raunchy humor and tender mother-daughter moments, A BAD MOMS CHRISTMAS can be enjoyable if you understand it's a film that's not taking itself seriously in the slightest.
CHEERS . . . to holiday debauchery!
A BAD MOMS CHRISTMAS is written and directed by Jon Lucas and Scott Moore, the comedy duo responsible for THE HANGOVER. Employing this same raunchy and "anything goes" style of comedy writing, they craft a film that delivers endless one-liners. While not all of them are winners, it's easy to find yourself forgiving in the spirit of good cinematic fun. With the holiday arrival of the grandmothers and their endless emotional baggage, our three protagonists must find a balance between conforming to parental expectations and reclaiming Christmas for their own enjoyment. The holiday backdrop can make some aspects of the film slightly cliche or familiar, but it never hindered my enjoyment and even inadvertently made me anticipate the cheer and warmth of the Christmas season. It's certainly not a family-friendly holiday film, with its sexually-charged jokes and foul language, but its quirkiness makes it a mother-daughter film worth exploring. There's no guarantee that sitting beside your mother in the theatre will be the most pleasant experience, but with a film as versatile as BAD MOMS CHRISTMAS, there's sure to be plenty of laughs and even some tears.
In Amy's case, she is forced to deal with her overbearing and judgmental mother, Ruth (Christine Baranski). Baranski's character is the all-encompassing matriarch. She pushes her daughter to be the best and pushes her husband around like a slave monkey, but beneath her cold exterior, we discover she is a woman deeply insecure about her abilities as a mother. Amy and Ruth battle throughout the entire film, trying to spread holiday cheer in their own way and in the end, the tensions explode into a fury, leaving Christmas in shambles for the children. Hope seems lost for the pair, but a heartfelt talk from Amy's Dad prompts her to make amends for her mother. I'm not ashamed to admit their reunion brought tears to my eyes and made me think of my own mom, always trying her best to give me the things she didn't have growing up. Each mother represents a different parenting style. Kiki's mother is a helicopter parent who wants to be her daughter's best friend, and Carla's mom is a negligent gambling addict who only visits when she needs money. However, in each of their twisted relationships, there is a clear bond between them that unites them in the spirit of Christmas.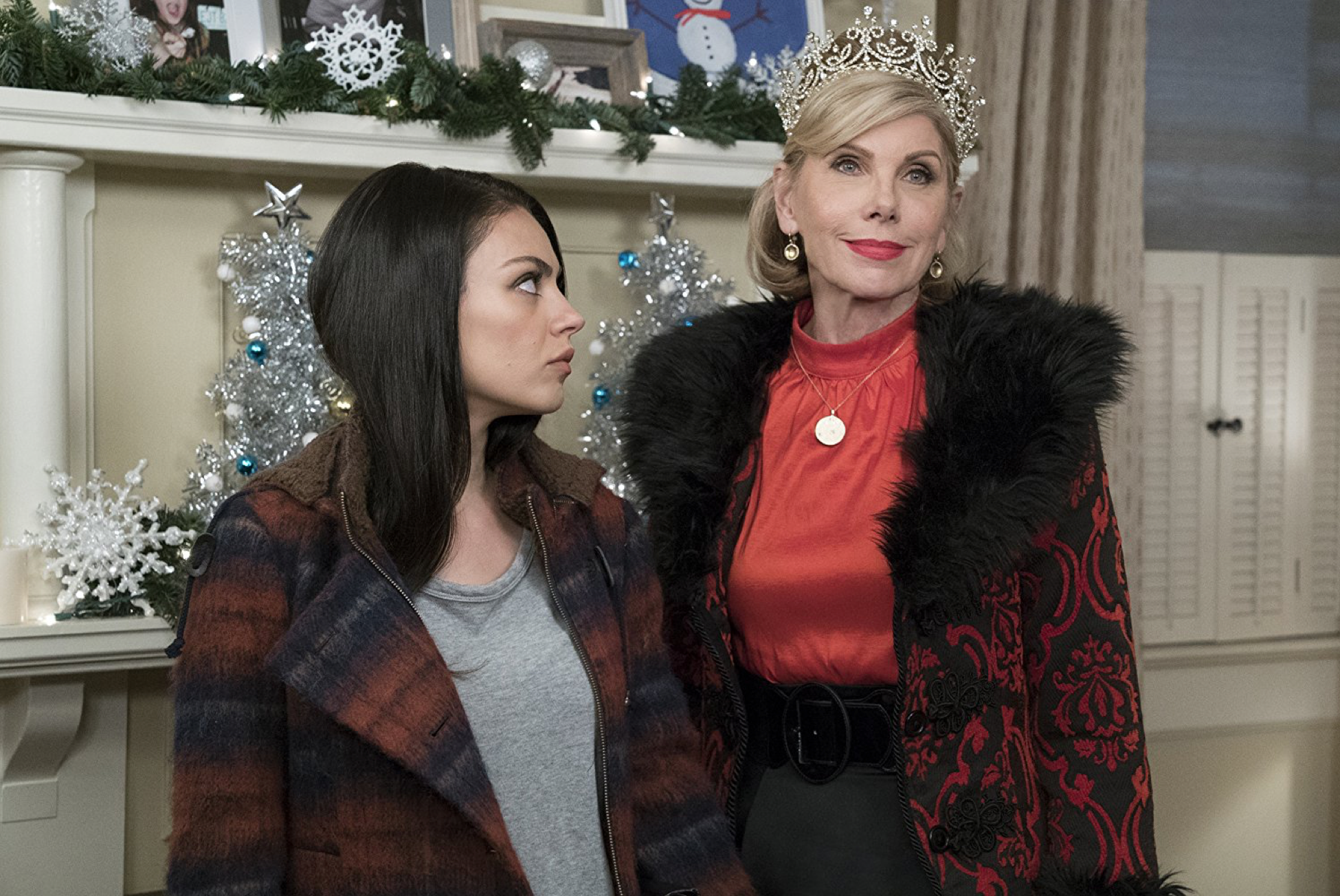 Mommy (not so) Dearest
A BAD MOMS CHRISTMAS shifts genres and dabbles in melodramatic romance with the introduction of Carla's love interest, Ty Swindle. Played by daytime soap star Justin Hartley, Ty Swindle comes into Carla's life in an unexpected waxing appointment at her spa. Hysterically over-the-top and played with ridiculous passion, the scene is a perfect example of the film's ability to let its hair down. There are literal tears welling in Carla's eyes when Ty offers to spread his cheeks to assist her. She chokes up, saying no man's ever offered to do that for her, to which he responds with a promise to always spread 'em for her. Sitting in the theatre, I couldn't help but giggle at the absurdity of what I was watching, thinking to myself: This is so stupid, why am I laughing? Which, I might add, is a pretty big sentiment throughout the film. There's a certain point, above excerpt included, that pushes you to step outside of yourself and the rigidness of what we see as comical to enjoy a moment of plain dumb fun. Back to #TYLA, the two begin a budding romance and Carla is even invited to Ty's "Sexy Santa Contest," where it is revealed he is packing some serious heat. Oh yes, the writers surely did not pass on the chance to include a comically massive prop dick. I'd even make a very serious argument that the Hahn is the undeniable star of the film, as she is the one that shows the most emotional range and kills with those solid one-liners. Also, she gets Susan Sarandon as her deadbeat, pothead mom, Isis.
Sure, A BAD MOMS CHRISTMAS isn't perfect. At times the jokes can seem forced and there is no shortage of slow motion sequences with loud pop music to remind you you're having fun, but if you allow yourself, you can find that you just might enjoy watching this mess of a film. Each of these women offers a stellar comedic performance, battling head to head with the male-driven version of the same film, DADDY'S HOME 2 (2017). I can't promise that it'll be the best comedy movie you see this holiday season, but I can promise that it's a fun watch that takes you out of the dreariness of the real world issues we are constantly being bombarded with, giving you something to smile about.
Verdict: Recommend