7 by Beach House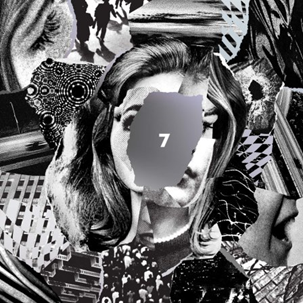 Genre: Dream Pop
Favorite Tracks: "Dark Spring," "Lemon Glow," "L'Inconnue," "Drunk In LA," "Dive," "Black Car," "Lose Your Smile," "Woo," "Last Ride"
"It's just a whisper."
I thought I had heard the last line on the last song of the last ever Beach House album. And I suppose it's possible I have. But after inhaling this record nonstop for the last week, I've reached the opposite conclusion: Beach House has been reborn.
Despite having a reputation for being consistent and repetitive, the Baltimore duo, comprised of Victoria Legrand and Alex Scally, have made a habit of subverting expectations the past few years. Beach House's trajectory is similar to many other indie darlings of the past decade. Their debut record was instantly adored by fans and critics alike, pushing them into the spotlight of the indie scene. Their third LP, TEEN DREAM, was even more universally acclaimed, with many, including myself, calling it one of the decade's best. After their next record, BLOOM, Beach House were indie royalty. But while waiting for their next album, some began to question how much more the band could pull from the narrow sonic well they'd been mining for the last decade. Then, the band released its first single from DEPRESSION CHERRY, "Sparks," a guitar-heavy shoegaze track that eschewed the inspirations of Cocteau Twins for My Bloody Valentine. The rest of DEPRESSION CHERRY was a mix of tracks that sounded like their previous four records melted together, and while it was a great record, it was underwhelming in its undelivered tease of a new direction. Only seven weeks later, Beach House released their next studio album, THANK YOUR LUCKY STARS. It was much closer to fulfilling the hype from DEPRESSION CHERRY's lead single, where "One Thing" and "Elegy to the Void" cranked up the feedback and made for the noisiest the band had gotten to date. Yet everything still felt unresolved. What if they'd cut the filler from each record and just released a single album? How focused was their artistic vision? Were they just hedging their bets?
Beach House's return, 7, is their boldest statement to date, the most ambitious and daring they've ever been. It's an exercise in duality, exploring the beauty in darkness. On the lead single, "Lemon Glow," Legrand laments an unhealthy relationship, but does so using bright imagery with a molasses-like vocal delivery: "This game I play / I do it every day / Then promise I'll be fine / Bear it every time / When you turn the lights down low / Lemon color honey glow." On past records it's been easy to lose yourself in the instrumental, as Legrand's vocals act more as a supplement than a focus, but on 7, Legrand demands your attention every time she sings. She steals the show on "L'Inconnue," as her vocals are looped over themselves for the first minute-and-a-half until she switches up her cadence and starts singing in French about The Unknown Woman of the Seine. It's haunting yet infectiously catchy, as is "Woo." The instrumental sounds like Beach House's take on Tycho, but it plays second fiddle to Legrand's voice. For most of the track, Legrand is concurrently singing two different verses about an unrequited love. The existential hook, "I want it all / but I can't have it," is one of many moments on the record that's been constantly stuck in my head.
In the past, Beach House records have generally been front-loaded affairs, but 7 boasts an amazing B-side. "Black Car" stays true to the duo's usual songwriting formula, but it's executed perfectly. A slowly pulsing synth and another rising synth loop over each other while the drum machine creeps up. Windchimes offer bright flourishes in the dark hypnotic rhythm of the track and Legrand's vocals surf along the top of the mix. "Last Ride" is a jaw-dropping finale inspired by Nico's fatal bicycle accident. Consisting of three parts, the closer starts with a lullaby-like piano ballad and gradually mixes in long, buzzing synths while the tempo of the drum speeds up. The piano is ditched in favor of shoegaze-y guitars that would've been the highlight on THANK YOUR LUCKY STARS as Legrand's vocals soar higher than any other point on the album. The last minute-and-a-half is a mesmerizing, atmospheric outro and a perfect ending to 7.
But the song that truly sold me on Beach House's rebirth is "Dive." It starts in classic Beach House fashion with a slow, simple kick drum and an ethereal synth guiding Legrand's airy vocals. Tension slowly builds towards the most cathartic moment on the album, when Legrand sings "And I know you like it / So I dive to find it" and a frantic drum pattern breaks through with two hectic guitar riffs. Everything about the track is so resoundingly captivating; it blends together spacey dream pop with punched-up rock, meek uncertainty with unwavering confidence. It's a concise history of their past with a sprawling glimpse into their future. It is the best song on Beach House's best album.
Verdict: Recommend