10 MOONS 2 by Maco Mattox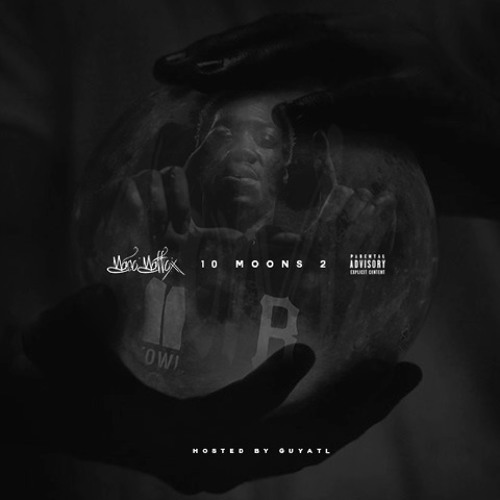 Genre: Pop Rap, Southern Hip Hop
Favorite Tracks: "The World", "Lit"
Recently rebranded as Maco Mattox, the artist formerly known as OG Maco is one of the most hardworking MCs in the game. With a 2015 output only slightly eclipsed by the likes of such juggernauts as Gucci Mane, the undeniably hungry nature of Maco Mattox is a force to be reckoned with. With the hype train accumulating for his impending release of CHILDREN OF THE RAGE, Maco Mattox has dropped a surprise 7-track EP entitled 10 MOONS 2. Demonstrating his ability as a utilitarian chameleon, Maco Mattox embraces the mainstream rap market with 10 MOONS 2, turning in a performance heavily indebted to artists such as Future while still managing to maintain some sense of idiosyncratic artistry.
"Want It All Snippet" immediately orients the listener within a different framework than what we're used to dealing with when it comes to Maco Mattox. Eschewing the heavily trap-influenced party music of his earlier releases, Mattox elects to start 10 MOONS 2 off with a subdued track virtually absent of synth and bass, demonstrating a newfound sense of songwriting maturity, as well as a desire to branch out of his previous confines. The track eventually gives the spotlight solely to instrumentation, channeling the off-kilter instrumental passages of Kanye West. "The World" continues Mattox's newfound affiliation with accessible hip hop, functioning as an unadulterated submission to the Future wheelhouse. The incorporation of the "clean" vocal snippets and the crunch of the synth are welcome additions. The acknowledgements of the current predilection for drugged out Auto-Tune jams continues with "Lit", arguably the album highlight. A vocal countermelody keeps the proceedings decidedly turnt, as a booming bass and two guest MCs signify this track as the most readily memorable.
The Auto-Tune becomes progressively more prevalent as the EP plays on, but other than the notable stumble of "Never Know", a cloying, post-human atmosphere is successfully cultivated, with a welcome change of pace made present with the comparatively aggressive and layered nature of "Bad Man".
Although fans of his earliest work may be disappointed, 10 MOONS 2 offers an entirely different soundtrack for social gathering. Establishing Mattox's ability as an adaptive MC, 10 MOONS 2 knows exactly what musical space it occupies and caters entirely to its inherent audience. Placing tonal construction as his first and foremost concern, Mattox has turned in an excessively functional outing that has audiences further intrigued for his elected artistic avenue on CHILDREN OF THE RAGE.
Verdict: Do Not Recommend